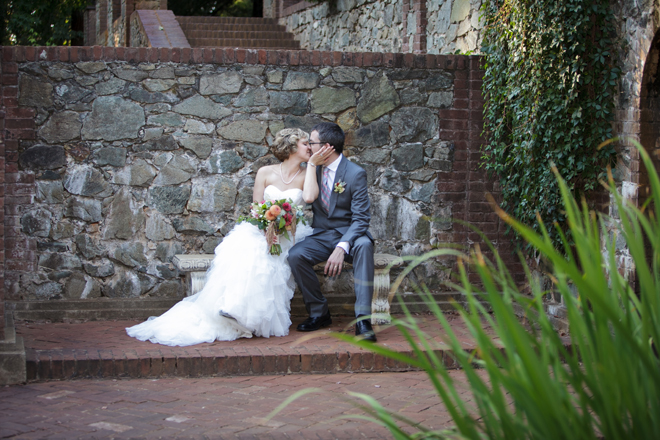 The Couple: Laura & Ken
Wedding Date: August 11, 2013
Photography by Melanie Soleil Photography
Tell us a little about you and your beloved: We met at work. We both started working at a restaurant that newly opened in San Francisco. I (Laura) was hired as a hostess and Ken was hired as a server. Ken is originally from New York City and I am originally from Grass Valley. City boy meets small town girl. We were both dating other people for the first year or so of knowing each other. Ken actually moved to California with his ex-girlfriend!
Eventually we both became single and started hanging out before and after work and the rest is history! I moved in with my two kitties after 2 or 3 months of dating and we became engaged a few months later in January of 2013. There was no fancy, dramatic proposal. We just talked about it and decided we love each other and wanted to get married. We went to Shane Co. and picked out my ring. We started planning the wedding right away.
My mom helped a LOT with the wedding planning as it was taking place in my home town and I was living about 2.5 hours away and she was closer to the vendors and venue. We considered holding the wedding off until the next summer, but we decided there was no good reason to wait and to go ahead and plan the day of our dreams!
What was the most amazing part of your day? Honestly, the whole day was very stressful. Everything went amazingly and I'm so glad about all the decisions and plans I made. However, I am naturally prone to anxiety, so I was glad that it was finally over at the end of the night. I have said it many times to everyone who asks, but the most amazing part of the day was taking a drive to a local fast food restaurant after the reception and eating junk food with my new husband. It was just the two of us and all we did was laugh and talk and fall further in love. I didn't eat a bite at the reception because I was so wound up from all the excitement, so needless to say, I was starving!
Other than that, it was a magical feeling to walk down the aisle and look at my soon-to-be husband waiting for me. I was so excited, everyone said I was pulling my dad down the aisle. He had to tell me to slow down as we were walking.
What else would you like to share about your big day? I would tell other brides to enjoy every moment of planning and not to stress too much. There are so many little details, but the most important thing is to enjoy the time you have and be happy to marry the person of your dreams. The best thing I did was spend the most money on an amazing photographer and hire a wedding planner. I would NOT have been able to keep track of everything and put everything in place myself. The best money you can spend is on good photography/videography and at least a "day of" coordinator.
Ceremony Site: Empire Mine State Historic Park
Ceremony Musicians: Lisa Stine, Harpist and Phyllis Grant, Flutist
Officiant: Reverend Karen Stone
Reception Venue and Caterer: Tofannelli's Gold Country Bistro
Photographer: Melanie Soleil Photography
Videographer: Mountain Event Productions
Wedding Planner: Danielle Loberg
Cake/Desserts: Flour Garden Bakery
Flowers: Little Boy Flowers
Favors: Mini succulents from The Succulent Source
Bridal and Bridesmaids' Attire: David's Bridal
Hair: Heather Sanderson from Danae Marie's Salon
Make-up: Lisa Harter from Danae Marie's Salon
Invitations: Vista Print
Signage: DIY chalboards made from old windows and chalkboard paint
DJ/Entertainment/Band: Milestones DJ
Lighting: Paper lanterns from Save-On-Crafts and shepherds hook lanterns from The Dollar Store.
Honeymoon Location: Hawaii
First Dance Song: "That's How Strong Our Love Is" by Otis Redding
Any advice you'd give to our readers who are planning their weddings right now? Splurge on photography!
Don't spend too much. You can find so many cute, inexpensive things if you look around enough and do some DIY crafts. Save your money and have an amazing honeymoon!
Anything that you would have done differently if you were given the chance? No, everything went great!

Blog post by Real Weddings Magazine's Social Media Maven, Aimee Carroll.
Photos courtesy of and copyright Melanie Soleil Photography.
Subscribe to the Real Weddings Magazine Blog! Click here: [subscribe2]