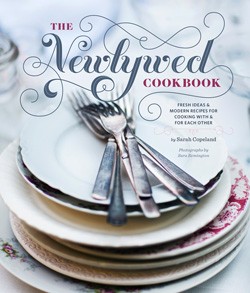 Whether you're engaged, recently wed, or celebrating a milestone anniversary, The Newlywed Cookbook, Fresh Ideas and Modern Recipes for Cooking with and for Each Other is a beautiful addition to any home chef's library.
Author Sarah Copeland's expertly curated collection of more than 130 recipes features the perfect mix of simple and simply elegant dishes for every palate and occasion, while Sarah Remington's exquisite photos will inspire even inexperienced cooks to brave the food processor.
Sprinkled throughout are the writer/food expert/urban gardener/newlywed's tips for artful entertaining, thoughtful ingredient sourcing, and, of course, love.
As a self-proclaimed dessert connoisseur, I was instantly drawn to Copeland's "My Girl's Brownies". With less than 10 ingredients (most of which you probably have on hand), I created a crowd-pleasing pan of sinful deliciousness that was gone faster than I could say, "I do!"
Scroll for details on how you can win your own copy of The Newlywed Cookbook, Fresh Ideas and Modern Recipes for Cooking with and for Each Other!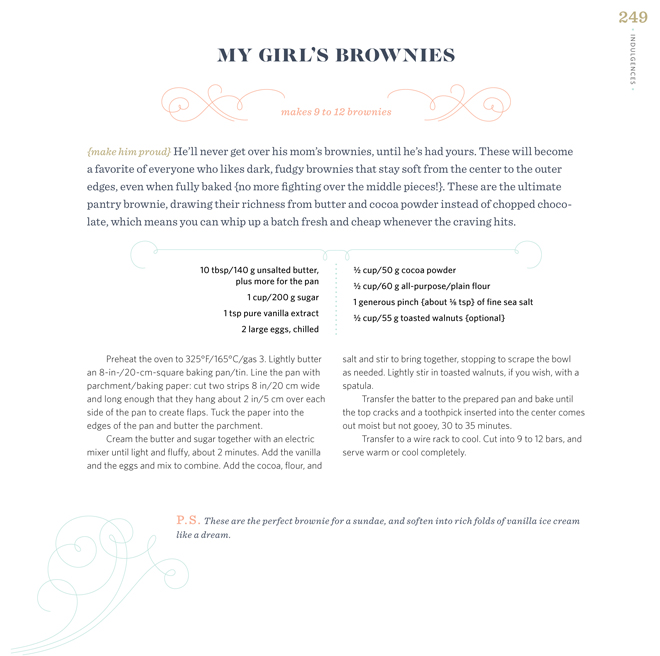 My Girl's Brownies
Ingredients
10 tbsp unsalted butter, plus more for the pan
1 cup sugar
1 tsp pure vanilla extract
2 large eggs, chilled
½ cup cocoa powder
½ cup all-purpose plain flour
1 generous pinch (about 1/8 tsp) of fine sea salt
½ cup toasted walnuts (optional)
Preheat the oven to 325. Lightly butter an 8-in baking pan. Line the pan with parchment/baking paper: cut two strips 8 in wide and long enough that they hang about 2 in over each side of the pan the create flaps. Tuck the paper into the edges of the pan and butter the parchment.
Cream the butter and sugar together with an electric mixer until light and fluffy, about 2 minutes. Add the vanilla and the eggs and mix to combine. Add the cocoa, flour, and salt and stir to bring together, stopping to scrape the bowl as needed. Lightly stir in toasted walnuts, if you wish, with a spatula.
Transfer the batter to the prepared pan and bake until the top cracks and a toothpick inserted into the center comes out moist but not gooey, 30 to 35 minutes.
Transfer to a wire to rack to cool. Cut into 9 to 12 bars, and serve warm or cool completely.
P.S. These are the perfect brownies for a sundae, and soften into rich folds of vanilla ice cream like a dream.
To find a copy of The Newlywed Cookbook locally, visit Barnes & Noble's Birdcage and Roseville locations.

Great news! Our friends at Chronicle Books are giving away a copy of the Newlywed Cookbook to one lucky Real Weddings reader! Just click HERE to enter on our contest page!
Photos courtesy of Chronicle Books.
Blog post by Real Weddings Magazine contributor, Morgan Casarez.
Subscribe to the Real Weddings Magazine Blog! Click here: [subscribe2]