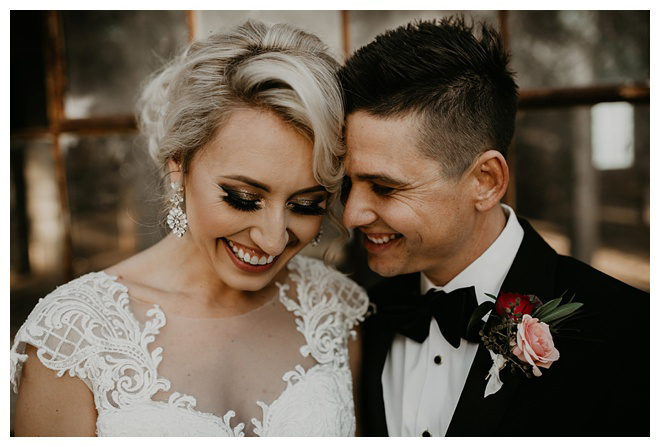 The Couple: Simone & Sean
Wedding Date: November 11, 2017
Photography by Ellie Ford Photography
Tell us a little about you and your beloved: Sean and I actually grew up in the same town, around the same people, our parents even knew each other yet somehow our paths never really crossed until a little over two years ago. He's a business owner/entrepreneur and I'm a singer/pastor. His mom started going to my church and actually introduced us, and the rest was kind of history.
One of our first dates was at the palace of fine arts in San Francisco, and so on my 29th birthday he took me to the city and had our whole family waiting at the Palace of Fine Arts where he blindfolded and took me after dinner and proposed. I'm a singer and had written a song before we ever met called "To my future" written to my future husband and he had it playing in the background while he proposed in the middle of a rose petal heart and candles. After the proposal our families popped out.
It was the sweetest day! We decided to plan the wedding on 11/11 because the numbers hold a special significance in different ways. The planning of the wedding was the smoothest process because of the amazing Jenn of Jenn Robirds Events. In fact, our wedding venue called us a month before the wedding and told us that they were being shut down by the City for code violations. While on the phone, Jenn had already secured 3 other options, one of them being the FIRST venue we had wanted, which was the Old Sugar Mill. When we had first looked at the mill they were already booked so we booked the other venue. Apparently whoever had booked it had canceled!
So God worked the whole thing out mysteriously where a month before our wedding we got the ORIGINAL venue we wanted!! None of that would of happened without Jenn, we would have been stranded a month before our wedding with no venue. She is honestly the best!!!!!!
What was the most amazing part of your day? There were so many amazing parts! From our first look, to the moment I walked down the aisle and us both trying not to lose it, and then having pretty much everyone stay till the end of the night dancing and say it was the best wedding they had ever been to!
Ceremony and Reception Site: The Old Sugar Mill
Officiant: My Momma, Pastor Verna Brown
Photographer: Ellie Ford Photography
Videographer: White Raven Videography
Wedding Planner and Florist: Jenn Robirds Events
Caterer: All Seasons All Reasons Catering
Cake/Desserts: A Friend
Favors and Photo Booth: The Platinum Photo Booth
Bridal Attire: Miosa Bride
Bridesmaids' Attire: Mira's Bridal Couture
Hair: Maggie Marmion
Make-up: Beauty by Teara
Invitations: A Friend
DJ/Entertainment/Band and Lighting: Sounds In Motion
Honeymoon Location: Le Blanc, Cancun
First Dance Song: "I get to love you" by Ruelle
Any advice you'd give to our readers who are planning their weddings right now? Hire Jenn Robirds Events. Haha!! No seriously I worked for a wedding DJ company for 3 years and saw so many brides stressed out for months and even on the day of where they didn't even get to enjoy their wedding day. And I don't mean hire your girlfriend that says she can help you with your wedding, I tried that before I called Jenn, which is why I called Jenn! No bueno. But yes hire a planner and soak up all of the joy! It goes by so fast!
Anything that you would have done differently if you were given the chance? It was honestly flawless and the most beautiful day, there's nothing I really would have done different!
Photos by Ellie Ford Photography.
Blog post by Real Weddings Magazine's Social Media Maven, Aimee Carroll.
Subscribe to the Real Weddings Magazine Blog! Click here: