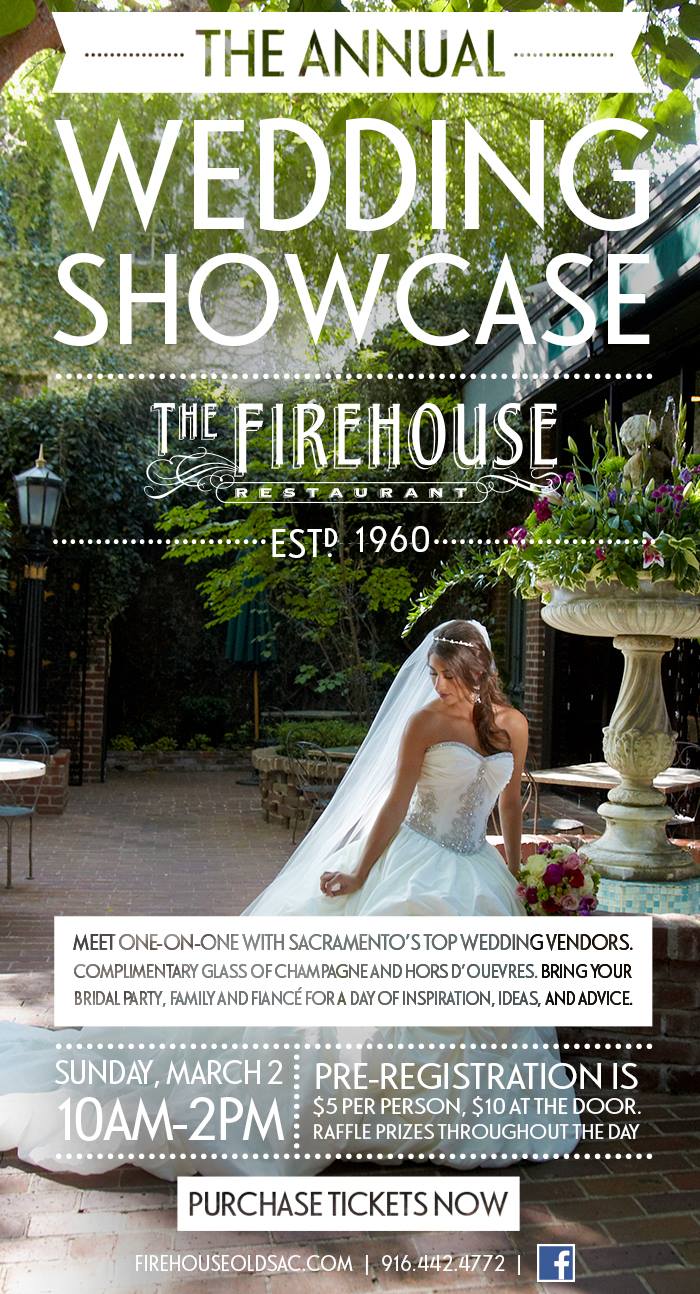 Join us for the 2nd Annual Firehouse Wedding Showcase on Sunday, March 2nd, from 10 a.m. – 2 p.m. at The Firehouse Restaurant in Old Sacramento.
Stop by this event for your FREE copy of Real Weddings Magazine and our planning resource, Real Weddings Magazine's The Planning Guide! Plus, enter to win a $50 gift certificate to The Firehouse Restaurant.
Here are the details for this fabulous event:
When: March 2, 2014
Time: 10 a.m. – 2 p.m.
Where: The Firehouse Restaurant in Old Sacramento
Cost: Pre-registration is $5 per person or $10 at the door.
Purchase tickets online here!
About: The Firehouse Wedding Showcase will bring together top event experts, products and services on one day — to answer questions, offer inspiration and help you create your perfect wedding experience.
Invite your bridal party, your family, and your fiancé to sip a complimentary glass of sparkling wine and enjoy passed hors d'oeuvres while you speak with event experts and experience the latest wedding trends.
For more information, please click here.
Be sure to tell them you found out about the event from Real Weddings Magazine!
Hope to see you there!
Photo courtesy of and copyright The Firehouse Wedding Showcase.
Blog post by Real Weddings Magazine's Social Media Maven, Aimee Carroll.
Subscribe to the Real Weddings Magazine Blog! Click here: [subscribe2]