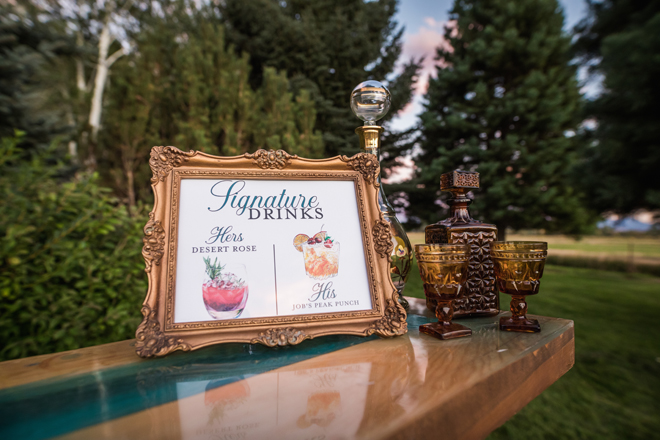 Signature drinks have become staple at weddings, and with good reason!  They're fabulous and add personality to your event! Daisy of 100 Proof Bar Service says, "Signature drinks are can be a brilliant way to save money (as opposed to having a full open bar), save time, add personalized touches and set your beverage service apart from a typical wedding or event."
Daisy also offers a few tips on creating the perfect signature drink menu for your special day:
Made-To-Order:
Made-to-order beverages are not always the most budget-friendly option, but are guaranteed to provide a memorable experience for your guests.
This is required for carbonated mixers or particular techniques that are part of the appeal. For example, made to order martinis shaken in front of guests provide almost a form of entertainment.
Flare bartending has become very popular for this reason. My favorite made to order drink is a Mule. You can use the same recipe with fresh ingredients yet offer a choice of tequila, bourbon, or vodka to appeal to more of your guests. Be advised that guests will see the labels of bottles—so using top-shelf brands is almost a must.
The point here is to impress your guests so popular brands, quality ingredients and professional techniques like wood smoking, using dry ice, muddling, floating, flaming etc. all come into play when selecting made to order signature drink recipes. Definitely a way to put your beverage service over the top!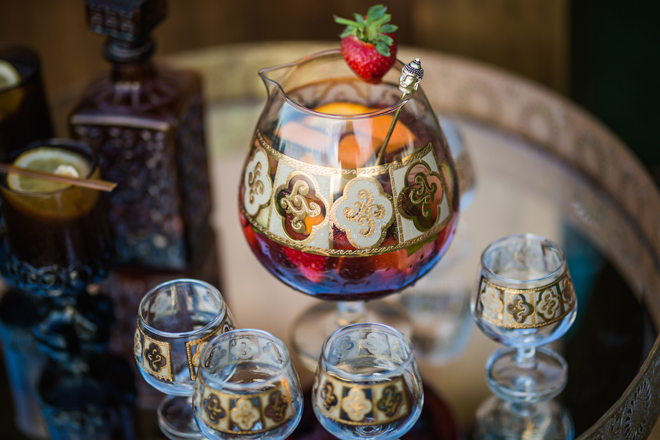 Pre-Made/Batch Recipe:
With pre-made/batch recipes, there is definitely more opportunity for savings of both time and money without having to compromise on impressing your guests. The recipes to choose from or even create are endless but in addition to the recipe selection there are some other options to consider that will effect your over all beverage service. Here is where it gets fun…
There is something very appealing about a beautiful glass decanter filled with a refreshing beverage.
This plays well into your theme and decor as you consider the colors of the beverage and the display itself. Make sure the decanter pours easily and that you have plenty of back up to replenish the decanter through out the night. There is also an opportunity here for a creative "name' and signage element.
Another way to serve pre-made batch recipes is to pre-pour into glasses just before guest arrival to create a jaw dropping display with creative shelving or props. This can be accomplished regardless what style or theme you have. I've used stepladders, carousels, suspended tables, mirror shelving, and even wood stumps just to give you a few ideas. Just a note: distinctive glassware instead of disposables is recommended for this option.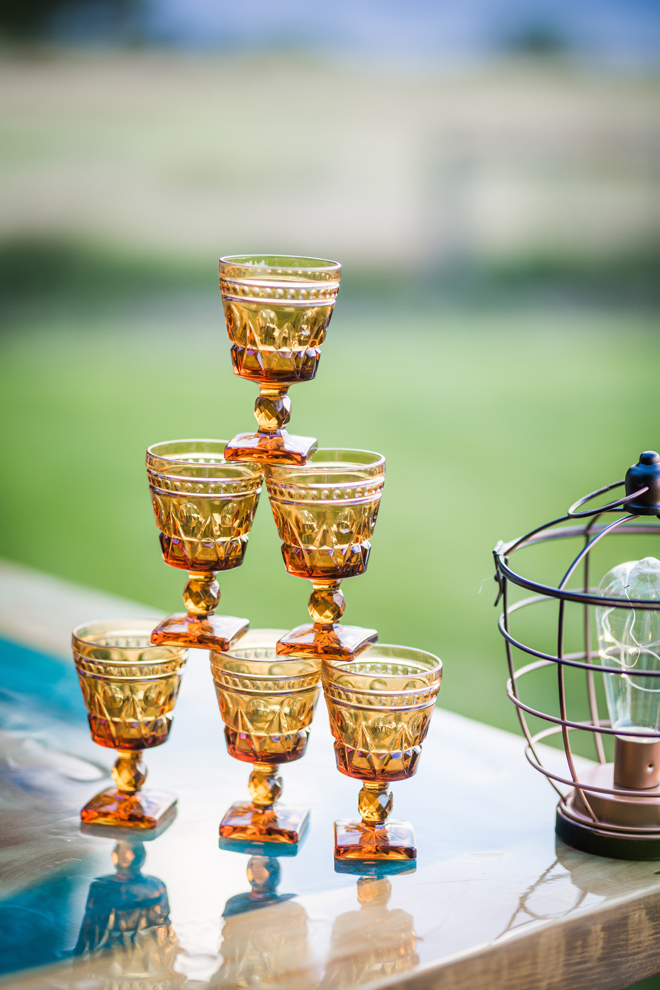 Even another way to impress your guests using pre-made batch recipes is to pre-pour into glasses and tray them to be butler passed. They can be passed as guests leave the ceremony area or as they enter into the cocktail area. You can also offer them with a strolling butler during the cocktail hour.
Any of these options will give you the opportunity to express your style and individuality. Another huge benefit of batch recipe options is that it will definitely alleviate the inevitable long line at the bar immediately following the ceremony.
My favorite batch recipe is our famous rum runner (it is a more expensive recipe—but always delivers especially for the hot summer months) but my next favorite is definitely a sangria. A beautifully displayed sangria appeals to almost everyone any time or season of the year.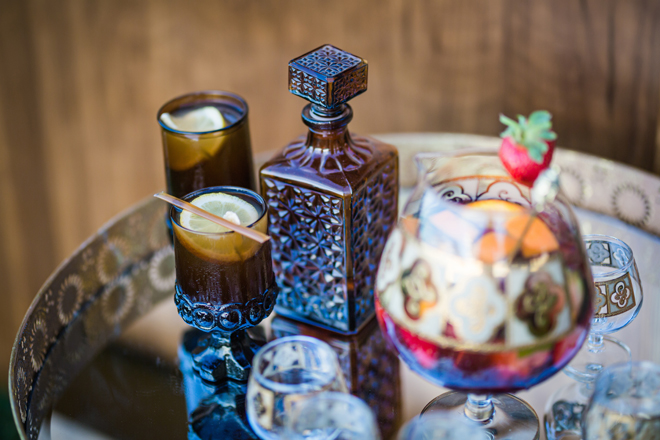 A fun fact I always like to share with my clients is that each wedding guest will spend an average of 40- 45 minutes at the bar. Considering that is usually equal to or even more time than they spend at their dinner table—EVERY detail about your bar area, the beverage service, what you serve, how it is served, and who it is served by should all be considered as a very important part of your over all guest experience.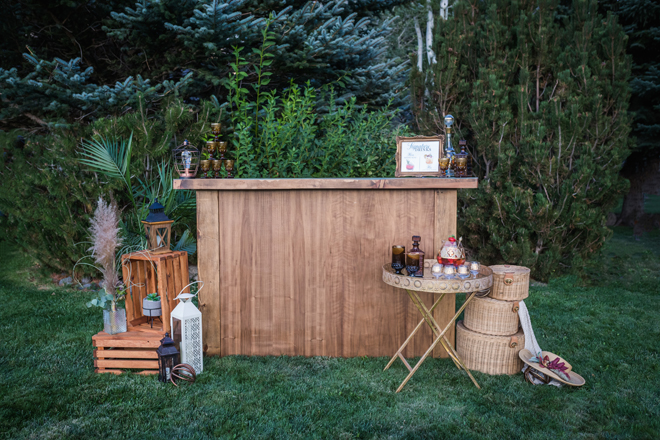 Rum Runner Recipe:
In shaker mix 1/2 oz. sweetened condensed milk, 1/2 oz. organic coconut milk, 1 oz. vodka, 1 oz. sweet & sour, juice from ½ key lime
Add ice; shake till outside of shaker is frosted. Strain into 3-4 oz. glass that is rimmed with sweet milk and dipped into crushed graham cracker crumbs.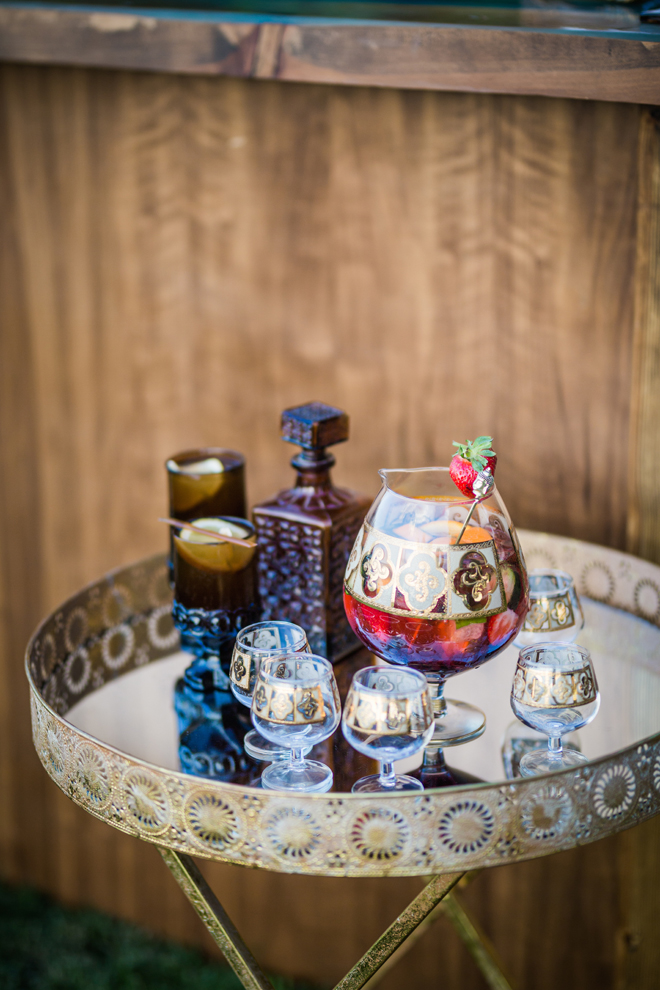 Find out more about 100 Proof Bar Service (and their fabulous Beer Burros!) on their website, FB Page and Insta Page.
Photos from our "Beautiful Valley" styled shoot in the Carson Valley for our Winter/Spring 2020 issue of Real Weddings Magazine—photos by Rachel Lomeli Photography on location at East Fork Ranch, Rentals from Tahoe Elevated Events, Signature Drinks by 100 Proof Bar Service and Signage by The Stylish Scribe.