Oh, what a ray of sunshine Jessica is!
The minute we met her, we knew we wanted her to be one of our real bride models—and when we were casting for our "Here Comes The Sun" styled shoot, we thought she'd be perfect! This woman practically glows with happiness and light, and it's an honor to have her grace the pages of the current Winter/Spring 2016 issue of Real Weddings Magazine!  Here's just a little bit more about Jessica!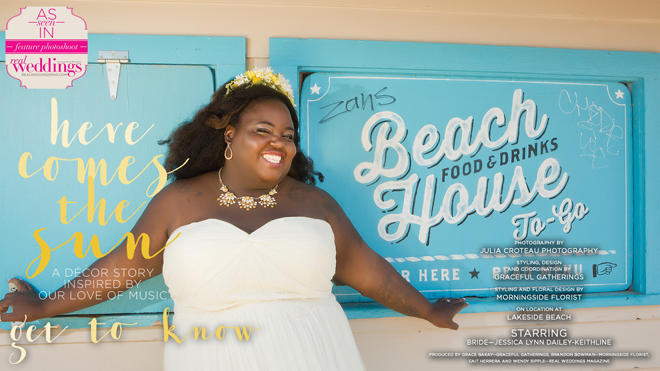 RW:  WHAT MADE YOU WANT TO MODEL FOR THIS SHOOT?
JD: I thought it would be an incredibly fun experience, especially with my own wedding coming up soon. I have been in complete wedding mode.
RW:  WHAT WAS YOUR FAVORITE PART OF MODELING?
JD: I absolutely love being in front of a camera! Beyond that, having a team of folks creating looks for you that you would never be adventurous enough to try in your normal life, was a huge plus. The entire experience made me feel like a life-size doll and I loved it!
RW:  WHAT WAS YOUR FAVORITE PART OF THIS SHOOT? DID YOU RELATE TO THE CONCEPT?
JD:  The "Here Comes the Sun" concept was pretty awesome because I think of myself as having a very friendly, "sunny" personality. I love the bright colors and summer time. The crisp yellows and whites of the shoot were very befitting of me.
RW: WHAT DO YOU DO FOR A LIVING?
JD: Currently I work for the California Workforce Investment Board as a Policy Analyst, but I am happy to say that I have just been promoted to a management position with the Department of Development Services where I will be working on early childhood education programming for children 0-3.
RW: TELL US ABOUT YOUR OWN WEDDING.
JD: I love sapphires and Fall. I also like things that are old and vintage. I have concurrently woven two themes together: Rustic/Vintage and Sapphires and Fall Leaves. The colors are navy blue and orange with lots of burlap and rustic touches. The vintage part is the addition of lots of pearls and lace accents. Flower arrangements will include orange tea roses and babies breath. We had our wedding at the Jack London Lodge in Glen Ellen, California in Sonoma County. It was relatively small with about 70 guests.
RW: IF YOU COULD OFFER ANY ADVICE TO FUTURE COUPLES-TO-BE, WHAT WOULD IT BE?

JD: Start planning early! Know what your focus is and write everything down. Have at least one friend and your spouse around to buffer you in case you spin. Don't be afraid to ask for help and admit if you have no clue what you are doing. Make any and all drop-dead deadline at least one week before you actually need them. Also, set a point when you accept things the way they are.
—Interviewed by Kelley Saia
"Here Comes The Sun" styled shoot was produced by Grace Bakay—Graceful Gatherings, Brandon Bowman—Morningside Florist, Cait Herrera and Wendy Sipple—Real Weddings Magazine.
Venue
Lakeside Beach  |  530-545-8453  |  lakesideparkassociation.org  |  laketahoebeachweddings.com
Please note that you cannot have your reception on the beach, but you can have your ceremony on the beach in a special area—we were granted special permission for this specific editorial photo shoot.
Photographer
Julia Croteau Photography  |  530-295 4850  |  530-953-9848  |  juliacroteauphotography.com
Design, Styling, Coordination, Floral Containers, Cake Stands, Sequin Linen, Pillows, Marquee Lighting and Umbrella Rentals
Graceful Gatherings  |  530-305-5339  |  gracefulgatherings.net
Styling and Floral Design
Morningside Florist  |  916-635-9891  |  morningsideflorist.com
Cake and Desserts
Whole Foods Market  |  wholefoodsmarket.com/service/weddings-folsom
Hair and Makeup
I Make Beautiful  |  916-532-9800   |   imakebeautiful.com
Bridal Gowns
Sparkle Bridal Couture  |  916-538-6615  |  sparklebridalcouture.com
Jewelry
Macy's   |   macys.com
Arden Fair Mall  |   916-925-2845
Country Club Plaza   |   916-485-3885
Downtown Plaza   |   916-444-3333
Sunrise Mall   |   916-962-3333
Westfield Galleria at Roseville  |  916-771-3333
Paperie
Angela Dal Bon for Invitations Ink  |  916-759-4428  |   invitations-ink.com
Linens, Tables, Chairs, Plates, Flatware and Glassware Rentals
Camelot Party Rentals  |  775-355-9004  |  camelotpartyrentals.biz
Birch Arch Rental
Accents by Sage Floral Design  |  916-799-6242  |  accentsbysage.com
Custom Décor Signage
Swoonable  |  swoonable.net
Videographer
JB Wedding Photography  |  916-220-0159   |   jbweddingphoto.com
Special thanks to our real bride model, Jessica Lynn Dailey-Keithline, and to all of the professionals who contributed to this feature!
Click here to see other posts in the "Here Comes The Sun" blog series!
Blog post by Real Weddings Magazine's Editor/Publisher Wendy Sipple.
Photos by Julia Croteau Photography / copyright Real Weddings Magazine.
Subscribe to the Real Weddings Magazine Blog! Click here:
[subscribe2]