Welcome back Real Weddings Magazine brides to another installment of The Recessionista Bride Blog Series by our guest blogger extraordinaire Kate Miller of Kate Miller Events.
This week, she addresses some unique reception food ideas! Take it away Kate!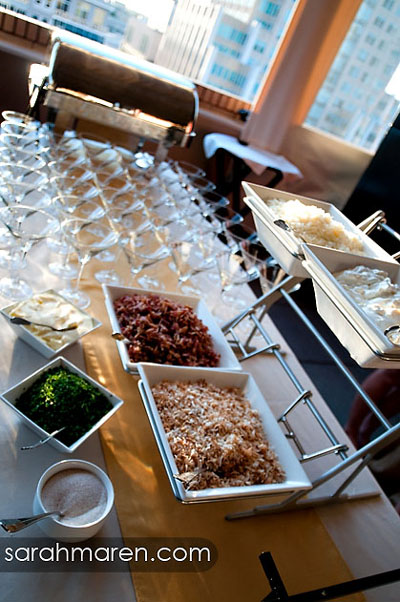 "You've found the perfect venue, the perfect dress and the perfect decor – but your budget is so strapped you're not sure what to do! If you have catering minimum negotiating power, you could work on a nontraditional menu of delights that is both palate pleasing and budget friendly! There are many ways that you can give yourself a one-up on the negotiating bandwagon:
Choose an unpopular wedding date. If you're willing to get married on a mid-week or even on a Friday or Sunday, your event venue might be more apt to lower your catering minimums.
Choose a brand new venue and plan on the short timeframe. I highly recommend you hire a planner to help you with this process, as planning a wedding in two – four months can be difficult if you're not well-versed in the wedding world. However, if you're willing to push up your date, a new venue may be more apt to lower their minimum for a date that they would otherwise not book in such a timeframe.
Choose a unique time. A luncheon, Sunday brunch or afternoon tea party plan may provide you with more flexible catering options that are more friendly to your budget.
If you have managed to get your catering minimum lowered or have found a venue with an already low minimum, the next challenge will be how to feed 100 guests within that estimate!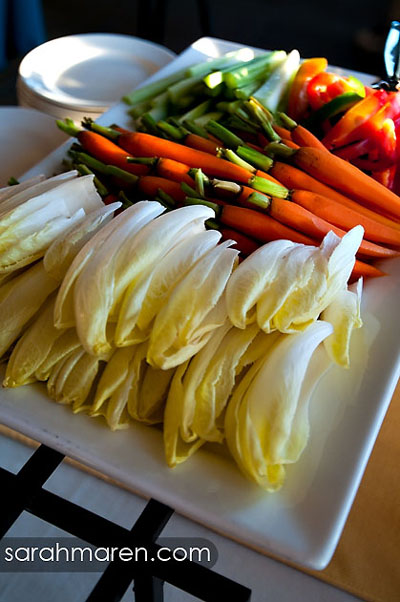 A $4,000 minimum with a catering menu where the per guest cost starts at $95 will not be much of a help if you have 100 guests. If your reception is later in the evening, make sure your guests don't go hungry! Recessionista Bride Stevie chose to serve their guests a sumptuous selection of comfort food inspired bites – that also happened to be rather filling:
Mashed Potato Martini Bar – including Russet and Sweet Potatoes
Mini Sliders with Blue Cheese
Tomato Soup Shooters topped with Mini Grilled Cheese Panini
Locally Grown Crudite
For dessert, we offered guests their choice of five different cake flavors from the Dessert Buffet  – and not one guest left famished!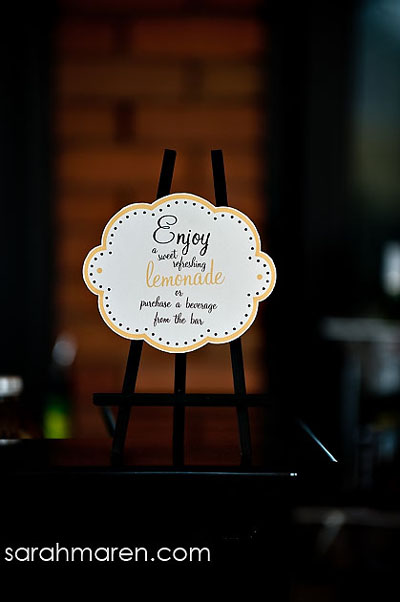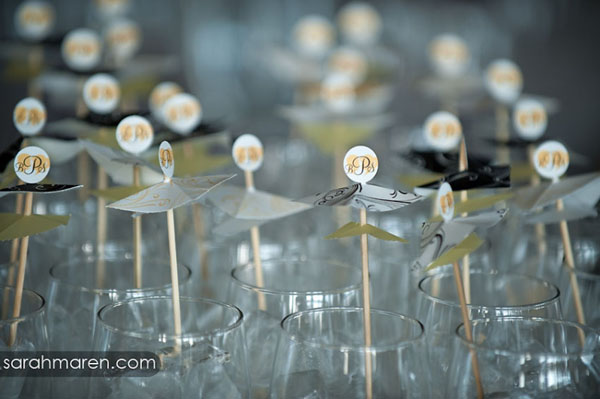 While the concept of a cash bar is a very personal decision, I always let my clients decide based on what they are comfortable with. For Stevie and Blake's wedding, instead of just sticking the guests with an added cost, we offered a non-alcoholic signature beverage of lemonade. It provided guests a fun drink alternative without all of the costs of an open bar!
Last but not least, do not forget the 20% +/- Service Charge and Tax, not typically included in the minimum. Many couples come to me asking how they can negotiate that Service Charge percentage and I will tell you what I always tell them: This 20% fee is not just the venue taking it's fair share of the profits – it's what pays for all of your setup, service and clean-up on the day of the wedding. This, of course, increases with the size of your wedding and intensity of your menu (three, four or five course meal) as the setup, service and cleanup will also increase with these changes."
Are you planning a non-traditional menu for your wedding day guests?
Tune back in to the Real Weddings Magazine blog on April 23rdfor the next installment in the Recessionista Bride Blog Series on Fresh Rose Petal Substitutes.
About Kate Miller Events (in their own words):
Kate Miller Events offers full-scale event and wedding planning of extraordinary detail for the bride and groom looking for that extra-special touch. We will keep you organized, on or under budget, and stress-free while designing the wedding of your dreams. We are committed to making sure your day goes off without a hitch — except for the hitching part of course!
Kate Miller Events offers new technology to keep all avenues of communication open and organized. Our excellent online client planning tools include customized checklists, payment calendars with email notifications, appointment tracking, online idea boards, and contract filing with easy access for all members of your wedding party. Our top-notch organization enables us to be your liaison to all of your vendors – we worry about the details so that you don't have to.
All of our packages are unique and completely customized to fit your budget so that you only pay for the services that you need. We offer a wide range of planning services from Day of Coordination to Full Coordination/Design and everything in-between.
Be sure to check out Kate Miller Event's Web site and Kate's blog or call her at 888-808-KATE.
Photos above from Stevie & Blake's wedding, one of our featured real weddings in the current issue of Real Weddings Magazine, by Sarah Maren Photography. Kate Miller from Kate Miller Events worked with Stevie & Blake to achieve their perfect day. To read more about Stevie & Blake's wedding and to view more photos from their wedding, pick up a copy of the current issue or click here.
---
---
---
Subscribe to the Real Weddings Magazine Blog!