Welcome back Real Weddings Magazine brides to another installment of The Recessionista Bride Blog Series by our guest blogger extraordinaire Kate Miller of Kate Miller Events. 
This week, in the final installment, she addresses additional details to Recessionista Bride Stevie's wedding! Take it away Kate!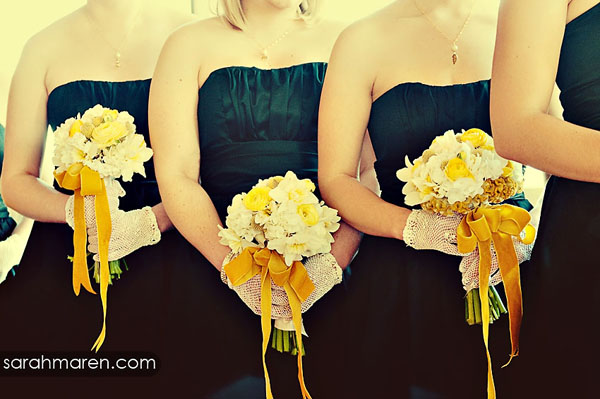 "Recessionista Bride Stevie was an uber-crafty bride. She crafted many extra-special touches for her chic vintage modern wedding at The Citizen Hotel. 
One particularly unique idea she came up with was her Bridesmaid necklace design. You can spot them in the photo above. Each had a large pearl drop on a gold chain and was accented by a charm unique to each girl's personality: a star for the actress, a wing for her most spiritual friend and she even made one for me – a genie lamp, as she said that I, "made all her wishes come true!" So sweet! 
She also purchased the crocheted gloves shown above for each girl – but much to her dismay, they were bright white and clashed quite a bit with the ivory nuanced of our design. Instead of starting from scratch, a simple tea bag dying process softened their color perfectly. Yet another budget craft project done right!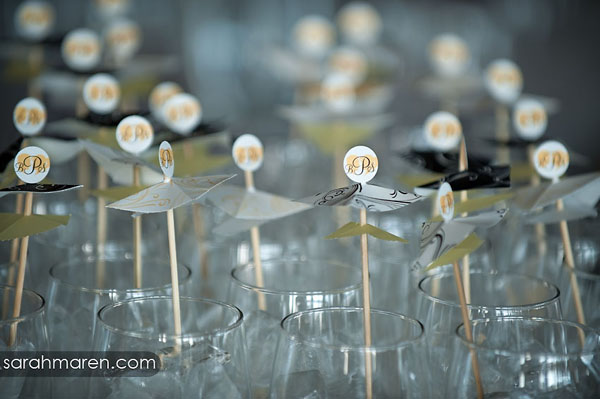 Lastly, the signature lemonade needed an accent – so I sent over colored patterned paper and monograms that were cut and punched into cute little drink umbrellas. Each was adhered to shortened skewers and added to the glasses to continue the decor for a cohesive look. These were very cheap and easy to make – but made a huge impact for guests!" 
Are you using your crafting skills to add extra details to your wedding day design? 
Want more Recessionista Bride? Check out all the previous entries in the blog series to help you make the most of your wedding budget! 
Introducing…the Recessionista Bride Series 
Recessionista Bride: Alter an Unexpected Dress 
Recessionista Bride: Adding Bling to Your Invitation Suite 
Recessionista Bride: A Non-Traditional Guestbook 
Recessionista Bride: One Room Wonders 
Recessionista Bride: The Dessert Buffet & Bar 
Recessionista Bride: Unique Centerpieces 
Recessionista Bride: Hosting A Bouquet Making Party 
Recessionista Bride: Reusing Decor 
Recessionista Bride: a Dessert and Hors d'oeuvres Reception 
Recessionista Bride: Rose Petal Substitutes 
Recessionista Bride: Additional Details 
About Kate Miller Events (in their own words): 
Kate Miller Events offers full-scale event and wedding planning of extraordinary detail for the bride and groom looking for that extra-special touch. We will keep you organized, on or under budget, and stress-free while designing the wedding of your dreams. We are committed to making sure your day goes off without a hitch — except for the hitching part of course! 
Kate Miller Events offers new technology to keep all avenues of communication open and organized. Our excellent online client planning tools include customized checklists, payment calendars with email notifications, appointment tracking, online idea boards, and contract filing with easy access for all members of your wedding party. Our top-notch organization enables us to be your liaison to all of your vendors – we worry about the details so that you don't have to. 
All of our packages are unique and completely customized to fit your budget so that you only pay for the services that you need. We offer a wide range of planning services from Day of Coordination to Full Coordination/Design and everything in-between. 
Be sure to check out Kate Miller Event's Web site and Kate's blog or call her at 888-808-KATE. 
Photos above from Stevie & Blake's wedding, one of our featured real weddings in the current issue of Real Weddings Magazine, by Sarah Maren Photography. Kate Miller from Kate Miller Events worked with Stevie & Blake to achieve their perfect day. To read more about Stevie & Blake's wedding and to view more photos from their wedding, pick up a copy of the current issue or click here. 
---
---
---
Subscribe to the Real Weddings Magazine Blog!