We're so excited to be part of today's LIVE and IN-PERSON International Wedding Festival at Sacramento Grand Sheraton! Yep, that's right, a live and in-person bridal show and wedding expo today, Sunday, April 18, 2021 from 11 a.m. – 3:30 p.m.
The team at International Wedding Festivals has assembled the area's favorite and most respected wedding professionals for your wedding planning needs. With so much uncertainty in the world today, one thing you can count on is your love and the wedding professionals at the Wedding Festival to plan your amazing day and celebrate your love!
They're are taking the pandemic very seriously and will limit the number of people that can be present at any given time. When you purchase your ticket, you will select the time that you wish to attend. Each ticket includes one full hour to visit with wedding professionals who are physically present and ready to plan a wedding with you!
PLUS, your ticket also includes all day access to International Wedding Festival's virtual platform. They have added a virtual element to ALL of their LIVE, IN-PERSON EVENTS just like this one!  You can head to the live event and meet with wedding professionals in person AND visit with them online at the virtual event. You will see their offerings, have conversations, chat, zoom and plan your big day!
PLANNING A DESTINATION WEDDING?  OR JUST WANT TO PLAN FROM THE COMFORT OF HOME?
International Wedding Festival's virtual platform is perfect for engaged couples planning a destination wedding or those who want to plan from the comfort of home to "meet" with amazing wedding professionals live! YES LIVE! Their wedding professionals have been changing just as everyone else has in response to COVID and they will share with you the latest information about hosting your wedding in the New World.
WHEN:  TODAY, Sunday, April 18, 2021
TIME:  11 a.m. – 3:30 p.m.
WHERE:  Sheraton Grand Sacramento Hotel, 1230 J Street, Sacramento, CA 95814
For questions and additional information on the wedding show contact Kimberly Vaughan:  kimberly(at)internationalweddingfestival.com
And, stop by the Real Weddings Magazine booth to get a free copy of the magazine and The Planning Guide, and register to win a $100 gift certificate to The Firehouse Restaurant!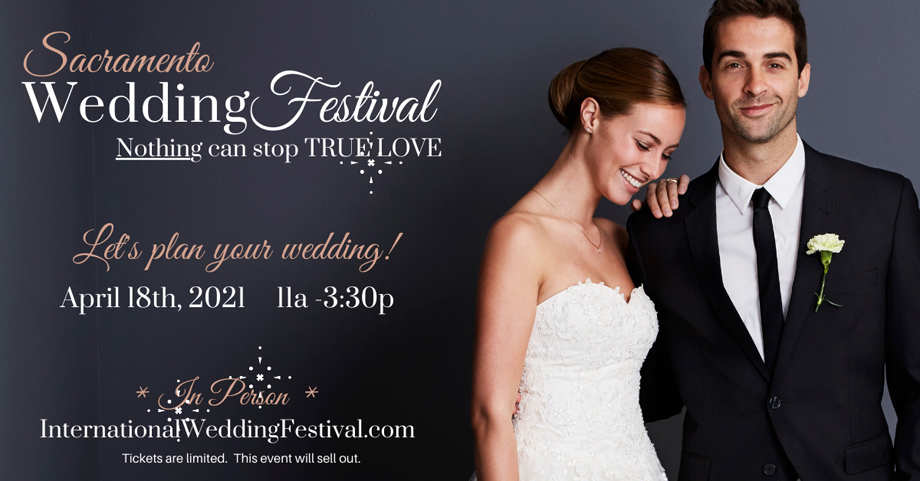 Be sure to tell them you found out about the event from Real Weddings Magazine!
---
BRIDAL SHOW TIPS!
Before you head out to the area's wedding and bridal show event and venue open houses, check out this handy little list of tips to make the most of the experience:
Create a "wedding" only email— you'll want to have a specific email address just for your wedding business. You'll be getting a lot of information sent to the email that you register with at bridal shows, so it's nice to have it all in one place separate from your work and/or personal email.
Don't go it alone—bring a bridesmaid, your mom or a friend (or dare we suggest, your fiancé?). It will be helpful (and more fun!) to have their input and advice.
Bring labels—many vendors offer prizes and contests, and additionally, you may want to request more information from selected vendors. By bringing pre-printed labels, you will save time and the hassle of having to complete this information booth after booth. Information that you might want to include: your name, address, phone, email, fiancé's name and when you're getting married.
Bring a notebook or make sure you've got enough space on your phone for photos—no matter how good your memory is, you'll want to take some notes (either old school in a dedicated wedding notebook or on your phone) on vendors and ideas that catch your eye.
Bring a sturdy tote bag—you'll be picking up business cards, brochures, etc. Or, come to the shows where Real Weddings Magazine will be and we'll give you one of our groovy reusable bags!
---