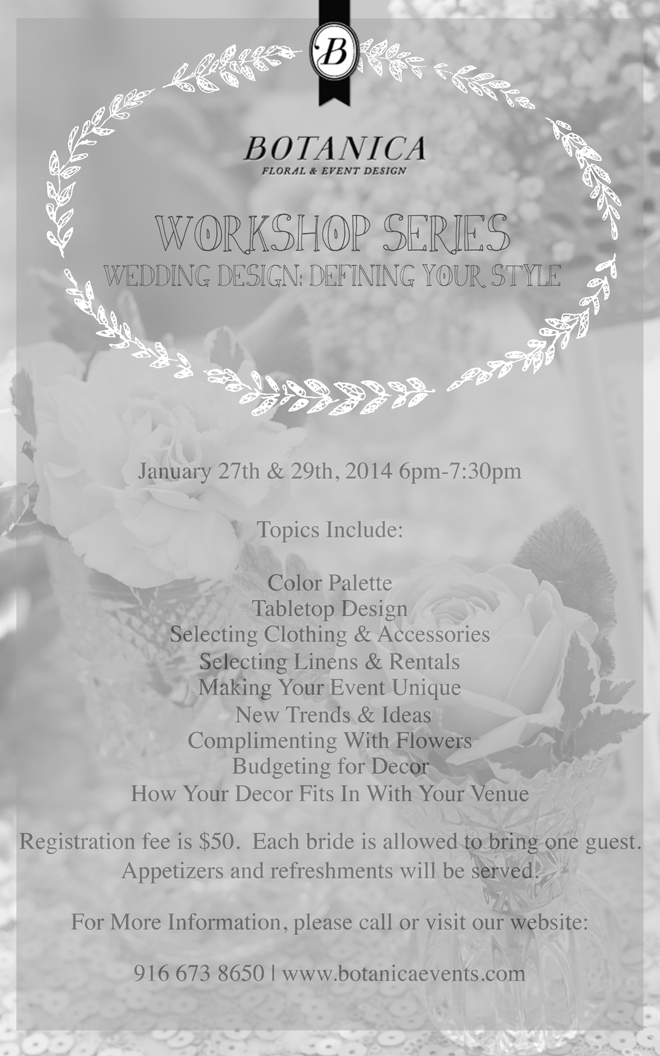 Botanica Floral & Event Design is pleased to present their first Workshop Series, Wedding Design: Defining Your Style! They'll be opening their studio to brides and grooms who are interested in creating a unique space and experience for their wedding.
Are you feeling a little lost when it comes to the look of your wedding? Maybe you're worried all of the details you have chosen just aren't going to flow together? If you are looking to make your wedding unique, sophisticated and elegant be sure to sign up for this amazing workshop which will address all of your design dilemmas!
Audrey Chaney, owner of Botanica Floral & Event Design, will personally answer your questions to guide you to the wedding of your dreams, with all the little details!
There are two dates to choose from, January 27th or January 29th, 2014. Both workshops will be held from 6-7:30 p.m. at Botanica Floral & Event Design's Studio in Sacramento.
And, we've got a FREE ticket to this event for one lucky bride! The first bride to email info@realweddingsmag.com will snag a ticket to the January 27th workshop!
We will be there, too! Stop by our table at these workshops to get your FREE copy of Real Weddings Magazine and a FREE copy of our wedding planner Real Weddings Magazine's, The Planning Guide Plus, register for a chance to win a $50 gift certificate to The Firehouse Restaurant! We'll be giving one away at each workshop!
Event details:
When: January 27 & 29, 2014
Time: 6-7:30 p.m.
Where: Botanica Floral & Event Design Studio at 8160 14th Avenue in Sacramento
Who Should Attend: Those planning their weddings in need of design, color, theme and overall look assistance.
Why You Should Attend? Not only will you walk away with a clearer vision of your wedding look, but you will get to personally ask and get advice from Audrey on how to make your event look flow with colors, theme and having your personality shine through. Every attendee will also get a $75 credit towards their rental inventory and a swag bag of goodies with savings!
Space is limited to 10 people, 20 guests total per evening.
Cost: $50 registration fee.
For more information, log on to rentals.botanicaevents.com/wedding_workshops/. And, make sure to "like" Botanica Floral & Event Design on Facebook for updates, facebook.com/botanicafloral.
Be sure to tell them you found out about the event from Real Weddings Magazine!
Blog post by Real Weddings Magazine's Social Media Maven, Aimee Carroll.
Photo courtesy of Botanica Floral & Event Design.