Don't miss the Nevada County Annual Destination Wedding Expo 3 location tour THIS SUNDAY, January 19, 2014 from 10 a.m. – 4 p.m. in Grass Valley!
Stop by this event for your FREE copy of Real Weddings Magazine and our planning resource, Real Weddings Magazine's The Planning Guide!
Plus, enter to win the RETIRED Stella & Dot "Serenity" Necklace (value of $198) at our booth!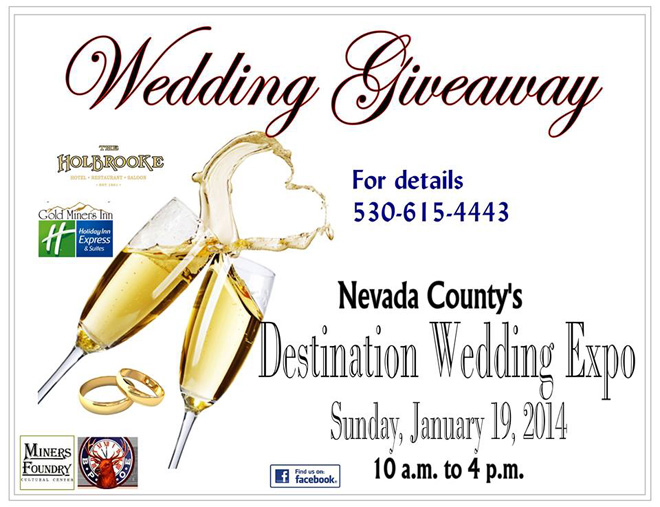 Here are the details for this fabulous event:
When: Sunday, January 19, 2014
Time: 10 a.m. – 4 p.m.
Where: The Gold Miners Inn, Holiday Inn, Holbrooke Hotel and Elks Lodge in Grass Valley
Cost: Admission is $10 and benefits the Grass Valley and Nevada City chambers.
About: Vendors from Nevada County's wedding industry will be setting up shop at three locations in Grass Valley starting at the Holiday Inn, where brides and their guests will pick up their passport to be stamped by all the vendors and turned in in the afternoon for an opportunity to win a wedding and reception package. Guests receive hosted Mimosas and Bloody Mary's. Brides and their guests will be shuttled via Limo/Carriage/Party Bus between venues.
For more information, please click here.
Be sure to tell them you found out about the event from Real Weddings Magazine!
Hope to see you there!
Photo courtesy of Nevada County Annual Destination Wedding Expo.
Blog post by Real Weddings Magazine's Social Media Maven, Aimee Carroll.
Subscribe to the Real Weddings Magazine Blog! Click here: [subscribe2]