Can I just tell you how difficult it is to pick a cover model winner?
It's sooooo hard because all of the photos are so amazing, truly!
Each issue, we conduct a contest to pick three real brides from the Sacramento area to be our models for our fashion feature in the magazine. These three real brides graciously (and patiently!) model dozens of gowns from local area boutiques during an all day photo shoot at a local area wedding venue. From that photo shoot, we pick that issue's covers (all three brides get to appear on one of the covers and then one of the brides gets to be featured solo on the other cover).
We know we say each issue how difficult it is, but believe me when I say, it really is difficult! Each of our brides has gorgeous photos worthy of being on the cover, but alas, we can only pick two — one three girl cover and one single girl cover.
Our new Summer/Fall issue arrives tomorrow, and we're excited to announce that all three of our gorgeous brides, Nicole Shebl, Sarah Sutton and Jillian Duffy will grace the Summer 2010 cover.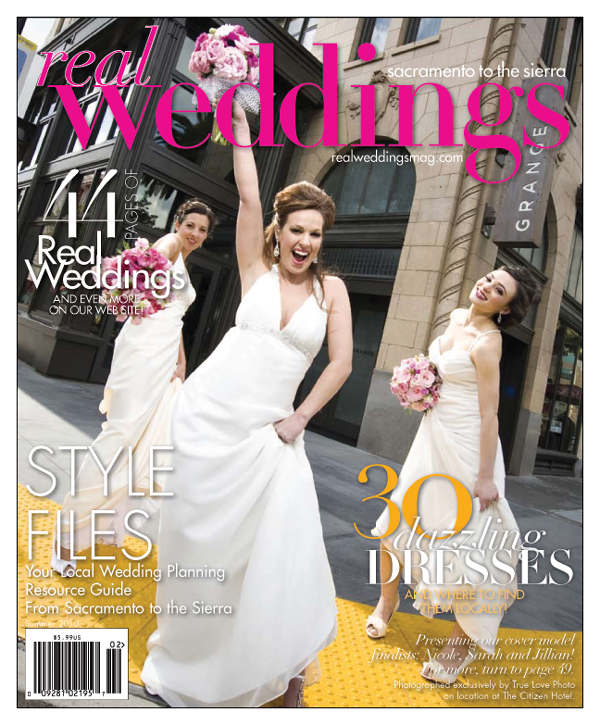 And, our cover model winner is…Sarah Sutton!  Sarah will be featured solo on the Fall 2010 cover, out in late August (here's a sneak peek!).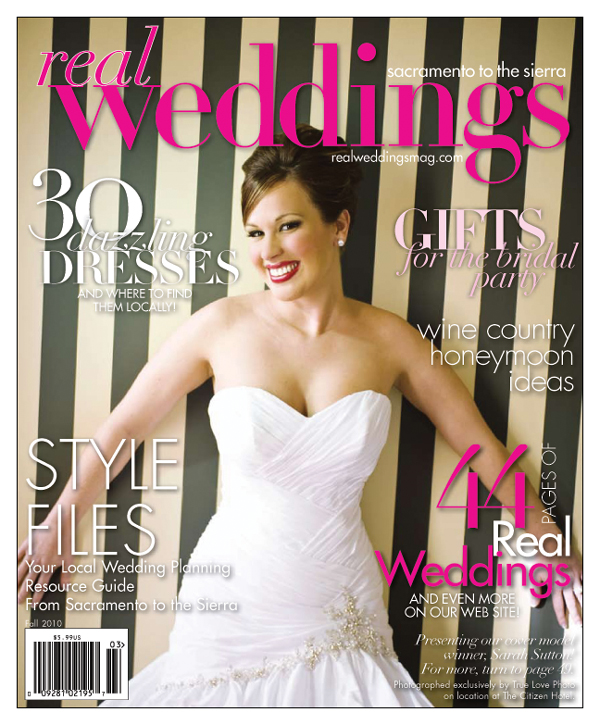 We're thrilled to feature you beautiful, smart and funny(!) women on our covers! Thank you for being such wonderful "models"!
And we'd be totally remiss if we didn't thank all of the vendors who contribute to our cover model fashion photo shoot (we'll feature more images from the photo shoot on our Web site soon!).
Here are the details:
Photographed on location at:
The Citizen Hotel
926 J Street, Sacramento
916-447-2700, citizenhotel.com
Photography by:
True Love Photo
916-223-2384, truelovephoto.com
with special thanks to Andrea Price and Thais Scheideman
Accessories provided by:
Advantage Bridal
310-371-2060, advantagebridal.com
Jazzy Designs
916-300-5458, jazzyjewelzbynancy.com
Tigerlilly Jewelry
804-402-8767, tigerlillyjewelry.com
Select shoes provided by:
Paradox London
866-955-SHOE, paradoxlondonus.com
Dresses provided by:
Always Elegant Bridal Boutique
530-755-4282, alwayselegantbridal.net
The Bridal Box
916-961-1500, thebridalbox.net
Diamond Bridal Gallery
916-521-9856, diamondbridalgallery.com
Dreamnette Bridal
916-780-4747, dreamnette.com
Miosa Bride
916-443-1301, miosabride.com
Hair and Make-up for Sarah by:
Image Provocateur and
VIP-CAT Academy
916-474-5578, vip-cat.com
Hair and Make-up for Nicole by:
Carol Cardinale-Ruiz
Deena Ellis, Assistant
Bellissimo Brides
559-641-7721, bellissimobrides.com
Hair and Make-up for Jillian by:
Samantha Garcia, Hair
Melissa Hoffmann, Make-up
Nevaeh Boutique, Spa, Salon
916-786-5888, nevaeh.com
Flowers provided by:
Ambience Floral Design
916-786-6851, ambiencefloral.com
Amore Flowers by Katie
916-770-6680, amoreflowersbykatie.com
Blooms by Martha Andrews
916-300-5948, bloomsbymarthaandrews.com
Botanica Floral Designs
916-673-8650, botanicafloraldesigns.com
By the Gate
530-622-7834, bythegateflowers.com
Camino Flower Shop
530-644-5730, caminoflowershop.net
Flourish
916-212-5179, flourishdesigns.com
Natural Flair Floral Design
530-677-0878, naturalflair.net
Slippers provided by:
Bearpaw Shoes
bearpawshoes.com
Catering provided by:
Bocca Catering
916-834-3554, boccacatering.com
Again, we'll feature more dazzling dresses, beautiful flowers and alluring accessories from our cover model fashion photo shoot feature here on our blog soon — stay tuned!
Blog Post by Publisher/Editor Wendy Sipple.
---
---
Looking for local Sacramento wedding vendors?
---
Subscribe to the Real Weddings Magazine Blog!