Mallory and Ryan have such a fun and comfortable relationship they made us feel at ease! We loved having them as our Real Couple Models, and although this year threw them a curve ball (for our shoot and their very own wedding), their ability to see the positivity in things really made them a joy to work with. Get to know the below!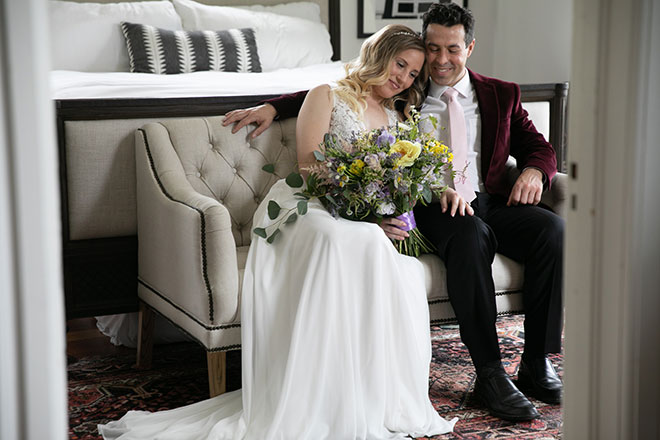 Check out the expanded digital edition here!
What made you want to model for this photo shoot?
I loved browsing the style ideas in Real Weddings Magazine and when my good friend, Katie (Fontes) Schermerhorn, was a cover model finalist, I looked into the opportunity, which I hadn't actually known about before. It sounded so fun to play dress-up for a day.
Tell us about your modeling experience. What was your favorite part of the day? How did you feel afterwards?
It was a great experience, although probably different than most, with the shoot being delayed and us doing the couple shoot independent from the styled decor shoot. My favorite part of the day was seeing the different looks the team came up with for Ryan and I, especially one or two I wouldn't normally try myself. Ryan says his favorite part was watching me try on different wedding dresses and see the different looks on me.
What was it like to model with your significant other?
It was very comforting having Ryan next to me. It felt nice to not be the only one getting stared at! Ryan says modeling in general is foreign to us, so it made it easier to have each other nearby to laugh about what we should do with our hands.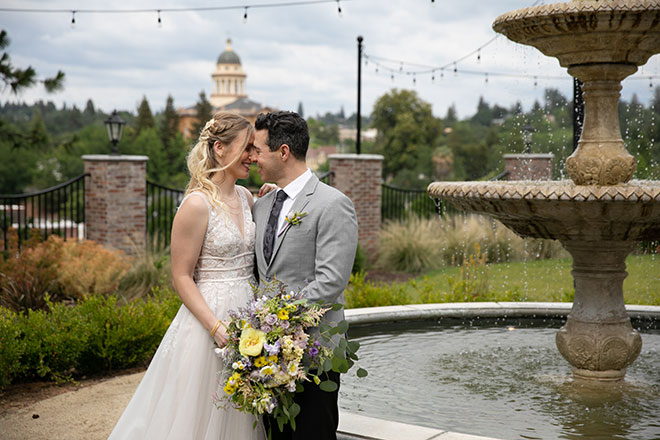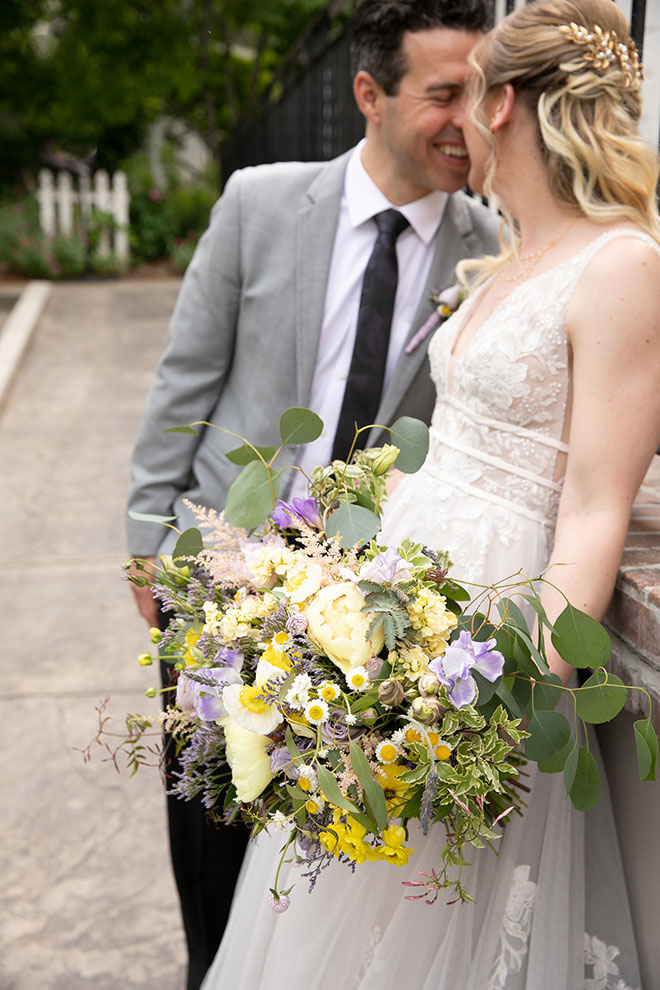 Tell us about your love story. How did you meet? What was the proposal like?
We met at work and have been together for four years. We deeply care about each other and our families. We love teasing each other, and both love the other's sense of humor. In November 2019, Ryan took us up to Sonoma for a wine-tasting weekend. We had plans to go to drinks and dinner. I was of course running late getting ready for dinner. Just before we were walking out the door, I broke the nail on my ring finger. As we walked to dinner we came up to a water fountain with candles lit up around the edge. I was about to keep walking past it, when I heard Ryan say, "Wait, Mal…" and tug on the back of my dress. I turned and saw Ryan was down on his knee in a big puddle next to the fountain. He asked, I said yes and immediately started crying, at which point he immediately started apologizing that the ring came late so he had to propose with a loaner ring. It was still beautiful, and I actually thought it was kind of funny. I realized a woman from the concierge was taking photos of us, which was so sweet for Ryan to arrange. When we looked through the photos, all of them were pitch black. We just started laughing. It was all a little messy and imperfect and it was great.
Tell us about your wedding day.
Our wedding was supposed to originally be about 300 guests at a winery on a warm summer night, all outdoors, with dancing under the stars. With COVID-19 restrictions we are still doing a warm summer night outdoors, but it'll be at a beautiful rental property in wine country with just our 15 immediate family members. We are going for an intimate backyard feel and my dad will now be officiating! A larger celebration will be sometime in 2021 when we will renew our vows.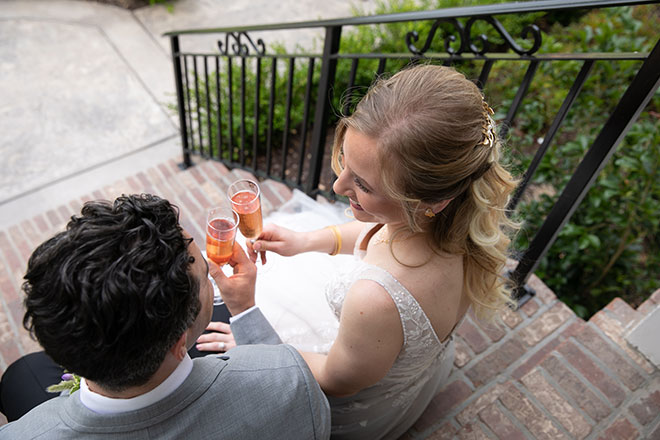 If you could offer any advice to engaged couples what would it be?
Read the force majure section of your contracts carefully…just kidding! No, we would say: Planning can be overwhelming, but if you spread out your checklist over multiple weekends and free slots in your calendar, and if you both commit to helping plan, it will come together. Even if it's completely different than what you thought your wedding would be. Lean on family and friends for help. You'd be surprised who wants to jump in if you just ask.
And celebrate small victories and accomplishments—a little wine seems to make planning much easier.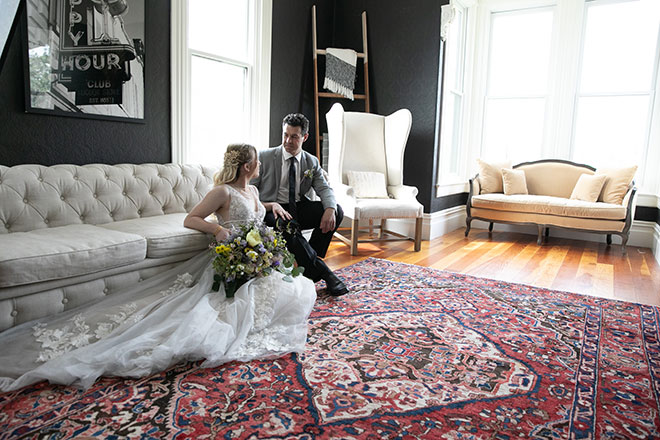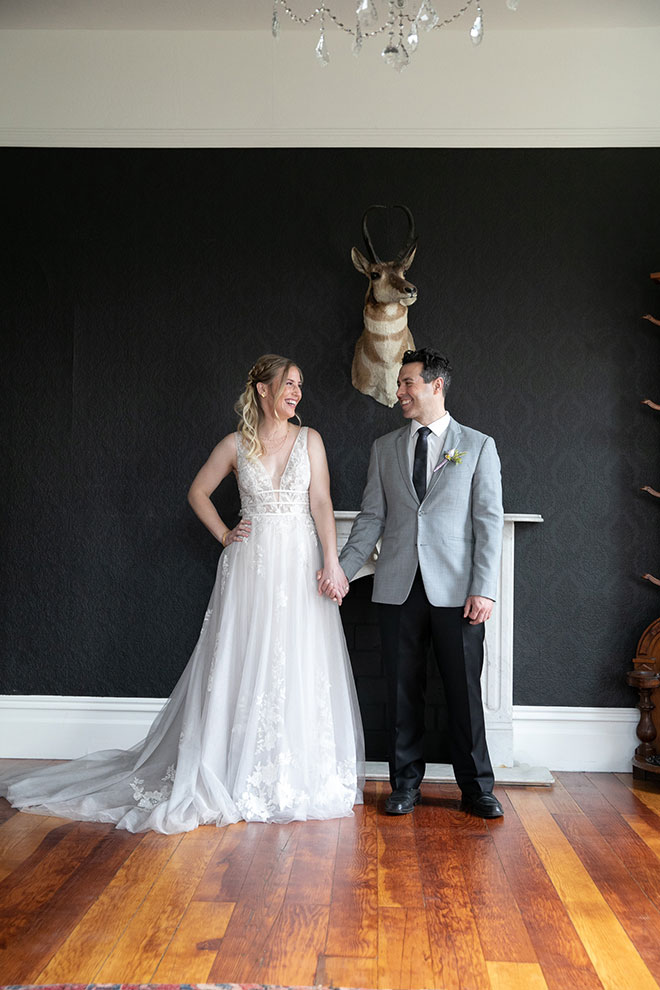 Be sure to like us on Facebook and follow us on Instagram and Pinterest so you never miss a post!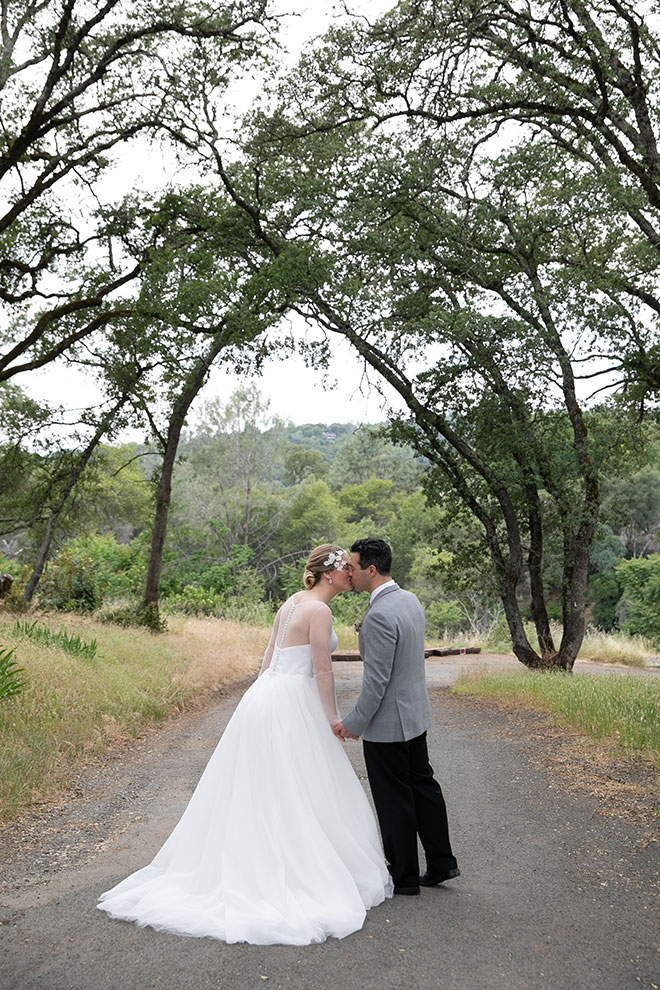 THE DETAILS
VENUE // Park Victorian | parkvictorian.com
PHOTOGRAPHER // Hawk Meadow Studio | hawkmeadowstudios.com
VIDEOGRAPHER // Baker Animation | youtube.com/bakeranimation1
DESIGN, STYLING AND COORDINATOR // Events by Kristina Elyse | eventsbykristinaelyse.com
STYLING AND FLORAL DESIGNER // Strelitzia Flower Company | weddingsbystrelitzia.com
WHOLESALE FLOWERS // FiftyFlowers.com | fiftyflowers.com
CAKE DESIGNER // Baker & A Black Cat | bakerandablackcat.com
STYLED CUISINE CATERER // Simple Pleasures Restaurant & Catering | cateringbysimplepleasures.com
SPARKLING WINE // Wise Villa Winery | wisevillawinery.com
HAIR ARTIST // Thee Makeup Girl | theemakeupgirl.com
MAKEUP ARTIST // The Makeover Mommy | themakeovermommy.com
GOWNS
The Bridal Box | thebridalbox.net // De La Rosa's Bridal & Tuxedo | delarosasbridal.com
Diamond Bridal Gallery | diamondbridalgallery.com
TUXEDO
Always Elegant Bridal & Tuxedo | alwayselegantbridal.net
SHOES // DSW | dsw.com
JEWELRY
Adora by Simona | adorabysimona.com // Genevieve Rose Atelier | genevieveroseatelier.com
Luxurious Bridal | luxuriousbridal.com // Macy's | Moka Davis, My Stylist@Macy's Roseville Galleria | macys.com/mystylist
Satya Jewelry | satyajewelry.com
TABLES, CHIAVARI CHAIRS, GUEST TABLE LINEN AND NAPKINS, STEMWARE, CHARGERS, PLATES AND FLATWARE
Celebrations! Party Rentals and Tents | celebrationspartyrentals.com
LOUNGE FURNITURE, CAKE HUTCH, HONEY ESCORT CARD DISPLAY HUTCH, SWEETHEART TABLE LINEN AND DECOR
Stella Rental & Design | stellarental.com
PAPERIE DESIGNER, PRODUCTION AND PRINTING
Little Bird Paper Company | littlebirdpapercompany.com
CUSTOM SIGNAGE // Swoonable | swoonable.net
Special thanks to our real couple models, Mallory & Ryan, and all of the professionals who contributed to this feature!
To see more from Honey Bee Good click here!