We previously told you that our real couple models, Meaghan + Logan, have a fairytale romance and we're so eager to share their love story (and NEW photos!!!) with you all. Seriously, a meet-cute at a bar and then a The Notebook-esque proposal, it's no wonder we also fell in love with them while working on our "Old World Romance" styled shoot!
Plus, check out the digital edition below, or click here to view!
Real Weddings Magazine: What made you want to model for this photo shoot?
Meaghan: Alexis Reynolds of Halo Salon, one of the stylists you use for your shoots, is a dear friend of mine I've known for 20+ years and I worked for her in her salon for seven of those years starting when I was 18. I looked at your magazines all the time while working at the salon and they became even more special when Alexis started working the shoots. From then on, I secretly always wanted to have my wedding featured in your magazine one day. Once I was engaged Alexis said I absolutely must be a model for one of their shoots! Never in my wildest dreams did I ever think I'd be in your magazine and as a model, it's bittersweet and all thanks to Alexis!
Logan: My fiancé Meaghan told me we had been selected for a Real Weddings Magazine shoot. I've done photo shoots before but never for a published magazine. I enjoy working with photographers. I think photo shoots are an absolute blast, especially when it's with your significant other. When I heard we would be doing a styled wedding shoot there was no way I was going to pass up an opportunity to see Meaghan in wedding dresses. Yes, I teared up a few times during the shoot.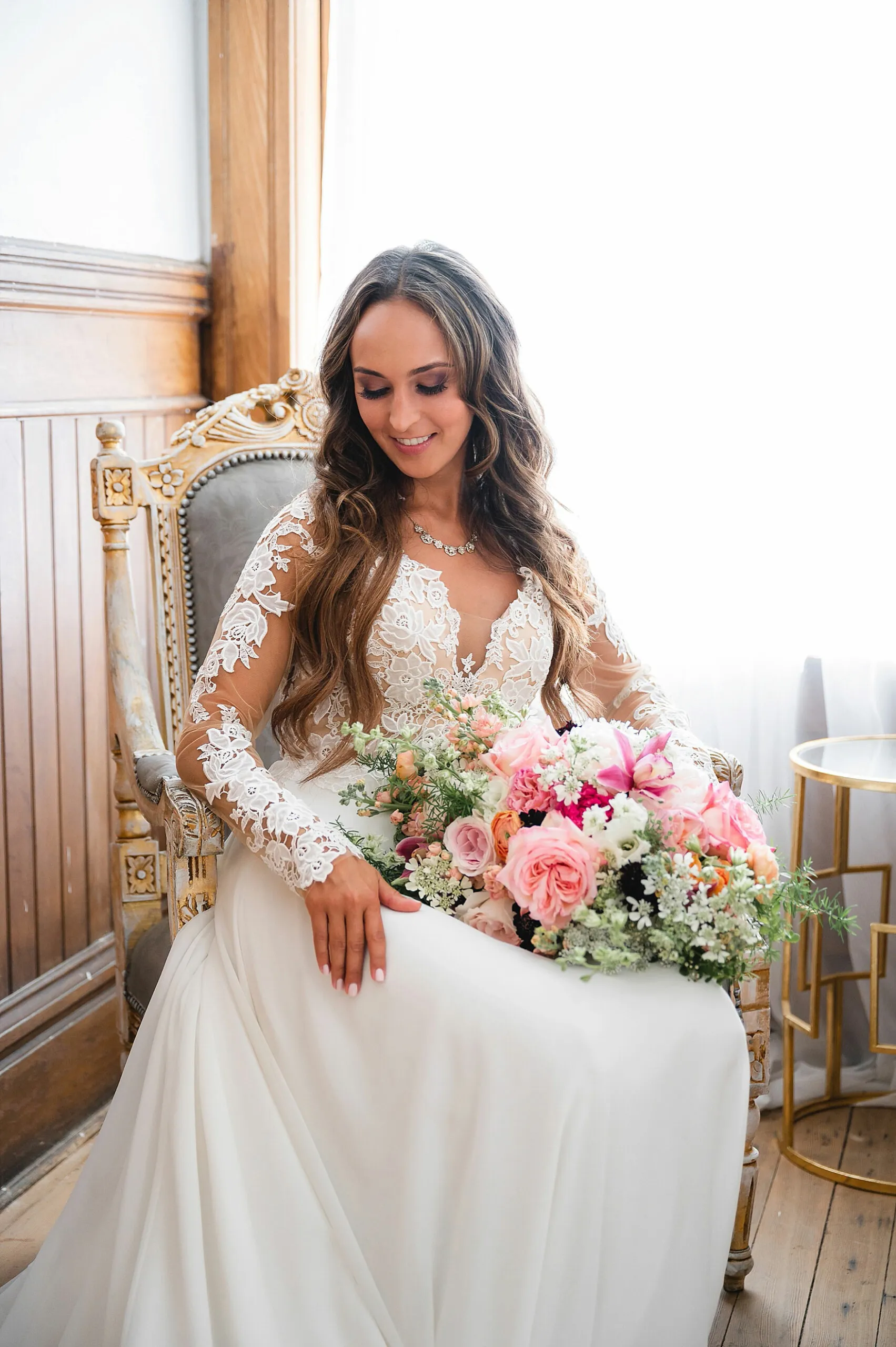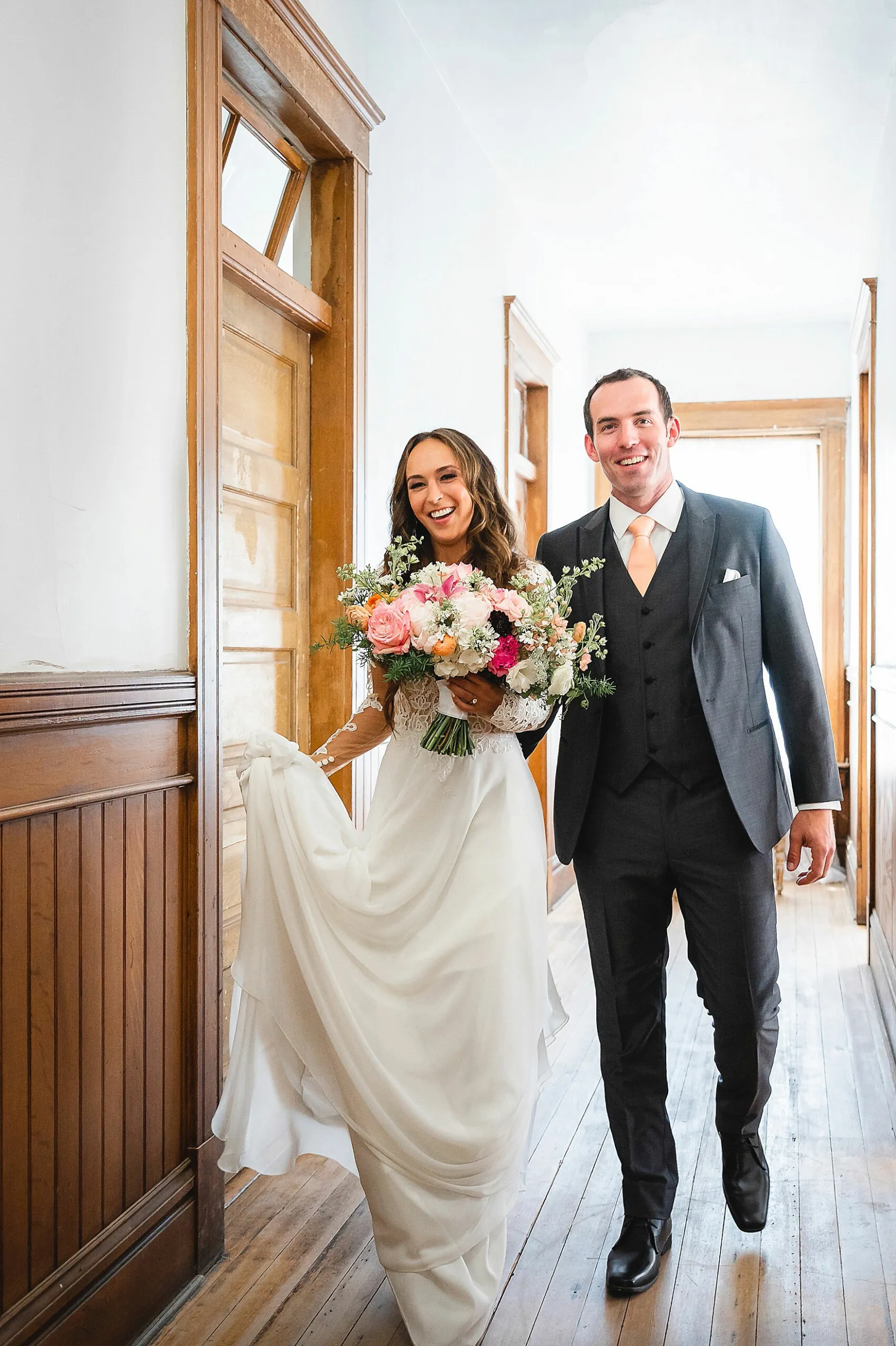 RW: Tell us about your modeling experience.
M: I love all things wedding, so it was exciting to see all the different vendors and their individual creativity in each of the different vignettes we were shooting. But more specifically, I of course loved getting to wear five different wedding dresses! I was pumped afterwards, we had such a great time and it made me even more excited and prepared for our special day this coming October.
L: I enjoyed every second of the day. It was a very warm day and even though I was in a full suit I still had fun. My favorite part of the day was when I was standing in front of the altar with Meaghan. I had a small glimpse of our upcoming wedding day and I started to tear up. Wendy, the amazing mastermind behind the production, came to me and said "I heard someone was crying?" with a tissue in her hand. She gave me the biggest hug and we had a little laugh together.
After the wedding shoot, Meaghan and I were so thankful to have had the opportunity Wendy had given us. We were a little tired, but we were on a little high and couldn't stop talking about the shoot. I couldn't stop thinking about Meaghan and how she looked like a goddess all day. I told her she needs to model more.
RW: How was modeling with your significant other?
M: We had so much fun modeling together! Lucky for me, Logan is a good sport and doesn't mind getting his picture taken. He is ridiculously handsome and so photogenic, it was honestly such a treat being able to share this experience with him.
L: Modeling with Meaghan was a dream come true. I was able to see Meaghan in five different wedding dresses, I got to meet new people from all walks of life, and I got to pick Wendy's brain about all the hard work that goes into a styled shoot. I couldn't take my eyes off Meaghan during the shoot. Everyone involved in the shoot made us feel extremely comfortable even though we were on a strict timeline. Modeling with Meaghan was natural. We smiled so much it hurt, and we thoroughly enjoyed being together throughout the day.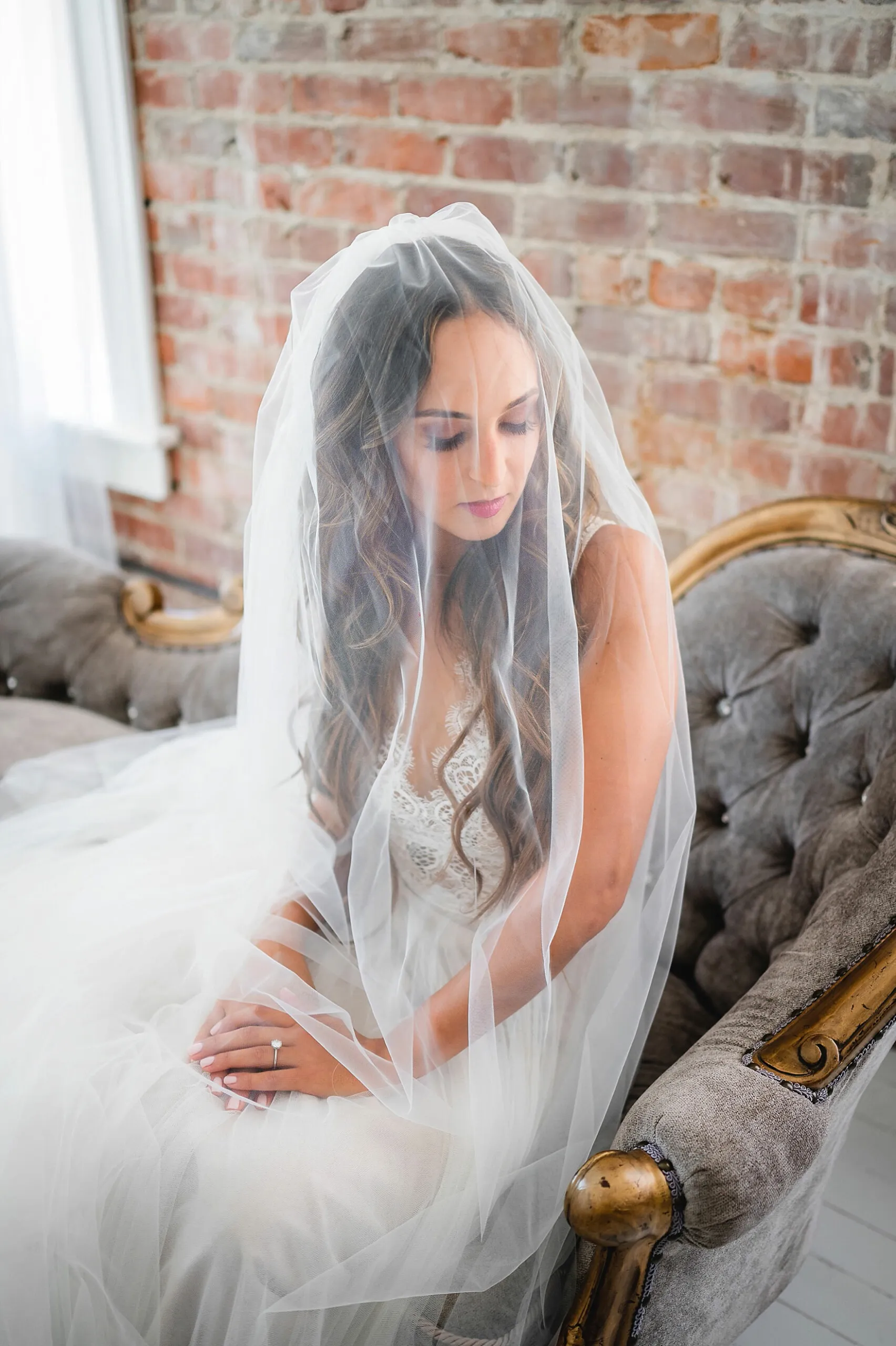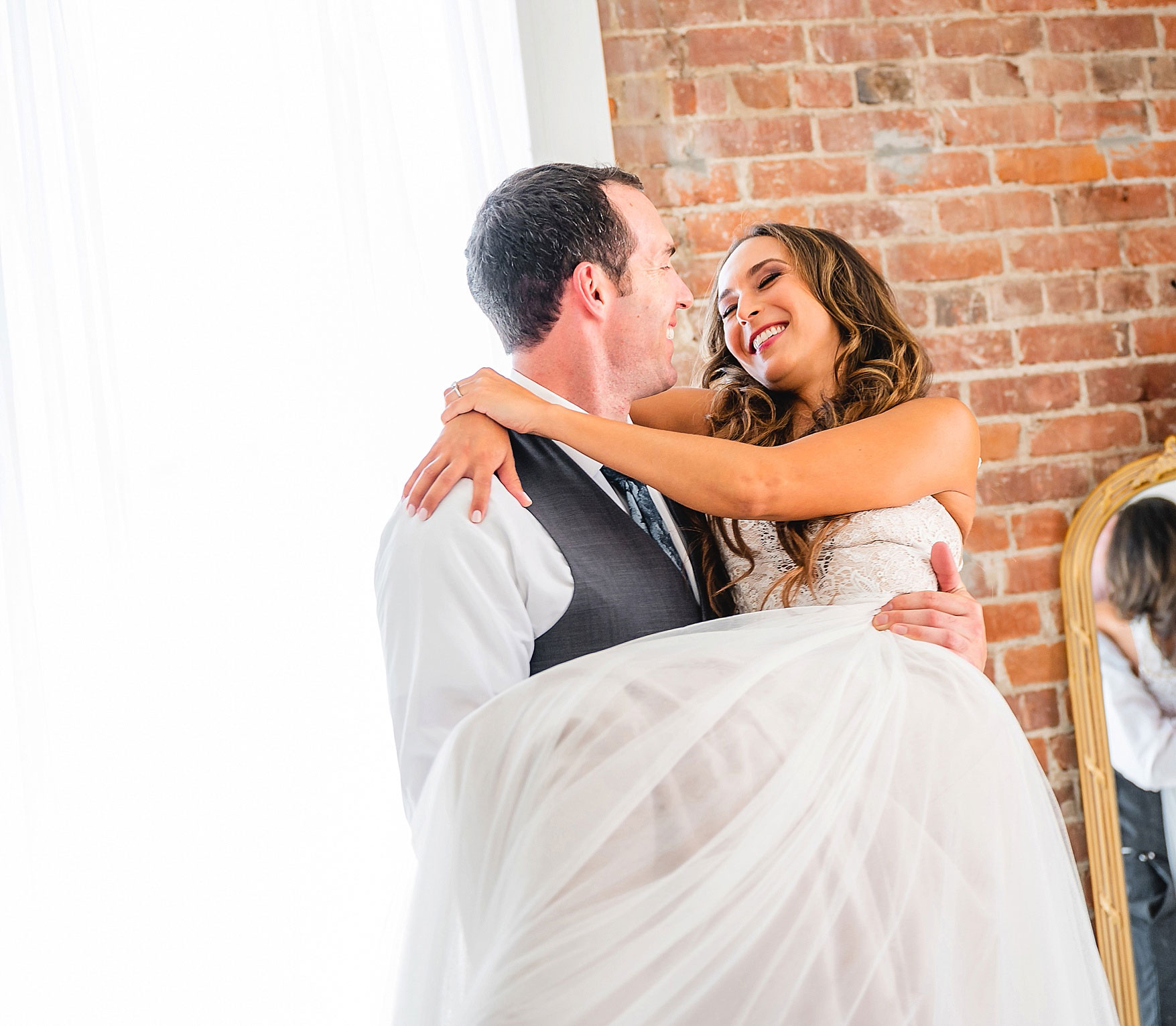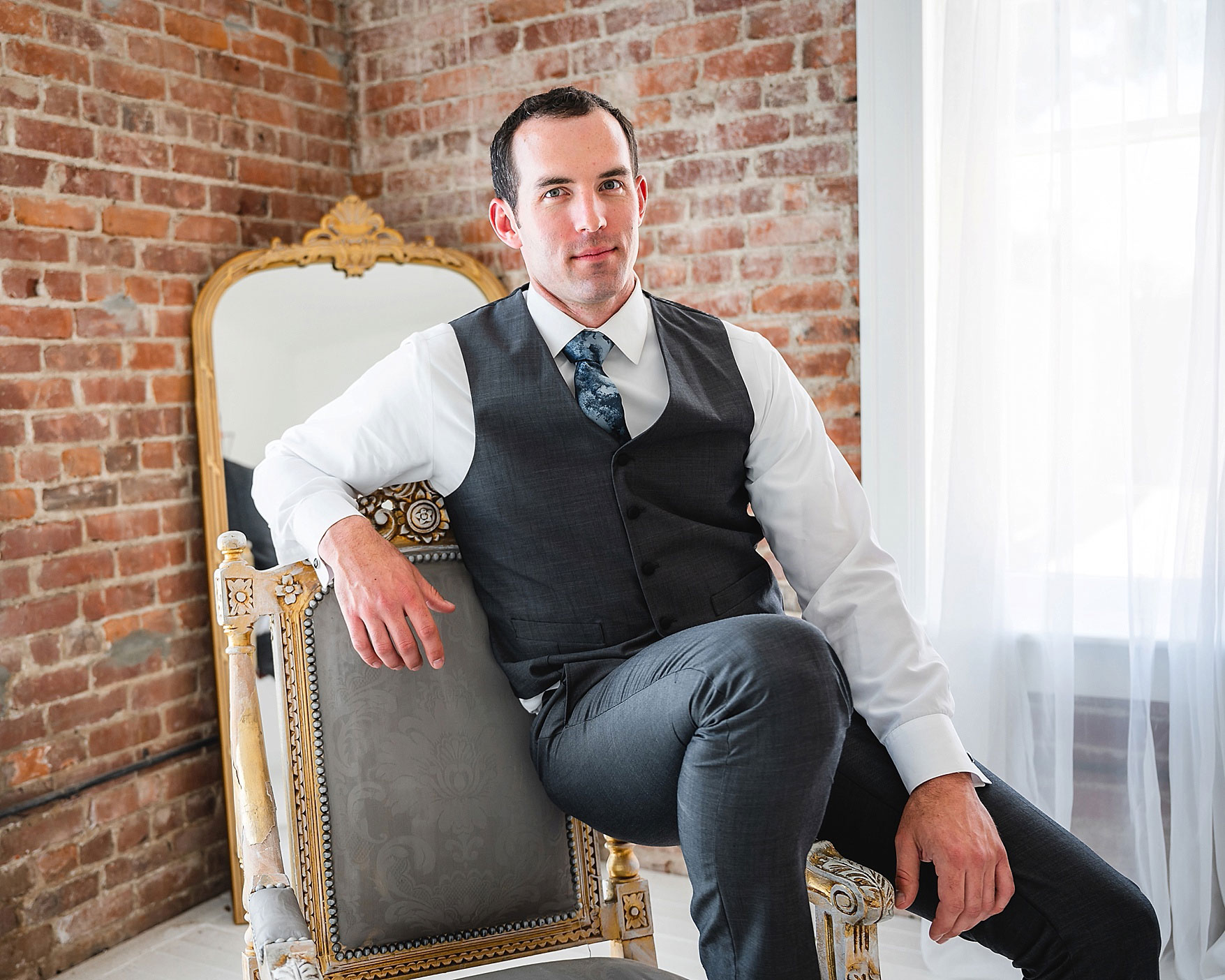 RW: What was your favorite part of the shoot? Did you relate to the concept/theme?
M: I'd say one of my favorite things was the venue.  I love that it was historic with a dark and moody feel which is totally my style.
L: I think my favorite part of the shoot was the building itself, along with the decorations. All the involved vendors took an old historical building and made it into a little rustic paradise. I felt like it was right up Meaghan's alley as far as a theme went.
RW: Tell us about your love story. How did you meet? What was the proposal like?
M: We met on a random night at a country bar in Sacramento. I wasn't a believer in fate until him but the chances of us meeting that night were truly slim. He wasn't from the area like I am and was only in town visiting a friend for the night. He asked me to dance, I said yes, and the rest is history!
The proposal: He surprised me one morning by telling me to get ready and pack a bag because we were going for a drive. I was so excited but not suspicious because he's the most thoughtful man I've ever met and known for doing cute things all the time. We took off on the road and of course me being the planner had to know every detail, so I peppered him with questions but to no avail, he would not tell me where we were going! A couple hours later we pulled up to Redding and picked up a canoe to launch at a lake. (When we first started talking, one of the first things we talked about doing together was canoeing under the stars, inspired from the Notebook, one of my favorite movies, and our love for the outdoors.) At sunset I waited in the truck and he launched the canoe into the lake all by himself. He brought out twinkley lights in mason jars to decorate the canoe then he started to paddle us out. Music began playing and he pulled out a bottle of Champagne for us. It was seriously the most romantic thing I'd ever experienced and no I still didn't think anything of it! It wasn't until the stars came out and he pulled out a letter he had hand written me that I knew what he was about to do. He began to read it to me and I started to cry. The letter ended with him asking me to marry him!
L: I met Meaghan at a country bar in Sacramento called Goldfields. I went there with my friend Jordan Schwarz late on January 24, 2020. I felt like having a few drinks and doing a little swing dancing. I remember when Meaghan walked in she was wearing a black top with little red flowers on it, blue jeans, and little black boots. I definitely took notice of her, but went about my business. A little later I was standing near the dance floor and debating if I should ask someone to dance. My attention was drawn to Meaghan as she danced with a group of friends. I observed another man standing next to her, but noticed they didn't seem to be together. I approached her and asked if she wanted to dance. I'll never forget the look on her face. She was a little unsure due to the fact she thought I was younger. She agreed to dance with me and once she found out I was her age her whole demeanor changed. We spent the night laughing dancing and getting to know each other. Earlier in the night she said she wasn't going to kiss me, but I would steal little kisses from her cheeks and forehead. She decided she was going to kiss me anyways. Our lips touched and we both looked at back at each other in awe. After that kiss I knew. I called my mother the next day and told her all about the night. Meaghan did make me pursue her and it wasn't easy. I was persistent though and didn't give up the chase. We finally made things official in March 2020 and never looked back.
The proposal: Meaghan and I both enjoy the outdoors. In one of our early conversations I asked Meaghan if she had ever been canoeing under the stars on the lake. She said no, but it was something that sounded magical. When I was thinking on how to propose I remembered that conversation and started planning. Meaghan came to visit me on November 20, 2020. I had recently picked up the ring in San Francisco. I told the jeweler how I was going to propose, and she gave me a ring box that shined light onto the diamond. Meaghan spent the night with me and the next morning I told her to pack her bags for a little getaway. I drove from Rohnert Park to Redding for an evening out on Whiskey Town Lake. I had coordinated with my friend, Derek Ward, to borrow his canoe. I hooked the canoe up to my truck and took Meaghan out to Whiskey Town Lake at sundown. Once the canoe was in the water I put purple and white lights I had placed in mason jars along the floor of the canoe. I had music playing and popped a bottle of Champagne for us. Once the stars started to show in the sky, I took out a letter I had hand written and read it to Meaghan. The tears started flowing from my eyes as I read it line by line. Once the letter was finished I pulled out the ring box and asked my best friend to marry me. It was a night under the stars we will never forget.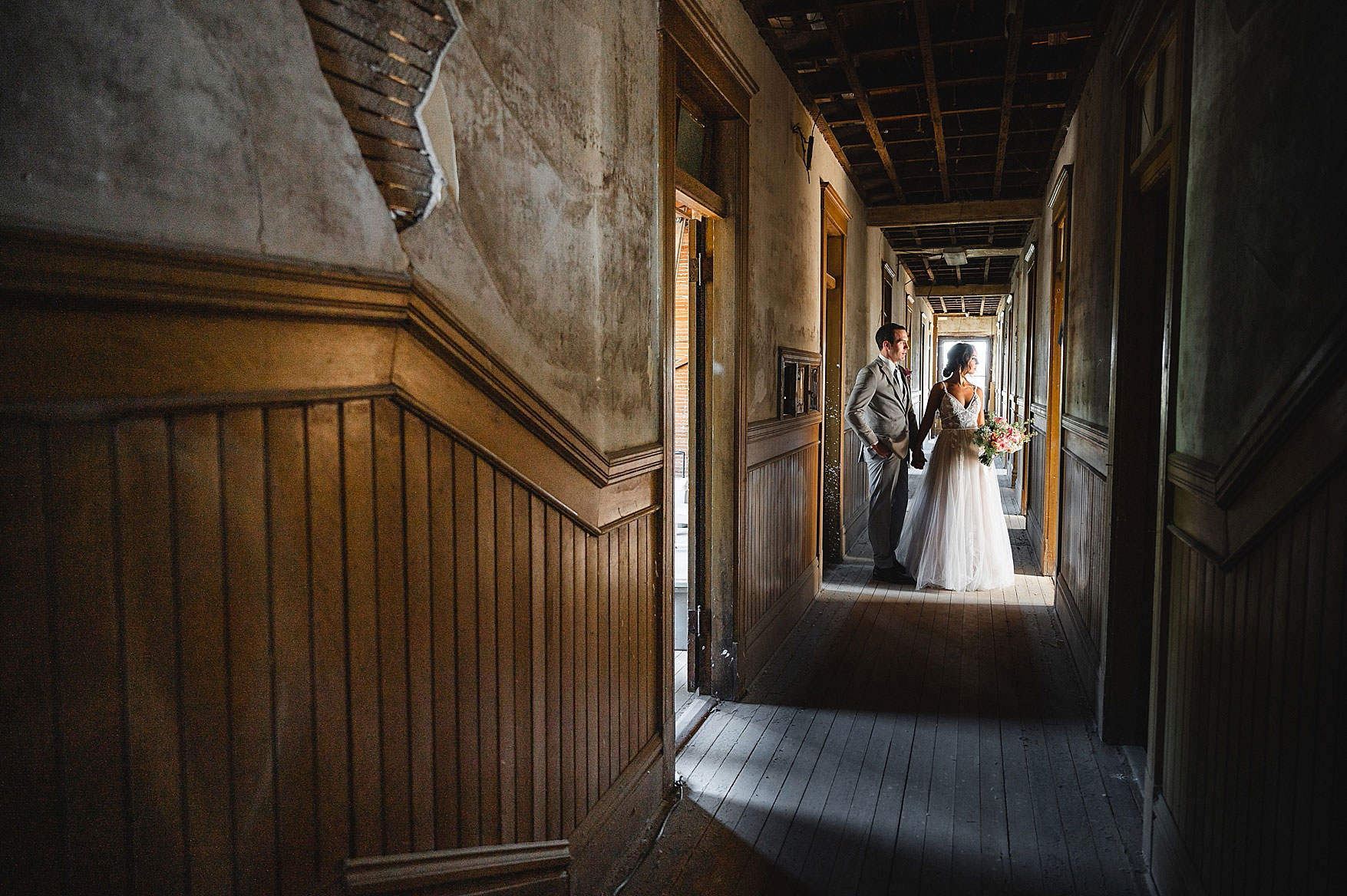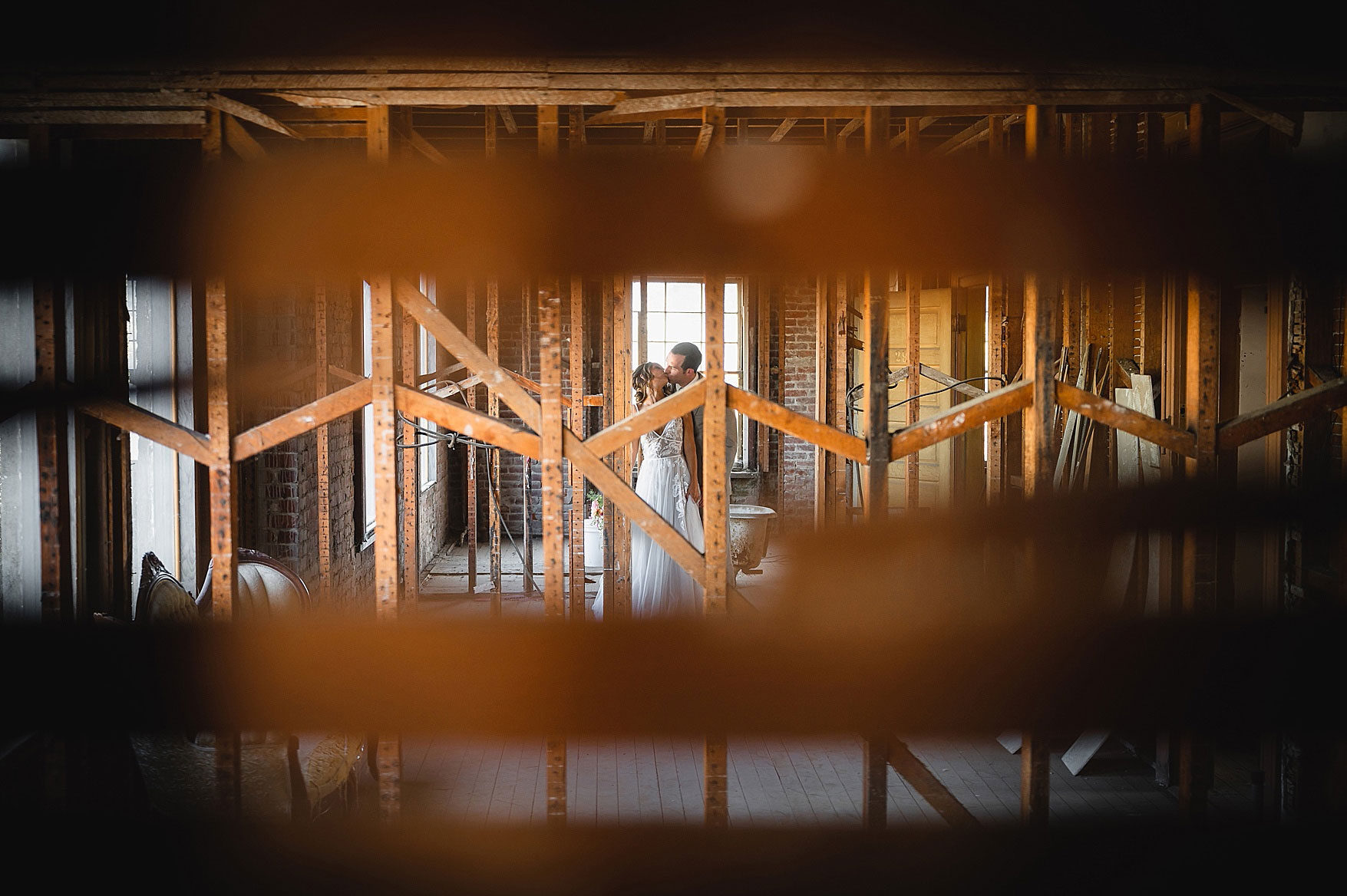 RW: Tell us about your wedding day (or wedding day-to-be).
M: After everything with COVID, it was important to me to use all local vendors to support our local small businesses. We will be having an outdoor wedding at a local venue in the fall which fits perfectly with my dark and moody style. Our love for the outdoors and time of year also inspired the colors we chose for the bridal party and flowers, it's going to look amazing! We have lots of family and friends traveling from out of town, so we are looking forward to having a fun-filled wedding weekend. It's going to be the most magical day no matter what! We can't wait to share it with all our favorite people and family!
L: Our wedding day is approaching fast. We are getting married at Gold Hill Garden. Meaghan has been doing most of the heavy lifting as far as planning goes. She has let me help a little bit. She has been working so hard on all the planning, I don't know how she does it, she is truly amazing. There will be approximately 150 guests attending the wedding. I plan on dancing most the night with my wifey to be. I am going to do my best to soak up every second of the day. I already know I'm going to be a mess when I see her for the first time in her dress. My father is going to be my best man. He has always been there for me through tough times, and as I get older the more I realize how much our parents love us unconditionally. He and my mother have been married 37 years, and I couldn't ask for better role models.
RW: If you could offer any advice to engaged couples what would it be?
M: Try not to let the stress get to you too much and slow down so you truly enjoy one of the happiest experiences of your life. Everything doesn't have to be perfect, it just has to be special to the two of you. And last but not least, don't let input from family and friends sway your decisions. This is your wedding, stay true to yourself and your vision.
L: If you are newly engaged set a date and start planning. Remember to communicate as much as possible during the planning and be willing to compromise. Weddings are expensive as well. It's ok to have smaller weddings, so don't feel pressured to invite everyone. Invite people that care about you, and that you truly want there on your special day. Wedding days go by fast so remember to take a minute at some point in the night to spend alone with your significant other. Soak in the love, laughter, and take lots of pictures for memories. Remember, the wedding day is about you and your significant other, so focus on each other. It is going to be the most special day.
Special thanks to our real couple models, Meaghan + Logan, and all of the professionals who contributed to this feature!