Ok, Real Weddings Brides ― the deadline to enter the Real Weddings Magazine cover model contest is only a week away…if you've been putting off getting your entry form and photo submission in, now's the time to get it done! We're sticklers about the deadline, so don't miss it!
If you're a real Sacramento-area bride, or a recent newlywed (cannot have been married before May 1, 2013), and want to vie to be one of our cover model finalists, then here's what you have to do to enter:
Step one: Download the entry form by CLICKING ON THIS LINK!
Step two: Please read through the rules, guidelines and dates that are listed on the entry form to make sure that you qualify and that you're available for all of the dates listed on the form should you be chosen as a finalist.
Step three: If you qualify, then complete the entry form, gather your pictures (make sure that they're candid shots, not professional images) and get us all of the stuff by our February 11, 2014 deadline! And, just a little advice: when you're answering the questions on the form, make sure that your answers really show your personality — we love fun, quirky and interesting stories, so don't be shy!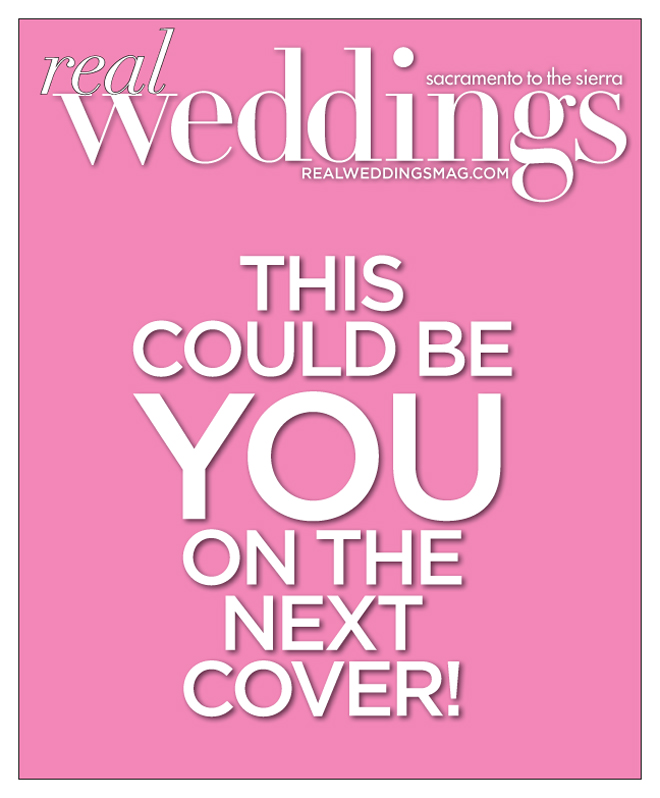 THE DEADLINE IS FEBRUARY 11, 2014  ― we strictly adhere to this deadline, so get movin' girls!
Who knows…maybe you'll see yourself on the next cover of Real Weddings Magazine!
Good luck Real Weddings Brides!
Blog post by Real Weddings Magazine's Social Media Maven, Aimee Carroll.
Subscribe to the Real Weddings Magazine Blog! Click here:
[subscribe2]