Real Weddings is celebrating it's 10th anniversary and in honor of this milestone, we are checking back in with our beautiful cover models! We've been so lucky to work with over 60 local brides these past 10 years and we're eager to see where they are now.
Carissa (right) graced our Summer/Fall 2016 cover shot at The Falls Event Center (Elk Grove) by Meagan Lucy Photographers.
When did you get married?
June 18, 2016 at a private venue in South Lake Tahoe.
Any children (fur or human)?
We have two fur-children: Raider, a 95 pound American Bulldog "lap dog," and Jack, a 35 pound Golden Cocker Retriever "fur coat," and we recently welcomed our first joy, daughter Piper Rose, in October of 2017.
What do you do for a living?
I am a supervisor for Placerville Recreations (Aquatics). I have been working at the aquatic center every summer since I was 15 and now I'm the boss.
What do you enjoy doing with your family?
We love traveling, hiking, shooting – anything outdoors. Piper has already been on an airplane twice, and by the end of this year will have visited five states – lucky girl!
Knowing what you now know, what advice would you give yourself on your wedding day?
I tried to take the day in as it went, but it still flew by. I would highly recommend a first look so you can spend every moment possible with your guests!
Whats your favorite part of marriage?
Having that one person who sees your crazy, messy, unattractive sides and still makes the decision to love you and stand beside you. Not having to go to separate homes but getting to have a sleepover every night!
Lastly, how was your Cover Model experience?
So fun! The best version of adult dress up ever, and every girls dream day of being pampered and wearing big beautiful dresses! I had a ball but was also completely exhausted and sore in places I didn't even know existed the next​ day.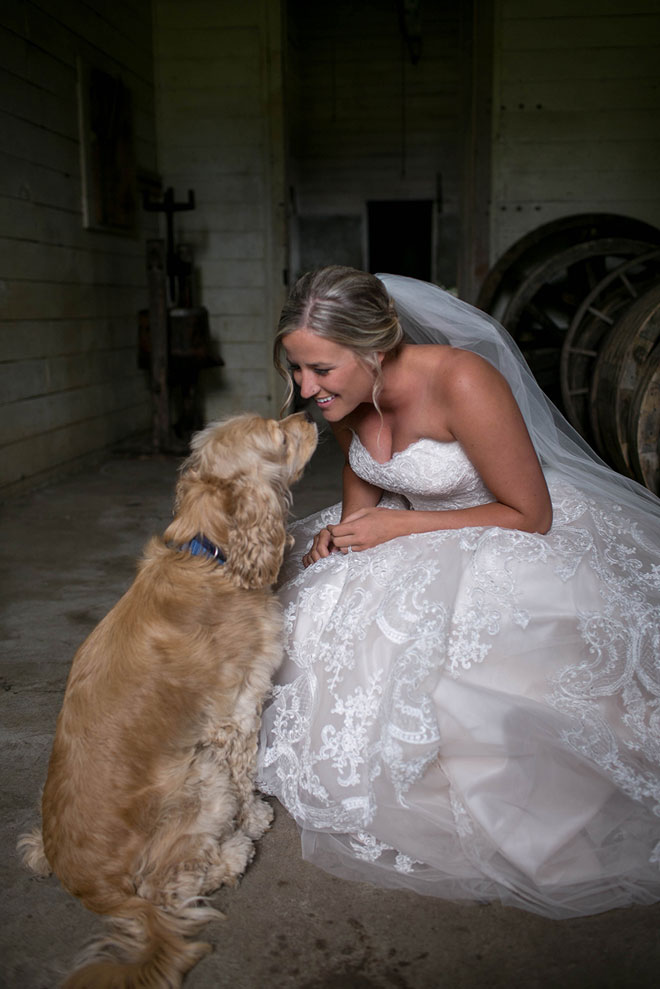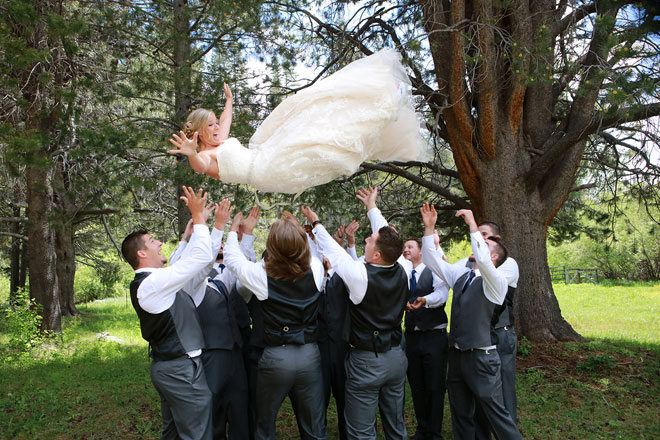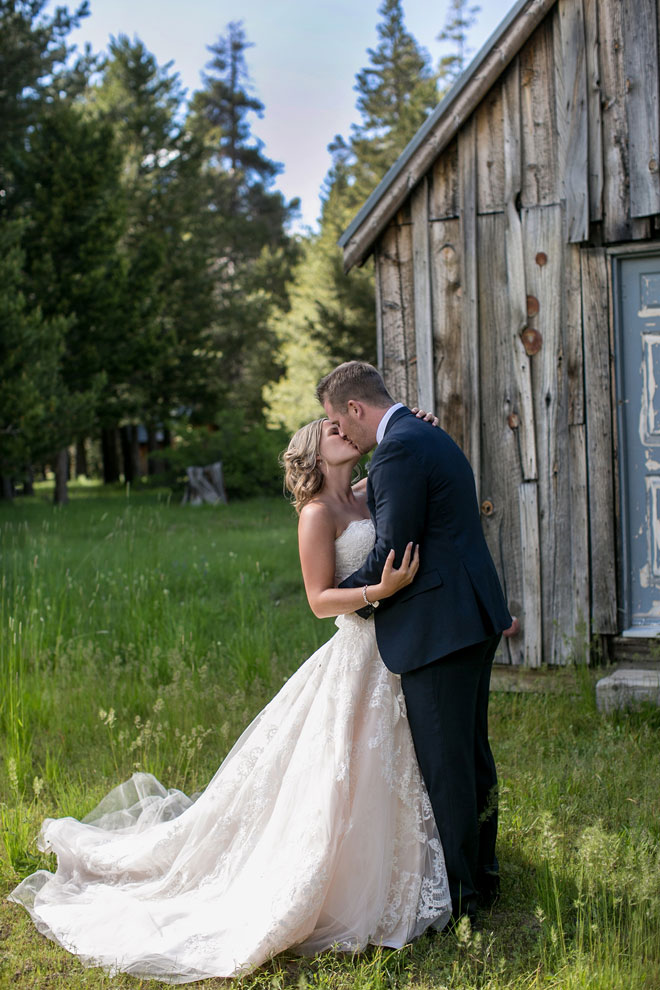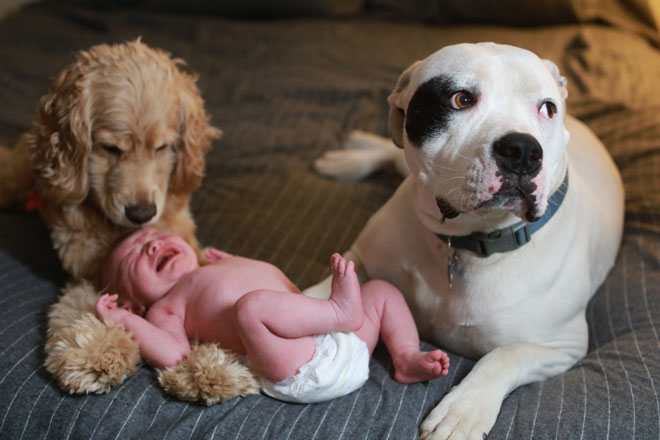 The cover model finalist contest photo shoot Real Weddings Magazine team members who produced this editorial feature include: produced by Susie Baggett, Simran Dhami, Cait Herrera, Tatiana Jitari, Nathalia Kallan, Rachel Meeker, Desiree Patterson, Emily Peter, Aaron Roseli, Wendy Sipple, Leah Sisto and Megan Wiskus.
And, of course, thank you to all of the wedding professionals who contributed to our cover model finalist feature:
VENUE
The Falls Event Center  |  916-638-9850  |  thefallseventcenter.com
PHOTOGRAPHER
Meagan Lucy Photographers  |  916-484-1164  |  meaganlucy.com
Meagan Lucy, Primary Shooter
Andrea Bucheli, Second Shooter
Kristina Bucheli, Second Shooter
Tess Hunt, Assistant
HAIR AND MAKEUP
For Karlee:  
Jenifer Haupt, I Make Beautiful (Makeup)  |  916-532-9800  |  imakebeautiful.com
Christina Irene Alba,  For The Love of Hairspray (Hair)  |  949-422-1957  |  fortheloveofhairspray.com
For Bianca: 
Melissa Oretta, All Dolled Up Makeup & Hair (Makeup)
Lindsay Bradby, All Dolled Up Makeup & Hair (Hair)
530-368-3867  |  alldolleduphairandmakeup.com
For Carissa:
Mandie Fenrich, Makeup by Mandie (Makeup)   |  916-505-0487  |  makeupbymandie.com
Cierra Neeley, Cierra Shae Bridal Hair & Makeup Artistry (Hair)  |  916-436-6002  |  cierrashae.com
GOWNS 
Alma's Bridal Boutique  |  916-434-8084  |  almasbridalboutique.com
Always Elegant Bridal & Tuxedo  |  530-755-4282  |  alwayselegantbridal.net
The Bridal Box  |  916-742-4638  |  thebridalbox.net
The Clothes Mine Bridal and Formalwear  |  209-267-0417  |  theclothesmine.com
De La Rosa's Bridal & Tuxedos  |  916-983-3400  |  delarosasbridal.com
Diamond Bridal Gallery  |  916-521-9856  |  diamondbridalgallery.com
Dreamnette Bridal  |  916-780-4747  |  dreamnette.com
House of Fashion  |  916-554-7440  |  hofbridal.com
Second Summer Bride  |  916-330-4422  |  secondsummerbridesac.com
Sparkle Bridal Couture  |  916-538-6615  |  sparklebridalcouture.com
ACCESSORIES
Beatrice Couture Designs  |  beatricecouturedesigns.com
Bel Aire Bridal  |  belairebridal.com
Blair Nadeau Millinery  |  blairnadeau.com
Carolee  |  carolee.com
Hair Comes the Bride  |  haircomesthebride.com
Macy's  |  macys.com
Arden Fair Mall | 916-925-2845
Downtown Plaza  |  916-444-3333
Sunrise Mall  |  916-962-3333
Westfield Galleria at Roseville  |  916-771-3333
Stella & Dot  |  Lea Buehler/Independent Stylist  |  916-705-5827  |  stelladot.com/sites/leambuehler
Style Avenue Studios  |  916-812-1114  |  styleavenuestudios.com
FLOWERS
Accents by Sage Floral Design  |  916-799-6242  |  accentsbysage.com
Ambience Floral Design  |  916-786-6851  |  ambiencefloral.com
Bella Bloom  |  916-498-8588  |  bellabloomflowers.com
Bloem Decor  |  916-447-2001  |  bloemdecor.com
Morningside Florist  |  916-635-9891  |  morningsideflorist.com
Placerville Flowers on Main  |  530-622-1121  |  placervilleflowersonmain.com
Relles Florist  |  916-441-1478  |  rellesflorist.com
CATERING
Bocca Catering  |  916-834-3554  |  boccacatering.com
STYLED DECOR VIGNETTES
Botanica Events  |  916-673-8650  |  botanicaevents.com
Getting Hitched? Wedding Design & Rentals  |  916-879-3511  |  gethitchedweddingrentals.com
With flowers from:  Accents by Sage Floral Design  |  916-799-6242  |  accentsbysage.com
SEQUIN BACKDROP
Mimi & Co.  |  916-525-1235  |  mimiandcompany.com
Are you a real Sacramento to the Sierra Bride? Be our next Cover Model! Click here for more information and to download the entry form. Hurry – the deadline to apply is February 6, 2018!
Looking for other Cover Models? See the ongoing blog series here!
Blog post by Real Weddings Magazine's Associate Editor Emily Peter.