Did you know that in all of the photo shoot features that we do, we use real brides (and grooms, too!) as our models? It's true! We love that these real brides are going through their wedding planning journey, just like you!
The minute we met real Sacrament0-area bride Andrea Castro, we fell in love ― talk about a woman with spunk, a little attitude (in a really great way!) and who is completely comfortable in her own skin…that's Andrea! On the day of our "What's Your Wedding Season: Summer" photo shoot, Andrea arrived bright-eyed, skin glowing and was rip-roaring-ready-to-go! Not only is she drop-dead gorgeous, but she has an easy laugh, a mischievous grin (we LOVE that!) and she made all of our jobs so easy! Thank you for being such a great Real Weddings real bride model, Andrea!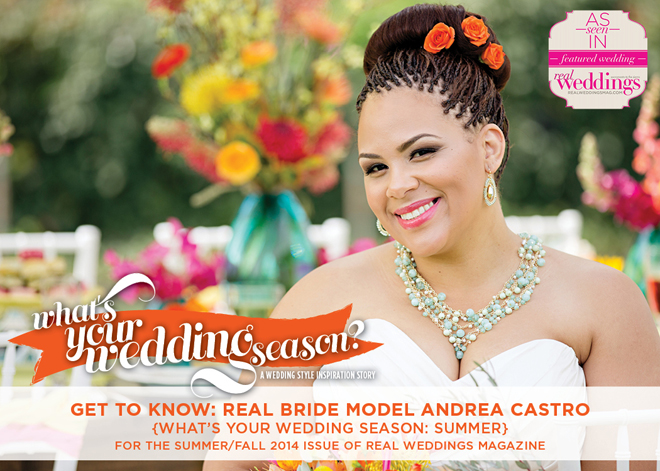 Now you get to know a little more about this gorgeous bride!
Real Weddings: What made you want to model for this shoot?
Andrea Castro: What a great opportunity! I felt like it would be a great dishonor to pass on such a wonderful experience.
RW: What was your favorite part of modeling?
AC: My favorite part of the shoot was the interaction in front of the camera. Posing with different props and pretending to do this and that was pretty funny, and I loved to see how it came across on camera. I truly had a ball.
RW: What was your favorite part of the shoot? Did you relate to the season you represented?
AC: My favorite part of the shoot was…everything! I felt like a celebrity at a red carpet event. I got a few sneak peeks of some photos and I couldn't believe how professional and glamorous they made me look. Feeling just as glamorous was the cherry on top.
RW: What do you do for a living?
AC: I am a full-time student majoring in small business management. I also have my cosmetology license and do hair, manicures, pedicures and basic facials.
RW: Tell us about your own wedding?
AC: The theme of our wedding is romance and royalty and will take place at Wisteria Gardens in Elk Grove. Our colors are eggplant, lavender with ivory and silver accents. I'm especially excited about having a dance battle with my fiancé. He is 10 years older than me, so I'll do his '80s generation dances and he'll do my '90s moves. We're doing a formal yet non-traditional ceremony and reception.
RW: What did your fiancé and the rest of your family think about you doing this?
AC: My "bookie," which is what I call my fiancé, was very supportive of me doing the shoot and my mom actually came along with me so I could drive in the carpool lane. We're all very excited to see the final look.
―as told to Real Weddings Contributor, Kelley Saia
Tune back in to our blog later this week, where we'll get to know a bit more on another of our real bride models!
The "What's Your Wedding Season: Summer" photo shoot was produced by Sandy Stringer—Strings & Champagne Events, Kristin Elliott—Posh Shoppe Florist and Wendy Sipple—Real Weddings Magazine.
Thank you to all of the wedding professionals who contributed to this piece:
Location 
Whitney Oaks Golf Club
916-632-8333  |  916-408-8347  |  whitneyoaksgolf.com
Photographer 
White Daisy Photography
530-401-0820  |  whitedaisyphoto.com
Design, Styling and Coordination
Strings & Champagne Events
916-397-9346  |  strings-champagne.com
Design, Styling, Floral Design and Décor
Posh Shoppe Florist
916-485-7065  |  poshfloristinc.com
Bridal Gown
Sparkle Bridal Couture
916-538-6615  |  sparklebridalcouture.com
Bridesmaid Skirt
Sior
916-304-5543  |  siordesigns.com
Jewelry
HSN  |  hsn.com
Hair and Makeup
All Dolled Up
530-888-1562  |  alldolleduphairandmakeup.com
Cupcakes
Cake Couture
530-680-8609  |  cakecouturedesigner.com
Paperie
Honey Paperie
916-257-1641  |  honeypaperie.com
Table, Umbrellas and Glassware
Celebrations! Party Rentals & Tents
916-773-2133  |  celebrationspartyrentals.com
Chairs, Chargers and Salad Plates 
America's Party Rental
916-339-3544  |  americaspartyrental.com
Vintage Dishes, Flatware and Signage
Dogwood Party Rentals
916-505-4250  |  dogwoodpartyrentals.com
Chest, Lanterns and Glass Dishes
Simple Country Weddings & Vintage Décor Rentals
916-271-6345  |  simplecountryweddings.com
"Love Is Sweet" banner
Lisa T Creations  |  lisatcreations.etsy.com
Linens 
Mimi & Co.
916-525-1235  |  mimiandcompany.com
Macarons and Izze Sodas 
Whole Foods Market | wholefoodsmarket.com
Blog post by Real Weddings Magazine's Editor/Publisher Wendy Sipple.
Photos by White Daisy Photography, copyright Real Weddings Magazine.
Subscribe to the Real Weddings Magazine Blog! Click here:[subscribe2]