Just a friendly reminder that today's the big day for three incredible bridal shows! Come and see us at any of these events today, and not only will you get a free copy of Real Weddings Magazine and our wedding planning resource guide The Bride's Guide, you'll get to register to win great giveaways!
Scroll down for more details on today's fabulous bridal events: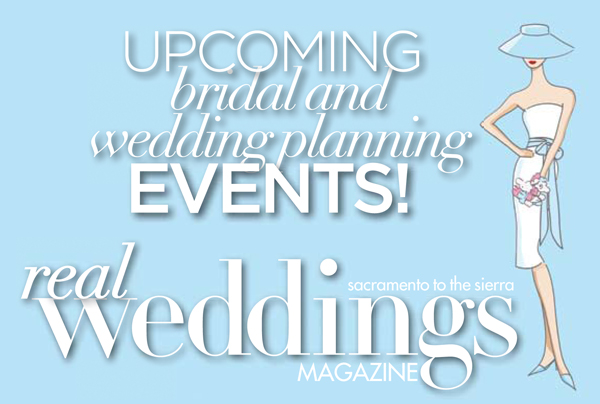 Dream Wedding Show
February 24, 2013 from 11 a.m. – 4 p.m. at Cal-Expo in Sacramento.
Admission is $10. Online discounts are available for pre-registration. Use promo code "RealWed" when registering here. Meet more than 150 wedding vendors, and visit the Dream Theme Pavilion for inspiring tabletop designs and wedding themes. dreamweddingshow.com
Sonora Wedding Faire
February 24, 2013 from 12-4 p.m. at the Mother Lode Fairgrounds in Sonora.
Admission is FREE. Enjoy over 50 vendors and a fashion show. sonoraweddings.net
Chico Winter Bridal Show
February 24, 2013 from 12 – 5 p.m. at Silver Dollar Fairgrounds in Chico.
Admission is $10 for adults. The largest and finest bridal show in Butte, Tehama and Glenn Counties. Find everything you need to plan the wedding of your dreams on site at the show. For more information, log on to ysbridalshow.com/httpdocs/ChicoBridalShowHome.htm
We look forward to seeing you soon at one of these events!
---
BRIDAL SHOW TIPS!
Before you head out to the area's bridal shows, check out this handy little list of tips to make the most of the experience:
Don't go it alone—bring a bridesmaid, your mom or a friend (or dare we suggest, your fiancé?). It will be helpful (and more fun!) to have their input and advice.
Bring labels—many vendors offer prizes and contests, and additionally, you may want to request more information from selected vendors. By bringing pre-printed labels, you will save time and the hassle of having to complete this information booth after booth. Information that you might want to include: your name, address, phone, email, fiancé's name and when you're getting married.
Bring a notebook—no matter how good your memory is, you'll want to take some notes on vendors and ideas that catch your eye.
Bring a sturdy tote bag—you'll be picking up business cards, brochures, etc. Or, come to the shows where Real Weddings Magazine will be and we'll give you one of our groovy reusable bags!
---
Blog post by Real Weddings Magazine's Social Media Maven, Aimee Carroll.
Subscribe to the Real Weddings Magazine Blog! Click here: [subscribe2]