It's your wedding and while you want to things your way, you'll also be interacting with a lot of people, including family. It's a balancing act between doing what you want and being respectful of others. There are some rules to consider too, even if they seem old fashioned.
That's why Real Weddings Magazine connected with manners expert Lizzie Post, co-president of the Emily Post Institute and co-host of Awesome Etiquette Podcast. Read on as she shares insight into common wedding etiquette questions.
Registry Inspiration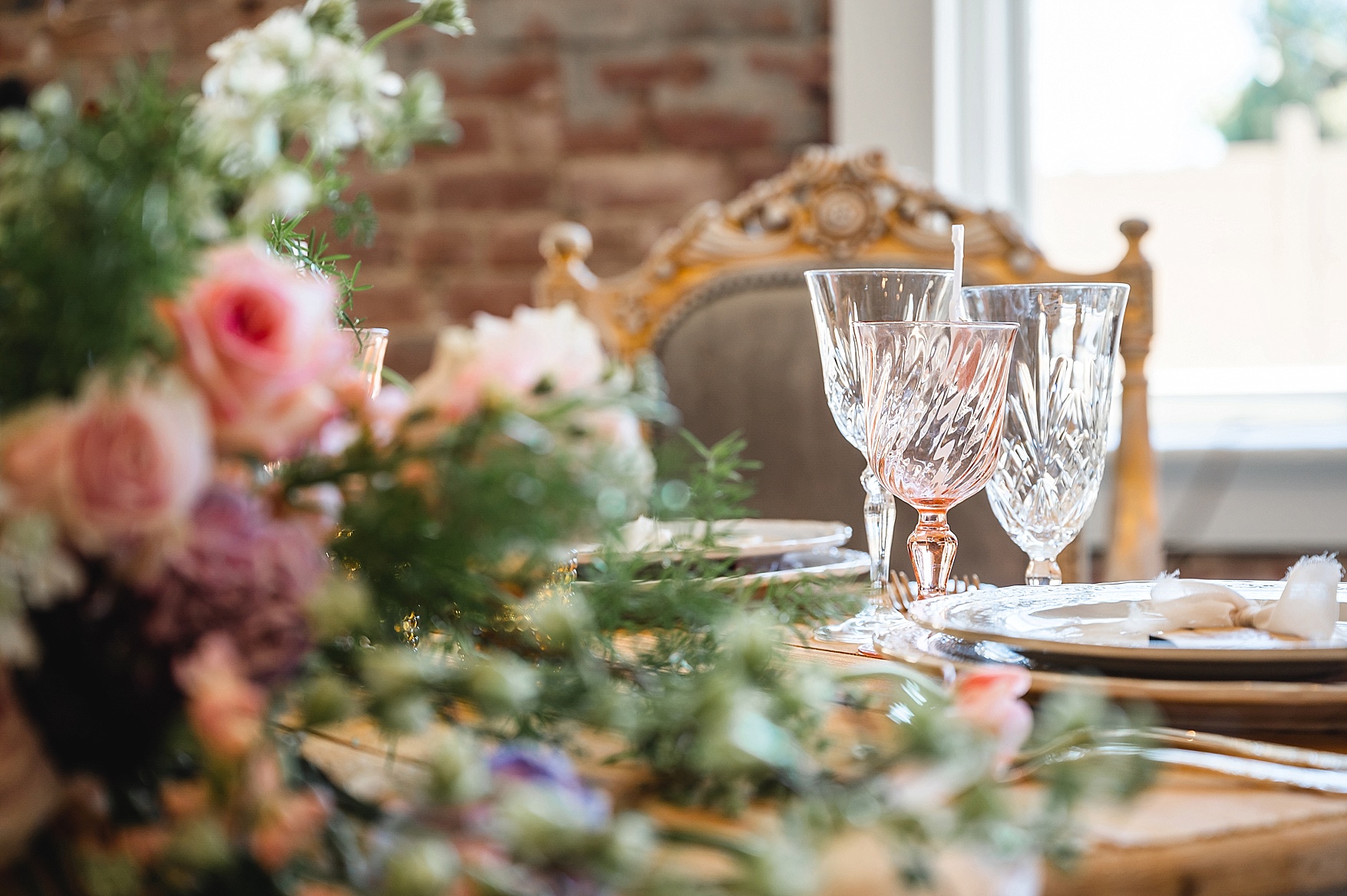 Photo by Fits & Stops Photography; As seen in Real Weddings Magazine
Tradition would dictate that a wedding registry is a must but that's not necessarily the case. It's a great starting point for guests to know what to give the couple but it's not the only option.
"The registry is really helpful and it is good etiquette for brides and grooms to have one but most brides and grooms still love being surprised," says Post, whose great-great grandmother Emily Post was known as an etiquette authority.
These days most couples already have traditional registry items like dishware and pots and pans and they don't want or need formal dishware.
A registry is a great way for guests to learn about a couple's style. "But it's not the end-all, be-all," says Post. "You're not, pardon the pun, 'wedded' to it. It really is something that can be used for inspiration."
Is Cash OK?
Many couples would prefer money as a gift so they can buy what they want. "Cash is perfectly acceptable as a gift," says Post, who says it's impolite to ask for money or to list "cash gifts preferred" on your invitations or wedding website.
Some guests may give cash because they want to but others may not know it's an option. Here's a workaround: Register for honeymoon funds or experiential gifts, such as going skiing or on wine tastings. It's a win-win. Guests can buy these non-tangible items and you'll get what you want.
When it comes to giving a gift, many guests wonder what price point is acceptable. Post says there's not one formula. Instead, it's specific to each person. "What's your budget and what do you feel comfortable giving?" she asks.
Still gift giving doesn't need to be tied to paying for your seat at the wedding. "It's not 'pay your plate,'" says Post. "It's not something as good as what they bought you. It's being thoughtful; be intentional with your gift gifting."
One way to blend a cash gift with the physical gift is to give a small gift that's wrapped, as well as a gift card, check or money.
Write It Out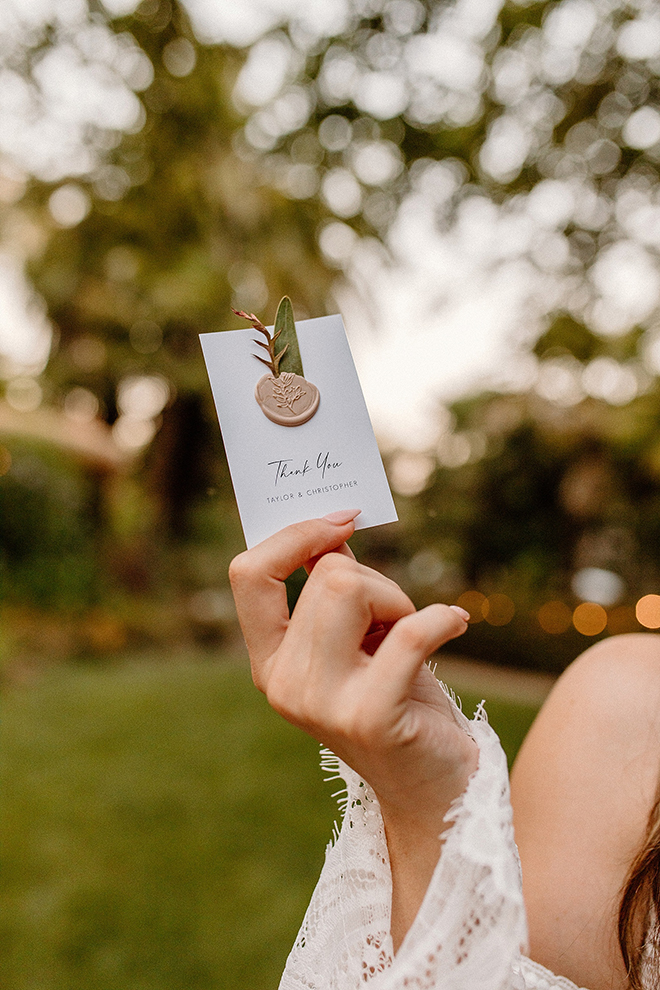 Photo by Katelyn Bradley Photography; As seen in Real Weddings Magazine
Whether you say gracias, merci or thank you, it's proper etiquette to tell your guests you appreciate them, their love and support and their gift. "A hand written thank you note is still the most important," says Post. "It's still the standard. You have people celebrating you for almost a year straight so it's really important to write those thank you notes."
But don't rush through it to just get it done. Instead, be thoughtful about your gratitude. And while it's tempting to just write a Facebook post or send a tweet to the gift giver, don't do it. "Why do you need to thank everyone publicly and in front of everyone?" asks Post, who encourages couples to take the thank you note process seriously.
Stop yourself from sending a thank you text either. However, there's one exception: "If you get wedding gifts early, send a text message that says, 'Oh my gosh, our gift arrived! We're waiting to open it after the wedding,' OR 'We opened it,'" says Post. "Thank you so much. Handwritten note to follow.''
She says the text acknowledges receipt of the present and lets the gift giver know whether or not you opened it yet. This satisfies both the traditional etiquette rule and society's need for immediate gratification acknowledging the gift.
 Cheers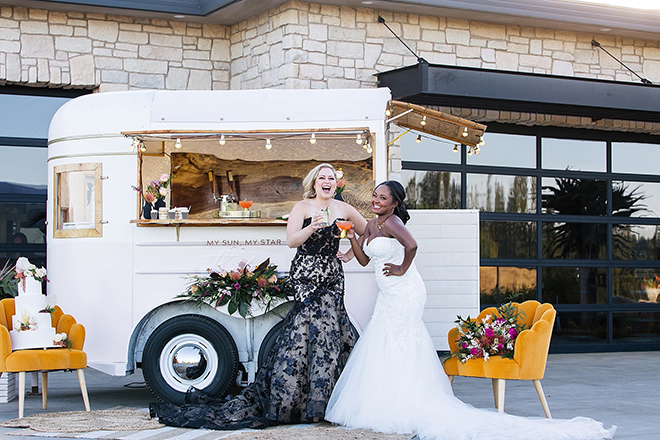 Photo by Andrew & Melanie Photography; As seen in Real Weddings Magazine
Booze can be a big part of the party but it can also be a sticky etiquette issue. Some couples want a dry event for personal or moral reasons; others are bogged down by budget and can't afford cocktails. The biggest rule to know, according to Post: It's a no-no to ask guests to buy their own drinks.
"You are inviting people to a very special day," she says. "You do not ask them to bust out their wallets."
The solution? Work within your budget. Host a partial bar instead of full bar or serve just beer and wine. Really in a financial fix? Simply serve a Champagne toast. Post says many couples only offer two signature drinks and that's perfectly acceptable.
"Do what works for you. Please remember, you do not have to have alcohol at your wedding at all," says Post. "You can also scale back on the food, music, the flowers. You can scale back in other areas, if you feel the alcohol needs to be present."
Kids on the Guest List?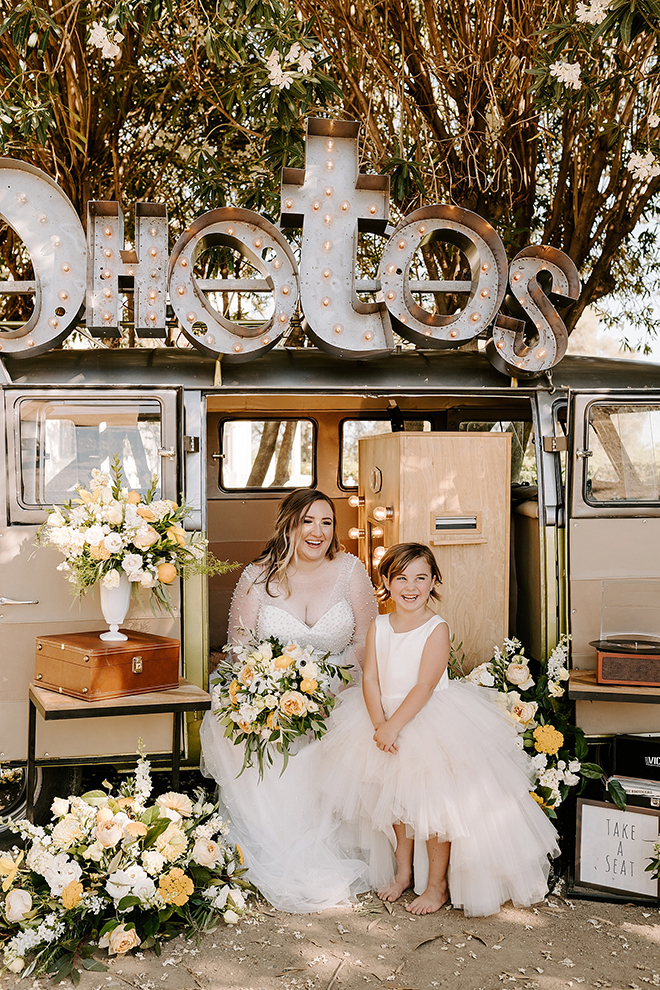 Photo by Natacha Jolene Photography + Film; As seen in Real Weddings Magazine
Many couples struggle with their guest list. Often, it's too long or you don't both know the guests well. And your parents may want to invite their friends. Plus, longer guest lists strain your budget. One big guest list sticking point for couples? Whether or not to have kids at the wedding. Post says it's OK to have an adults-only wedding but be careful about how you share the message.
"Never put that information on the invitation itself," says Post. "The invitation would be only addressed to you and your partner." Tell guests word of mouth that it's adults only or list it on your wedding website that guests must be over 18.
"Anytime you start out saying 'no kids,' it really changes the focus of that invitation from 'please come to this very special occasion in my life' to 'the more important thing is you can't bring your kid,'" she says.
 In-law Etiquette
Weddings can unite families but they can stress families too. Post advises couples to talk with their respective parents about what things are important to them. She advises listening to them but not saying, "It's my day." She says couples need to realize their parents may want a say in the celebration, especially if they're paying for the wedding.
"Even if you don't choose mom and dad's idea in the end, have the conversation," she says. "That lets them feel heard and considered and respected."
Wedding Party Gifts
Wondering what gifts to give your attendants? Personalization is really important in gifting, advises Post, who recommends getting gifts with meaning. She reminds brides you don't have to give each attendant the same gift.
Social Media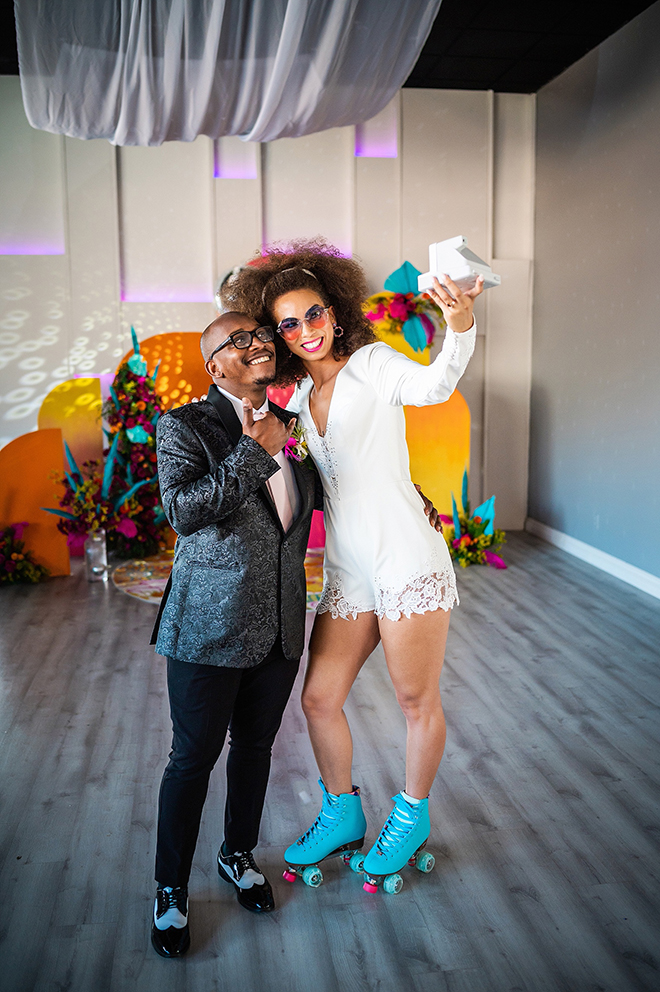 Photo by Rachel Lomeli Photographers; As seen in Real Weddings Magazine
Social media is everywhere these days. But think before you post to TikTok, Instagram or any other social platform about your wedding. "In the planning of your wedding, you don't want to be posting about your wedding all the time and every decision that you're making," says Post. Some friends on social media may feel offended if they're not invited to the nuptials but the etiquette expert says not to worry, since so many factors go into choosing a guest list, including large families and budgets.
She encourages couples to leave a lot (or most) of the big day details a secret until the actual wedding day. Otherwise, guests might not be wowed. They may feel they've already seen it.
When the wedding day arrives, use discretion when posting. "You don't want to be posting so much about your wedding that the news feed is you the entire day long," she says, advising posting a few posts: a getting ready, a day of photo and an end-of-the-night post. She says the majority of the posting should go in an album.
Refrain from posting throughout the day. Here's why: "How much time are you spending with your guests if you're a bride who's Instagramming everything?" asks Post.
Get more etiquette tips from Lizzie Post's Awesome Etiquette Podcast.
Need more expert advice? Head here!
Blog Post by Real Weddings Magazine contributing writer, Kristen Castillo.
All photos by their noted photographer and copyright Real Weddings Magazine.