Kylee and Jared share a special love; a love at first sight type of love and we were lucky enough to witness it when they graciously modeled for our "The Mountains Are Calling" photo shoot. Set way up in the mountains with trees that seem never ending, fresh air and just a little bit of a chill, true romance was in the air! Get to know them below!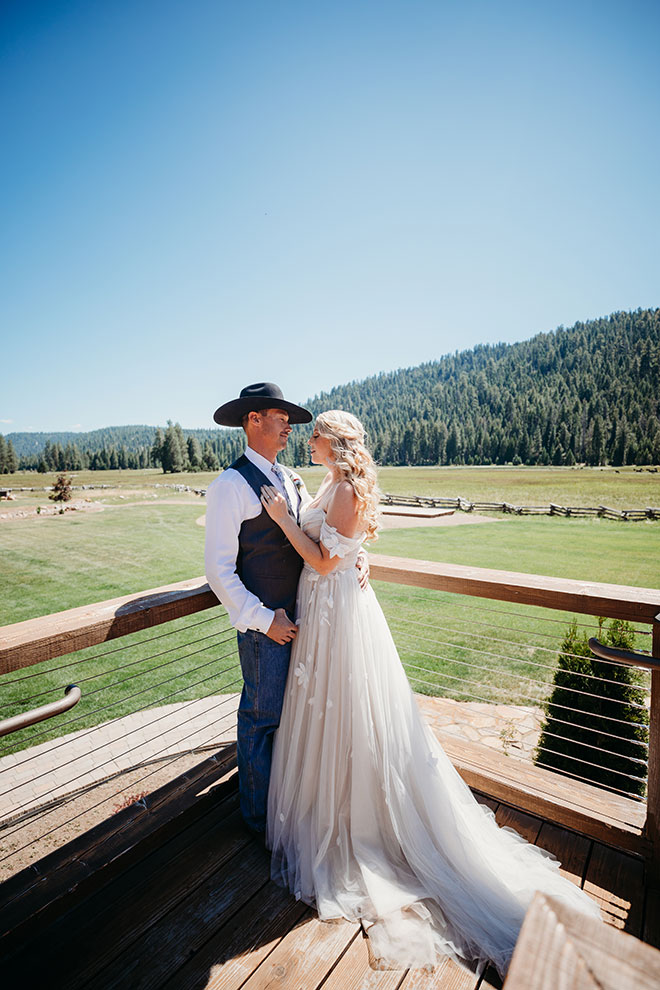 Check out the expanded digital edition here.
What made you want to model for this photo shoot?
I wanted to model for the photo shoot because I really love the magazine, it helped me with planning my dream wedding, so I wanted to be a part of doing that for other brides! Also, because I am a photographer and as much as I love that I also really love to be on the other side of the camera.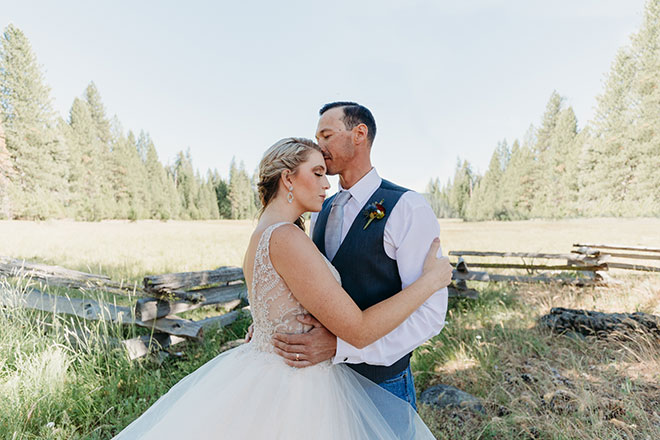 Tell us about your modeling experience. What was your favorite part of the day? How did you feel afterwards?
My favorite part of the day was being able to experience each one of the designer dresses. I loved that it was all about me. Just like my wedding day but without all the stress. I loved that I felt so beautiful during and after the shoot.
How was modeling with your significant other?
It was so much fun! He is such a trooper and did this for me which just showed me why I married him. I would marry him again 1,000 times. It was a once-in-a-lifetime opportunity and I am so happy we got to experience it together.
What was your favorite part of the shoot? Did you relate to the concept/theme?
It was the whole experience working with all the vendors that was so much fun. The Real Weddings Magazine team made my day because they were all so helpful, fun, easy to work with and made the whole experience amazing.
Tell us about your love story. How did you meet? What was the proposal like?
I met him online and was so hesitant. It took me months to even give him my number and we talked over the phone for weeks before I agreed to finally meet him. I believe in love at first sight because the moment I looked into his eyes I just felt so deep in my soul that he was the person I had always prayed for. There has never been a second since that moment that I had any doubts. The fact that these feelings are so mutual is how I know he is the one.
Our proposal was very special for me. Jared's dad passed away a year before our wedding. He always said to Jared "You have something really special, when are you going to ask her to marry you?" We went on a weekend trip to Fort Bragg to visit my family, which happened to be Jared's dad's favorite place (he'd take his family there any chance he had). Jared only told me "Get ready, let's go down to the beach." My whole family met us down there and I knew nothing because it was just normal for us all to go hang out on the beach. As we walked around he grabbed my hands and was telling me how much he loved and appreciated me and how he knew I was the one he had always been looking for. Then he got down on one knee and asked me to marry him. I had no idea anyone was even watching but as I looked up my step-dad had been recording the entire thing and my brother had been taking photos; that was very special to us to have. We knew his dad was smiling down on us in that moment!
Tell us about your wedding day.
My wedding day was everything I dreamed of it being. I had an amazing experience at The Ranch at Lone Oak Longhorns in Marysville. The team there made the whole day run so smoothly for me. My favorite part of the day was when my husband and I exchanged vows during the ceremony. I will never forget that moment. I enjoyed experiencing the whole day with him and our close friends and family.
If you could offer any advice to engaged couples what would it be?
I planned my entire wedding down to every last detail and I would not recommend doing that. Hire a wedding planner and spend your money on a good photographer and videographer. Try not to stress about the little things. No one is going to remember how many flowers there were, the boutonnieres, the color of the groom's shoes or the flower girl dresses… it's all about the experience.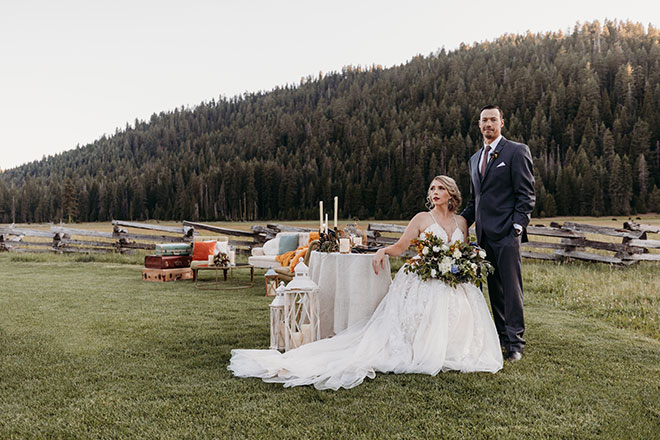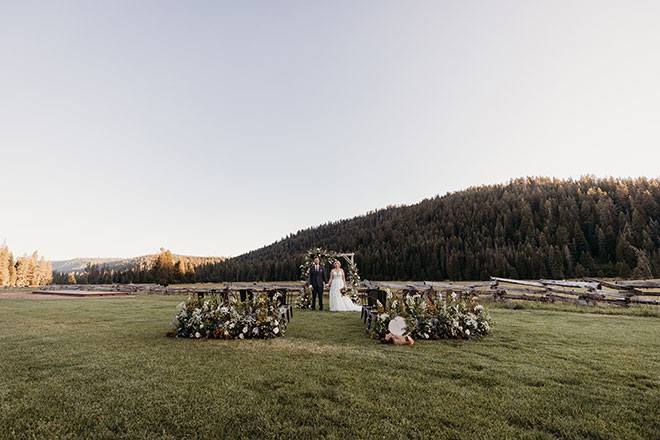 Be sure to like us on Facebook and follow us on Instagram and Pinterest so you never miss a post!
THE DETAILS
VENUE AND STYLED CUISINE CATERER  //  Highlands Ranch Resort |  highlandsranchresort.com
PHOTOGRAPHER  //  Liz Koston Photography  |  lizkoston.com
VIDEOGRAPHER  //  Baker Animation  |  youtube.com/bakeranimation1
DESIGN, STYLING, COORDINATOR AND PLANT-DYED SILK RIBBONS
Tan Weddings & Events  |  tanweddingsandevents.com
STYLING AND FLORAL DESIGNER // Amour Florist & Bridal  |  amourmoments.com
WHOLESALE FLOWERS  //  FiftyFlowers.com  |  fiftyflowers.com
CAKE AND DESSERT DESIGNER  //  Savannahs Savory Sweets |  savannahssavorysweets.com
HAIR AND MAKEUP ARTISTS  //  Personify Bridal  |  personifybridal.com
GOWNS
The Clothes Mine  |  theclothesmine.com  //  Diamond Bridal Gallery  |  diamondbridalgallery.com
Second Summer Bride  |  secondsummerbridesacramento.com
SHOES  //  DSW  |  dsw.com
JEWELRY AND TIES
Macy's  |  Moka Davis, My Stylist@Macy's Roseville Galleria  |  macys.com/mystylist
JEWELRY
Olive + Piper |  oliveandpiper.com  //  Style Avenue Studios  |  styleavenuestudios.com
TUXEDO  //  The Clothes Mine |  theclothesmine.com
RENTALS AND LINENS  //  Olgas Rustic Rental  |  olgasrusticrental.com
PAPERIE AND PLACE CARDS DESIGNER //  Valley Press Co.  |  valleypressco.com
CUSTOM SIGNAGE  //  Swoonable  |  swoonable.net
STYLING MAT  //  Suzy Pierce Art  |  suzypierce.com
Special thanks to our real couple models, Kylee & Jared, and all of the professionals who contributed to this feature!