Heading to the mountains and forest for our "The Mountains are Calling" feature was a great treat for our design team…something about the mountain air just clears the mind, settles the spirit and invigorates the soul. And Highlands Ranch Resort provided the perfect backdrop for our design team to create this beautiful styled shoot! Can you just smell that beautiful clean air through these images? We certainly can!
The print layout is featured below, but be on the lookout for extra photos, a behind the scenes video, and an interview with our real couple models in the coming months. Be sure to like us on Facebook and follow us on Instagram and Pinterest so you never miss a post!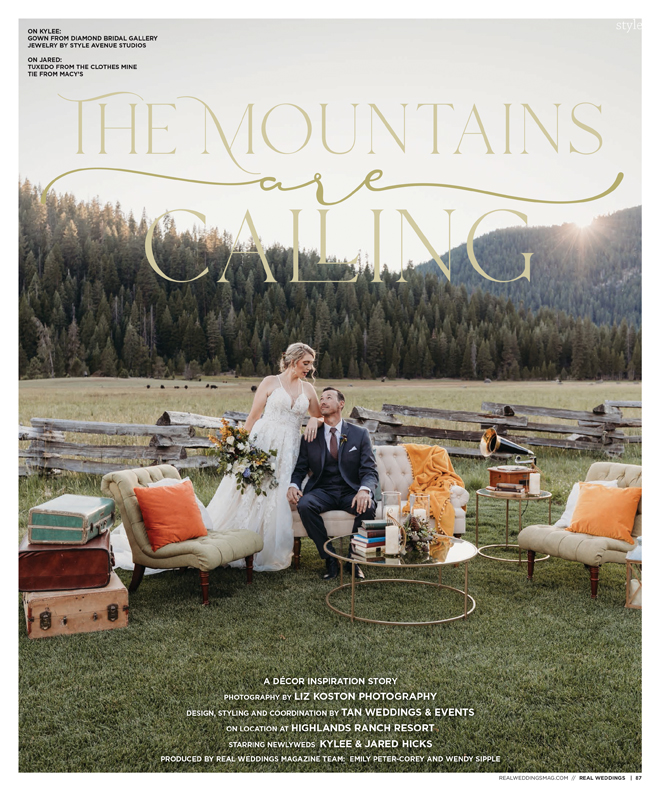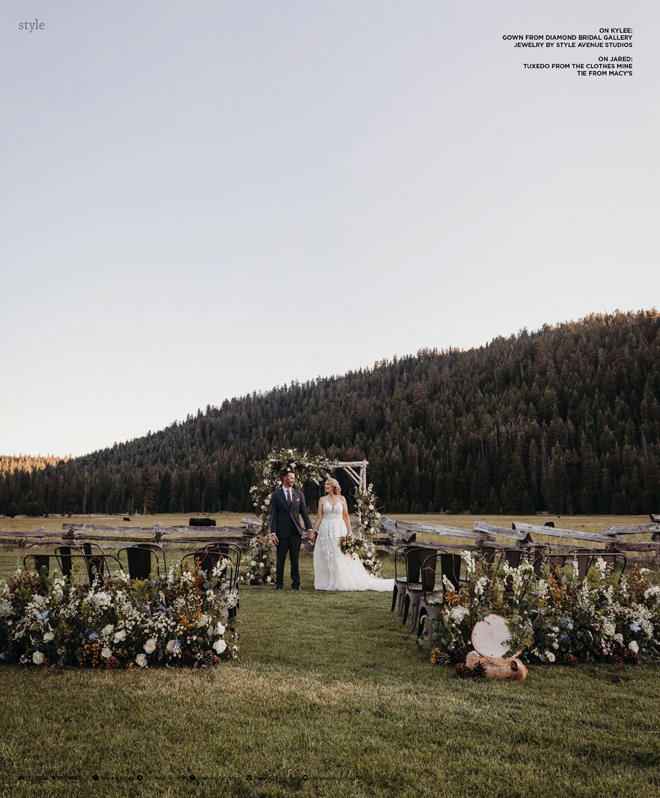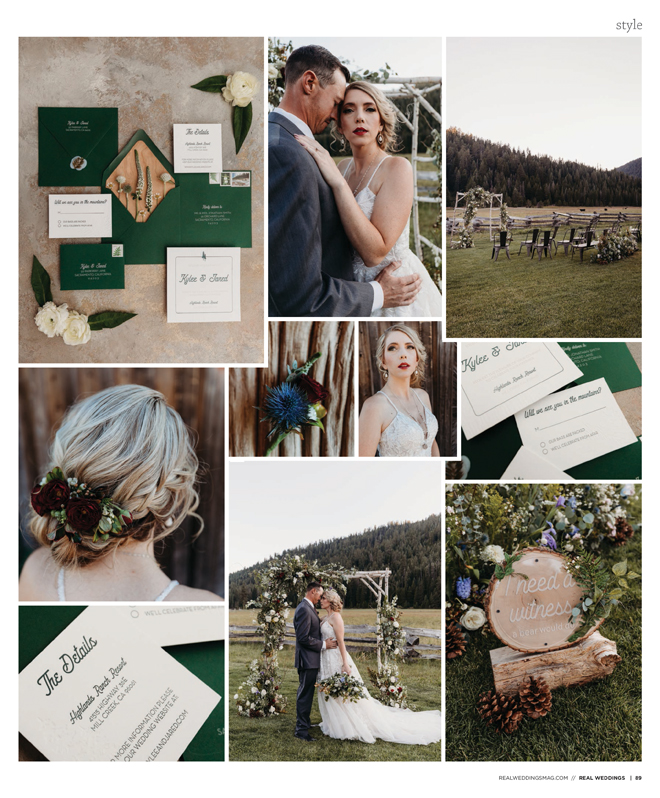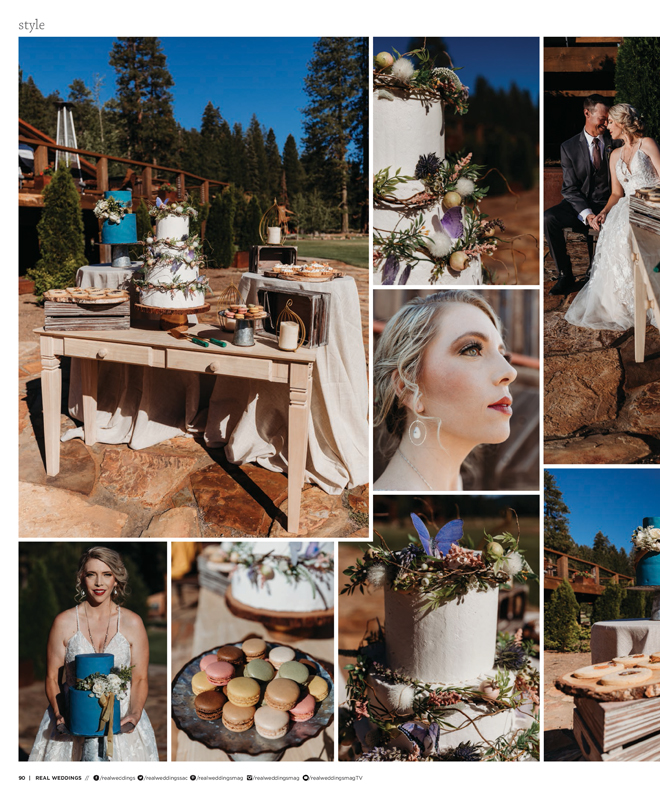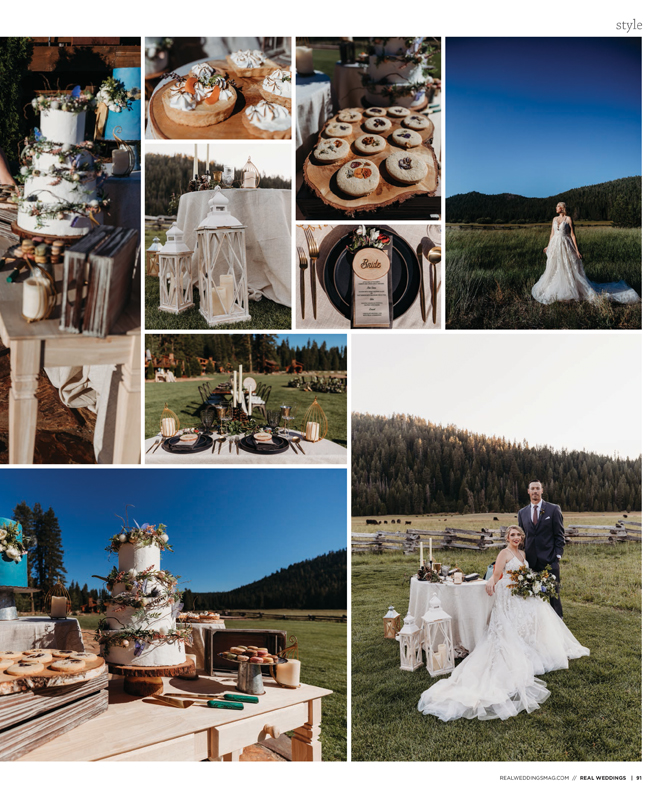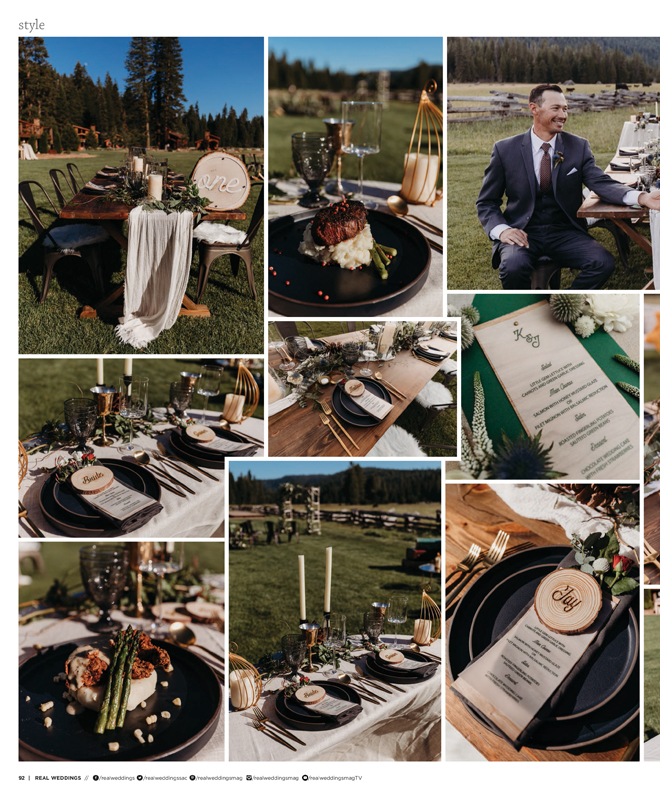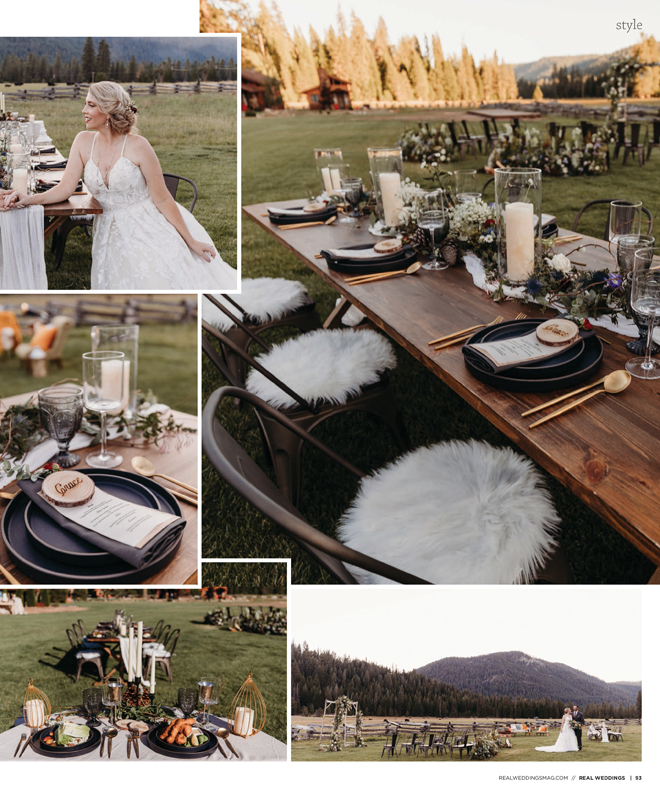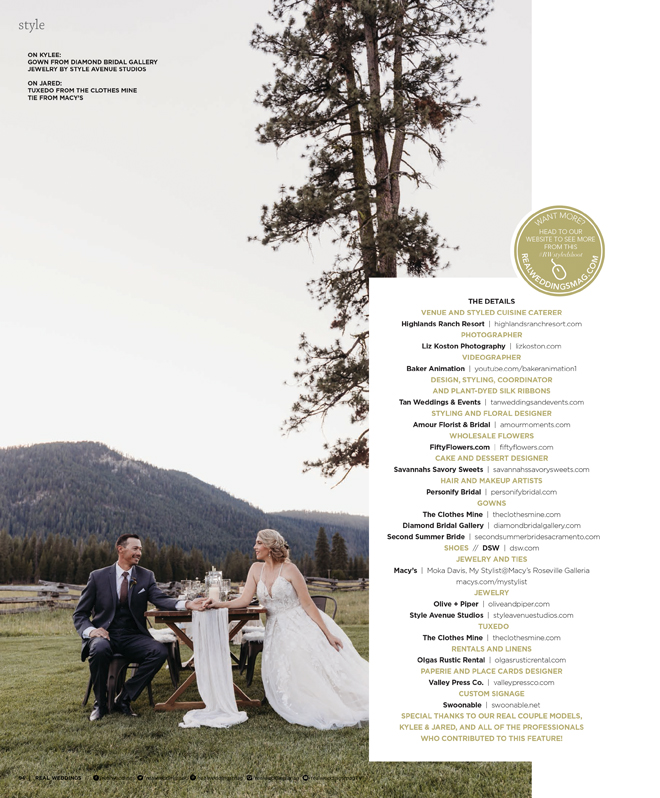 The rugged granite of the Sierra Nevada range, the volcanic activity of the Cascades, and the diverse flora of the Great Basin converge to create Lassen National Forest, fittingly called the Crossroads. At the gateway to this northeastern California wilderness is Highlands Ranch Resort. With panoramic views of meadows, mountains, coniferous forest, and endless sky, the Ranch became the perfect venue for a styled elopement shoot. The design of the editorial combined outdoorsy adventure, a rustic aesthetic, and modern chic appeal. The styled shoot was arranged by Real Weddings, coordinated by Tan Weddings & Events, and teamed with talented creatives. Like the magnificent setting, the styled shoot was at the crossroads of grandeur, rustic, and refinement.
-Jennifer & Rick Tan, Tan Weddings & Events

THE DETAILS
VENUE AND STYLED CUISINE CATERER  //  Highlands Ranch Resort |  highlandsranchresort.com
PHOTOGRAPHER  //  Liz Koston Photography  |  lizkoston.com
VIDEOGRAPHER  //  Baker Animation  |  youtube.com/bakeranimation1
DESIGN, STYLING, COORDINATOR AND PLANT-DYED SILK RIBBONS
Tan Weddings & Events  |  tanweddingsandevents.com
STYLING AND FLORAL DESIGNER // Amour Florist & Bridal  |  amourmoments.com
WHOLESALE FLOWERS  //  FiftyFlowers.com  |  fiftyflowers.com
CAKE AND DESSERT DESIGNER  //  Savannahs Savory Sweets |  savannahssavorysweets.com
HAIR AND MAKEUP ARTISTS  //  Personify Bridal  |  personifybridal.com
GOWNS
The Clothes Mine  |  theclothesmine.com  //  Diamond Bridal Gallery  |  diamondbridalgallery.com
Second Summer Bride  |  secondsummerbridesacramento.com
SHOES  //  DSW  |  dsw.com
JEWELRY AND TIES
Macy's  |  Moka Davis, My Stylist@Macy's Roseville Galleria  |  macys.com/mystylist
JEWELRY
Olive + Piper |  oliveandpiper.com  //  Style Avenue Studios  |  styleavenuestudios.com
TUXEDO  //  The Clothes Mine |  theclothesmine.com
RENTALS AND LINENS  //  Olgas Rustic Rental  |  olgasrusticrental.com
PAPERIE AND PLACE CARDS DESIGNER //  Valley Press Co.  |  valleypressco.com
CUSTOM SIGNAGE  //  Swoonable  |  swoonable.net
STYLING MAT  //  Suzy Pierce Art  |  suzypierce.com
Special thanks to our real couple models, Kylee & Jared, and all of the professionals who contributed to this feature!
To see more from The Mountains are Calling click here!
Blog post by Real Weddings Magazine's Associate Editor Emily Peter.
Photos by Liz Koston Photography / copyright Real Weddings Magazine.