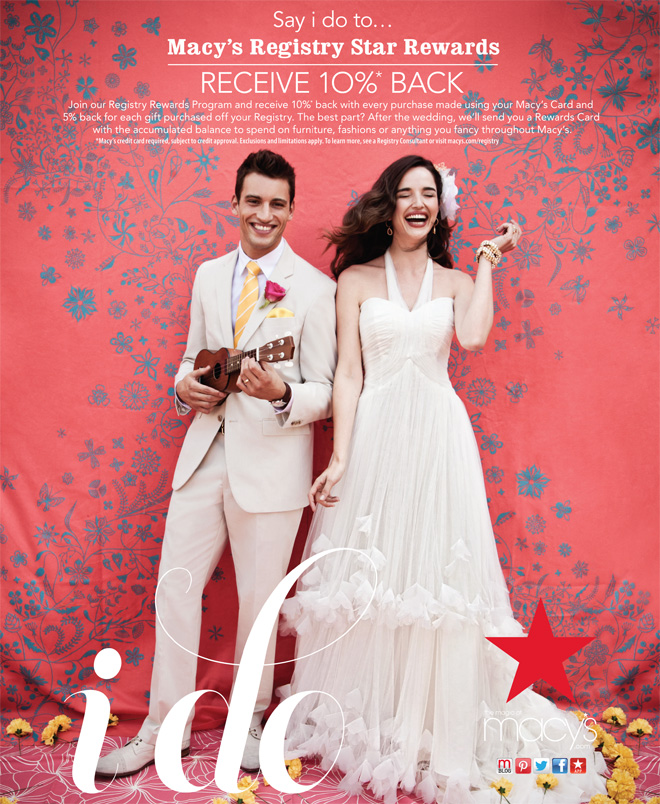 Just a friendly reminder that the Macy's Sip & Scan Registry Event at Macy's Westfield Downtown Plaza is TOMORROW!
Join Macy's Wedding & Gift Registry for an event featuring fun beverages, hors d'oeuvres, and great registry experts to help you create your dream registry.
Plus, pick up a FREE copy of Real Weddings Magazine and register to win a $50 gift certificate to Fat's Asia Bistro!
Details:
October 17, 2013 from 6-9 p.m. at Macy's Westfield Downtown Plaza in Sacramento
– and –
October 24, 2013 from 6-9 p.m. at Macy's Roseville Galleria in Roseville
Attendees will receive an incredible goodie bag (including a FREE copy of Real Weddings Magazine).
Admission is free, but please RSVP by calling or emailing to reserve your spot — click here for the information to RSVP!
Do you prefer to register online? No problem, Macy's offers a fabulous registry guide with helpful tools and useful tips to help you every step of the way. Check it out here!
Did you know if you join the Macy's Registry Rewards Program, you will receive 10% back with every purchase made using your Macy's card and 5% back for every gift purchased off of your registry? And, after your wedding, Macy's will send you a Rewards Card with the accumulated balance to spend on ANYTHING your heart desires! How awesome is that?
For more information, visit macys.com, and make sure to like Macy's on Facebook, facebook.com/macys.
Blog post by Real Weddings Magazine's Social Media Maven, Aimee Carroll.
Photo courtesy of and copyright Macy's.
Subscribe to the Real Weddings Magazine Blog! Click here: [subscribe2]