Hello dear Real Weddings Readers! Have you seen the newest issue of Real Weddings Magazine? In it, we have an amazing decor inspiration story called, "Marriage of Metal."
For this feature, we teamed with an extremely talented group of professionals inspired to, well, mix some metals. Katie Edwards from Ambience Floral Design, on the inspiration:
"I've always loved metals, all metals. I'm not a 'gold' girl or a 'silver' girl—copper is actually my favorite metal. A popular wedding trend over the past several years has been a lot of crystal sparkle, which is gorgeous. But it's always good to have a fresh approach, and metals can offer a whole different kind of shine and sparkle—metals have beautiful depth, richness and warmth. Metal is so versatile: matte, shiny, rough, smooth, bright, dull….the combinations are endless."
In the feature in the magazine, we promised you more photos―photos where you can get up close and personal…to really see more of the detail and all of the hard work that these dedicated wedding pros devoted to making this idea come to life―and we're ready to fulfill that promise! We simply cannot thank the contributors to this feature enough for all of their amazing work―we think that you'll agree, the results were pretty darned cool!
For this installment of our blog series, "Marriage of Metal," we decided to focus on the sweet stuff…that's right, dear readers, all of the yummy goodness that not only looks good but also tastes great. For this feature, Musarrat Afshan from
Pretty Sweet
produced these spectacular sweets, which we think you'll agree, truly are works of art! So without further ado, we present "Marriage of Metal: A Decor Inspiration Story {The Sweets from
Pretty Sweet
}: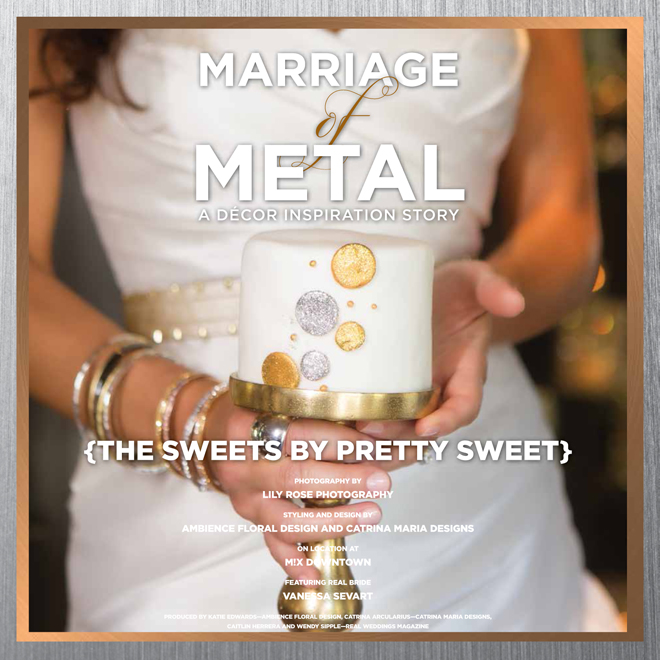 Thank you to all of the vendors who contributed to this piece: