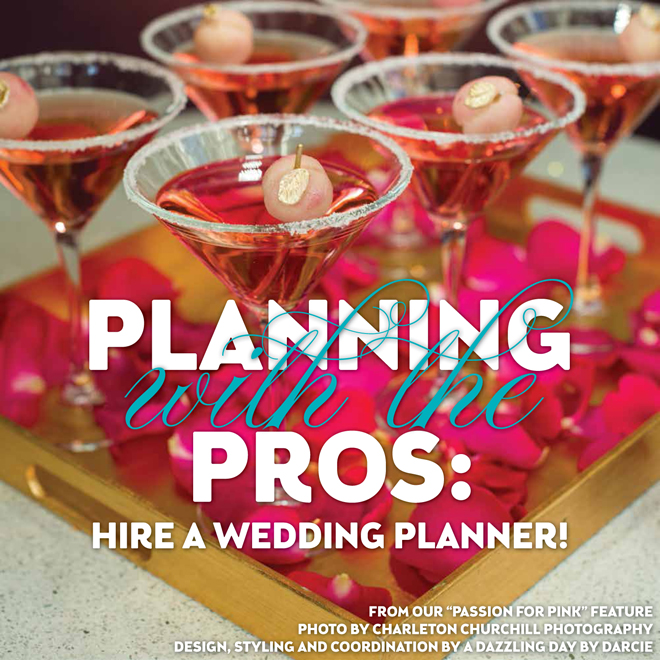 So, you're getting married! Fantastic! What's one of the first things you should think about doing?  HIRE A WEDDING PLANNER!
When we hear from our featured real wedding couples, we ask them, "If you had to plan your wedding all over again, what would you do differently?" The number one response?  "I wish I would have hired a wedding planner!" And we couldn't agree more. But don't just take our word for it―we talked to several industry professionals for their thoughts Here's what they had to say, in our "Planning with a Pro" article in the brand new issue of our wedding planning resource guide, The Planning Guide.
---
Like every spouse-to-be, you're pulled in many different directions by many different people and many different things. How do you decide on concepts, colors and more? Hire a wedding planner to help you refine your wedding vision, make decisions, and most importantly, advocate for what you want despite what others around you may want.
WHY HIRE A PLANNER?
A wedding planner may seem like a luxury, but it's becoming a big reality for busy couples. "Sometimes clients don't have a lot of time," says Kate Miller of Kate Miller Events. "They also contact a planner to create a cohesive look for their wedding." Miller continues: "It's all about finding the perfect planner for you. Find a planner that truly 'gets' you."
Aimee Wendell of 2Chic Events & Design says established planners know their industry and can recommend the right wedding professionals. "We can see who's a budget match, a personality match and a style match," she says. Darcie Swedelson of A Dazzling Day by Darcie concurs. "A good wedding planner knows the market, vendors and price ranges," she says. Instead of taking over the wedding planning, they'll advocate for a couple's needs and wants. "When I'm working a wedding, I'm the go-to person," Swedelson shares. "We don't interrupt the couple because we already know the answer."
DESIGN AND ORGANIZATION
Wedding planners can offer different services. Some specialize in organizing your day from seating charts to menu selection, while others focus on event design such as coordinating colors and décor. Still, many planners are a mix of both services.
Chef Beth Sogaard of Beth Sogaard Catering says a great coordinator can pull together a stylish event. "It's easier for us to plan our décor with another professional who knows the couple's vision and the details of the venue," she says. Wendell agrees: "A lot of what we do is design," she explains. "I think a lot more couples are opening up to it."
PLANNERS VERSUS IN-HOUSE COORDINATORS
In-house coordinators generally are included with the venue rental, so it's an affordable option for many brides. But an in-house coordinator is not the same as an independent wedding planner. "The major difference between a wedding planner and an in-house coordinator is that a planner may help in the entire process from engagement to the honeymoon," explains Sandra Dominey of Arden Hills, a venue that offers in-house coordination. She notes that an in-house coordinator "is usually not as involved with the overall plan, but more deeply involved in the day's details."
PLANNING WITH EASE
A wedding planner can help not only you, but your wedding experts as well. "We are a huge proponent of being there for clients and other vendors too," explains Miller. "Once vendors have worked with us, they're always happy to work with us again."
Photographers, for example, spend the whole wedding day with the couple. A planner can help keep the day's schedule on track, including photo sessions. Plus, since planners tend to be creative, the wedding photos can be more interesting and fun! "Sometimes it's really easy to get excited and want to have it all at your wedding, but hiring a planner can be helpful in making sure that couples have some expectations set with respect to how the day will flow and how much can really be accomplished within time limits," says Jennifer Dunham Starr, signature photographer and owner of The Memory Journalists. "With expectations set, everyone will be much happier in the planning process and things can go much smoother overall. "
Think of your planner as a coach for your big day. He or she will make sure every vendor is prepped and ready to be a successful part of the wedding team. "When we have a planner there to make sure all of the vendors are on the same page before each event, then we are able to do our job effectively and guide the guests through the night with appropriate and correct announcement," says Brandon and Kami Storz of Sound Image Entertainment. "We know everything and everyone has been prepped and ready to go."
Audrey Gardemeyer of Botanica Floral & Event Design agrees. "Working with a well-seasoned wedding planner is a really great experience and investment for all involved in planning a wedding," she says. A planner helps Gardemeyer—along with all of the wedding vendors—coordinate the setup of wedding day details. "Scheduling timelines, load in and out times, and assisting us as designers to any needs that may arise on the day-of is always helpful," she explains.
MONEY MATTERS
The cost of hiring a full-service planner can range greatly.
"A lot of people think they can't afford it, but they can," Miller says. Done right, hiring a planner can actually save you money. "When couples don't have the help, a lot of decisions ride on price, which isn't always the best option," explains Storz, noting that planners can give you options and different ideas.
"A good, experienced wedding planner should save you as much as they charge you," says Swedelson. A planner will review your contracts, prevent you from overspending on unnecessary items, and negotiate prices with other vendors. Other benefits? You'll save time and stress!
HIRING TIPS
Make sure the planner that you hire is ready for the job. Find out how many events they've done, so that you'll know their level of experience. Look for a planner who plans weddings full-time since part-time planners, who work other jobs, may not have enough time to devote to coordinating your event.
Before hiring a planner, make sure that he or she is a good fit. "You have to trust the person you're working with closely," says Wendell. "It has to be a good partnership." Sogaard advises: "You must take the time at the start to properly describe your needs, wants, budget and overall vision to the coordinator before letting them act on your behalf." Many planners offer a free consultation to couples to see how they can help them. But don't wait too long. "The sooner you book, the sooner they can start helping you," says Swedelson.
A wedding planner can be a great investment—you'll get lots of help, expert advice and most of all, peace of mind!
---
Ready to get started with a planner? Find your perfect wedding planner in our Real Weddings Magazine Resources Page Now and be sure to check out the professionals with the Association of Bridal Consultants—the oldest and largest group of wedding professionals in the world!
Article by Kristen Castillo © Real Weddings Magazine a division of Style Media Group.  
Article appears in the 2014 Issue of The Planning Guide Magazine published by Real Weddings Magazine.