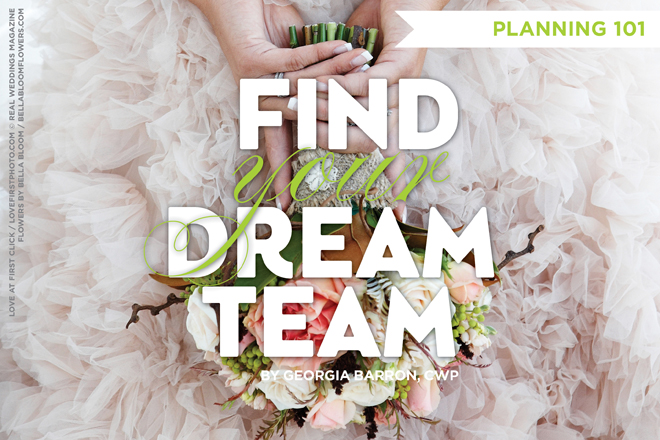 Congratulations!
You're engaged…now what do you do?
To help you get started with your wedding planning, we present our "Planning 101" series­ where we feature expert advice from local wedding pros to make your wedding day the best it can be. In the first installment in the Winter/Spring 2015 issue of Real Weddings, we talked about finding your venue first…now, it's time to find your wedding dream team. For this installment, we called on Georgia Barron, Certified Wedding Planner and owner of Newcastle Wedding Gardens and the Historic Red Horse Barn, for some tips!
---
You found your venue and set your wedding date…the next most important thing to do is find your wedding dream time. And, finding the right team is vital to the success of your wedding!
Having been a wedding planner for the majority of my career and also owning a wedding venue, I have witnessed so many levels of experience over the years. From the "do-it-yourself," to the "inexperienced," to the "still learning" and then to the "best."
The simple fact is there is no substitution for an experienced professional that has your best interest—and the success of your wedding—at the top of their list of services! Have you ever attended a wedding that didn't run smoothly, or the DJ was obnoxious, or the photographer took the wedding party away from the reception for an hour and left the guests wondering where they went? You certainly don't want that to happen at your wedding!
FINDING YOUR TEAM
There are several ways to find the right team. The magazine you have in your hands is a great starting point, giving you lists of vendors in the local area—their website also has additional vendor resources to find even more vendors in the local area.
Referrals are also great if they come from trusted sources. But beware…just because a friend "liked" the minister she hired for her wedding, doesn't mean that particular minister would do or offer the ceremony that you have in mind. Once you start planning your wedding, you'll find that everyone will start to offer opinions even if you're not asking for them. Friends are wonderful, but unless they are wedding professionals, they may not really understand what to suggest.
Another good resource can be preferred vendor lists, and often, many venues and other vendors offer these lists. Every venue and vendor is different in this aspect:  Some refer vendors that they have worked with on numerous weddings that have their client's best interests in mind and want to personalize their wedding to suit their style, making the planning process easy; others just provide a list of everyone in their region but have not necessarily worked with; and others have vendors pay to be on a list as a form of advertising. Make sure to ask how many weddings they have done at your venue and how long they have been in business, along with references and how other vendors came to be on their preferred vendor list.
WHAT'S IMPORTANT TO YOU?
Over the years, I have found that most couples want to have a great party, and dancing is definitely at the top of their list. In my opinion, getting a great DJ is the key to making this goal a reality. Working with a DJ that will take the time to sit down with you to go over the styles of music you like in order to create the vibe and achieve the fun you wish to have is so important. They are also the person on the microphone inviting your guests to be seated or alerting your guests to your toast, cake cutting, etc. In addition, they usually coordinate the music for your ceremony (unless your ceremony is in a church). Working with a professional DJ will often be the difference between your wedding party being a hit or a flop.
Another big item on most couple's wish lists is to end up with great photos. Unfortunately with the advancement of digital cameras, there are many inexperienced photographers in our industry. Just because they have a few nice photos on their website does not mean that they can do the job that you want them to on your wedding day. And, you won't know that until you get your photos back long after the event is finished, and by then, it's too late to change anything.  When you select an inexperienced photographer to save a tiny bit of money, they may struggle on your wedding day—missing opportunities that show up later in the finished product. Experienced photographers can make your day fun with photos that reflect a happy celebration or they can also derail the other vendors by not working as a team player. Remember your guests. You want to plan a timeline with your photographer that will also work with your caterer so that dinner will be served on time and still leave plenty of time to dance and party with your guests.
Another key element to give thought to is your floral designer. A talented floral designer will sit down with you to select flowers and décor that is realistic for your budget and location. Remember that flowers are a perishable item—they should be set up at your venue prior to your arrival and kept cool so that they will be gorgeous for your wedding. They are also a seasonal item—trust your floral designer to offer suggestions for the selections that will work best for your venue, what's in season at the time of your wedding, and (also very important) the weather anticipated for your wedding time of year.
Now, let's talk food and drink. One of the most important aspects of a great wedding is delicious cuisine and refreshing beverages for you and your guests. This is another very perishable item that needs to be handled with care and that expertise only comes with experience. A professional caterer needs to have been certified in California with a "Serve Safe" certificate every five years. This involves taking a test to know how to properly handle your food.
An experienced wedding planner can assist you to find your team, but you also will want to confirm that the wedding planner is experienced. There are numerous professional associations that wedding professionals can be members of and also certifications that can be obtained by years of experience and passing tests.
The bottom line in selecting your vendors: Don't be shy to ask for references and qualifications. The earlier you can find and hire your vendors, the better—you can then benefit throughout the planning experience through their expertise. Once you've got your team in place, trust them to offer sound advice so that you can enjoy your planning process, and ultimately your wedding celebration.
Here's to you getting the wedding of your dreams!
---
GEORGIA BARRON, CWP—NEWCASTLE WEDDING GARDENS AND THE HISTORIC RED HORSE BARN
Georgia is an award-winning Certified Wedding Planner with more than 20 years of experience in assisting couples to create their personalized weddings. She is a member of  the Association of Bridal Consultants (ABC), National Association for Catering and Events (NACE) and the Association for Wedding Professionals International (AfWPI), and is a Certified Professional in Catering and Events. She and her husband Stephen own Newcastle Wedding Gardens and the Historic Red Horse Barn in Newcastle. newcastleweddinggardens.com
Article appears in the Summer/Fall 2015 Issue of Real Weddings Magazine published by Style Media Group.

Photo of Georgia by Sharpe Weddings, www.sharpeweddings.com