Happy New Year! We're going out on a limb and predicting 2013 will be the year of the unique wedding. By "unique" we mean brides and grooms who will go the extra mile to make sure their wedding is unlike any other. No cookie cutter productions for these exceptional couples. Every detail will be filled with personal touches and creative flourishes.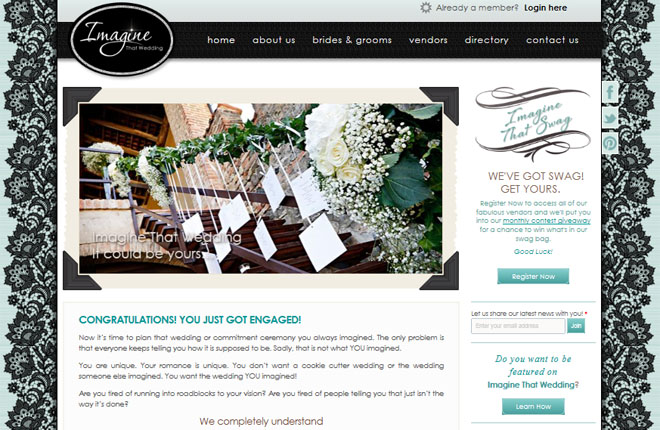 To help these recently engaged planners, Sonja Chevere recently debuted a new blog, Imagine That Wedding. "When I planned my wedding in 2000, having a non-church wedding was about as unique as I thought existed. Now I know better," shares Chevere. As I look back, I think of all the cool things we could have done, but I was caught up in how a wedding 'should be' vs. what it 'could be.' I didn't allow myself to let loose and be free…free to imagine a very different wedding that went against the grain by creating something completely out of the ordinary. Something completely me!"
Now Chevere and her fellow writers offer new couples ideas on how to make their own coming nuptials truly special. Check out advice on everything you can imagine, from the invites to the wedding cake to the honeymoon. We love blogs that inspire, and Imagine That Wedding will have your creative wheels turning.
Check them out at ImagineThatWedding.com, and make sure to like Imagine That Wedding on Facebook here!

Blog post by Real Weddings Magazine's Always a Bridesmaid Columnist, Darren Elms.
Photo courtesy of Imagine That Wedding.
Subscribe to the Real Weddings Magazine Blog! Click here: [subscribe2]