Welcome back to our blog series from our cover model finalists photo shoot, "Beautiful Works of Art," from the current Winter/Spring 2014 issue of Real Weddings Magazine.
In this installment, you get to know a little bit more about cover model finalist Anne Iaccopucci — we fell in love with her when she came into the cover model finalist interview. As you'll see in this post, her husband, Dan, played a big part of her interview, and we instantly loved her (and his) sense of humor and knew that she'd be an amazing cover model finalist! Like Karmen, we absolutely adore Anne and are so honored that she is one of our cover model finalists for this issue of Real Weddings Magazine.
So without further ado, we present our Real Weddings Magazine Cover Model Finalist, Anne Iaccopucci!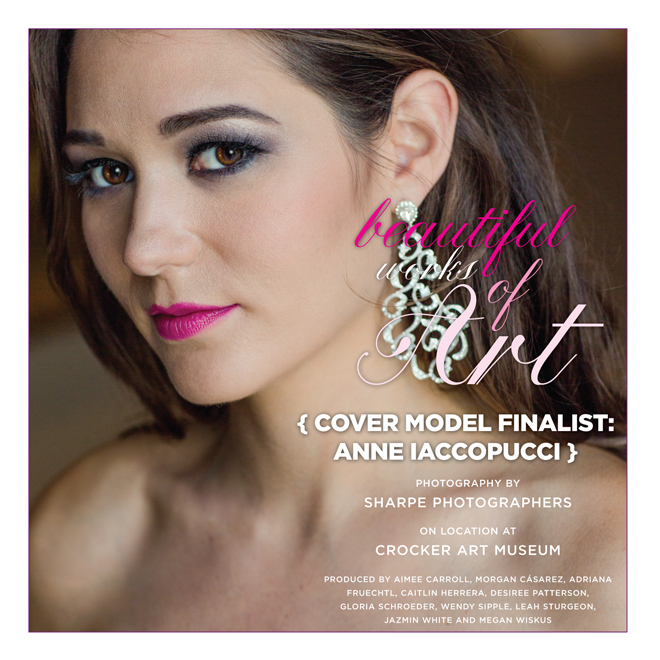 Her love story:  Anne was convinced by one of her closest friends to take an art class where she was introduced to her now-husband, Dan, as Mr. Herrera. Yes, he was the instructor. He was fun, helpful, knowledgeable and wore the same the same sci-fi museum T-shirt to almost every single class. It wasn't exactly love at first sight for Anne, but she did enjoy his class. A few months after the class ended, their paths began to cross and a relationship ensued. Roughly a year later, the couple was celebrating the holidays in New York City, and on Christmas morning, Dan proposed.
Their wedding day:  The wedding was held at Dan's parents' home near the American River. Anne describes the day as "woodsy and elegant." One of the special touches was a handmade dance floor over the pool—thankfully it was sturdy! One element that the couple especially loved was a caricaturist who drew fun pictures of the guests as a keepsake—paying homage to Anne's late father who loved having caricatures drawn. The night was filled with dancing, laughs, food, drinks and amazing memory-making moments.
What Dan thought about the cover model contest:  While Dan was extremely supportive of Anne, he was also preoccupied with thinking up ways to get himself in the magazine. He suggested that Anne take a photo of him to the interview. He was certain if we saw how cute he is, then he would be a finalist too. We love his modesty.
Her "cover model" experience:  Anne was not originally selected when she first entered the contest, but she entered again, and when she received the call a few months later that she was in fact a finalist, it was all the more exciting. When she came in for her interview she didn't have a chance to plan the "perfect" outfit, fix her hair or touch-up her makeup, which made her nervous. That is until she reminded herself that she was interviewing with Real Weddings Magazine, and we are all about real women.
The day of the shoot was surreal for Anne. Our finalists' experiences are often driven by the location of our photo shoots. In this case, there were no mirrors behind the scenes, so the only glimpse that the "models" got of themselves was when the photographer shared a quick shot through his camera screen. That made the whole experience even more fun and exciting for Anne. She could not stop raving about the day. She said, "I wish I could do photo shoots everyday! Kate Moss is not allowed to complain."
And, just for fun, here are some of the final cover mock-ups that we did of Anne…it was crazy tough for our team to pick a cover to be the final cover that would go to print ― Anne's a beautiful Real Weddings Magazine cover model, wouldn't you agree?!
The cover model finalist contest photo shoot Real Weddings Magazine team members who produced this editorial feature include: Aimee Carroll, Morgan Casarez, Adriana Fruechtl, Caitlin Herrera, Desiree Patterson, Gloria Schroeder, Wendy Sipple, Leah Sturgeon, Jazmin White and Megan Wiskus.
And, of course, thank you to all the vendors who contributed to our cover model contest shoot. The vendors who participated in our cover model finalist shoot include:
Photographed on location at:
Crocker Art Museum
916-808-7000 | crockerartmuseum.org
Photographer
Sharpe Photographers
Sam, Harry, Guinevere and John
916-949-4748 | sharpephotographers.com
HAIR AND MAKEUP
FOR SKYE: I Make Beautiful
Jenifer Haupt, Makeup
Nicole Richardson, Hair
916-532-9800 | imakebeautiful.com
FOR ANNE: Beela & Dexe
Beela Shaikh, Makeup
Dexe Thao, Hair
916-505-9729 | 916-692-0397 | beelaanddexe.com
FOR KARMEN: All Dolled Up
Melissa Oretta, Makeup
Ashley Lyons, Hair
530-888-1562 | alldolleduphairandmakeup.com
BRIDAL GOWNS
Always Elegant Bridal & Tuxedo
530-755-4282 | alwayselegantbridal.net
The Bridal Box
916-742-4638 | thebridalbox.net
Bride To Be Couture
916-972-8223 | bridetobecouture.com
The Clothes Mine Bridal & Formalwear
209-267-0417 | 209-890-7532 | theclothesmine.com
De La Rosa's Bridal & Tuxedos
916-983-3400 | delarosasbridal.com
Diamond Bridal Gallery
916-521-9856 | diamondbridalgallery.com
Dreamnette Bridal
916-780-4747 | dreamnette.com
Enchanted Bridal Shoppe
916-965-5683 | enchantedbridalshoppe.com
House of Fashion
916-554-7440 | hofbridal.com
Sior
916-304-5543 | siordesigns.com
ACCESSORIES
Bel Aire Bridal | belairebridal.com
Emily Riggs Bridal | emilyriggsbridal.com
Frou Frou Accessories
Granville Millinery
740-504-6559 | granvillemillinerycompany.com
HSN | hsn.com
Jesse Ciani
916-685-3819 | jesseciani.com
Macy's
Arden Fair Mall | 916-925-2845
Country Club Plaza | 916-485-3885
Downtown Plaza | 916-444-3333
Sunrise Mall | 916-962-3333
Westfield Galleria at Roseville | 916-771-3333
Sparkle Bridal Couture
916-538-6615 | sparklebridalcouture.com
FLOWERS
Accents by Sage
916-799-6242 | accentsbysage.com
Ambience Floral Design
916-786-6851 | ambiencefloral.com
Bella Bloom Flowers
916-498-8588 | bellabloomflowers.com
Bloomers Floral Design
916-284-7955 | sacramentofloraldesign.com
Blooms by Martha Andrews
916-300-5948 | bloomsbymarthaandrews.com
Botanica Floral & Event Design
916-673-8650 | botanicaevents.com
In Full Bloom by MJL
916-717-2745 | infullbloombymjl.com
CATERING
Bocca Catering
916-834-3554 | boccacatering.com
Blog post by Real Weddings Magazine's Editor/Publisher Wendy Sipple.
Photos by Sharpe Photographers, copyright Real Weddings Magazine.
Subscribe to the Real Weddings Magazine Blog! Click here:[subscribe2]