If a 21st Century princess were to lose one of her slippers on the steps of the palace, let's imagine for a moment it would look like this.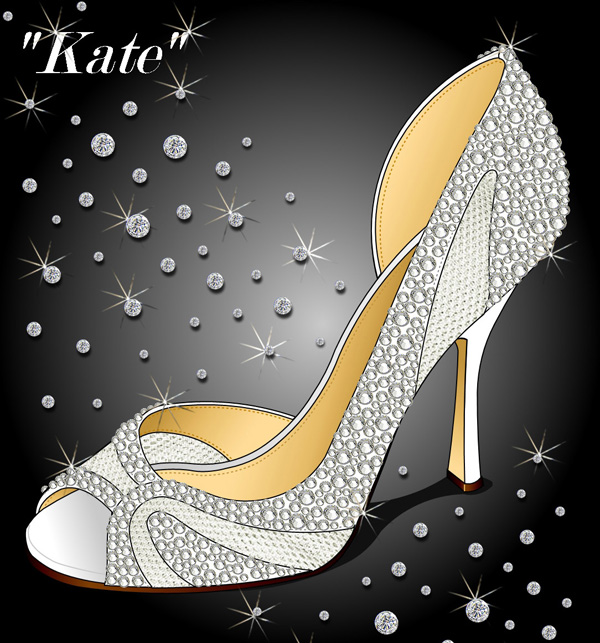 In celebration of the Royal Wedding announcement of the UK's Prince William and Kate Middleton, Benjamin Adams' designer Alessandro Pavan has created a stunning shoe, glittering in Swarvoski crystals, aptly named "Kate."
Naturally, designers all over the world are whipped in a frenzy creating their signature versions of darling Kate's gown and accessories, and Pavan is no exception. This limited edition shoe was specifically catered to the style of the aspiring princess and certainly is worthy of the Westminster Abbey aisle.
In addition to the adornment of tiny crystals, the soft mesh material, "unassuming yet chic" medium heel height, and elegant style perfectly suit graceful and sophisticated Kate. In commemoration of the occasion, a gold crown will be sewn into every shoe lining, making any luck bride who gets her hands on a pair feel like a true princess.
For more information on Benjamin Adams, paradoxlondonus.com.
Blog Post by Always a Bridesmaid Columnist Darren Elms.
Image courtesy of Benjamin Adams.
---
Do you have the new Real Weddings Magazine iPhone and iPad App?
Download it from the Apple App Store Today: REAL WEDDINGS MAGAZINE!
---
Looking for local Sacramento wedding vendors?
---
Subscribe to the Real Weddings Magazine Blog!