Hello dear Real Weddings Brides! Welcome back to the next installment in our blog series, "Home Field Advantage!"
This past spring, we teamed with a phenomenal group of wedding professionals to produce our decor inspiration story, "Home Field Advantage."
For this installment of our blog series, we get to meet our adorable real couple models, Veronica & Nate! We absolutely fell in love with this couple at a Macy's Sip & Scan Registry event, and when we were planning this shoot with Stephanie at Stephanie Teague Events, we knew we wanted to utilize Veronica as our real bride model. But as fate would have it, the deeper we got into planning the shoot, we discovered that we wanted a boy for our shoot as well, and who better to ask than Veronica's real-life love Nate? Nate stepped up to the plate (yes, pun intended — we simply couldn't resist!) and took one for the team…becoming the first boy we've ever featured on the cover of Real Weddings Magazine's The Bride's Guide. We think you'll agree that Veronica and Nate were the perfect couple to be in our "Home Field Advantage" styled shoot. So without further ado, we introduce you to Veronica & Nate!
Real Weddings Magazine:  What made you want to model for this photo shoot?
Veronica & Nate:  We met Real Weddings Magazine's editor, Wendy, at a Macy's bridal event and she encouraged Veronica to enter the contest for the cover model shoot. The disappointment of not being one of the three cover model finalists quickly passed when we were asked to participate in this shoot, which we anticipated would be a great time.
RW:  What was your favorite part of modeling for the shoot?
V&N:  It was dressing up. Being the shoot was right before our wedding, we felt like we got a little sneak peek into how it will feel to see each other on our wedding day.
RW:  What was your favorite part of this shoot?
V&N:  It was seeing the vision come together. We were intrigued by the concept of the shoot and were excited to be part of it. Seeing all of the creative details come together and the effort that was put forth by everyone involved was an awesome experience to be a part of.
RW:  What do you do in real life?
V&N:  We are both graphic designers.
RW:  Tell us about your own wedding.
V&N:  Our wedding day was June 1, 2013. We had been planning for well over a year, so the anticipation was pretty high right. Being that we are both "old souls," we went with a vintage look and incorporated plenty of family tradition. From New Orleans' "second lining" to jumping the broom to a custom photo booth, we had an amazing day of family and fun.
RW:  What did your family think about you doing the?
V&N:  We were both very excited to participate in the shoot, but we decided to keep it a surprise for our family. Once the magazine came out we surprised both of our families — we were overwhelmed by the excitement and good wishes from everyone after they saw us in print.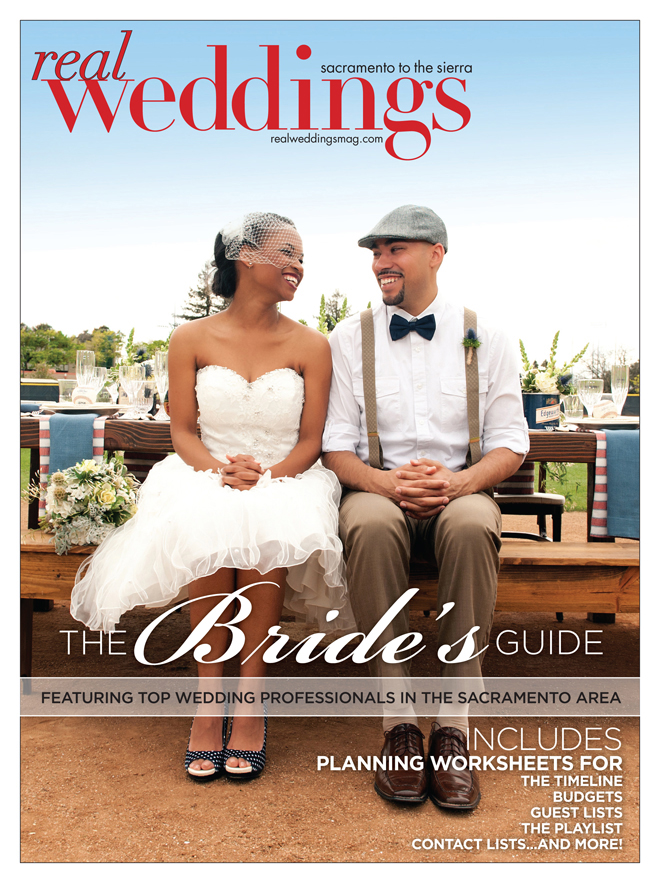 Tune back in to our blog next week to see more from our "Home Field Advantage" decor inspiration story!
TEAM ROSTER
Thank you to all of the vendors who contributed to this editorial piece:
Veronica Webb and Nathan Shelton — our real couple models
Photographed on location:
UC Davis
530-752-2675   |   events.ucdavis.edu
Photographer
Shoop's Photography
916-804-8578   |   shoopsphotography.com
Design, Styling, Décor and Coordination
Stephanie Teague Events
530-204-7330   |   stephanieteagueevents.com
Décor and Floral Design
Botanica Floral & Event Design
916-673-8650   |   botanicaevents.com
Bridal Gown
Alma's Bridal Boutique
916-434-8084   |    almasbridalboutique.com
Bridal Accessories
Jesse Ciani
916-685-3819   |   jesseciani.com
Sparkle Bridal Couture
916-538-6615   |   sparklebridalcouture.com
Hair and Make-up
Makeup by Jennifer Haupt/I Make Beautiful
916-532-9800   |    imakebeautiful.com
Cake and Desserts
Sweet Cakes by Rebecca
916-370-7760   |    sweetcakes.biz
Paperie
Honey Paperie
916-257-1641   |    honeypaperie.com
Décor and Vintage Rentals
Simple Country Weddings & Vintage Décor Rentals
916-271-6345   |    simplecountryweddings.com
Sweet Love Banner
Lisa T Creations
Rentals
Classic Party Rentals
916-444-6120   |    sacramento.classicpartyrentals.com
Linens
La Tavola Fine Linen Rental
916-321-9333    |     latavolalinen.com
Food Truck
Heavenly Dog Hot Dogs
Vintage Baseball League
Gold Country Vintage Base Ball League
209-418-9667    |     gcvbb.com
Blog post by Real Weddings Magazine's Editor/Publisher, Wendy Sipple.
Photos by Shoop's Photography © Real Weddings Magazine

Subscribe to the Real Weddings Magazine Blog! Click here: [subscribe2]