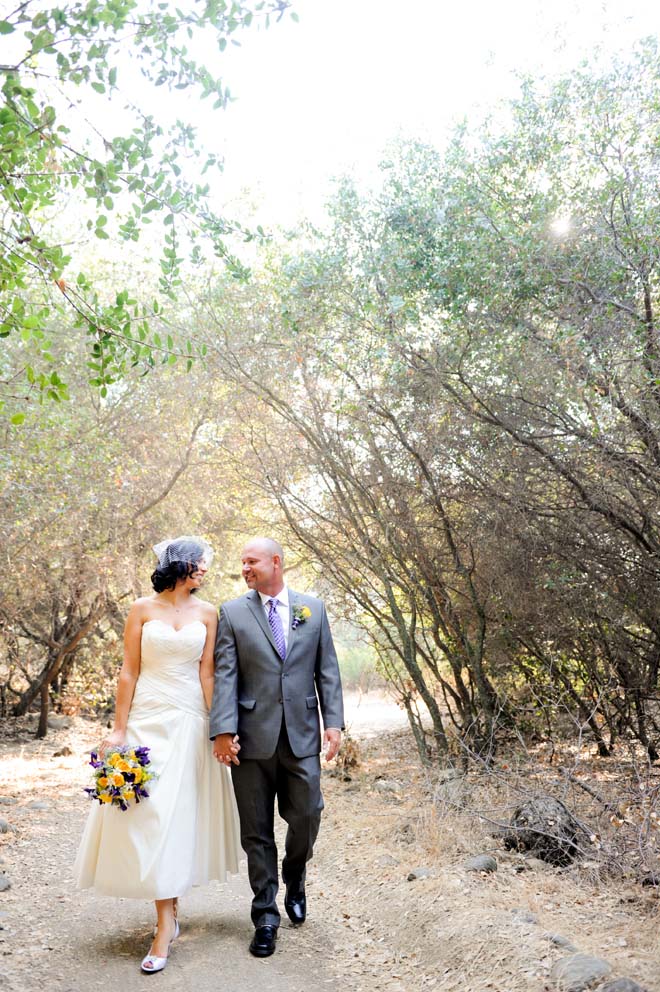 The Couple:  Christina & David
Wedding Date:  September 2
Photography by Shoop's Photography
Tell us a little about you and your beloved:  David and I are a great balance for each other.  I tend to be a bit more serious and quiet while he is usually the life of the party and making sure everyone is having fun.  I calm him down when he needs it and he lights a fire under me when I need it.  We both remember to keep doing the little things that make each other happy and show our love.  Things are just "right" with us.
What I remember most about our first date was that I was not uncomfortable, even when it was quiet.  Sometimes when conversations stop on a date it's awkward, but with Dave it seemed normal, like we didn't need to fill every moment with words.  We could just "be."  We knew that meant something.  Our love grew naturally and conversations started beginning with things like "well, if we get married…," then it was "well, when we get married…" and "when we retire we can…" (We've got a jump on the whole retirement conversation since we didn't marry until 40-something!)
We are so happy that we found each other to go through this life and share it all- the good, the tough, the happy, the sad and everything in between.
What was the most amazing part of your day?  The most amazing part of our day was the joy and love felt all around us.  Not just for each other but our guests, too.  There were also little personal touches that made the day special.  Not everyone there would know what they were, but we did, and they meant something important to us.  For example, the symbolism of the yellow roses and purple irises which were in honor of Dave's dad and my mom who passed away years ago and we wanted to feel their presence there.
What else would you like to share about your big day? We really enjoyed how balanced the day felt.  It felt light-hearted but still special, not stuffy or overly formal but still beautiful, meaningful and the start of a serious commitment but still tons of fun.  We had to keep our guest list small due to budget restraints, but in the end we were glad we were "forced" to narrow it down.  With a couple exceptions, the most important people in our lives were there and that's what mattered.  It made the whole day feel more intimate and probably less stressful.  We also had a very small wedding party, only a best man and matron of honor.  This helped save on expenses and stress too!
Ceremony & Reception Site, and Caterer:  Lake Natoma Inn
Photographer:  Shoop's Photography
Hair & Make-up:  Republic Salon & Blow Out Bar
Bridal Attire:  Alfred Angelo (then major alterations done!)
Bridesmaids' Attire:  David's Bridal
Flowers: Fiore Fantastico Designs
Cake: Timothy's Bakery
DJ/Entertainment/Band: DJ Party Service
Photo Booth:  On Point Entertainment
Honeymoon Location:  Maui, Hawaii
First Dance Song:  "I Love You Because" by Jim Reeves
Any other of your wedding vendor(s) you'd like to call out?  Our officiant, Cindie Wilding of Bird & Nest Ceremonies was amazing.  So personal and just the tone we wanted; no one would have known she did not know us personally prior to the wedding.  She also gave us the idea of doing the ring warming ceremony, which we loved.
Any advice you'd give to our readers who are planning their weddings right now?  Let go a little!  The things that made our day so enjoyable was knowing that we chose vendors that are professional and great at what they do, so we trusted them to do their job and didn't feel the need to micro-manage them.  Be OK with the idea that on your wedding day it is very likely that at least one thing will go "wrong" and that most people won't even know the difference and it just makes for better story-telling later!  Make a commitment to enjoy your day no matter what and focus on each other and the love of the people around you.  That's what makes the day special.  Take moments here and there to just pause and take it all in.  Lastly, HAVE FUN!
Anything that you would have done differently if you were given the chance?  I would have taken a little more time and research finding the right seamstress for my dress alterations.  There was pretty major work to be done and it ended up being a little more than the seamstress could handle.  Or, maybe the more correct answer is to not choose a dress that needs so much work done!
For the wedding day itself, I wouldn't change anything. Loved it all, including the imperfect parts.
Photos courtesy of and copyright Shoop's Photography.
Subscribe to the Real Weddings Magazine Blog! Click here: [subscribe2]