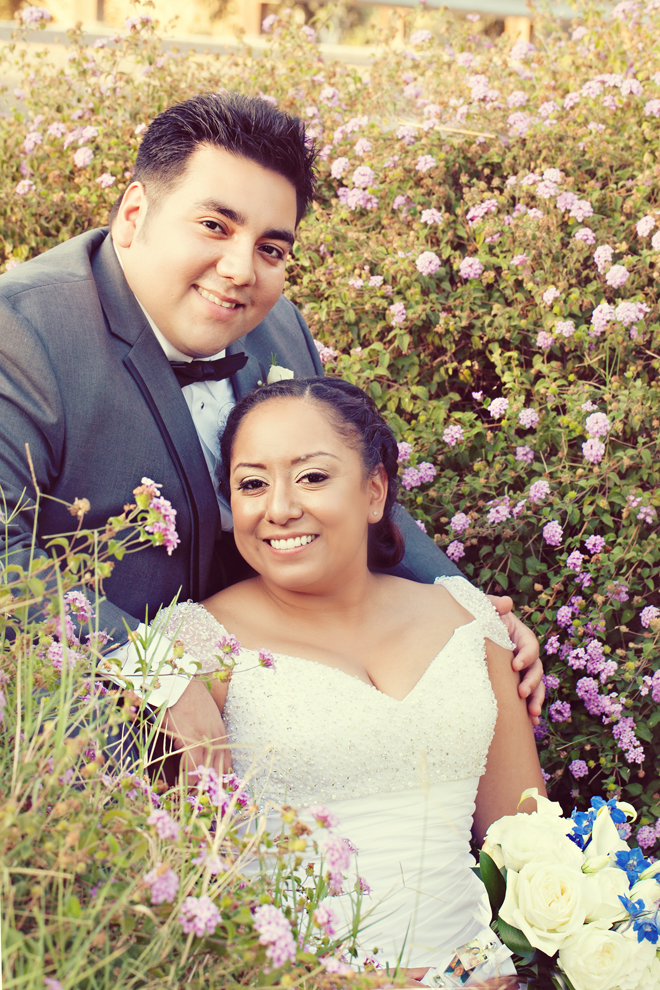 The Couple: Cynthia & Pablo
Wedding Date: August 25, 2012
Photography by Andrea's Images Photography 
Tell us a little about you and your beloved: Pablo and I knew each other since 7th grade. We didn't go to the same elementary school but our families grew up together. Our grandparents worked out in the Courtland/Clarksburg area where we both grew up and eventually went to high school.
It wasn't until my senior year, his junior year, we decided to date. We dated for five years until Pablo asked me to marry him on my college graduation day. Both of our families were in attendance. It was an amazing day.
It took us two years to plan our wedding. We were in no rush to set a date due to us both working in the bay area and just enjoying us being together.
One day Pablo decided to look at venues so we looked at Scribner Bend Vineyards. In my mind, I knew I could only dream of a vineyard wedding. Pablo frequently drove by Scribner's to go to school or go into town so he had always pictured his wedding there. When we had our meeting with the wedding coordinator he made the final decision this would be the place. My first thought was oh my goodness… is this really happening?
I always tell people our wedding was Pablo's dream wedding but truly it was his dream to give me such a beautiful wedding. He wanted the best food, the most amazing photographer, the most delicious cake, and for me to have everything I wanted that day. He wanted to give me a wedding I honestly thought I could only dream of.
What was the most amazing part of your day? We both agreed the most amazing part of our day was me walking down the aisle with my dad to meet at the front of the alter. I couldn't even walk, my dad kept saying, "ok keep walking" to be able to reach Pablo. When I saw my soon to be husband, he literally took my breath away. Pablo tearing up was the most emotional memory I will forever keep close to my heart.
What else would you like to share about your big day? Our day could have not gone any better. There isn't anything we would have changed.
Ceremony Site: Good Shepherd Catholic Church
Priest: Father Francis Stevenson
Reception Venue: Scribner Bend Vineyards
Photographer: Andrea's Images Photography
Caterer: TLC Catering
Cake: Sweet Cakes by Rebecca
Florist: Bella Bloom Flowers
Favors: Wine Stoppers
Bridal and Bridesmaids' Attire: Alfred Angelo
Alterations: Enchanted Gowns
Hair and Make-up: VIP-CAT Bridal & Academy of Cosmetic Arts
Invitations: Wedding Paper Divas
DJ/Entertainment/Band: Mr. DJ Event Services
Rentals: Scribner Bend Vineyards provided the tables and chairs. TLC Catering provided all linens and other items.
Transportation: Baja Limo
Honeymoon Location: Villa Del Palmar in Cabo San Lucas, Mexico
First Dance Song: "Two Luv Birds" by Robin Thicke
Any vendors you would like to call out? Scribner Bend Vineyards was the most incredible venue. They were organized and worked well with us when our guest list kept changing. Everything on site was perfect. Mr. and Mrs. Scribner are wonderful people and ensured Pablo and I our wedding would be flawless and it truly was.
We both loved loved loved Andrea's Images Photography's work. Every single picture turned out amazing. There are no other words to describe her. Her work speaks for herself. She's not only an amazing person but is so organized and is there to capture every moment. She and Eli are a team we would love to keep in my life for all of our memorable events soon to come.
Our DJ, Mike Regan, truly an amazing soul. He definitely brought life to the party. Pablo and I didn't get off the dance floor once. The best memory I have is when my dad requested one more song after our official last dance song and Mike made sure to play it just for him. Thank you Mike!
TLC catering, we both could have not asked for anything more delicious than your food. Pablo's dream dinner was steak, chicken, mash potatoes, veggies and salad and that's what you provided. Many compliments to the chef from all of our guests who had nothing but good things to say about the food.
Vicky with Bella Bloom Flowers did such an amazing job with the flower arrangements and bouquets. Also the photo charms added to the Arredondo Family's arrangements turned out amazing as well as my charms on my bouquet. It was an extra special touch that made everyone's day.
Any advice you'd give to our readers who are planning their weddings right now? I would tell every bride to take your time. Enjoy being engaged and take in the moment because once it is over it's over. The planning is stressful at times but remember at the end of the day the only thing that matters is you get to marry your best friend. If something goes wrong no one will notice unless you say something.
At first I was surprised that Pablo wanted to be so involved in the wedding planning. We made all of our decisions together and always made appointments with vendors to be there together. Keep the communication open and stay organized. We, who live in the bay area, had to make appointments mostly on the weekends or on days we could request off so finding vendors who were able to work with us was a huge plus.
Lastly, remember this is your day and you don't have to please anyone. You both are the ones who make the final decisions with everything and if people don't like it then you don't need them there.
Anything that you would have done differently if you were given the chance? Us, personally, would not change anything. Everything turned out perfectly and was ultimately our dream wedding.

Blog post by Real Weddings Magazine's Social Media Maven, Aimee Carroll.
Photos courtesy of and copyright Andrea's Images Photography.
Subscribe to the Real Weddings Magazine Blog! Click here: [subscribe2]