Here to inspire you, it's Real Weddings Wednesday! Today, we present Jessica + Tal!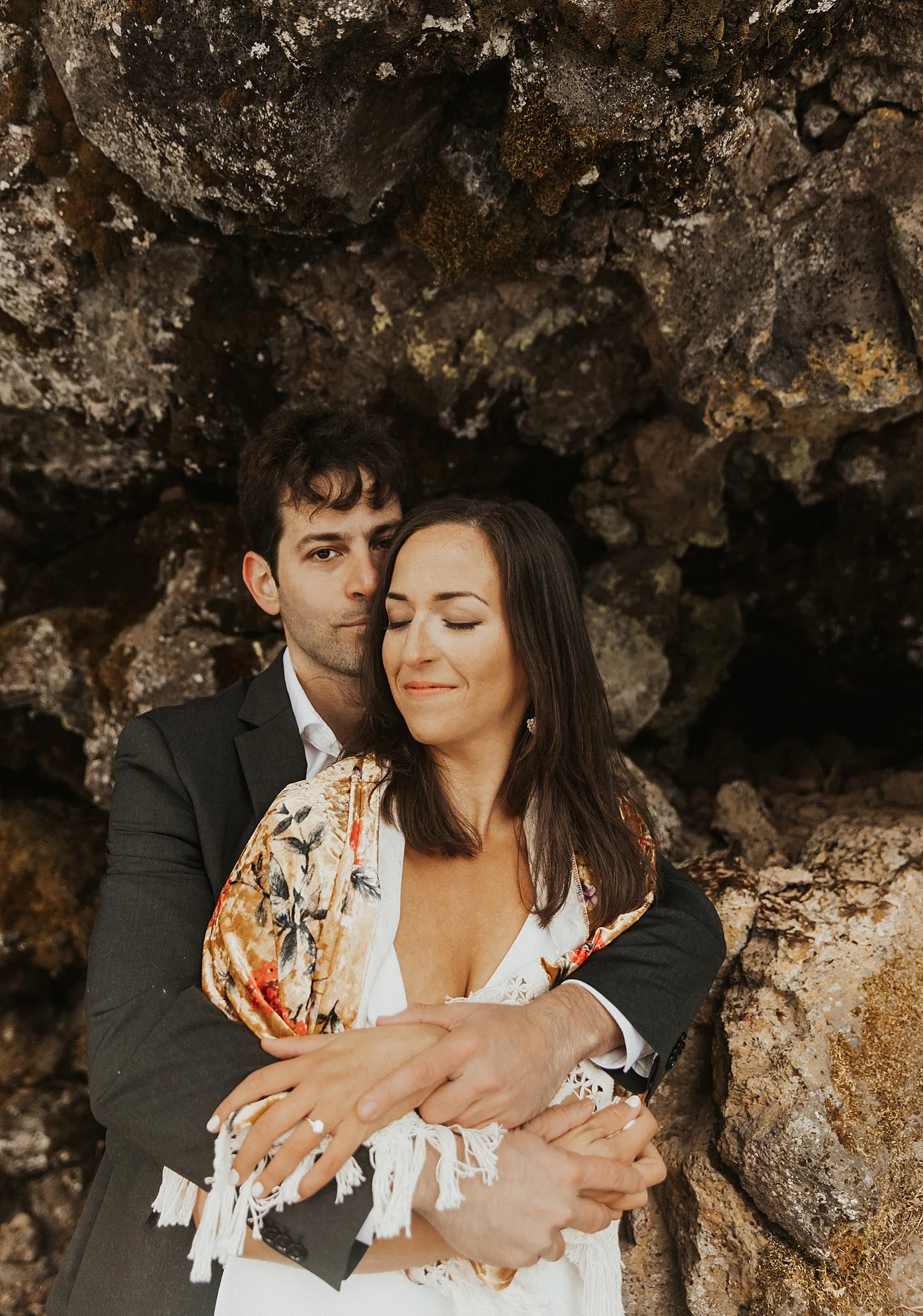 Tell us a little about you and your beloved:
Tal and I met in September 2017 after matching on a dating app. We were both living in Boston at the time, and we had our first date at 21st Amendment, which is a small, cozy bar near the Boston Common. Everything felt really easy and comfortable right away. I remember I just couldn't get over how warm and thoughtful Tal was, and to this day he is still the most kind-hearted person I have ever met! We dated in Boston for a while, did the long distance thing for a bit, and then both ended up in San Francisco.
Poor Tal proposed twice! The first time he proposed, I was much too overwhelmed with the emotion and the surprise of it all to commit to a firm "yes." Tal had this image of a spontaneous engagement that led to a romantic runaway wedding the same day (gotta admire the boldness!). All I could do was sob and offer a "Yes, but not right now" response—but started looking at rings the next day!  The ACTUAL proposal took place at the end of Tennessee Valley Trail in Mill Valley. I saw it coming a million miles away but loved every second of it. Earlier in the week Tal "went for a walk" randomly in the middle of the work day (we were both working at home due to the pandemic), and I grew highly suspicious he was picking up a ring. Then, he suggested we hike the same trail where he told me he was inspired to start planning his first proposal. As if that wasn't hint enough, on the day of the proposal I noticed a clearly square-shaped lump in his pocket. We had a really nice hike, and when the trail reached the beach Tal said we should take a picture together. I pulled my phone out, and in the front-facing camera I saw him put the ring on my shoulder before asking me to marry him. So fun!
At first it was challenging to figure out what to do about COVID-19 restrictions, and our families living so far away (Tal's family lives in Israel and my family lives in Chicago/NY). An elopement seemed like an attractive solution, but there was also some guilt about whether that decision would be disrespectful to our loved ones who wanted to be present and offer support for this milestone. After lots of Google, and soul-searching, we decided that eloping in a beautiful location with a couple friends during a weekend away was the best fit for us. We opted to conduct our little five minute ceremony on Zoom as a way to have our families still be a part of it. It would allow us to have that small, intimate wedding we were envisioning, while still being inclusive and creating a memory for the whole family to share. While at first some family members expressed trepidation at the thought of a Zoom wedding, once we firmly committed to the elopement plan, our families were really supportive and things went smoothly from there.
Planning the wedding day itself didn't require too much thought since Tal and I wanted something super small and simple—not a traditional wedding. We knew we wanted our wedding to be reflective of our time in the gorgeous state of California and include our love of traveling and being in nature. We also knew that we didn't want to spend a ton of money, particularly on the traditional aspects of a wedding like outfits and accessories and stuff. We made a sort of mental list of priorities for budgeting, and decided that the majority of our energy/money would go towards making the actual experience super fun and adventurous. This really only left us with the expenses of booking the cabin on Airbnb (an awesome spot in Mount Shasta surrounded by beautiful hikes and outdoor adventures), and booking a photographer (Macy Sheaman is amazing). We asked three close friends who live within driving distance (sort of—thanks again, guys, for the 11 hour drives!) to take some COVID precautions and join us for the weekend, and they helped with some of the planning as well. Two of them, Sara and Owen, brought a wedding cake, and our friend, Guy, brought drinks and confetti. Etsy was also a huge help to find budget-friendly "extra touches" that made the experience feel even more unique and special. The planning took maybe a week or two without counting the time it took for us to commit to the mini-mony/elopement idea. Tal and I hadn't seen anyone at all during our quarantine so we just wanted a chill weekend in a beautiful location with friends, and that is absolutely what we got!
What was the best part of your day?
Tal says the best part of our wedding day was when we were on Zoom with our friends and family after the actual ceremony. We asked people ahead of time to have drinks ready, and we gave everyone the opportunity to make little toasts or share stories. It was a really nice way to include everyone, to feel all the love coming at us from so many places around the world, and to make everything more interactive for our guests. Hiking to an icy waterfall in our wedding attire and drinking champagne in the snow before the ceremony was also pretty great!
What else would you like to share about your big day?
There was an unexpected blizzard (and I mean BLIZZARD) the night before the wedding. We were a bit concerned about what that would mean for our pre-ceremony photographs, but it ended up making things ten times more fun and beautiful than we could've hoped. Honestly, every unexpected or unplanned thing that happened during the wedding day only made things more fun!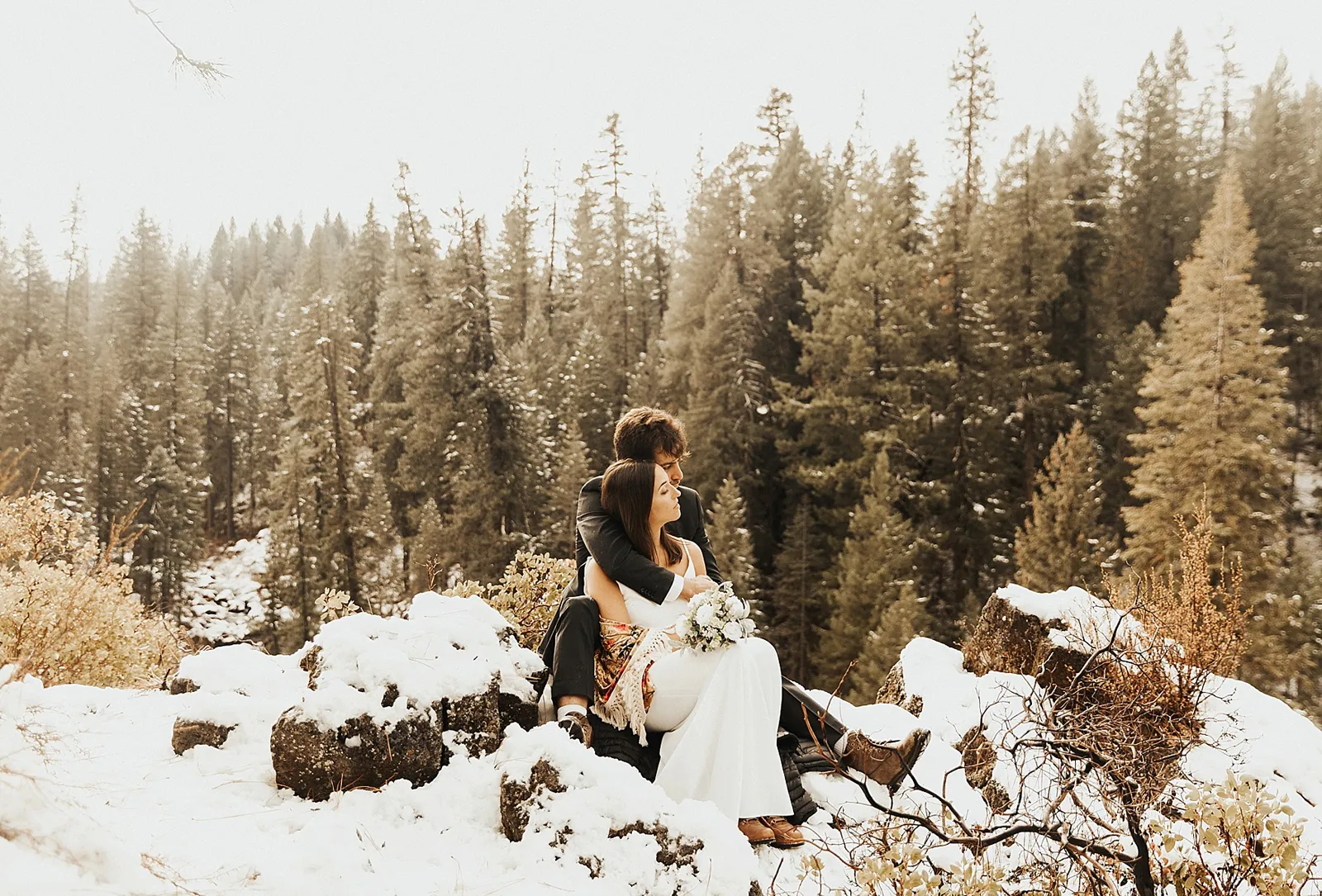 How did COVID-19 effect your wedding? 
The pandemic forced Tal and me to be creative in our problem-solving about how to include our immediate family members from so far away. While we did have three friends (who acted as officiant and witnesses) with us in person, we did our ceremony virtually on Zoom as a way to bring together friends and family from all different parts of the world during the pandemic. Tal and I aren't big-wedding-type people, and although it would have been amazing to have our immediate families present, we still were able to have the small, intimate, quick wedding we were aiming for.
What advice would you give to our readers who are planning their weddings right now? 
Three things!
1. Everyone says it but seriously, do what YOU both want to do! Not what your friend wants, not what your aunt wants—what YOU want. The process of planning is as complicated or as fun as you decide it will be.
2) It is so much fun to make the day your own by not limiting yourself to traditional tropes and really personalizing your experience. When you're flexible in your thinking and willing to celebrate your wedding in ways that aren't the norm, it makes the experience more memorable for everyone involved.
3) Even if COVID is done, don't rule out a mini-mony or elopement! Budget-friendly, intimate, adventurous, romantic—I highly recommend.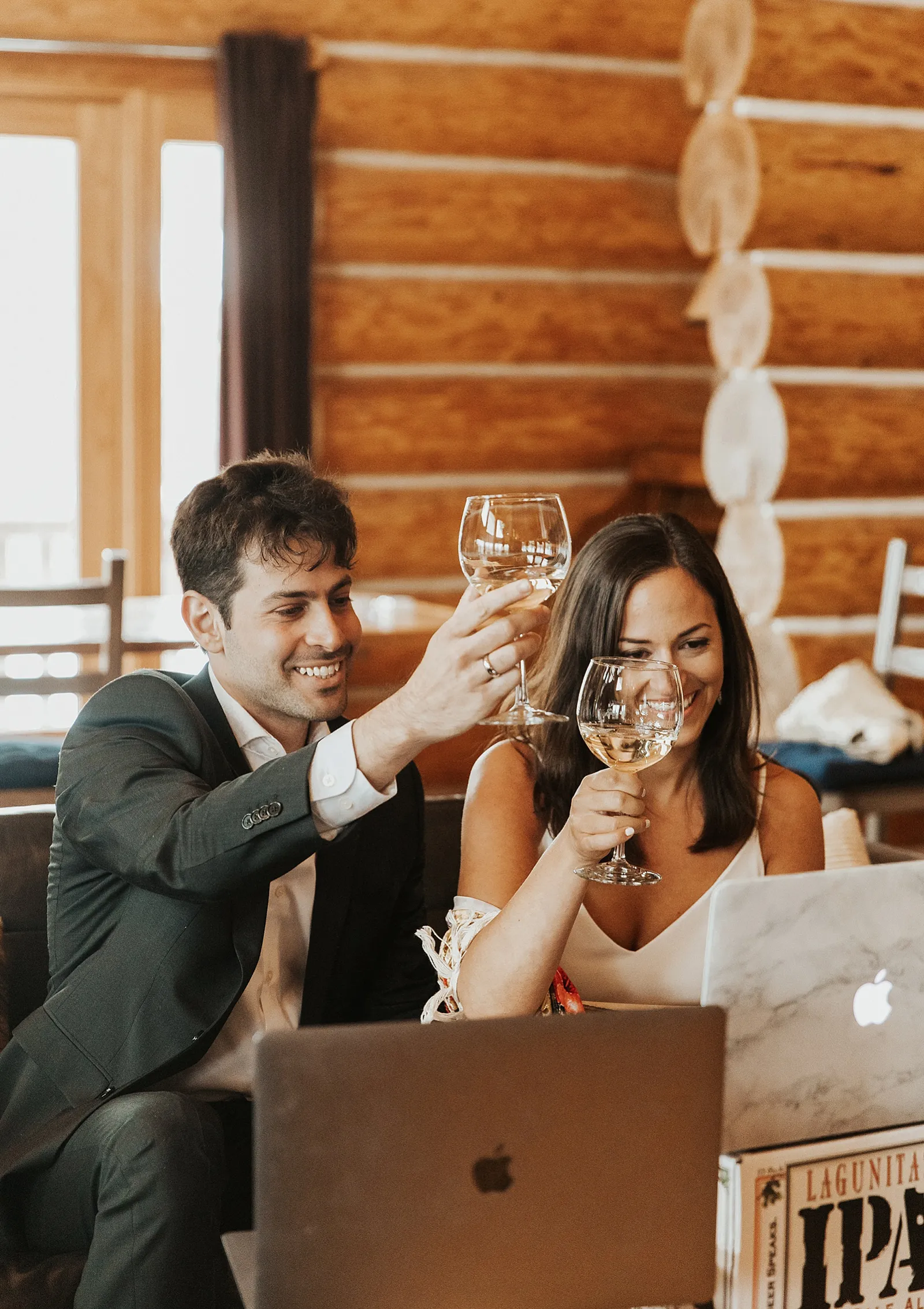 Anything that you would have done differently if you were given the chance?
It was the most fun weekend ever but if I have one tiny little thing I could change, I wish I hadn't hired a hair/makeup lady. (She actually was a no-show for our early AM appointment at the cabin!) Getting pampered is amazing but for the vibe we were going for (casual/chill/adventurous) I wish I had just committed to doing my own look, which is what I ended up doing anyway. Plus, it was kind of fun to figure all that stuff out in the moment with my close friend rather than a stranger.
First Dance Song: We didn't do the traditional first dance thing, but when I think of our wedding I just think of us jamming out to "Me Too" by Meghan Trainor and "We Like To Party!" by Vengaboys on our drives between San Francisco and the cabin in Mount Shasta. Not necessarily the most romantic songs, but definitely made for a fun memory!
Photos courtesy of and copyright Macy Sheaman Photography, used with permission.
Want more Real Weddings Wednesdays Inspiration? Click here!