Here to inspire you, it's Real Weddings Wednesday! Today, we present Emily + Benjamin!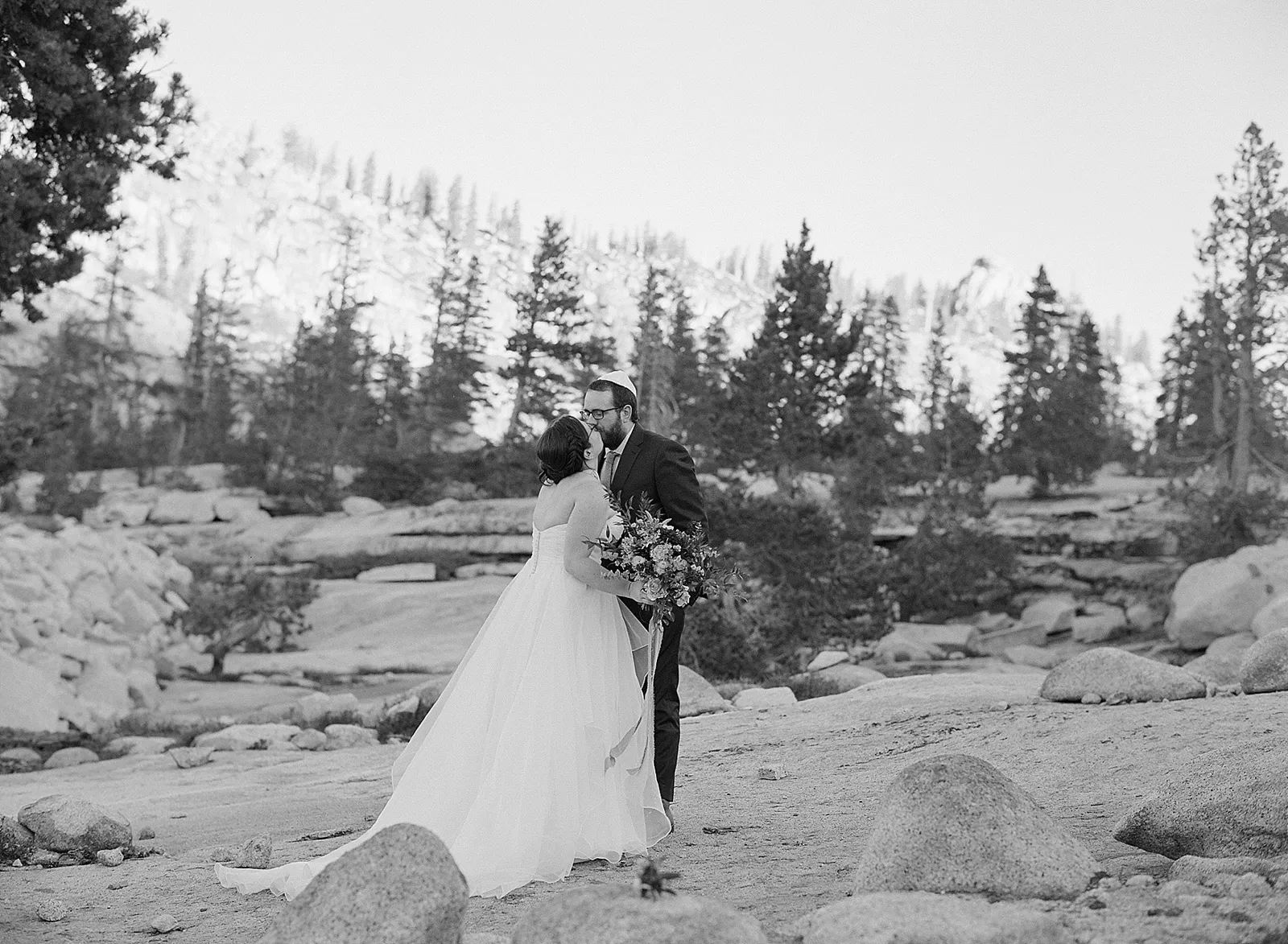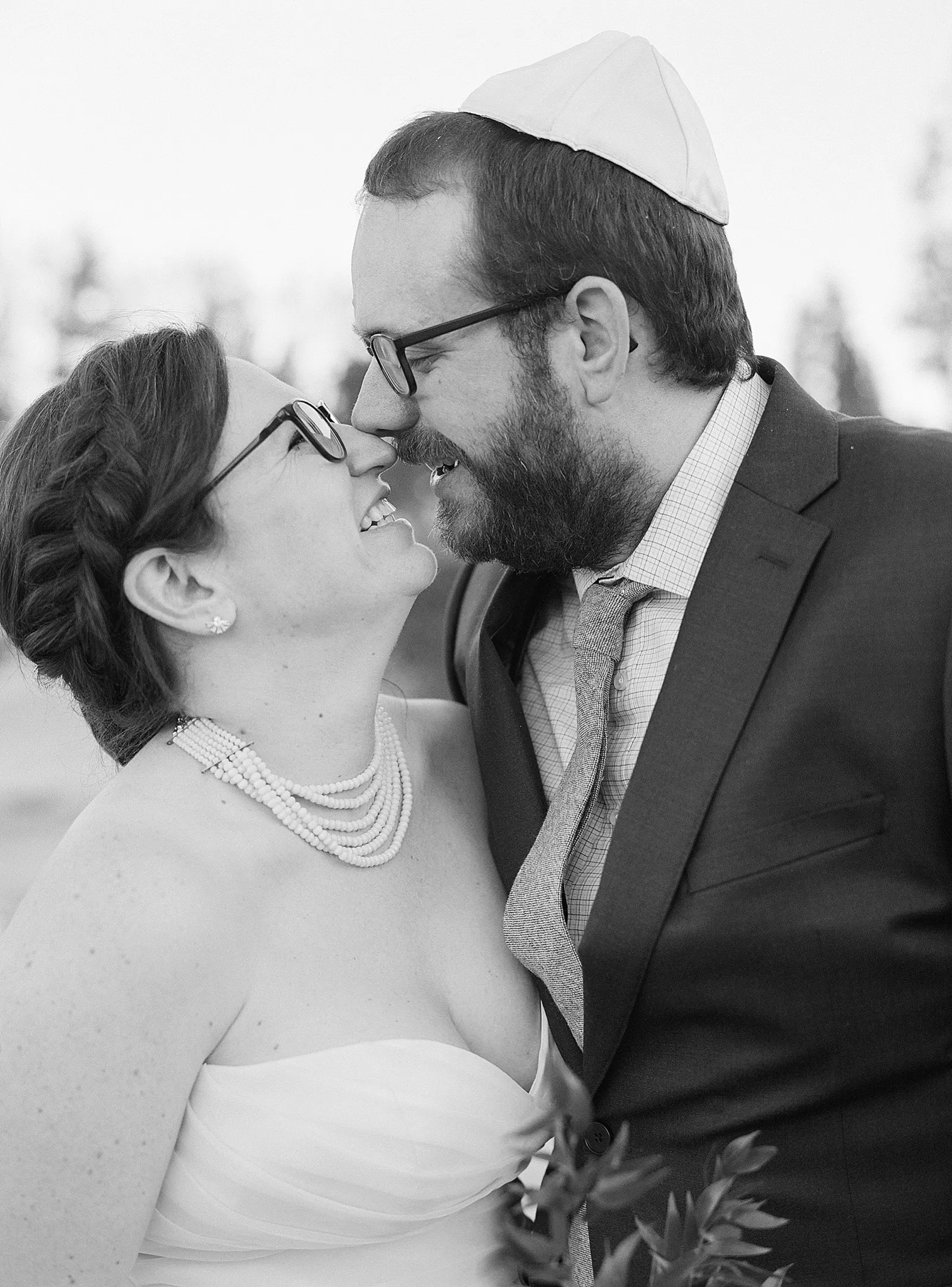 Tell us a little about you and your beloved:
Ben is a civil engineer and I'm a former wedding photographer who currently provides ombuds and conflict resolution services to a charter school network and family of non-profits in Oak Park.
After starting the day running a half marathon in Oakland and getting my credit card stuck in a gas pump slot not once but twice, I screeched into the parking spot on 16th Street just a wee bit late to meet Ben. We locked eyes for the first time at Tomato Alley, a tiny bar in midtown Sacramento, where I had been taking all of my first dates to be screened by the bartender/owner Steve. Midway through Ben and mine's first date, Steve leaned over and whispered to me that this date was going a lot better than the last one.
After three dates in a week, Ben was ready to lock things down and introduced me to his whole family in the first ten days we dated. In our first six months of dating, I had ran the Chicago marathon in Ben's hometown, we had backpacked through Poland together, bought a house, began living through the shut down, and on our one year anniversary after dinner at the Rind and dessert at Ginger Elizabeth's, Ben hustled me over to the West Sac pier where Wendy from The Freckled Photographer had staked out a hiding spot and captured Ben going down on one knee talking about how, as a kid, a fellow camper at Jew Camp told him the woman he would marry would have a name starting with the letter "E."
In my prior life, I was a wedding photographer for over 15 years and was published in Real Weddings Magazine a number of times over the years. Having shot more than 500 beautiful weddings myself I was very firm about what I wanted, but also that I wanted to elope. Given the pandemic, and our mutual desire to protect our families from COVID, we planned a wedding guest list of eight people, all of whom would be asked to be tested for COVID, and isolate prior to traveling. Yosemite National Park was our first trip together as a couple while I was training for the Chicago Marathon, as well as a special place from childhood. After a lot of google map exploring, we decided to apply for a permit to have the ceremony at Olmstead Point, a scenic overlook in the high country, and a brunch reception at Tenaya Lake, about five minutes away.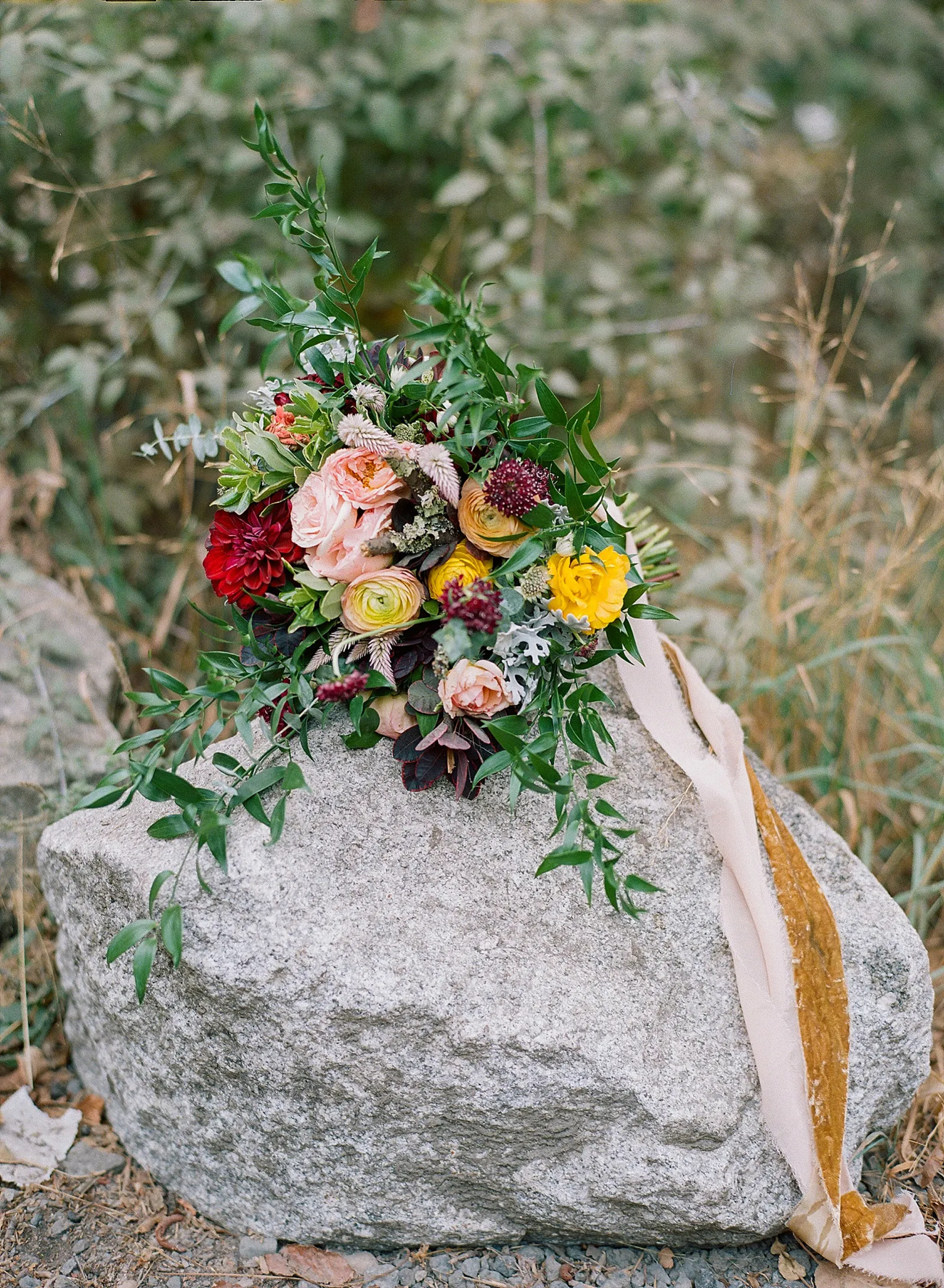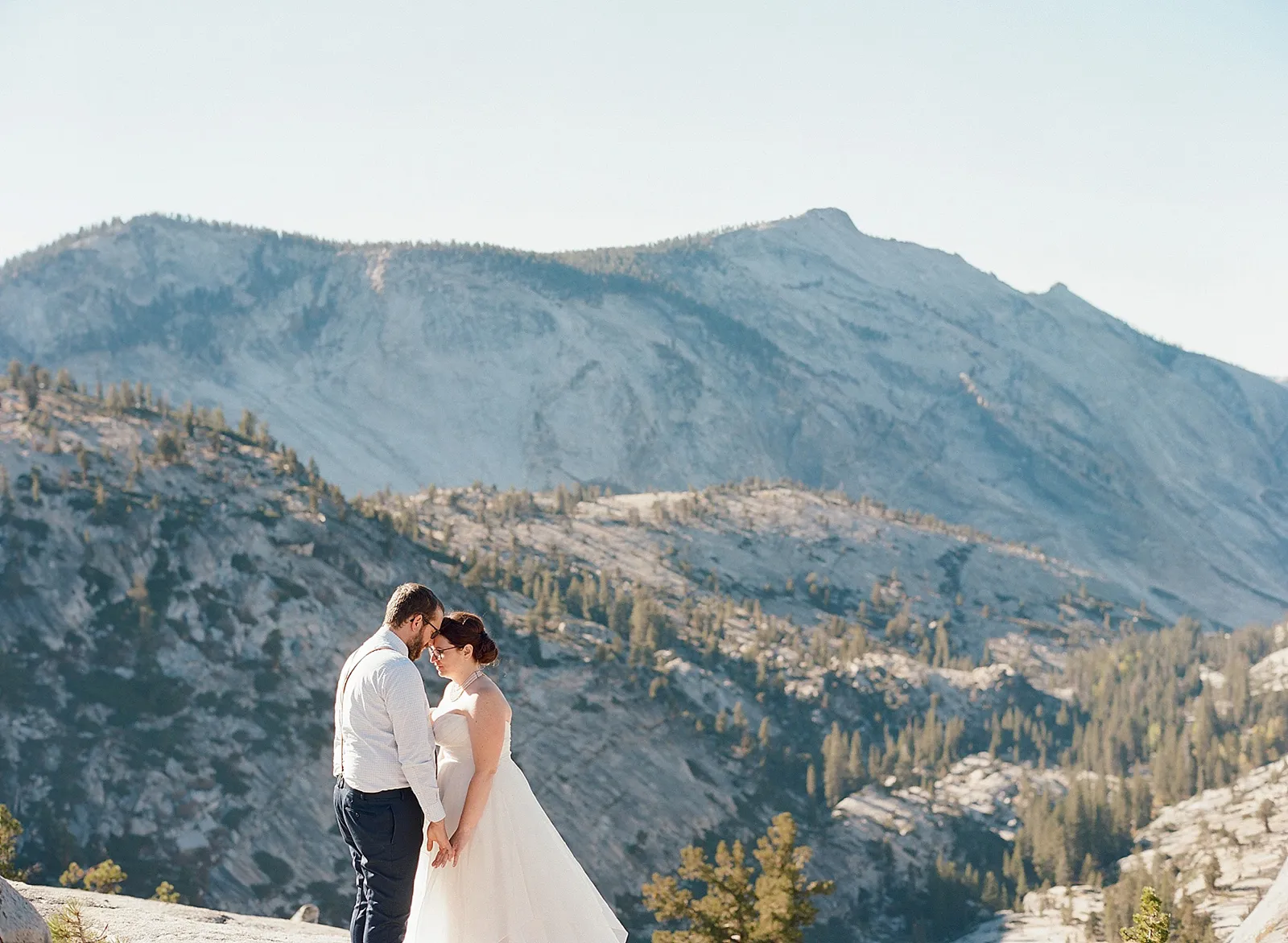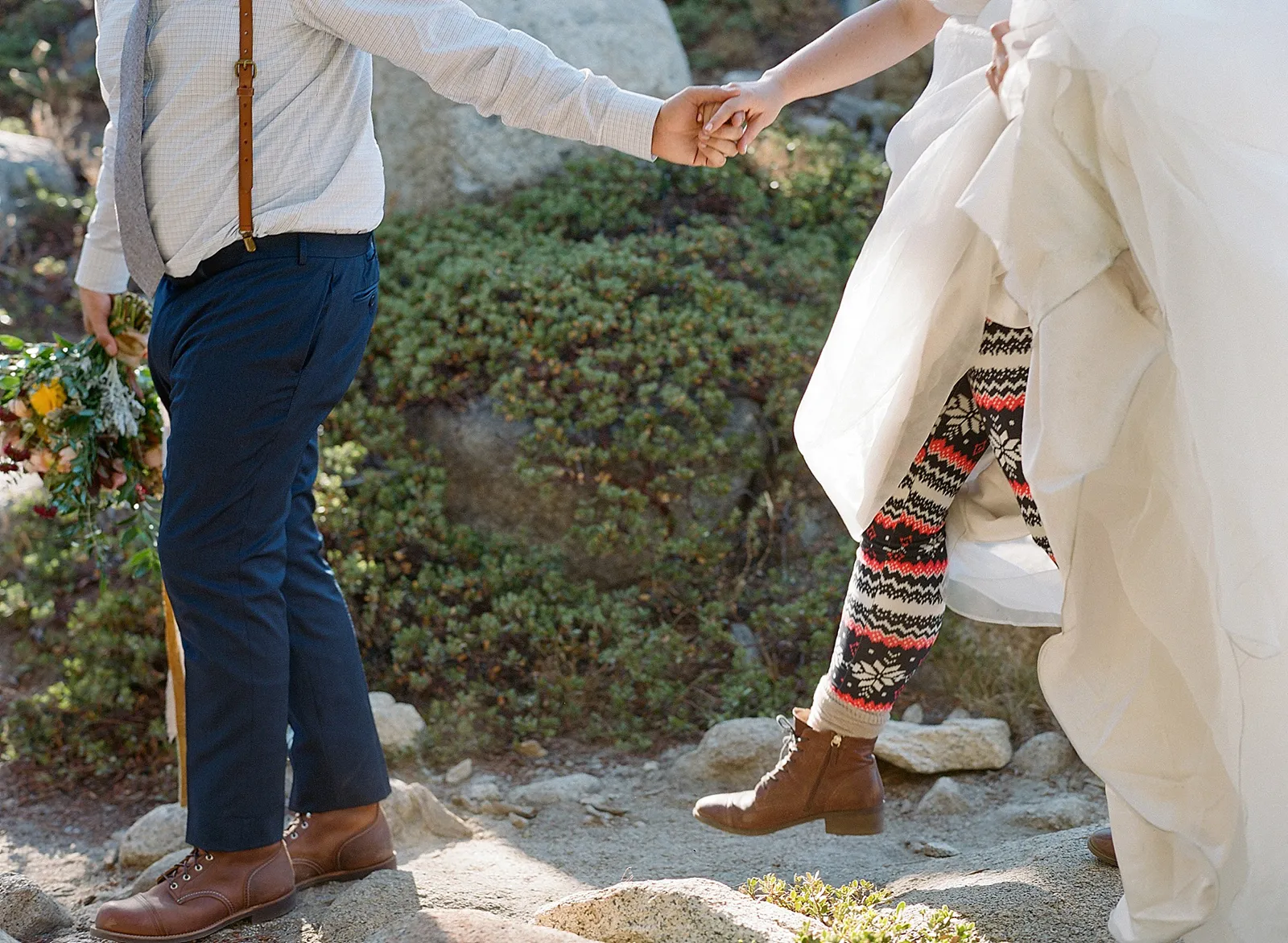 What was the best part of your day?
Our first look session will always hold a special place in our hearts. We set it away from the rest of the ceremony, and it was a special moment for us to be with each other as bride and groom. Ben wrote me a love letter that he gave her at the first look, and I gave Ben matching custom luggage tags, to speak to our mutual love of travel and our plans to travel forever with each other.
What else would you like to share about your big day?
Between the early morning ceremony, endless driving and elevation changes, I was violently ill before and after most of these photos were taken. We really recommend dramamine and a good night's sleep before undertaking so much on your own!
We also actually had two ceremonies: a ketubah signing with just our parents present and "Rabbi" Dave, and then a traditional ceremony. In the chaos of packing for the wedding and all of the DIY catering, we managed to forget Ben's yamulke and tallit, both of which had been custom made for him in Israel. We asked a friend to bring it and she accidentally grabbed a bedskirt instead of the tallit and a souvenir Yamulke from a party Ben had received in middle school. We made the yamulke work and it gave everyone a good laugh when the bed skirt was pulled out!
The chuppah poles for our ceremony were cut just for us on a farm in the midwest, and the lace cloth suspended over it was a tablecloth my family had used in my childhood for holidays and special occasions. We chose to include the Chuppah and lace cloth as a representation of our two cultures, heritages and backgrounds coming together.
Both of our ceremonies were quiet and peaceful with only the sound of nature around us. Because we married at sunrise in a remote section of the park, we had the area completely to ourselves and could just focus on each other.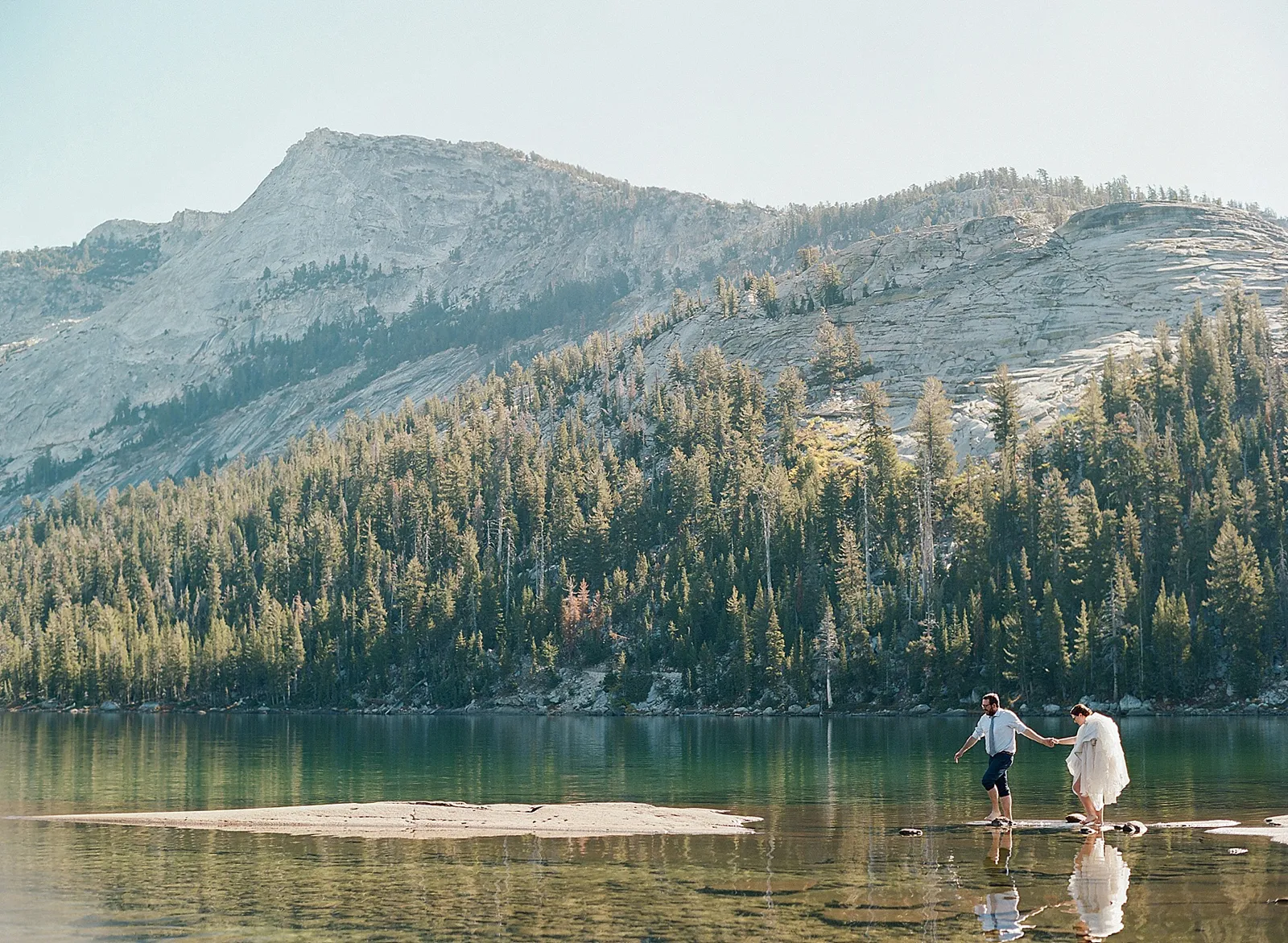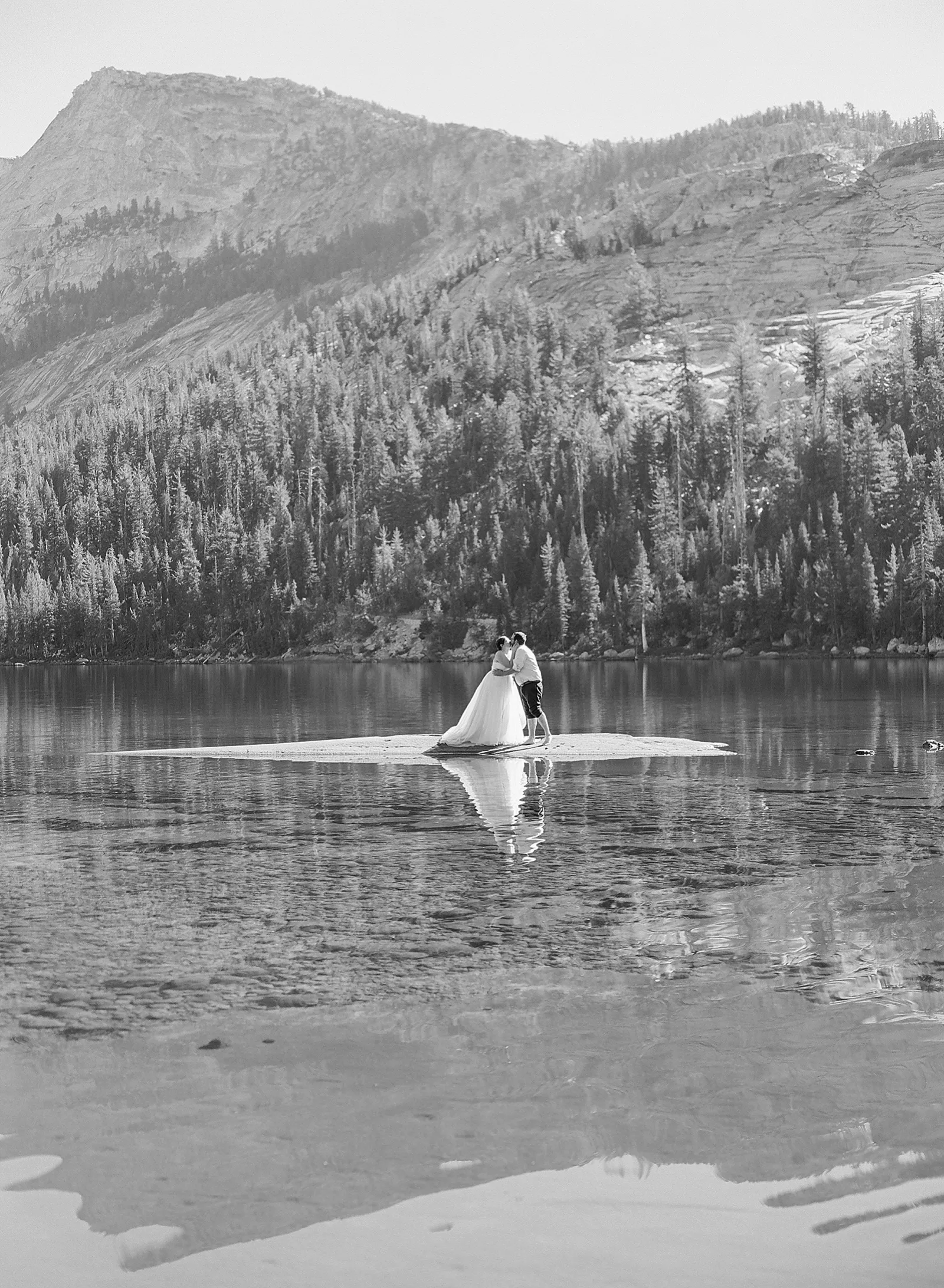 How did COVID-19 effect your wedding? 
The wedding was incredibly complicated because of COVID testing, entrance restrictions into Yosemite (each person needed reservations or a day use permit to enter), and doing all of our own catering. Catering in the park was closed at the time, and we had to transport our own food in. We spent a significant amount of time packing things on ice, locking food away in bear boxes, and ultimately grilling our rehearsal dinner food on the trunk of our car.
What advice would you give to our readers who are planning their weddings right now? 
A wonderful wedding doesn't have to be big and brash–it can be small and intimate and still quite memorable!
Anything that you would have done differently if you were given the chance?
We would probably do the same ceremony but with even fewer people. Our happiest moments were without anyone else around!
First Dance Song: "Place to Be" by Nick Drake
Honeymoon Location: The farthest place that two Californians could go during COVID, Maine.