Welcome back to another installment of Real Weddings Magazine's Partner Profiles!
This week we highlight P.J. and Erica, the dynamic husband-and-wife-team behind Fits and Stops Photography—a premier Sacramento, Tahoe and Northern California Wedding Photographer!
If you've been wanting to learn more about Fits and Stops Photography, now's your chance! Take it away, P.J.!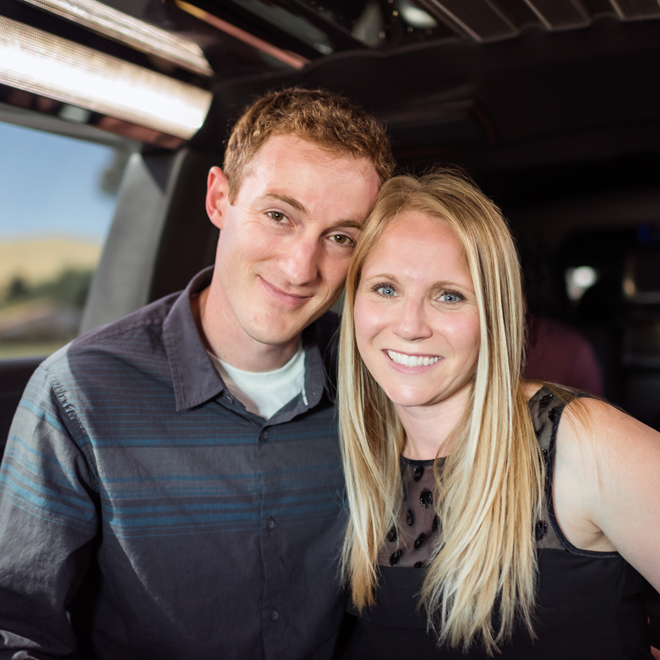 Tell us a little about your company?
I guess you could say Fits and Stops Photography was born in Scotland. My wife Erica and I rather innocently bought our first real camera before a family vacation to Scotland. I didn't expect to use it much since I knew nothing about photography—that was Erica's stuff. But when we got there, among the castles, eerie landscapes and hairy cows, I found I couldn't put the camera down. I was in love. Before long, I was blogging about my photos, capturing family photos for friends, and then I was invited to photograph my first wedding. That was when my newfound hobby transformed into a family business, with Erica and me behind the lens.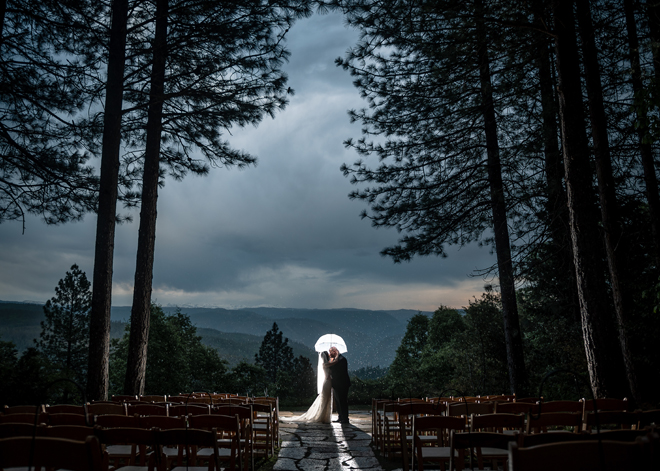 When did you establish your business?
Many moons ago in 2015.
What sets you apart from your competition?
Job one for us is adding a sense of calm to the wedding day as we do our work. Of course, we're going to chronicle the Big Day with striking images, but we want to make sure we do it while using heart and a bit of ol' fashioned emotional intelligence. Erica and I pay attention so that we know when to speak up and when to become invisible. We're always looking for ways to help our couples simply soak up the crazy joy of the wedding.
And as we capture photos, we're bringing the best of natural light and creative flash lighting. We want to illuminate moments, whether they're thoroughly geeky, chic, emotional or unexpected.
Where do you find inspiration?
Traveling moves me outside of my routines and worldview.
Watching sci-fi makes me explore outside of what is.
Following Jesus helps me to think outside of myself.
Raising kids allows me to live outside of my generation.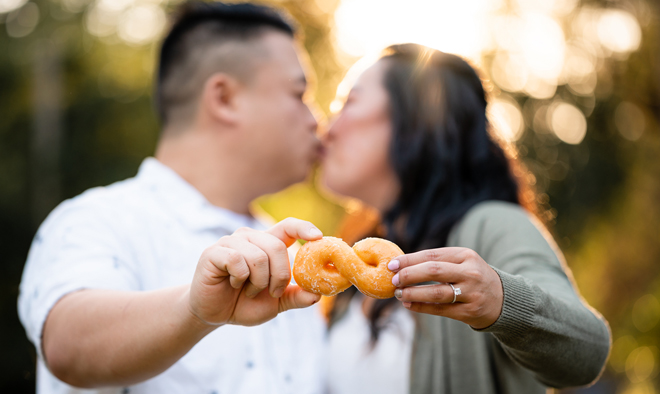 What trend do you see coming for weddings this year and beyond?
Unconventional wedding desserts have been on the rise. From doughnut cakes, to churro bars, to cookie stations, we're seeing more couples thinking with their sweet teeth. That, or I'm just hungry right now.
Can you share a funny/embarrassing/touching story about one of your clients?
When it came time for their wedding day, my couple was doing their best to hide their tears. The groom's parents lived in Canada, and while traveling to the U.S. for the wedding, they were stopped at the border and prevented from entering. As in, they wouldn't make it to the wedding. So many of the guests were devastated. That made our job of documenting the wedding day story all the more important. We had to catch these memories so that they could be passed along to those who longed to have been there that day.
And so one of my favorite photos from that day came during the ceremony. The groom's sister sat in the front row, holding her phone up not to take pictures but to let mom and dad watch the wedding in real-time via Skype. I snapped the picture of this, and remarked to myself that we were part of a team that make these loved ones part of the wedding, no matter what.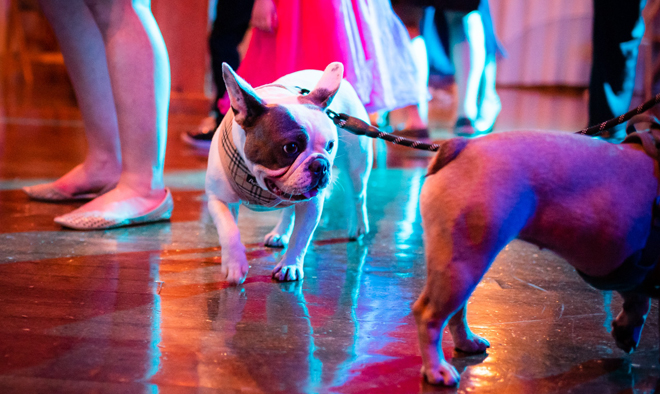 What's your favorite comment/compliment that one of your clients has given you/your business?
"The Fits and Stops photography duo, P.J. and Erica Oswald unite to form a team better than Batman and Catwoman."
Aww, shucks.
What is your favorite fun thing to do locally?
Mountain biking in the Auburn State Recreation Area. And because I'm not that great, that usually means a lot of hiking my bike.
What's your favorite local charity?
WorldRelief. These folks help refugees from around the world not only resettle in Sacramento, but rebuild lives that are so often shattered in conflict, persecution, disaster.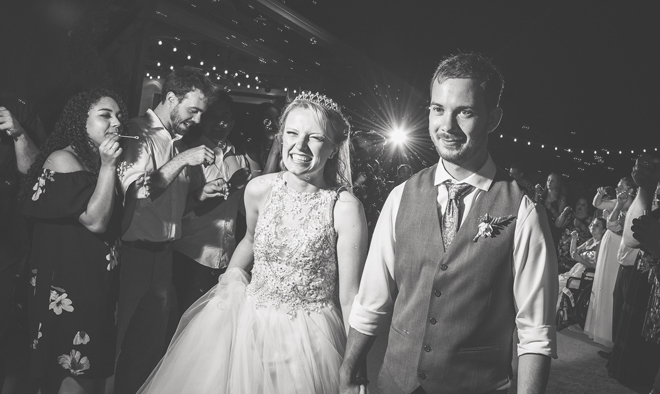 What's your favorite local restaurant?
De Vere's Irish Pub. The wood-paneling and roaring fireplace makes it feels like every pub I ever visited in Ireland. Only the burgers are better here.
Do you have secret vice or indulgence? What is it?
I can easily get sucked into cartoons my kids are watching. Especially if they have "Transformers" in the title.
Do you have any hidden talents?
Touching my nose with my tongue doesn't count, does it? In that case, I'm pretty great on a pogo stick. No hands even.
If you weren't in the business that you are in now, what other business/profession would you have liked to have done?
In another life, I might have been a journalist—creating stories out of both words and pictures. Or a farmer living in the country, far from the reach of screens.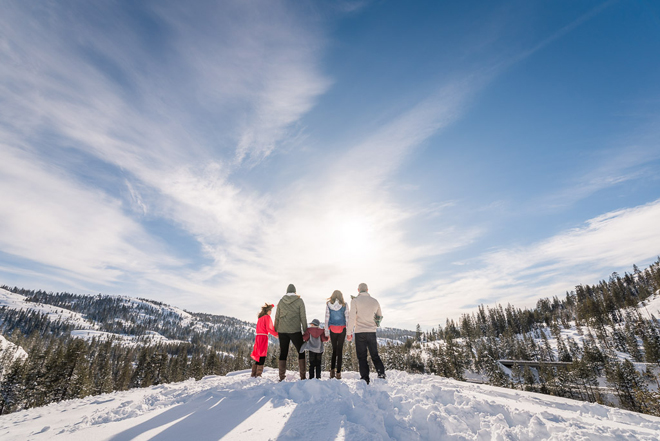 If you were to plan your own wedding, or re-do your wedding, what element(s) would be most important to you?
Hmm. I loved our wedding! And even though so much has changed in the 15 years since then, I think the only thing I would change would be our cake flavor.
What advice would you can give to soon-to-be-married couples?
If you can survive planning a wedding, you can survive anything. So plan your wedding as a way to show love to the one you'll marry, and to show love to those who have helped you become who you are. All the details will fall in line as you find ways to honor those special people.
For more about Fits and Stops Photography, here are their deets:
916.281.9616  |  pj@fitsandstopsphotography.com  |   fitsandstopsphotography.com
And, make sure to "like and follow" Fits and Stops Photography on social media @fitsandstopsphotography
Check out their vendor page on our website!
Tune back in to our ongoing series "Partner Profiles" highlighting amazing local wedding pros!