Welcome back to another installment of Real Weddings Magazine's Partner Profiles!
This week we highlight Melissa Lopez, the "Sparkle Queen" behind Luxurious Bridal. If you've been wanting to learn more about Luxurious Bridal, now's your chance! Take it away, Melissa!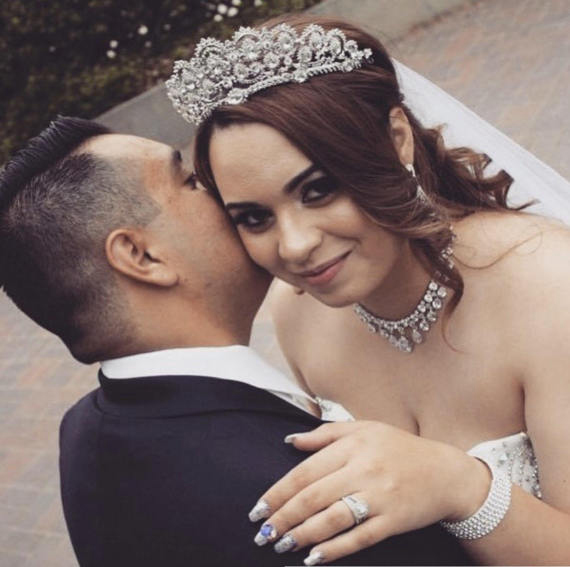 Luxurious Bridal
Tell us a little about your company? We are dedicated to providing truly Luxurious Bridal pieces, to make every bride shine on their special day. I myself am a Sparkle Queen, I absolutely love anything that sparkles and shines. I was very hands on during my wedding and handcrafted almost everything I wore.
This is what inspired me to launch Luxurious Bridal, I want to help other women achieve their true fairy-tale wedding with quality one of a kind, hand crafted pieces. We use only the finest quality materials, and take great pride in the quality of our work. Almost all of our items can be customized.
When did you establish your business? 2016
What sets you apart from your competition? We truly value that every bride wants their wedding to be THE BEST, which is why we offer our brides the option to customize and create pieces with us that are one of a kind. We use only the finest quality materials, and love to bling factor that Swarovski crystals provide. We are very flexible with our bride's budgets as not every bride has the same pocketbook, so this allows every bride to be able to feel like a Queen without breaking the bank.
Where do you find inspiration? I am an absolute magazine junkie! I'm always checking out the latest trends, what colors are in, and incorporating these factors into my pieces. I also truly admire the Royal Family and their history of exquisite fashion and attire.
What trend do you see coming for weddings this year? Upcoming trends will be bows, ruffles and gloves which seem to be making a comeback. Colors will be light blues and black (which may seem odd, but is totally chic!). Shiny bead and crystals detailing, and of course, the ever so classic pearl accessories.
Are you on social media? Yes, you can follow Luxurious Bridal on Facebook HERE, Twitter HERE and Instagram HERE!
What professional organizations are you a member of? Wedding Wire, The Knot, Cake and Lace.
Can you share a funny/embarrassing/touching story about one of your clients? I've had a bride call me crying hysterically 2 days before her wedding that she had accidentally stepped on her bridal comb (pictures and all) and broke it!! LOL. I was able to quickly make another piece for her and rush to get it overnighted just in time for her wedding, it was all laughs and good memories once her replacement piece arrived.
What's your favorite comment/compliment that one of your clients has given you? My favorite compliment has been when customers message me after receiving their items, and they express that I've helped complete their wedding, and that the item they've purchased will be an heirloom piece that they will keep for their daughter or granddaughter.
What's your favorite local restaurant? My favorite local restaurant would have to be Yen Du. It's a little hole in the wall, but hands down the best Chinese cuisine in town.
What's your favorite local charity? Hope Ministries, and Agape Villages are my favorites. Every year I assist Agape Villages with their Christmas adopt a child event. My goal every year is to get every child on that list adopted for Christmas so that every child has a gift, last year I believe I adopted at least 8 or 9 children.
Do you have secret vice or indulgence? What is it? I am a major Netflix binge watcher!
Do you have any hidden talents? Oddly enough I'm very good at video games. I've also danced Tahitian almost all my life.
If you weren't in the business that you are in now, what other business/profession would you have liked to have done? I would most likely be a wedding event planner.
If you were to plan your own wedding, or re-do your wedding, what element(s) would be most important to you? Accessories are always most important! They finalize and complete your look!
What advice would you can give to couples getting married today? Plan ahead, and save money. Remember that this day is for you and no one else, do what truly makes you happy and just go with it!
Anything else you'd like to share with Real Weddings Magazine's readers? Stay beautiful and keep sparkling!
For more information about Luxurious Bridal log on to Luxuriousbridal.com. And, be sure to follow Luxurious Bridal on Facebook HERE, Twitter HERE and Instagram HERE!
Blog post by Real Weddings Magazine's Social Media Maven, Aimee Carroll.
Photos courtesy of Luxurious Bridal.
Subscribe to the Real Weddings Magazine Blog! Click here:
[subscribe2]