Ready to get FRESH? Save-the-date and join us for FRESHbash, a thoughtfully curated showcase of design exhibitions and experiences meant to raise the creative bar and inspire the senses. Trust us, you don't want to miss this awesome competition amongst creatives on March 12th, 6 p.m., at Beatnik Studios in ​Sacramento.
In it's most simple form, FRESHbash is a kick-ass party for the people that know parties best.
Sounds incredible, right? Well, guess what? We have discounted tickets for our fabulous Real Weddings Magazine readers! Simply enter this code at checkout "FRESHideas" and get $5 off!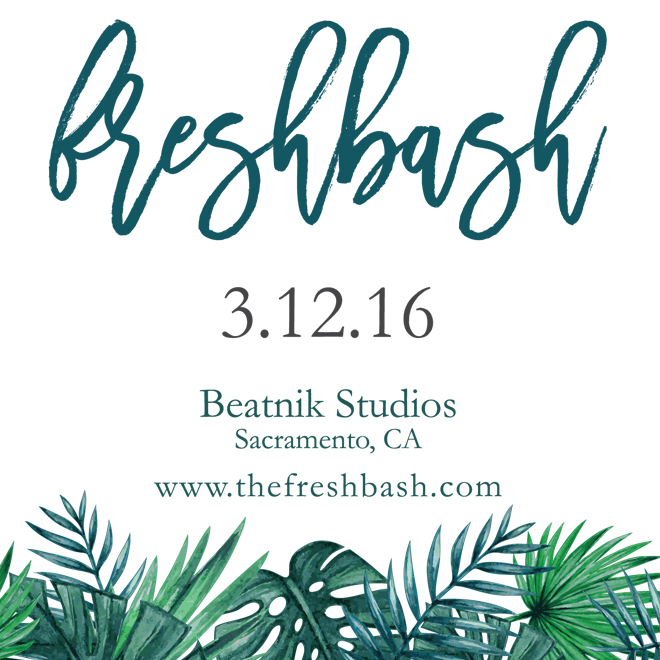 Here are the details for this kick-ass event:
When: March 12, 2016
Time: 6 p.m.
Where: Beatnik Studios at 723 S Street in ​Sacramento
Cost: General admission is $40. Tickets can be purchased HERE.
FRESHbash is offering discounted tickets for Real Weddings Magazine's readers, just enter this code at checkout: FRESHideas
The cost of admission covers all aspects of the bash, including all food, drink, and experiences.
About: FRESHbash was developed to transcend the traditional networking/wedding expo events by curating a gathering of beautiful, creative minds, a venue to challenge their design skills, and a showcase of experiential elements to engage the FRESH design and bridal community.
FRESHbash fosters community amongst Northern California event creatives by bringing event talent together to inspire, share, and collaborate, in an industry that thrives on collaboration and inspiration. The response to the FRESH community and bash have been monumental– resulting in new relationships that transcend city limits unlike ever before, more imaginative work, and inspiration for brides planning the perfect wedding. 
Last year, the very first bash showcased an entirely new take on the modern event, featuring thoughtfully curated swag bags, an outdoor pre-party with live music, and an art gallery filled with color, sound, and experiences. FRESHbash guests enjoyed innovative bites, mixology, live demonstrations, and forward-thinking floral and décor design. Central to the bash were four design teams made up of geographically diverse vendors from different parts of the industry and their four unique, on-trend installations.
FRESHbash attendees voted for their favorite installation, crowning one team "FRESHest" in the Northern California event industry. This year FRESHbash will be returning to Beatnik Studio with bigger ideas and more vendors participating to create a phenomenal event for brides and creatives.
The FRESH team encourages attendees to arrive early, as the first 150 guests to enter FRESHbash will score a bag of FRESHswag, a tote filled with a variety of exclusive event design-inspired trinkets, crafts and products (including a FREE copy of Real Weddings Magazine!)
For more information, log on to thefreshbash.com. 
Be sure to tell them you found out about the event from Real Weddings Magazine!
Hope to see you there!
Photo courtesy of FRESHbash.
---
Blog post by Real Weddings Magazine's Social Media Maven, Aimee Carroll.
Subscribe to the Real Weddings Magazine Blog! Click here:
[subscribe2]