Guess who's getting married today?! Real bride model Christina! And until we see her very own wedding dress we'll just have to ooh and ahh over her gorgeous looks from our Cover Model Finalist Photo Shoot "Sugar Rush" photographed by James Young Photography at Old Sugar Mill. Check out her looks and get to know her below!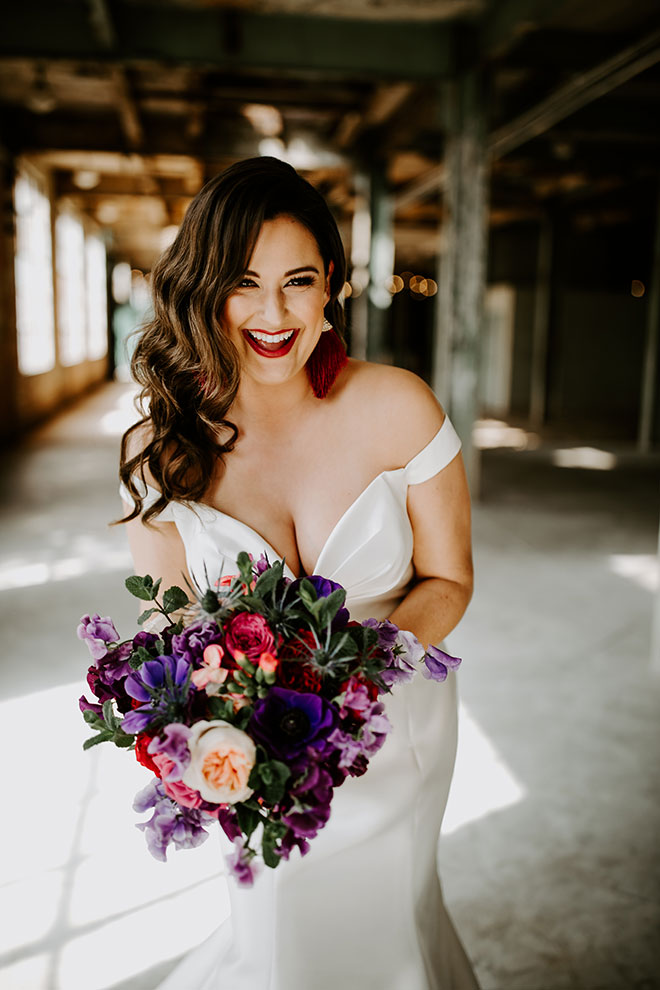 Check out the expanded digital edition here:
Why did you enter this contest?

I wanted to step out of my comfort zone and take a chance on this once in a lifetime opportunity to be in a magazine! I normally don't like to be the center of attention. I enjoy being "behind the scenes," but I thought it would be a fun experience and of course it WAS!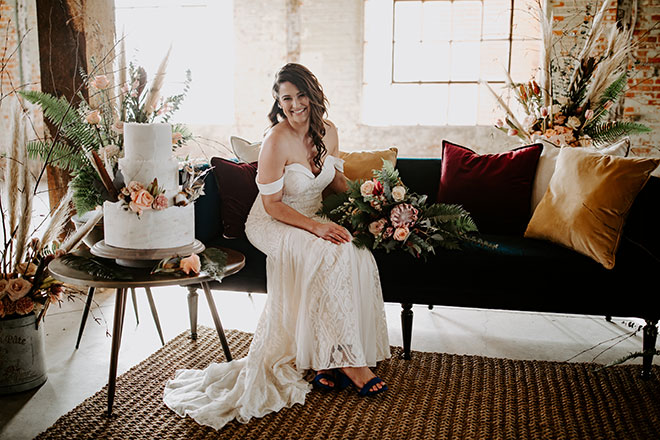 What did your partner think about you entering this contest? What was their reaction when you were selected? What was your reaction when you were selected?
I told my fiancé, "I did something crazy and decided to enter a contest to be a cover model, last minute, right before the deadline at midnight!" He cracked up and told me I was nuts! He said, "That's why I love you!" When he heard I was selected, he was so excited and encouraging! He kept saying "I'm marrying a model!" He was proud! When I received the text that I had been in the top few selected, I had the biggest smile on my face! I couldn't believe it!
Tell us about your cover model experience. What was your favorite part of the day? How did you feel afterwards?
The cover model experience was amazing! I felt like a bride for the first time since being engaged and everyone on the magazine and glam team made me feel special and well taken care of. They pampered me! I felt like a celebrity for the day! I loved wearing all the different wedding dresses, different hairstyles and makeup! All the flowers and styled backdrops designed by different vendors were beautiful. It was a long day and I was exhausted when I got home, but it was so worth it! I had the best time!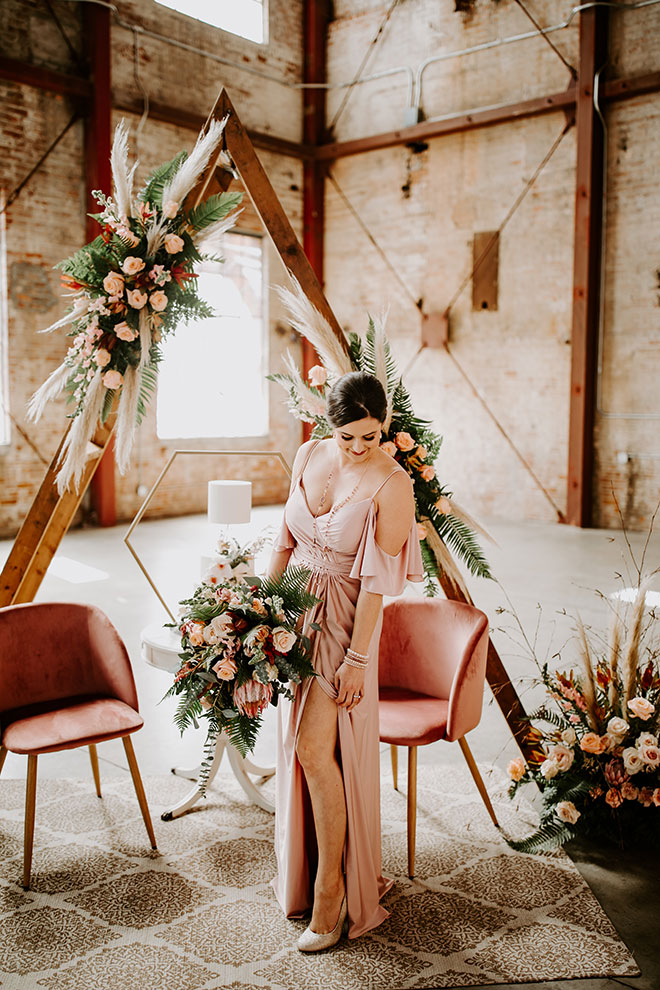 Tell us about your love story. How did you meet? What was the proposal like?
Our love story began at our mutual friends' wedding on September 24, 2016. We took the dating process slow and became friends first which I am so thankful for. He pursued me like a gentleman and always made me feel loved and cherished. We enjoy each other's company so much and are always laughing! On our three-year anniversary of meeting (September 24, 2019), he took me to the venue where we met for some wine tasting and a picnic, and then to the place we first kissed in Old Sacramento by the river. I thought he was going to tell me something bad or break up with me because I had never seen him so serious and nervous. And then BAM!…he got down on one knee to grab the ring box out of his sock (where it had been hiding all day). It was a roller coaster of emotions and so perfect! So keeping with our special date, we are getting married on September 24, 2020! I can't wait to marry my soulmate and best friend!
Tell us about your wedding day.
Our wedding will be in a lovely garden setting surrounded by beautiful landscapes and bright coral, pink flowers. We want it to be meaningful, light hearted, and elegant, yet relaxed and fun. We can't wait to celebrate with our family and friends!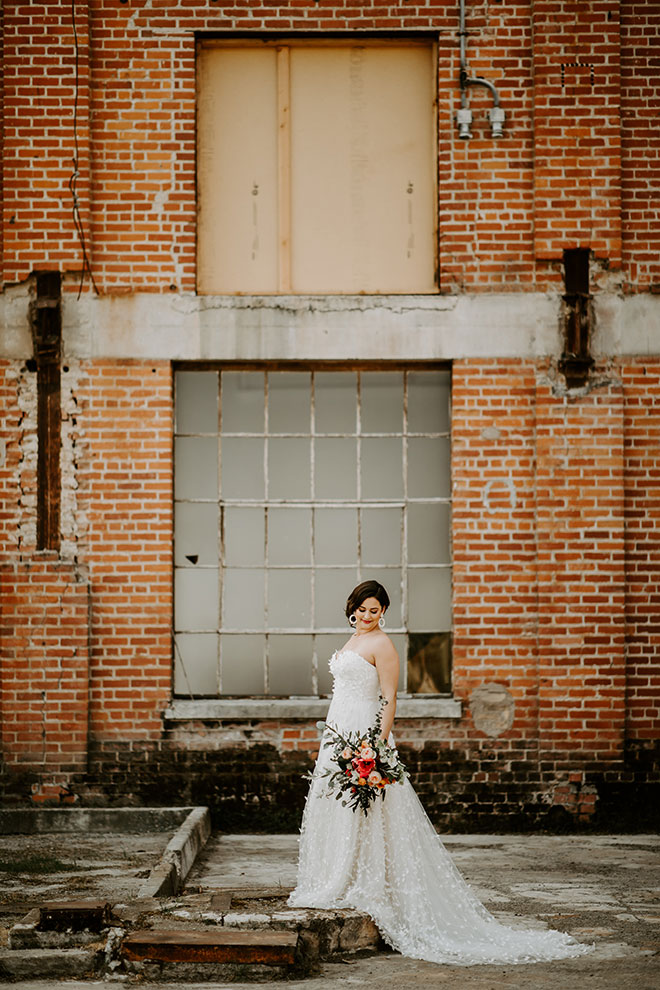 If you could offer any advice to future brides what would it be?
Book your vendors early and utilize Real Weddings Magazine's The Planning Guide timeline to keep you on track for what to be working on next. It's a great way to see what you have accomplished so far and also to see what still needs to be completed. There are a lot of details that go into planning a wedding, but just keep chipping away at each item on the list so you don't get overwhelmed. Enjoy the process, it's supposed to be fun!
Be sure to like us on Facebook and follow us on Instagram and Pinterest so you never miss a post of inspiration!
THE DETAILS
VENUE  //  Old Sugar Mill  |  oldsugarmillweddings.com  
PHOTOGRAPHER  //  James Young Photography  |  jamesyoungphotography.com
VIDEOGRAPHER  //  JB Wedding Photography  |  jbweddingphoto.com 
HAIR AND MAKEUP FOR CHRISTINA  //  All Dolled Up Beauty + Bridal  |  alldolleduphairandmakeup.com
HAIR FOR NATALIE
Halo Salon & Day Spa |  halosalondayspa.com
MAKEUP FOR NATALIE
Happily Beautiful Makeup Artistry & Skin Studio  |  happilybeautifulmakeup.com
GOWNS
Always Elegant Bridal & Tuxedo  |  alwayselegantbridal.net
The Bridal Box  |  thebridalbox.net  //  The Clothes Mine  |  theclothesmine.com
De La Rosa's Bridal & Tuxedo  |  delarosasbridal.com
Diamond Bridal Gallery  |  diamondbridalgallery.com
Second Summer Bride  |  secondsummerbridesacramento.com
SPARKLE Bridal Couture  |  sparklebridalcouture.com
SHOES  //  DSW  |  dsw.com 
ACCESSORIES
Adora by Simona  |  adorabysimona.com  //  Delicora  |  delicora.com
Erica Koesler  |  ericakoesler.com  //  Hair Comes the Bride  |  haircomesthebride.com
Macy's  |  Moka Davis, My Stylist@Macy's Roseville Galleria  |  macys.com/mystylist
My Trendy Trailer  |  mytrendytrailer.com  //   Olive + Piper  |  oliveandpiper.com
Satya Jewelry |  satyajewelry.com  //  Stella &  Dot  |  stelladot.com
FLOWERS
Amour Florist & Bridal  |  amourmoments.com  //  Bella Bloom  |  bellabloomflowers.com
Bloem Decor  |  bloemdecor.com  //  The Bloom Lab  |  thebloomlab.com   
Curious Floral  |  curiousfloral.com //  Garden of Weedon Designs  |  gardenofweedon.com
Morningside Florist  |  morningsideflorist.com  //  The Party Concierge  |  partyconcierge.com
Placerville Flowers on Main  |  placervilleflowersonmain.com
Rodarte Floral Design  |  rodartefloraldesign.com
Strelitzia Flower Company  |  weddingsbystrelitzia.com
Visual Impact Design  |  visualimpact-design.com  //  Wild Flowers Design Group  |  wildflowersdesigngroup.com
Wholesale Flowers  //  Wholesale Flowers from FiftyFlowers.com  |  fiftyflowers.com
STYLED DÉCOR VIGNETTES
DESIGN, STYLING AND COORDINATOR
Cain Event Planning  |  caineventplanning.com
SET FLORAL DESIGNER  // Wild Flowers Design Group  |  wildflowersdesigngroup.com
with Wholesale Flowers from FiftyFlowers.com  |  fiftyflowers.com
SET CAKE DESIGNER  //  Go West Baking and Events  |  gowestbakingandevents.com
SET RENTALS  //  Blossom Farm Vintage Rentals  |  blossomfarmrentals.com
MOBILE BAR AND CURATED COCKTAILS  //  Salud! Mobile Bar  |  saludmobilebar.com
Special thanks to our real bride models, Christina and Natalie, and all of the professionals who contributed to this feature!