We know what you're thinking and, no, Sabrina and Matt are not professional models. But they sure look it right?! Even better than their natural beauty was their natural way with each other: kind, funny and supportive. These qualities made for some beautiful photos from our "Totally Cray in Love" photo shoot. Get to know them below!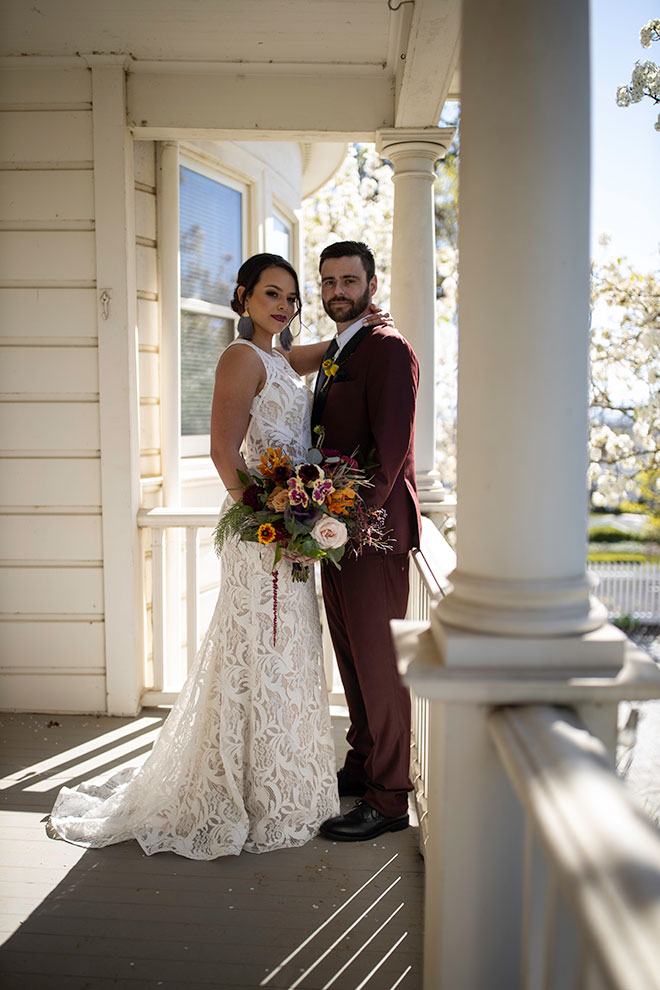 See the expanded version of the shoot here.
What made you want to model for this photo shoot?
Matt and I have never done anything like this before. We wanted to gain this new experience and help create this issue with the amazing Real Weddings Magazine crew!
Tell us about your modeling experience. What was your favorite part of the day? How did you feel afterwards?
We were a bit nervous, but thank goodness for an awesome crew for making it effortless, comfortable and so fun! Our favorite part of the overall day was the end of our shoot. We had such an amazing time working and creating with everyone that contributed to such a beautiful shoot. We felt so giddy afterwards!
How was modeling with your significant other?
Modeling with each other was so fun! It definitely made it more comforting, and it was great to have side chats during poses and pictures. We don't dress up often so it was nice seeing each other dolled up and wrapped up in one another's arms—it was kind of romantic and super exciting to think about our wedding to come.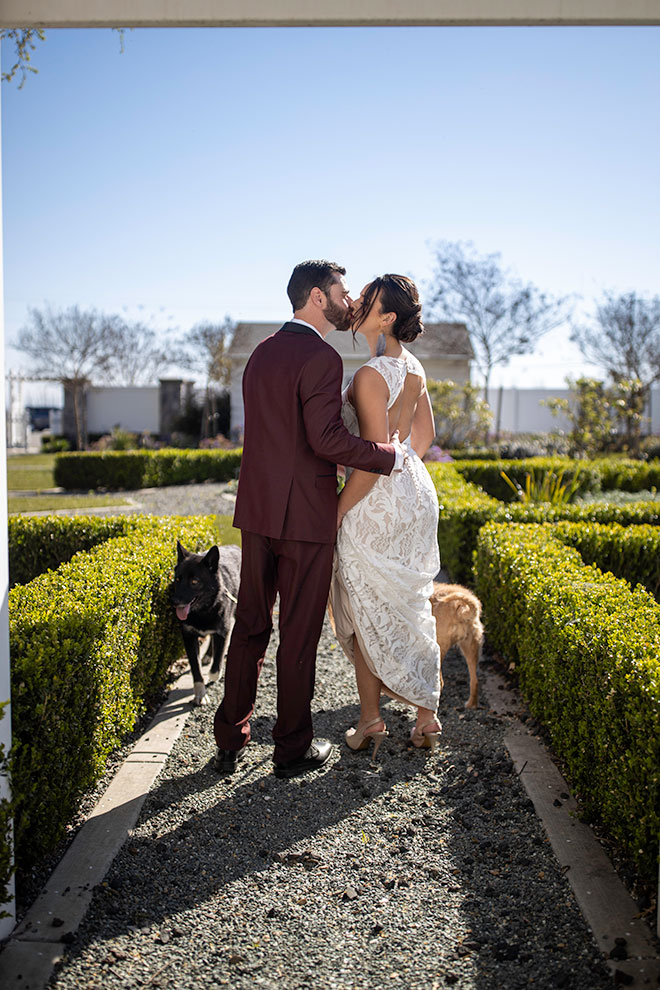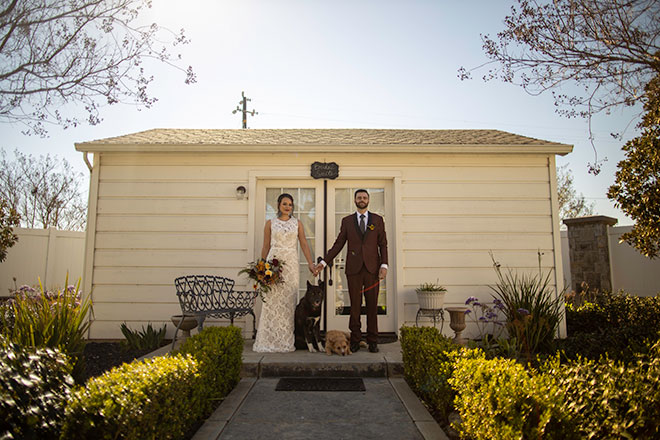 What was your favorite part of the shoot? Did you relate to the concept/theme?
I think our favorite part was the very last shot of the day, where we were put in our favorite saved-the-best-for-last outfits. The wedding dress and suit made us feel like it was our actual first look, since it was more our style. So, it was a bit emotional for us, especially taking photos with a gorgeous '67 forest green Mustang! #drooling
Tell us about your love story. How did you meet? What was the proposal like?
Matt and I met in college in nutrition class where Matt was 24 and I was 19—babies! Neither of us were ready for what was about to unfold. Who knew two kids trying to figure out this world would fall in love and start creating it with one another. We live a simple lifestyle and are constantly in nature and finding adventure. After living at Donner Lake for years, Matt and I decided to move to the Sacramento area so Matt could finish his schooling in becoming a respiratory therapist. Before the official move Matt decided to propose! Matt's proposal day was unimaginable! Every girl thinks of how they'd love to get proposed to or how they think their significant other would do it and he over-exceeded expectations. A few weeks before the proposal Matt had kept asking me to go get my nails done I thought this was really weird due to the fact that he doesn't care what the condition my nails are in. So, morning of, he had one of my best friends Jess come pick me up for a girls' day of lunch and mani/pedis. While he ran off with his best friend Diego to go on a hike. During our girls' day, Matt and Diego were on a Donner Summit mountain top coordinating a helicopter pilot to position his helicopter in the perfect location and setting up my family on that mountain top with signs that read "Marry him." After our girls' day was over, Jess drove me to the Truckee Tahoe Airport, where Matt met me with a single red rose and a GoPro in hand. When exiting Jess's car, I asked them both what was going on and Matt said we're about to go on the greatest adventure and he escorted me to a stunning helicopter. We went on a helicopter tour of all of the Tahoe basin. Towards the end of our tour we headed over Donner Lake and the Summit, where Matt distracted me until he pointed out my family holding signs on a mountain top! I could not believe what was happening. I immediately started crying and turned to look back at him, and he was sobbing almost as much as me! Attempting to get down on one knee in the back of a helicopter, and making his loving proposal, he asked me to marry him! I was made the happiest, most surprised girl in all the world that day. To have him create the most magical day and include my family, was more than I could've ever wished for. He outdid himself! We ended that day beyond euphoric, toasting Champagne in our little cabin with our families and an amazing dinner at Sunnyside Restaurant & Lodge. BEST DAY EVER!
Tell us about your wedding day.
Our wedding day is scheduled for Friday, August 14, 2020. We are currently adapting to the ever-changing current situation, but we are keeping hopes high and holding onto our date for as long as we can! Our wedding venue is at Round Hill Pines Beach Resort, we will be having my dream wedding of a barefoot, lakeside ceremony along with an outdoor reception. The venue is AMAZING in the fact that it overlooks all of Lake Tahoe at all times!
Editor's Note: They did it! Their wedding-turned-elopement happened!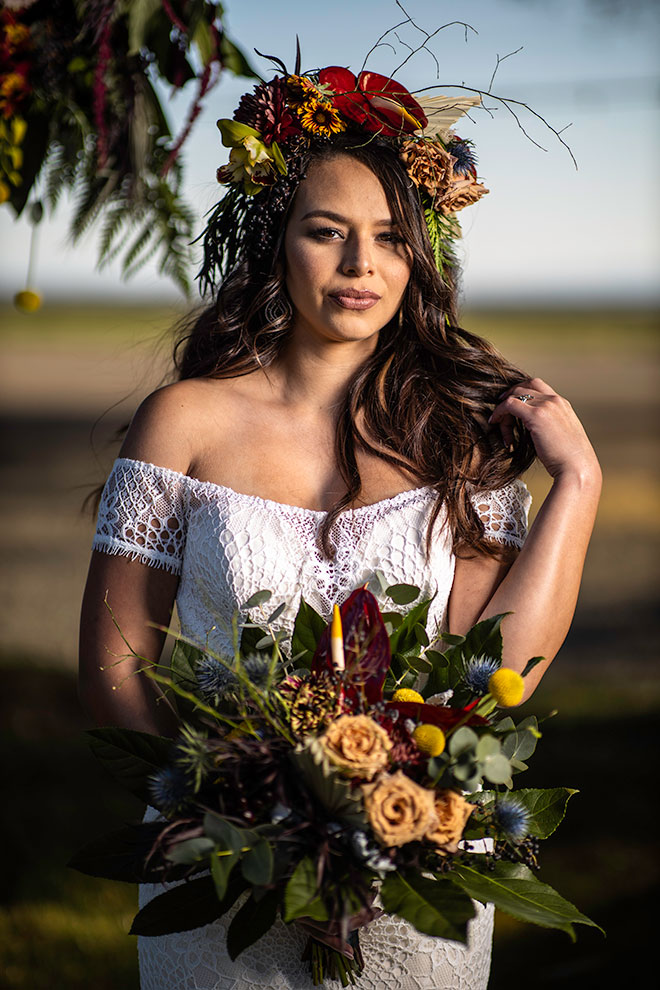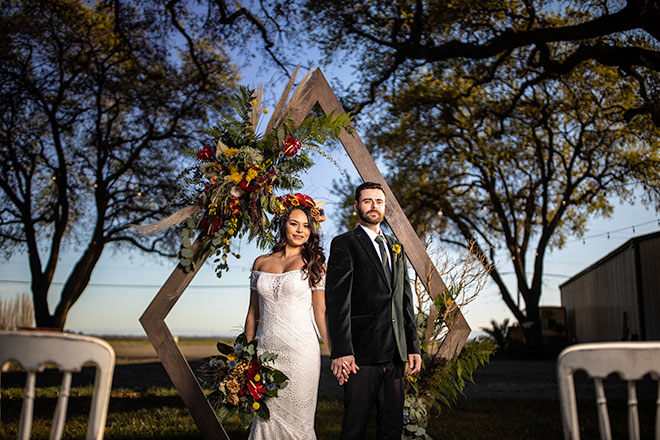 If you could offer any advice to engaged couples what would it be?
Start planning ASAP! The venue is the hardest part, at least for us because we wanted our home of Donner Lake or Lake Tahoe but had a pretty hard budget. We knew we wouldn't be able to officially hold a ceremony and reception for two to three years after our engagement, and we just wish we started scouting out places immediately versus waiting under a year to plan it all out.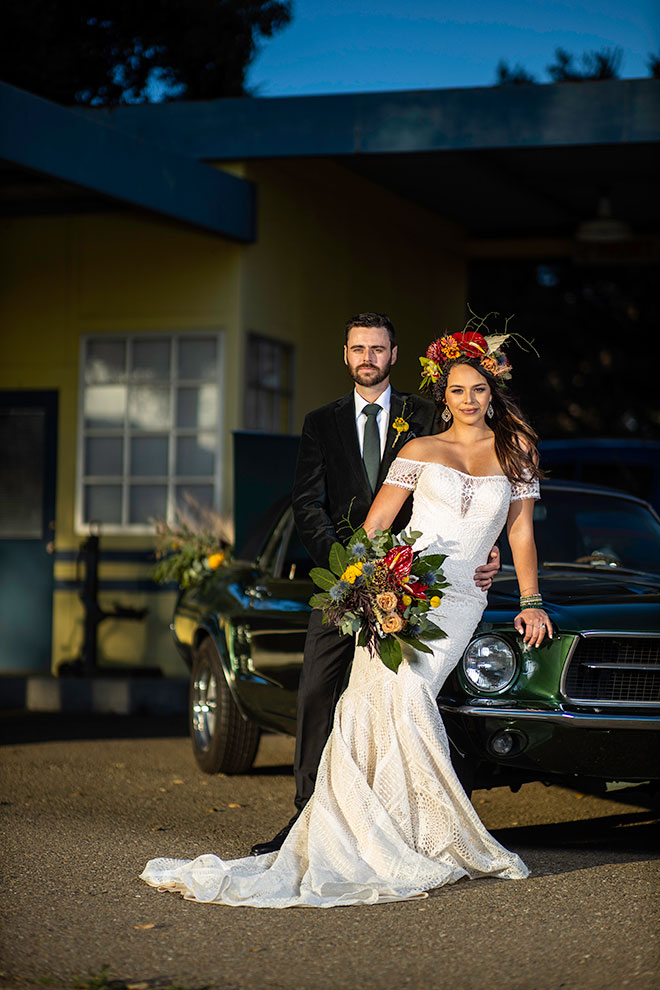 Be sure to like us on Facebook and follow us on Instagram and Pinterest so you never miss a post!
THE DETAILS
VENUE  //  Delta Diamond Farm | deltadiamondfarm.com
PHOTOGRAPHER & VIDEOGRAPHER  //  Satostudio | satostudio.com
DESIGN, STYLING AND COORDINATION  //  Omni Wedding & Event Planning | omniweddingandevents.com
STYLING AND FLORAL DESIGNER  //  Bloem Decor | bloemdecor.com
WHOLESALE FLOWERS  //  FiftyFlowers.com | fiftyflowers.com
CAKE DESIGNER  //  Above & Beyond Cakes | aboveandbeyondcakes.com
MINI PIES  //  Icing on the Cupcake | icingonthecupcake.com/weddings
STYLED CUISINE CATERER  //  The Hidden Table | thehiddentablegourmet.com
WINE  //  Silt Wine Company | siltwineco.com
HAIR AND MAKEUP ARTIST  //  Thee Makeup Girl | theemakeupgirl.com
GOWNS AND TUXEDO  //  Second Summer Bride | secondsummerbridesacramento.com
SHOES  //  DSW | dsw.com
JEWELRY AND TIES  //  Macy's | Moka Davis, My Stylist@Macy's Roseville Galleria | macys.com/mystylist
ACCESSORIES AND JEWELRY  //  Adora by Simona | adorabysimona.com // My Trendy Trailer | mytrendytrailer.com
STYLING, CEREMONY ARCH AND CHAIRS, CAKE AND SWEETS FURNITURE AND DECOR, SWEETHEART TABLE, SETTEE, DECOR AND GLASSWARE
Getting Hitched Design + Rentals | gettinghitchedrentals.com
CHARGERS, PLATES, FLATWARE, CHAMPAGNE FLUTES AND NAPKINS
Standard Party Rentals | standardpartyrentals.com
PAPERIE DESIGNER, PRODUCTION AND PRINTING  //  Liz Thiem, Designer | Full Circle Press | full-circle-press.com
HAND LETTERING, CALLIGRAPHER AND ILLUSTRATOR  //  Stephanie Sobierski | stephaniesobierski.com
CUSTOM SIGNAGE  //  Swoonable | swoonable.net
Special thanks to Mitch and Barbara Peter for loaning us their '67 Mustang, our real couple models, Sabrina & Matt, and all of the professionals who contributed to this feature!
To see more from Totally Cray in Love click here!