Welcome back Real Weddings Magazine brides to another installment of The Recessionista Bride Blog Series by our guest blogger extraordinaire Kate Miller of Kate Miller Events.
This week, she addresses the idea of a Bouquet Making Party! Take it away Kate!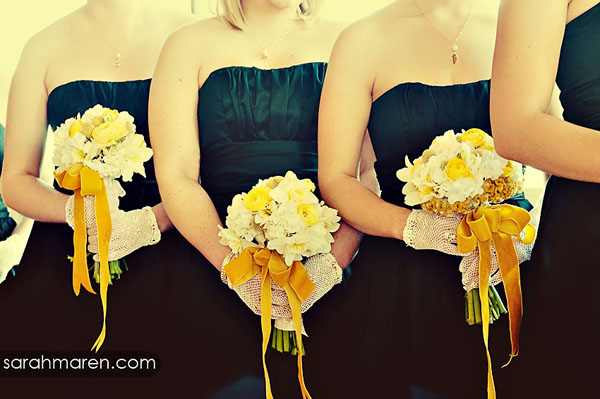 "With our gorgeous budget-friendly candle-lit centerpieces planned, the next floral topic to contend with are the personal flowers.
Recessionista Bride Stevie was lucky enough to have a very talented mother and wanted to make the wedding flowers into a family affair. While admittedly not a professional, Stevie's mom had generously donated her time for many past events. But, with out-of-town family being hosted at their home and all the typical last minute tasks at hand, the last thing they wanted on their mind were the assembly of five bridesmaid bouquets, a bridal bouquet, the groom's boutonniere, five groomsmen boutonnieres and a multitude of family flowers.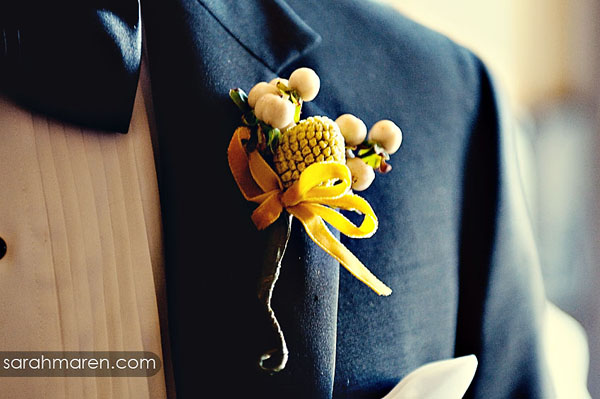 The solution? Stevie hosted all of her bridesmaids, family members and friends for a Bouquet Making Party! In this situation it worked because the bridal party was particularly crafty (if your chosen ones are not crafty, like the commercial says, "do not attempt this at home".  You do not want to risk your wedding flowers' beauty!).
During the party, Stevie's mom gave gentle guidance on flower preparation and worked the room helping each bridesmaid straighten their bouquet and kept everything looking gorgeous. With the bulk of the work done, the storage, packing and presentation were left to the mother of the bride on the day of the wedding.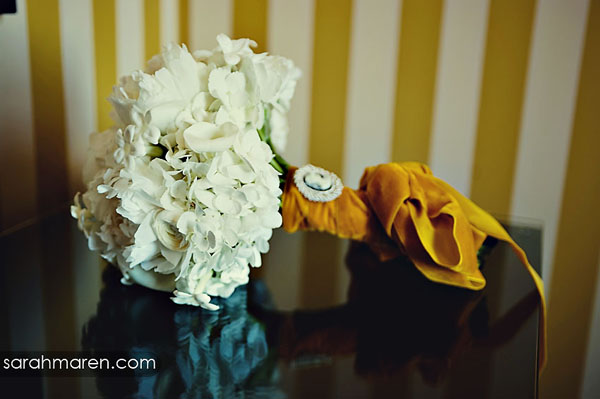 While this scenario worked for Stevie's wedding, no matter what, I still believe that you will still need a flower-savvy person to be in charge of your flowers on your wedding day, so just keep this in mind in your planning and considerations.
While a Bouquet Making Party does sounds fun, it simply isn't for everyone, as not everyone will have a super-talented family member who can (or wants to!) perform these floral-related tasks (or knows how to pack, store and refresh flowers), there are a plenitude of options at your fingertips. Your best bet is to leave the floral bouquets for your special day up to the professionals.
But you can still get a sense of the fun and camaraderie by hosting a Bouquet Making Party for your attendants to use for your rehearsal. Here are some creative ideas for you to experiment with:
Wire vintage brooches into a Brooch Bouquet
Use kraft, tissue paper or coffee filters and create a Paper Flower Bouquet
Fasten peacock, ostrich and other types of plumes for a Feather Bouquet
Buttons make a beautiful Button Bouquet
Tune back in to the Real Weddings Magazineblog on April 10th for the next installment in the Recessionista Bride Blog Series on Reusing Decor.
About Kate Miller Events (in their own words):
Kate Miller Events offers full-scale event and wedding planning of extraordinary detail for the bride and groom looking for that extra-special touch. We will keep you organized, on or under budget, and stress-free while designing the wedding of your dreams. We are committed to making sure your day goes off without a hitch — except for the hitching part of course!
Kate Miller Events offers new technology to keep all avenues of communication open and organized. Our excellent online client planning tools include customized checklists, payment calendars with email notifications, appointment tracking, online idea boards, and contract filing with easy access for all members of your wedding party. Our top-notch organization enables us to be your liaison to all of your vendors – we worry about the details so that you don't have to.
All of our packages are unique and completely customized to fit your budget so that you only pay for the services that you need. We offer a wide range of planning services from Day of Coordination to Full Coordination/Design and everything in-between.
Be sure to check out Kate Miller Event's Web site and Kate's blog or call her at 888-808-KATE.
Photos above of Stevie & Blake's wedding, one of our featured real weddings in the current issue of Real Weddings Magazine, by Sarah Maren Photography. Kate Miller from Kate Miller Events worked with Stevie & Blake to achieve their perfect day. To read more about Stevie & Blake's wedding and to view more photos from their wedding, pick up a copy of the current issue or click here.
---
---
---
Subscribe to the Real Weddings Magazine Blog!