Welcome back Real Weddings Magazine brides to another installment of The Recessionista Bride Blog Series by our guest blogger extraordinaire Kate Miller of Kate Miller Events.
This week, she addresses some unique decor ideas! Take it away Kate!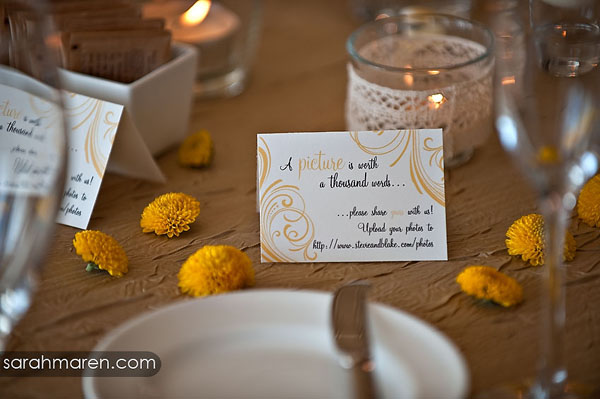 Fresh flowers are surely beautiful and add to the beauty of your day, but when it comes to rose petals, they can become a little costly and note that many venues come with restrictions regarding their use. They can be a hassle to clean up and can stain concrete, wood and light-colored marble flooring and are often not permitted for use at venues with such environments. Of course, no matter the decor restriction, there is always a color-boosting substitute – you just have to think outside of the box!
For our Recessionista Bride Stevie, we chose four different types of Fresh Rose Petal Substitutes to offset some of the cost of decor at her wedding, each with its own purpose. The first, Bright Yellow Pom Poms, were to add a vintage touch to her candle-laden centerpieces. These fresh florals are inexpensive, hearty enough to withstand water-less display, and provide a more contemporary look than the classic petal. Loose petals are not commonly purchased in a yellow color, so to save Stevie's friends and family the time and energy in breaking apart fresh roses, we chose to go this route.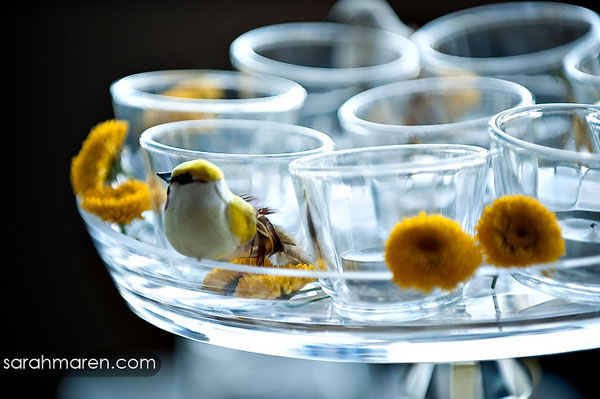 Mushroom Birds in the yellow and gold colorways were added as accents to the tall and short centerpieces as well as on the Dessert Table. They were a fun, vintage, accent that added a touch of whimsy to the design.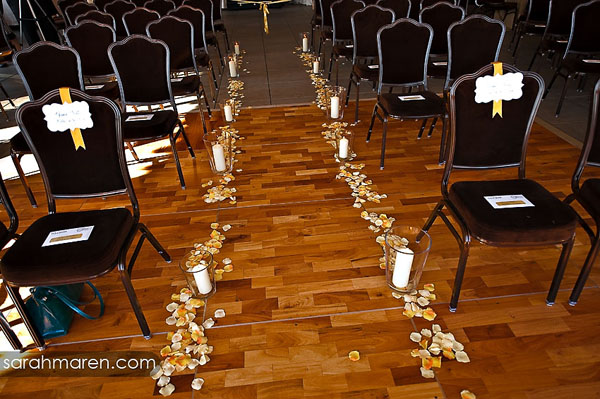 The next Fresh Rose Petal Substitute was the Faux Rose Petal Aisle Runners. These faux petals would not stain the concrete flooring and would be easy to clean up – but still added the pop of color that Stevie wanted. If you are hesitant to use fake flowers, utilize them in places where they will not be available for close inspection, like the flooring instead of tabletops.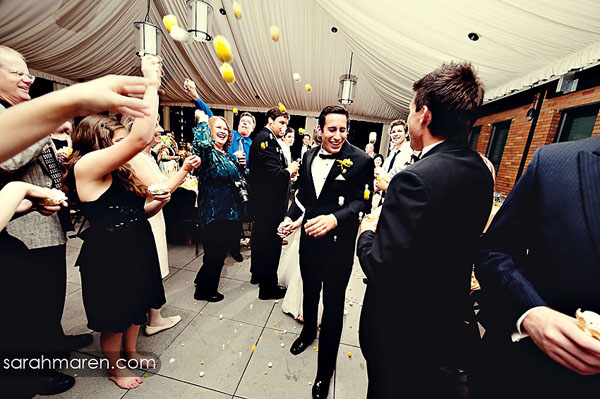 The last Fresh Rose Petal Substitute were the Colored Pom Poms. These were chosen for the farewell and met the strict no petal and no confetti requirements of the venue. They were easy to sweep up, added a touch of vintage style and a nice pop of color. Not to mention, they are much more pleasant when tossing compared to rice or seeds – as they are soft to the touch!
Are you using Fresh Rose Petal Substitutes at your wedding?
Tune back in to the Real Weddings Magazine blog on the lastinstallment in the Recessionista Bride Blog Series on Additional Details.
About Kate Miller Events (in their own words):
Kate Miller Events offers full-scale event and wedding planning of extraordinary detail for the bride and groom looking for that extra-special touch. We will keep you organized, on or under budget, and stress-free while designing the wedding of your dreams. We are committed to making sure your day goes off without a hitch — except for the hitching part of course!
Kate Miller Events offers new technology to keep all avenues of communication open and organized. Our excellent online client planning tools include customized checklists, payment calendars with email notifications, appointment tracking, online idea boards, and contract filing with easy access for all members of your wedding party. Our top-notch organization enables us to be your liaison to all of your vendors – we worry about the details so that you don't have to.
All of our packages are unique and completely customized to fit your budget so that you only pay for the services that you need. We offer a wide range of planning services from Day of Coordination to Full Coordination/Design and everything in-between.
Be sure to check out Kate Miller Event's Web site and Kate's blog or call her at 888-808-KATE.
Photos above from Stevie & Blake's wedding, one of our featured real weddings in the current issue of Real Weddings Magazine, by Sarah Maren Photography. Kate Miller from Kate Miller Events worked with Stevie & Blake to achieve their perfect day. To read more about Stevie & Blake's wedding and to view more photos from their wedding, pick up a copy of the current issue or click here.
---
---
---
Subscribe to the Real Weddings Magazine Blog!