We love the changing of the seasons, and with that brings our brand spanking new Spring 2012 cover of Real Weddings Magazine featuring our cover model winner Jessica Nomicos!
Copies have hit newsstands from The Bay Area through Tahoe, but at select Barnes & Noble stores throughout the Sacramento region, there are special copies that are polybagged with a bonus copy of The Bride's Guide! So if you haven't been to one of the area bridal shows and picked up your complimentary copy of both the Spring 2012 issue of Real Weddings Magazine and The Bride's Guide, then be sure to head to your local Barnes & Noble store and get your combo copies today!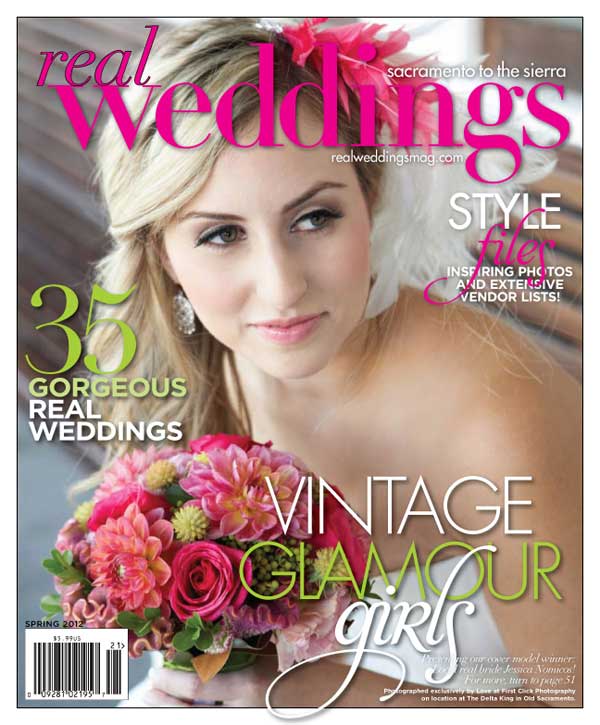 On the Spring 2012 Cover (above): On Jessica:  dress from Always Elegant Bridal & Tuxedo, headpieces by Emilliner, flowers by By the Gate. Hair by Jamey Amin and make-up by Caitlin Herrera. .
Check out more photos from our shoot at these blog posts:
Real Weddings Eye Candy: Gorgeous Bouquets from our Cover Model Photo Shoot
Real Weddings Magazine Cover Model Feature
A special thank you to all the vendors who contributed to our cover model contest shoot — these fantastic vendors include:
Photographed on location at:
The Delta King
1000 Front Street, Sacramento
916-444-8052, deltaking.com

Photography by:
Thais Fleury Scheideman from Love at First Click Photography
916-505-2329, lovefirstphoto.com
with special thanks to Beth Baugher, Stephanie Smith and Francisco Chavira

Dresses provided by:
Always Elegant Bridal & Tuxedo 
530-755-4282, alwayselegantbridal.net
Diamond Bridal Gallery
916-521-9856, diamondbridalgallery.com
Dreamnette Bridal
916-780-4747, dreamnette.com
Enchanted Bridal & Tuxedo Shoppe
916-965-5683, enchantedbridalshoppe.com
Miosa Bride
916-443-1301, miosabride.com

Shoes provided by:
DSW Shoe Warehouse
dsw.com

Accessories provided by:
Advantage Bridal
877-933-7467, advantagebridal.com
Carolee Jewelry
800-227-6533, carolee.com
Emilliner
317-652-9499, emilliner.com
Flourish
916-212-5179, flourishdesigns.com
I Make Beautiful
916-532-9800, imakebeautiful.com

Hair and Make-up for Crystal by:
Aloha London and Claudette Bulaclac, VIP-CAT Academy
800-958-9964, vip-cat.com

Hair and Make-up for Jessica by:
Jamey Amin, Hair, Signature Stylist at Bella Capelli
530-344-0320, 530-368-3642, placervillesalon.com
Cait Herrera, Make-up
916-221-1589

Hair and Make-up for Missy by:
Laura Milo, Hair, Hair by Laura Milo
916-727-6456, hairbylauramilo.weebly.com
Jenifer Haupt, Make-up
Makeup by Jenifer Haupt/I Make Beautiful
916-532-9800, imakebeautiful.com

Flowers provided by:
Ambience Floral Design
916-786-6851, ambiencefloral.com
Bella Bouquet
530-647-2686, bellabouquet.net
Blooms by Martha Andrews
916-300-5948, bloomsbymarthaandrews.com
By the Gate
530-622-7834, bythegateflowers.com
Visual Impact Design
916-489-3746, visualimpact-design.com

Slippers for Crystal, Jessica and Missy provided by: 
Bearpaw
bearpaw.com

Catering provided by:
Beth Sogaard Catering
866-441-BETH, chefbethcatering.com
Blog Post by Editor/Publisher Wendy Sipple.
Do you have the new Real Weddings Magazine iPhone and iPad App?
Download it from the Apple App Store Today: REAL WEDDINGS MAGAZINE!
---
---
Looking for local Sacramento wedding vendors?
---
Subscribe to the Real Weddings Magazine Blog!