The finalists have been chosen, and now it's time to vote! One of these lucky couples will win their dream wedding worth more than $30,000 in the Sunset Whitney Country Club's Classic Wedding of a Lifetime Contest!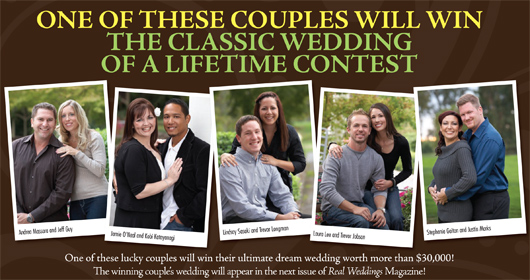 In the coming days we'll highlight the five finalist couples so that you can get to know them better, and then cast your vote for your favorite! You can vote once per day, and remember that voting ends on February 1, 2011.
First couple up…Stephanie Gaitan & Justin Marks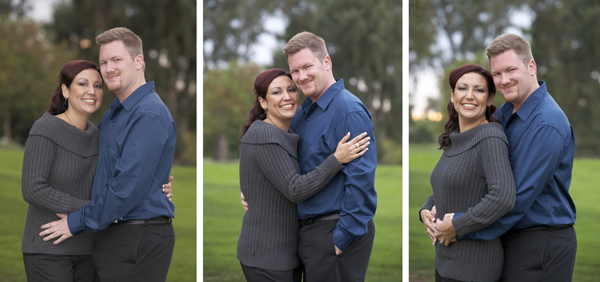 Why should you win the Sunset Whitney Country Club's Classic Wedding of a Lifetime Contest?
As we embark upon our journey as husband and wife, we will look back on our wedding day with the fondest of memories because we know we have found our "Happily Ever After" in each other. Because of the love we share, we know our wedding day will be wonderful; however, this gift will make our special day astounding! We are very excited at the prospect of having a "Fairy Tale Wedding" to start us out on our adventure. We would be truly honored to be selected for this marvelous prize and cannot wait to start living our lives together!
When and how did you meet?
We met through a mutual friend. One of my long time friends, Elisa Lopez, was working with Justin at the time. Elisa knew we would be perfect for each other even before we met. She did a little talking and convinced Justin to email me to introduce himself. There was a week of emails before we met for the very first time at a lunch with a couple of his co-workers at Orchid Thai in Lincoln. It was October 19, 2007, and so we eat at Orchid Thai every 19 to commemorate the destiny of our first meeting. Our first official date alone was the very next night, as we just couldn't wait to spend more time together.
How did you know that you were meant to be a couple?
It was obvious to all that we were meant to be together. We couldn't wait to see more of each other after our first meeting. We spent as much time together as we could, from the very first moment we wanted to spend all our waking hours together. Despite the fact that many people don't believe in "love at first sight", it truly was.
What is your favorite characteristic about your spouse-to-be?
I always look to those who are wise. There is a saying that you may have heard "Don't marry the person you think you can live with but marry the person you can't live without." That explains all that you really need to know about our love. But if you want the details, it is amazing to be with someone who no matter the situation or circumstance can make me smile and laugh. We are amazing companions who share dedication and responsibility.
Tell us about your proposal. When did it happen, how did it happen?
I always expected that one month on the 19th Justin would propose at Orchid Thai. Justin knew that I would expect this. Therefore, he decided to do it on a random day after work when my day was awful. On September 22, 2010 Justin made dinner, but we never made it to the main course. My night was already getting better when Justin said we were going to have fruit parfait for dessert. After the salads, the entrée wasn't ready so Justin asked if we should skip to dessert. I was definitely ready for dessert. He went out to the garage and brought back a plate with a silver bowl atop. He presented the plate and removed the bowl to show the amazing ring in a box surrounded by purple flowers. I started to cry and of course said "YES". There is so much joy when your destiny is sitting across the dinner table from you.
Why should we pick you to win the Sunset Whitney Country Club's Classic Wedding of a Lifetime Contest?
There are many stories and I know that many can relate to ours. Justin has returned to work after a long layoff due to the economic times. We are looking to purchase our dream home and begin our lives together. Traditional wedding vows are "for better or worse" and we have seen some of "the worse;" but, mostly we have seen the "better." We look forward to sharing this with those in our lives whom we could not have made it this far without. I have lived in Lincoln all my life and so the celebration of my wedding should include so many in the community. To able to have such a celebration would surpass every hope for our perfect day. To have a wedding whose beauty is unmatched and to share our love with our friends, our family, and the community would be a dream come true.
Be sure to check out all of the participating wedding professionals who are part of this extraordinary dream wedding giveaway! They include:
Always Elegant Bridal & Tuxedo
Sugar & Spice Specialty Desserts
Photos of the couples by Image Outfitters Photography.
Do you have the new Real Weddings Magazine iPhone and iPad App?
Download it from the Apple App Store Today: REAL WEDDINGS MAGAZINE!
---
---
Looking for local Sacramento wedding vendors?
---
Subscribe to the Real Weddings Magazine Blog!