Let's start the new year off with a whole lotta love…at Justina & Kevin's wedding!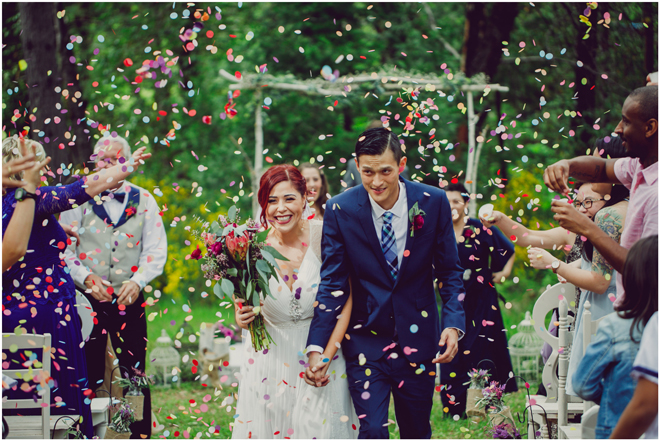 Tell us a little about you and your beloved:
Kevin and I met after a mutual friend convinced Kevin to write me on Facebook. I was newly single and not looking to be in a relationship anytime soon, but my friend said, "Too bad! I already told him to message you." After reading his message (he was so sweet) I gave it a chance, and we talked every single day from that moment on. A year later (and few days before my birthday), he proposed while we were in Fort Bragg, CA overlooking the ocean. I cried before he even asked! We made plans to get married the next year on Cinco De Mayo (a popular boxing day— his favorite) and less than a year later we bought our first home. Planning the wedding was somewhat easy—we knew we wanted an outdoor wedding, and it just so happened that my parent bought a home in Dobbins CA, on 5 acres, and they wanted to be able to host our big day!
What was the most amazing part of your day? 
I surprised him with a custom-made cake topper that had featured a TV with the two boxers that were fighting on our day, and also gave him a pair of signed Floyd Mayweather boxing shorts. (It was the biggest surprise and probably my #1 favorite part of the day.) His reaction was priceless and having everyone around to see his joy was amazing! My other favorite part was being able to dance the night away with all our friends and family!
What else would you like to share about your big day? 
Having Dee and Kris made everything go so smoothly, I never had to worry about time management or where I needed to be. They are incredible people and an amazing team. So many people came up to me saying they want Dee and Kris for when they get married too!
Their wedding dream team vendors:
Ceremony and Reception Site:  My parents home in Dobbins, Ca
Officiant: Friend – Tyler Morris-Seekins
Photographer:  Dee & Kris Photography
Wedding Planner: Family Friend – Diana Ceccardi
Flowers: Made by a friend – Sydney Donnell
Favors: Chinese Food boxed mixed with candies from both our cultures! (Wanted to do a Snack Crate type of thing!)
Bridal Attire: Adrianna Papell – Macy's  (Alterations By: Irene Mason at Jiggybits Custom Sewing)
Bridesmaids' Attire: Windsor – Roseville Galleria
Hair: Friend – Tish Avila
Makeup: Friend- Melissa Saenz
Invitations: Vistaprint
DJ/Entertainment and Lighting: Shane Griego – Giggl'n Gecko Productions
Any advice you'd give to our readers who are planning their weddings right now?
Let people help! And my favorite words to live by… "EVERYTHING'S FINE!" If you can't do anything about it, let it go.
Anything that you would have done differently if you were given the chance? 
Made the night longer!!
Photos courtesy of and copyright Dee & Kris Photography.

Want more Real Weddings Wednesdays Inspiration? Click here!