We fall in love with all of the brides and couples that we select to be models in our shoots, and Lainy and Jack were no different. These to oozed love for each other, and laughed with us despite the crazy fast-pace of our shoot day. We enjoyed every moment with them, and were honored to have them in our magazine. Here, in is this second installment of the "Love at First Blush" blog series, you get to know just a little bit more about this delightful couple!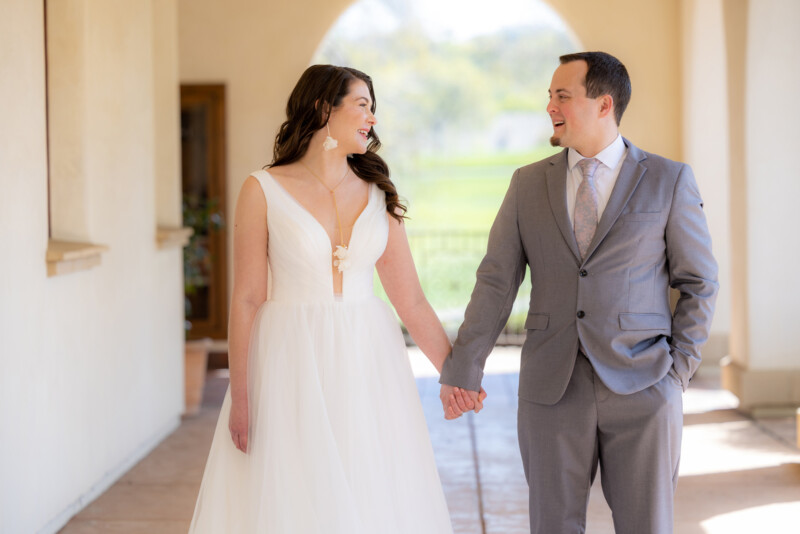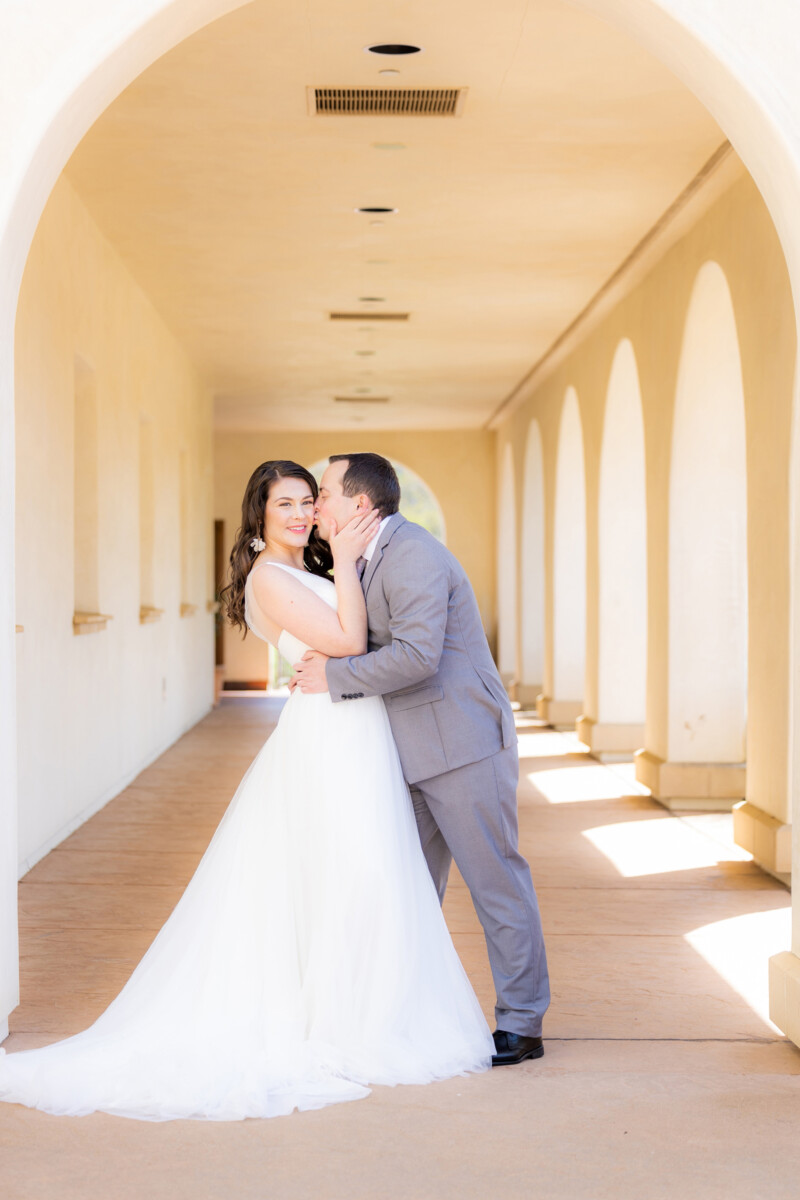 On Lainy:  Jewelry from Macy's;  Gown from Perfect Dress Party  // On Jack: Groom's Own Suit, Shirt and Shoes; Tie from Macy's
What made you want to model for this photo shoot?
Lainy + Jack: We wanted to enjoy the fun experience of dressing up for a wedding before our big day! It also seemed like a once-in-a-lifetime opportunity to be magazine models for a day and work with a great professional team. Lainy dabbled in modeling in her younger years and loved the idea of dressing up in different looks and having her makeup done. It also seemed like a great way to hone in on how we want to design our wedding-day looks.
Tell us about your modeling experience.
Lainy + Jack: It was even better than we expected! Wendy deftly balanced running a tight ship while also keeping things light and very fun. The photographers were true professionals and were lovely to work with. The hair and makeup team worked wonders in very short amounts of time while also being personable and making the experience as pleasant as possible. The venue was gorgeous, and it felt like such a dream being able to model different wedding-day looks.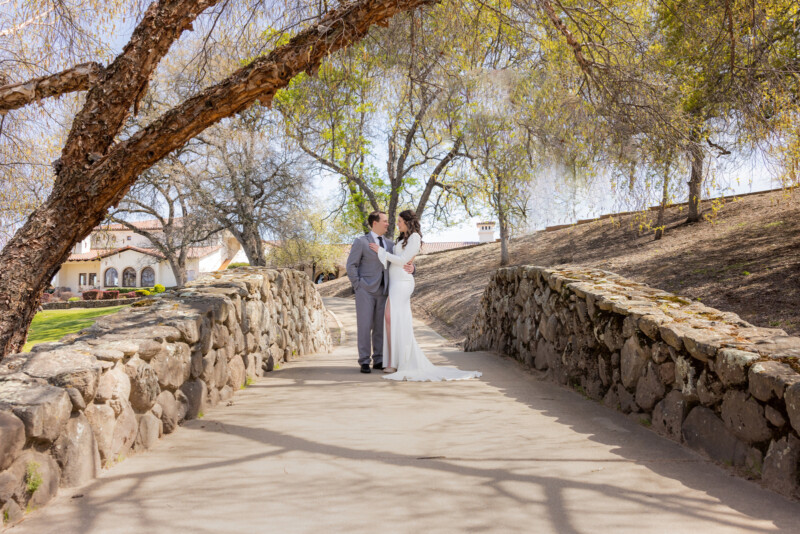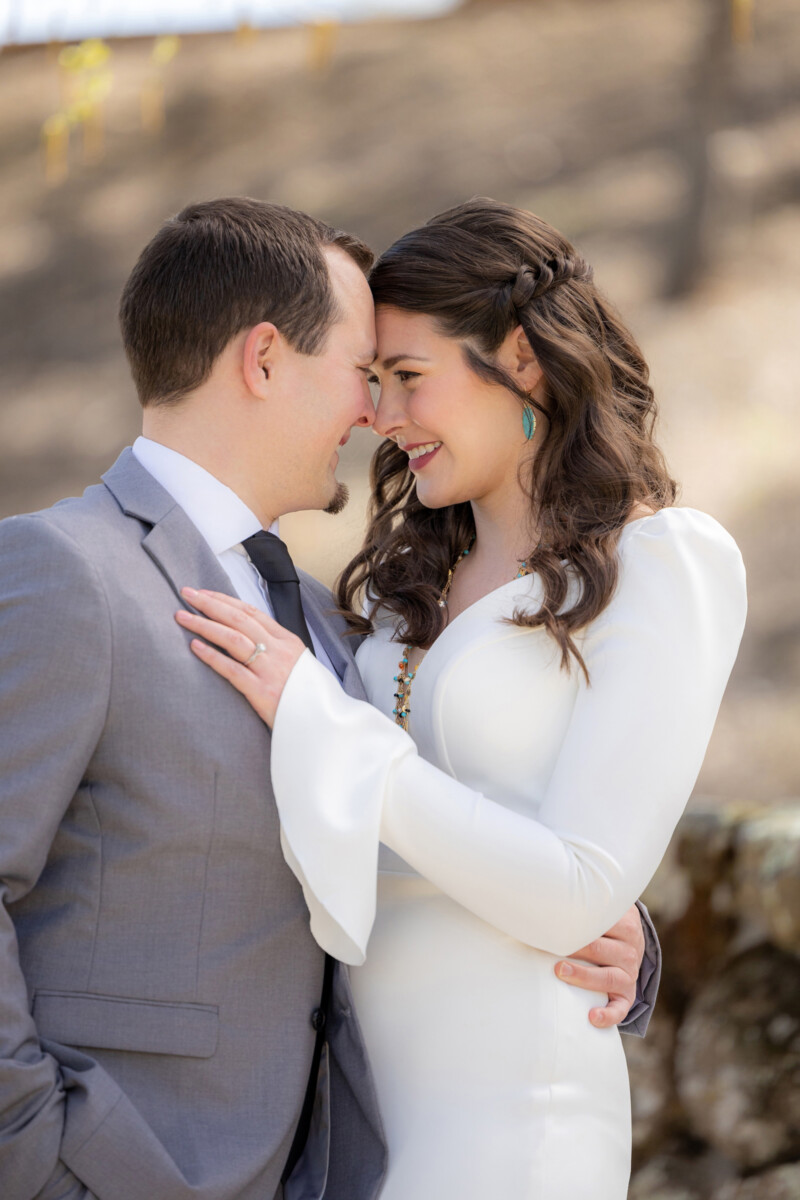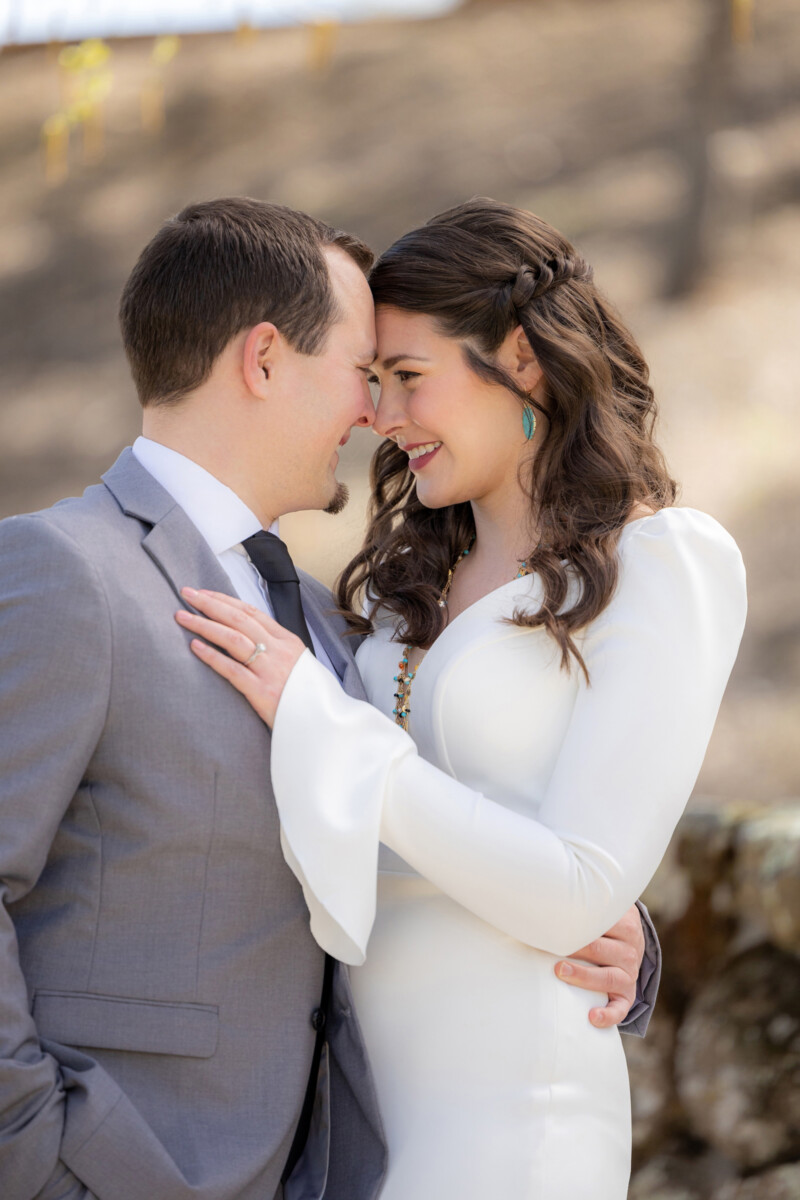 On Jack: Groom's Own Suit, Shirt and Shoes; Tie from Macy's  //  On Lainy: Jewelry from Macy's; Gown from De La Rosa's Bridal & Tuxedo
Did you relate to the concept/theme?
Jack: Having visited family in Santa Barbara all of my life, I've always had a soft spot for mission architecture. The warm colors and smooth curves of the buildings always translated well to a beautiful event in my mind, but even more so seeing it in person as a wedding venue. The aesthetic of the décor matched the venue perfectly. The warm colors of the bouquet perfectly matched the setting as well as the sun-soaked hues of golden hour.
How was modeling with your significant other?
Lainy: It was really fun getting to see each other in clothes that we wouldn't normally wear and realizing we looked good in them. Jack can rock a pink, velvet suit and I never would have known that if it wasn't for this shoot! It was great to have a trial run for our wedding photos. We also got a lot of useful tips from the photographer and Wendy that will be helpful when we take pictures on wedding day.
Jack: It was spellbinding to see my gorgeous bride-to-be done up in professional wedding looks. She was stunning in each look and in ways I had never seen before. Laughing together while eating cotton candy or posing on a beautiful bridge while being professionally photographed was surreal. I felt closer to her afterward and it made me even more excited to marry her for real!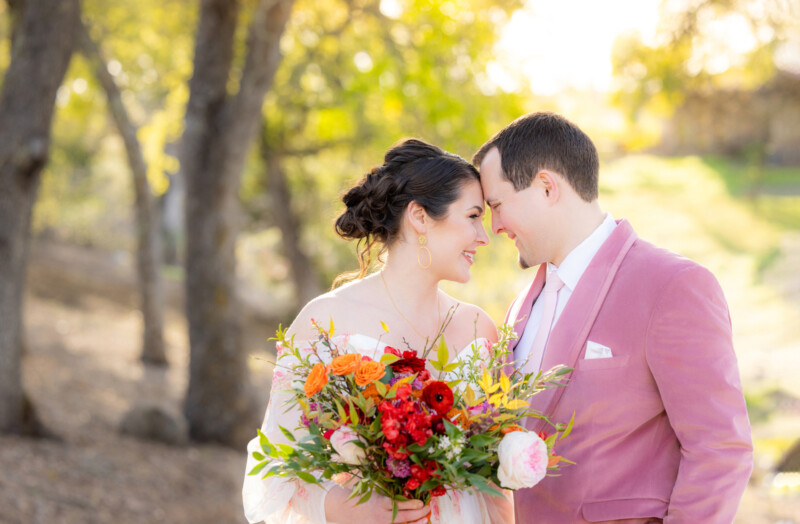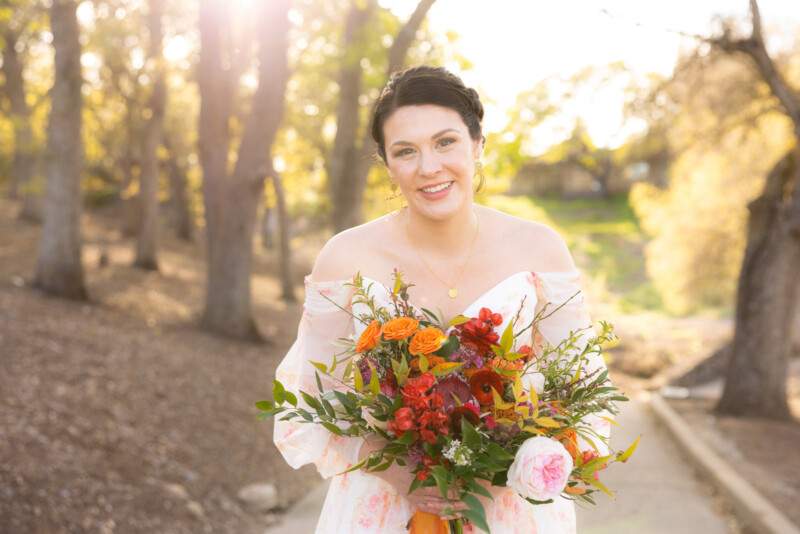 On Lainy: Jewelry by Renewable Jewels; Gown from Always Elegant Bridal & Tuxedo; Shoes from DSW  //  On Jack: Suit, Shirt, and Shoes from Tuxedo Den; Tie from Macy's
What was your favorite part of the shoot?
Lainy: Getting to be a model for the day! It was fun getting my hair and makeup done while Jack fed me snacks, since I didn't have much time to take a break to eat. I loved being able to have so many different, amazing looks. I was transformed into a new look for each dress. Everyone on set was great with giving me direction and praise as I modeled the looks. It was definitely a dream come true!
Jack: Watching Lainy model in a variety of dresses and looking like an absolute bombshell while doing so. Modeling together was fun, but my favorite thing was being able to be an observer while she modeled like she's been doing it her whole life. A close second was feeding each other freshly made cotton candy while laughing gleefully and forgetting we were even modeling at all.
Tell us about your love story. How did you meet? What was the proposal like?
Lainy + Jack:  Love Story: We met as transfer students at Sonoma State University in 2018 during the first week of school. We bonded over many things including our shared experiences with anxiety, an began texting one another often. When Jack learned where Lainy lived, he had epiphany and knocked on his ceiling, after which she knocked back on her floor. Our rooms were perfectly vertically adjacent, which we now like to look back on as one of many indicators that we were meant to be together. Our chemistry was so natural that it felt like we had been together for years. We both said I love you just a week into our relationship after a romantic date in Bodega Bay. We functionally lived together for our two years in college, allowing our relationship to grow closer than either of us could've ever imagined. The time following that we endured the trials and tribulations of a long-distance digital relationship caused by a global pandemic, but our connection grew only stronger through the adversity.
Lainy + Jack: Proposal: Lainy used to nanny a now 4-year-old girl named Penny and a now almost 2-year-old boy named Dash. Her sister, Ember, now nannies them and they will be our flower girl and ring bearer. Ember invited Lainy to a planned trip to Apple Hill with the kids. Jack had told Lainy he was working that day. When Lainy and Ember arrived, Penny and Dash were there with their parents by the lake at High Hill. They had a sign that said "say yes" and Penny was also wearing a shirt that said "say yes." Jack snuck up from behind Lainy, dropped to a knee, and surprised her. He had been hiding behind a tree for almost an hour. He had brought both of their families as a part of the surprise. He said a beautiful, long speech and then he popped the question. The whole place cheered across the lake because it was so busy. It was the best proposal she could have asked for and she loved that all the people they loved the most were there.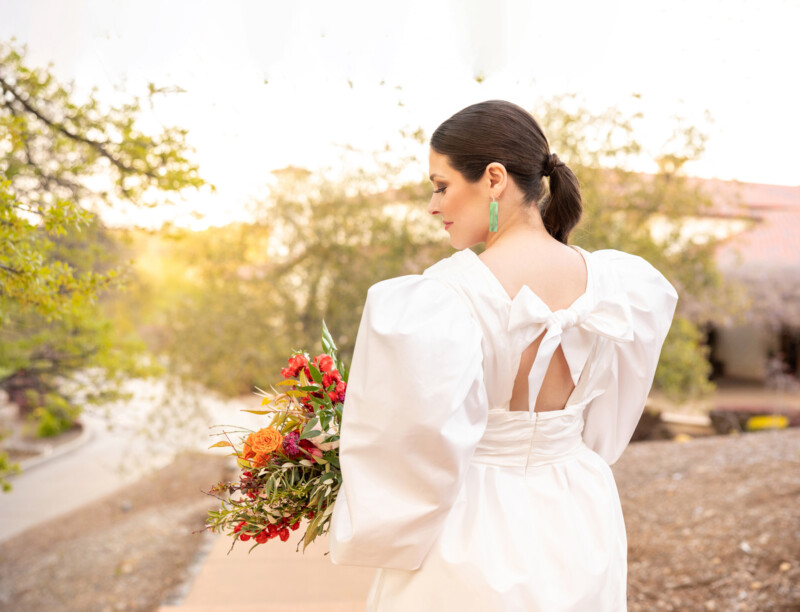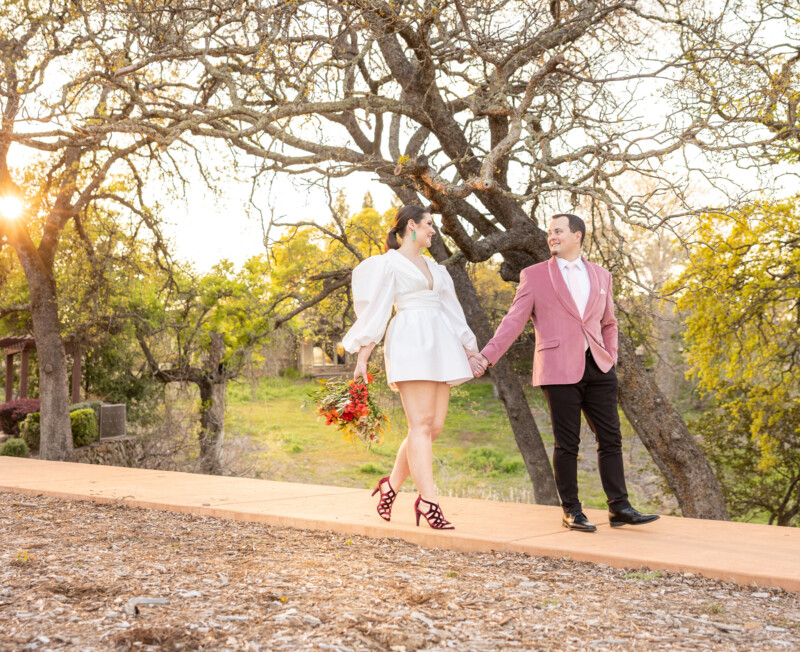 On Lainy: Earrings by Style Avenue Studios; Gown from Always Elegant Bridal & Tuxedo; Shoes from DSW  //  On Jack: Suit, Shirt and Shoes from Tuxedo Den; Tie from Macy's
Tell us about your wedding day.
Lainy + Jack: We are getting married at Lakeview Estates & Winery in Sacramento in September 2023. It just happens to be the same date that Linda and Bob Belcher were married on in Bob's Burgers, one of our favorite TV shows. We didn't do that on purpose, it just ended up working out. Our goal is to have a gorgeous, fun party to celebrate our love with the most important people in our lives. We are having a smaller wedding with about 100 people. The venue is gorgeous with a private lake. Lainy's maid of honor is her sister and Jackson's best man is his cousin. We didn't want to have a huge bridal party so we chose to just have a maid of honor, best man, a junior bridesmaid, and junior groomsman. The junior bridesmaid and junior groomsman are siblings that are close family friends of Lainy and Jack is close with them too. We are getting our cake and cupcakes from Icing on the Cupcake and having an ice cream sundae bar from Handel's. We are excited for everyone to indulge in local yummy desserts at our wedding! We will have romantic vibes with a color scheme of reds, pinks, and greenery. We are so excited to see how it all comes together!
If you could offer any advice to engaged couples what would it be?
Lainy + Jack: Try to cherish and enjoy every part of the process, even the stressful times. Celebrate every part of being engaged that you can, as it will only be a fleetingly short part of your relationship. Always try to recenter yourself when overwhelmed in the planning process by reminding yourself that the whole thing is meant to be a celebration of your love and the fun that you wish to share. Each step of planning is a part of the wedding as a whole, so cherish it, document it, and remember that even the moments of stress will make for great stories you can tell for the rest of your lives.
Anything else you'd like to add?
Lainy + Jack: Thank you so much for this amazing opportunity!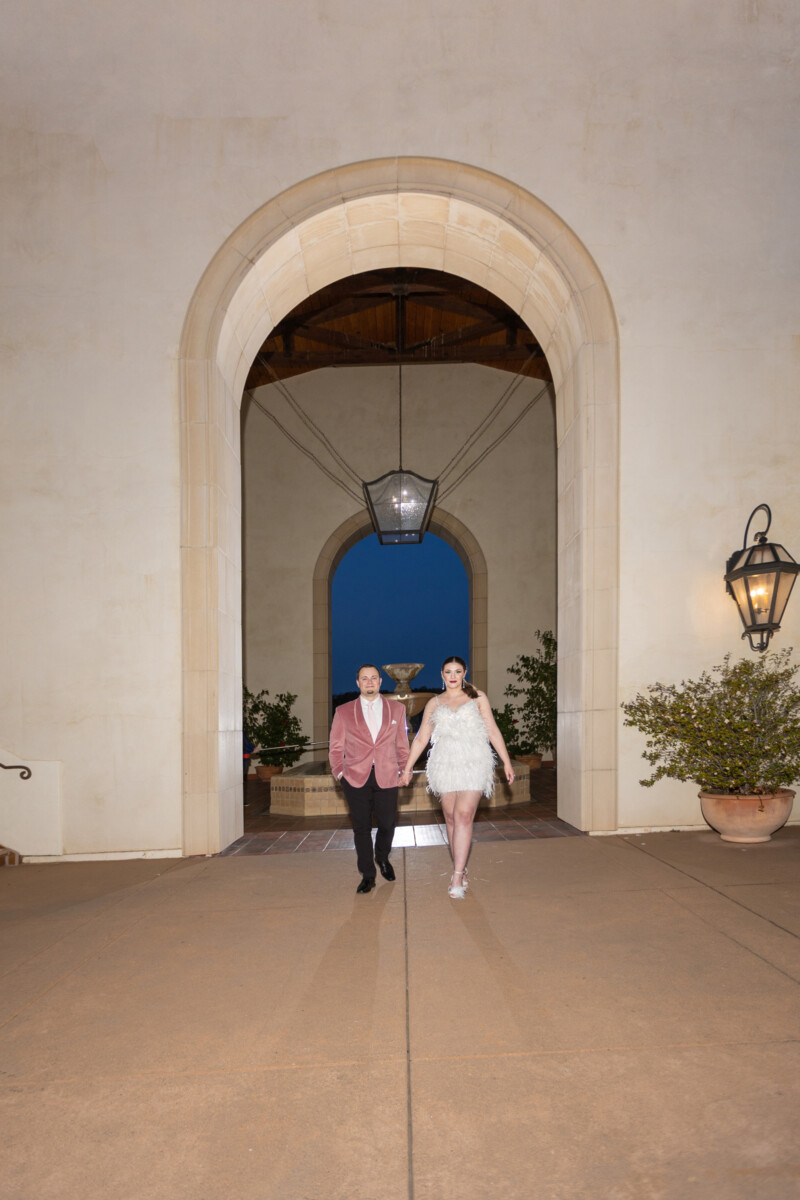 On Jack: Suit, Shirt and Shoes from Tuxedo Den; Tie from Macy's  //  On Lainy:  Jewelry by Adora by Simona;  Gown from The Bridal Box;  Shoes by Bella Belle
Blog post by Real Weddings Magazine's Editor, Wendy Sipple.
Photos by Philippe Studio Pro/copyright Real Weddings Magazine.