It's Sunday, so you know what that means! It's Submitted Styled Shoot Sunday! Grab a snack, kick your feet up, and get ready for an absolutely beautiful styled shoot featuring beautiful florals (thank you FiftyFlowers!), a stunning gown from Onyx Bridal, and amazing photos and set up. Keep scrolling to see more of the shoot. Keep scrolling to read more about the shoot's inspiration!
"The selection of bold bright colors included pink, yellow, orange, fuchsia, and green in the floral design, tablescape design, ceremony, cake, and all of the other little details were inspired by the colors of summer, colorful music concerts, the golden sunshine and the natural landscape and backdrop of the vineyards at B.R. Cohn Winery." -Aisha, Sheree Amour Weddings & Event Planning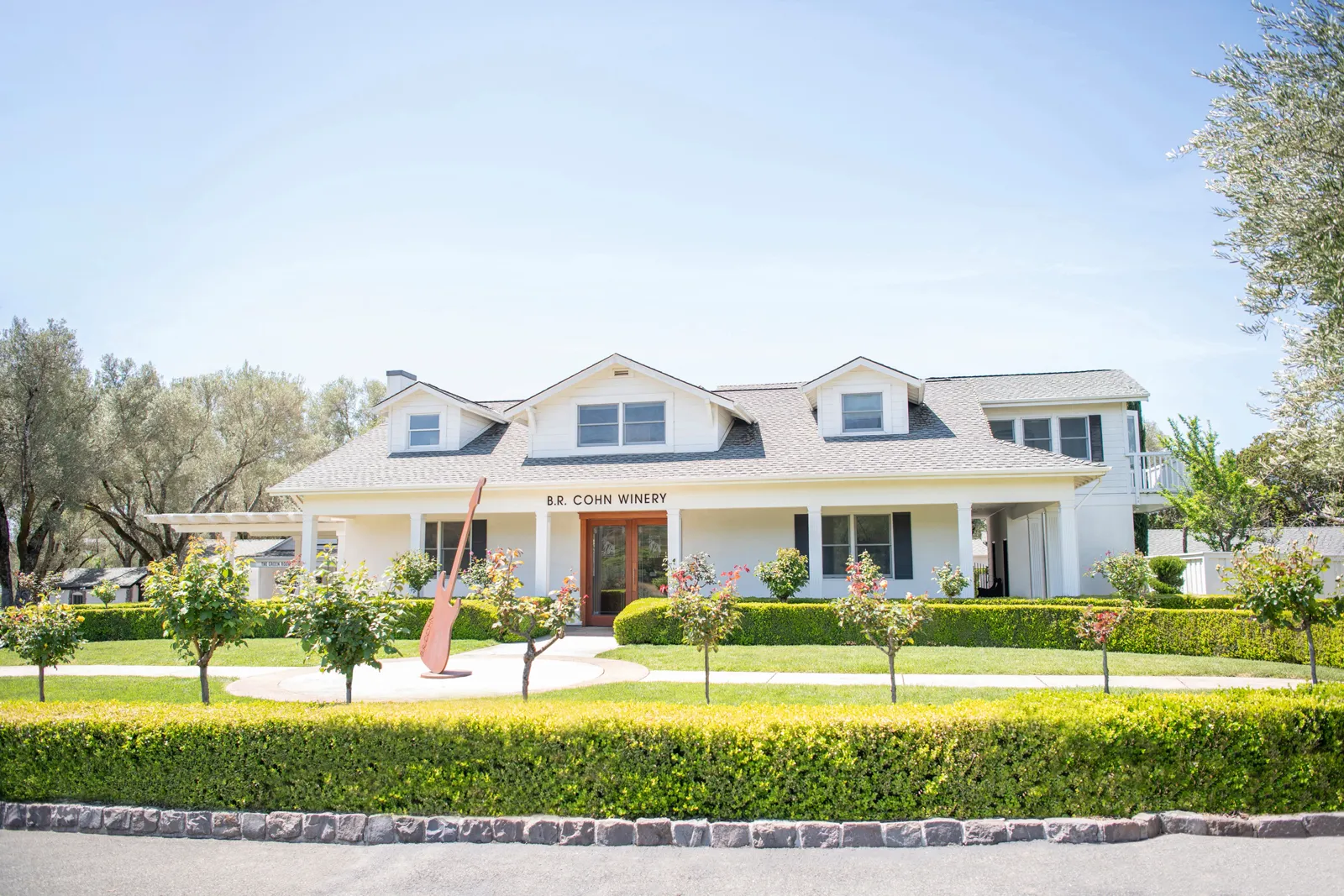 "The venue selection was a perfect fit for our styled wedding because of its connection to love and music. Eclectic music, vintage guitars and bright colors are present throughout the winery.  The founder, Bruce Cohn, was the manager of the Rock-N-Roll band, The Doobie Brothers, for 45 years prior to opening the winery and olive oil company. We were sure to include a piece of their history, mixed with the beauty that nature has to offer in our design for the styled shoot." -Aisha,  Sheree Amour Weddings & Event Planning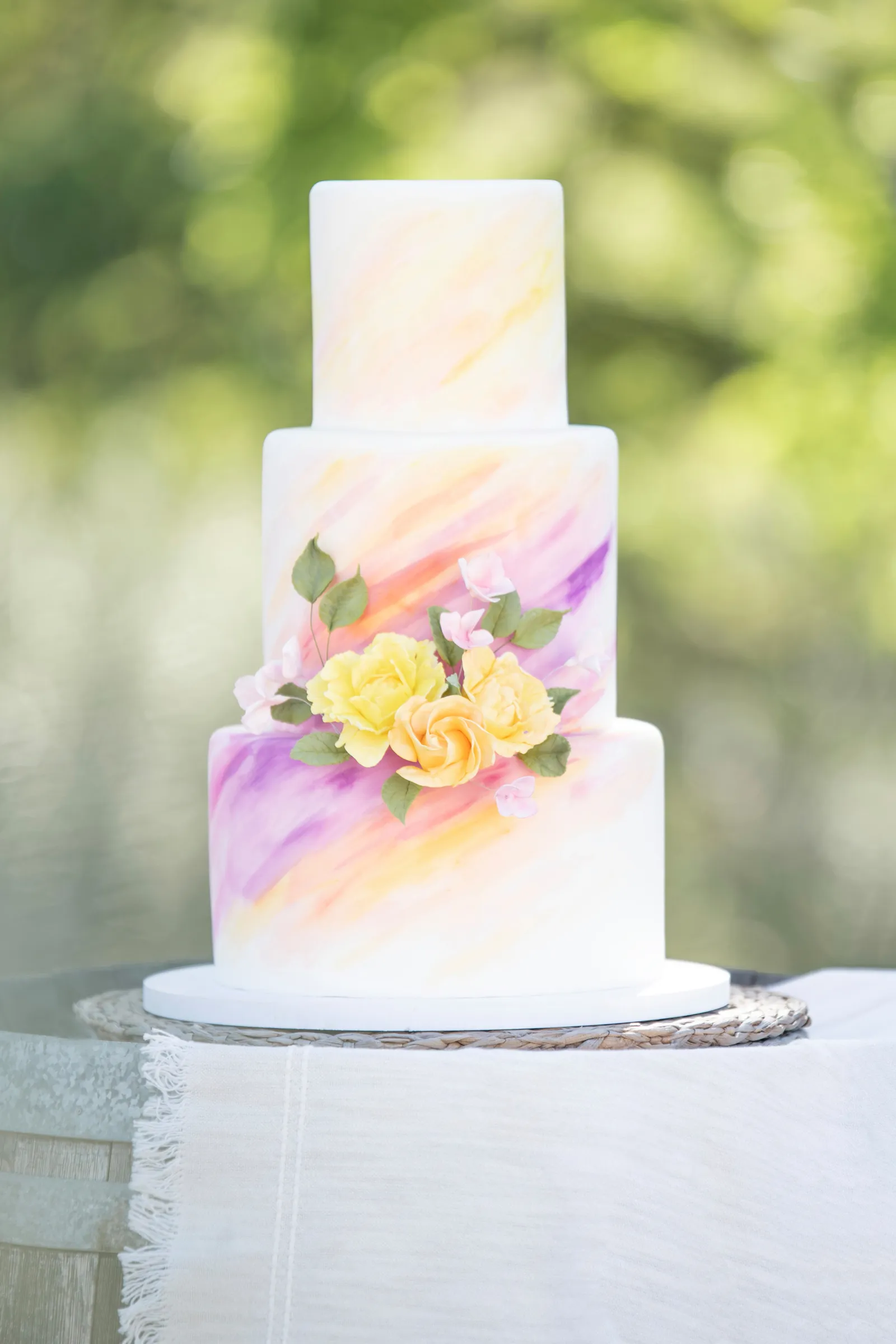 "The wedding cake was created and designed by Ora Beth Mika of Flour & Bloom Cakes, based in Glen Ellen, California.  The design was inspired by the vibrant colors selected for our styled wedding collaboration (pink, yellow, orange, fuchsia and green). All of the edible sugar flowers on the cake were handmade.  The whimsical hand painted colors on the cake represent the fun and warm days of summer as well." -Aisha, Sheree Amour Weddings & Event Planning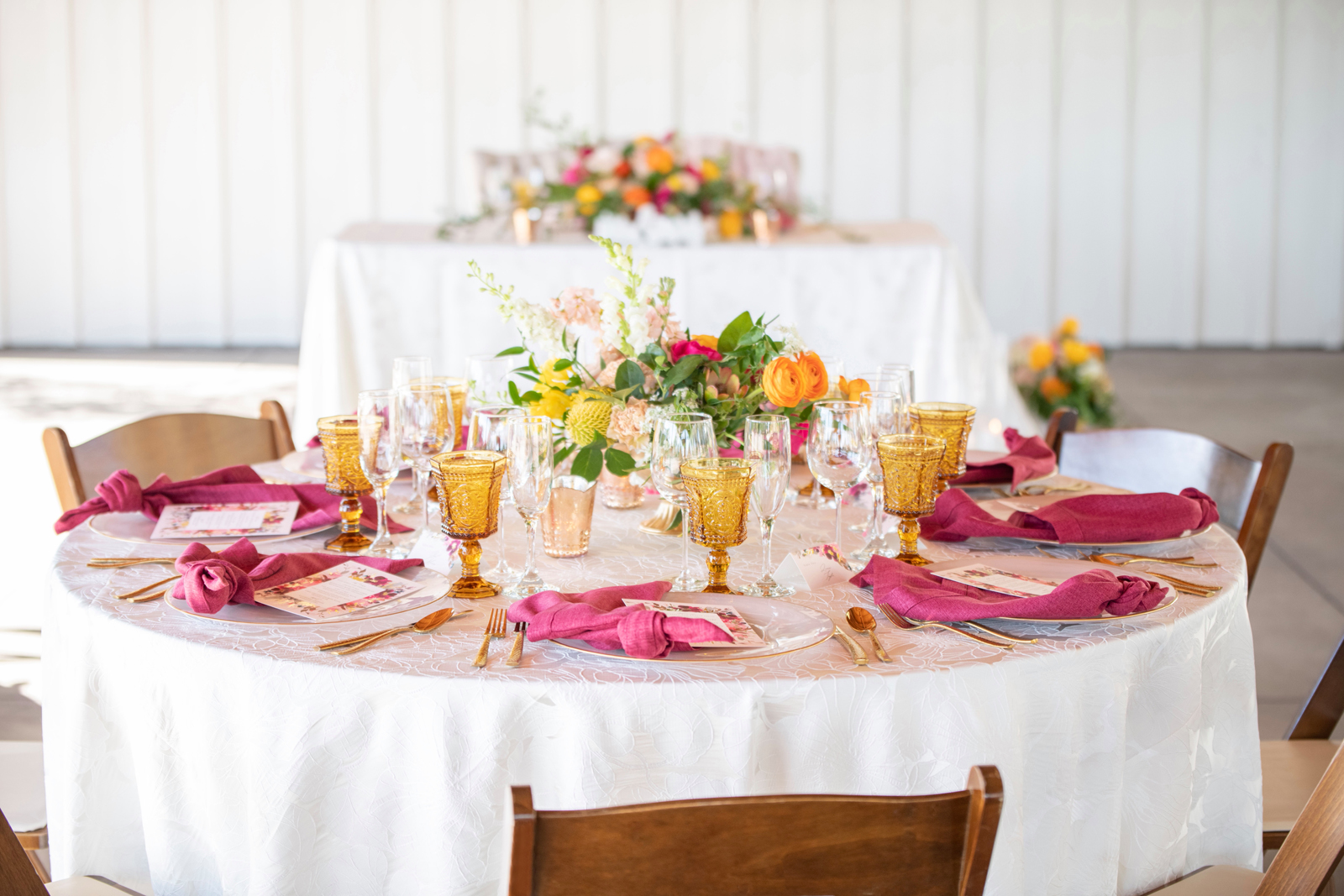 "Some of the personal details included the olive oil favors housed in the mini heart-shaped glass bottles with cork lids that read 'Olive You' as an added special touch. The gold foil-pressed His and Her Vow Books stood out in our feature design as well. The gold velvet hexagon ring box and the gold trinket guitar highlights the musical history and aspect of B.R. Cohn Winery. We used an ivory, tufted bench for the Sweetheart Table seating and accented it with the softest blush throw blanket and a blush, velvet lumbar pillow embroidered with pearls that read the words 'Amour'. To keep the "love" theme going, we used "LOVE" marquee letters from Alpha-Lit North Bay to light up the winery grounds after the sunset as an added touch. To mix up the traditional unity ceremony, we included B.R. Cohn's Olive Oils, by incorporating two versions of their olive oils, in which the couple would mix the two olive oils into one. Finally, all of the jewelry worn by the bride was handmade with recycled gold and sterling silver from 19 Hands and Jewelry Boutique based in Berkeley, California." -Aisha, Sheree Amour Weddings & Event Planning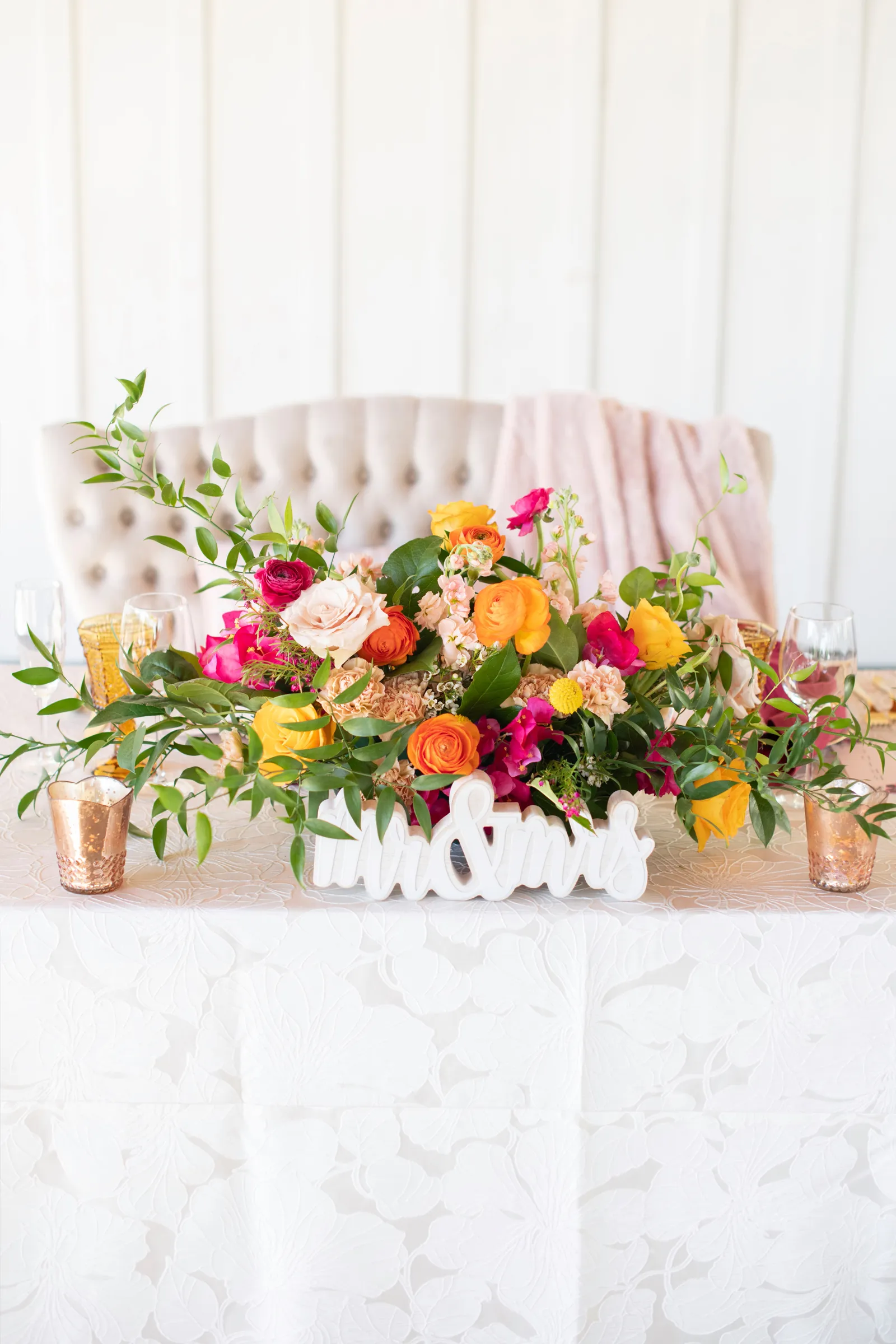 "When it comes to the tablescape design, we worked with Napa Valley Linens, based in Napa, California to incorporate their Ivory, Magnolia Pearl Table Linens that included a floral embroidery pattern and design. We were sure to pair this with a pop of color by including their Sublime Wine Napkins, which also added more texture to the table design. To soften the look, we included Gold Trimmed Alabaster Blush Charger plates with a beautiful centered marble design from BBJ La Tavola in Napa, California. To carry out the gold accent, we used Gold Hammered Flatware and the Strawberry Street Vatican (Hexagon Shaped) Amber Glasses, in addition to using the traditional Wine and Champagne Flutes from Bella Festas rentals in Lodi, California." -Aisha, Sheree Amour Weddings & Event Planning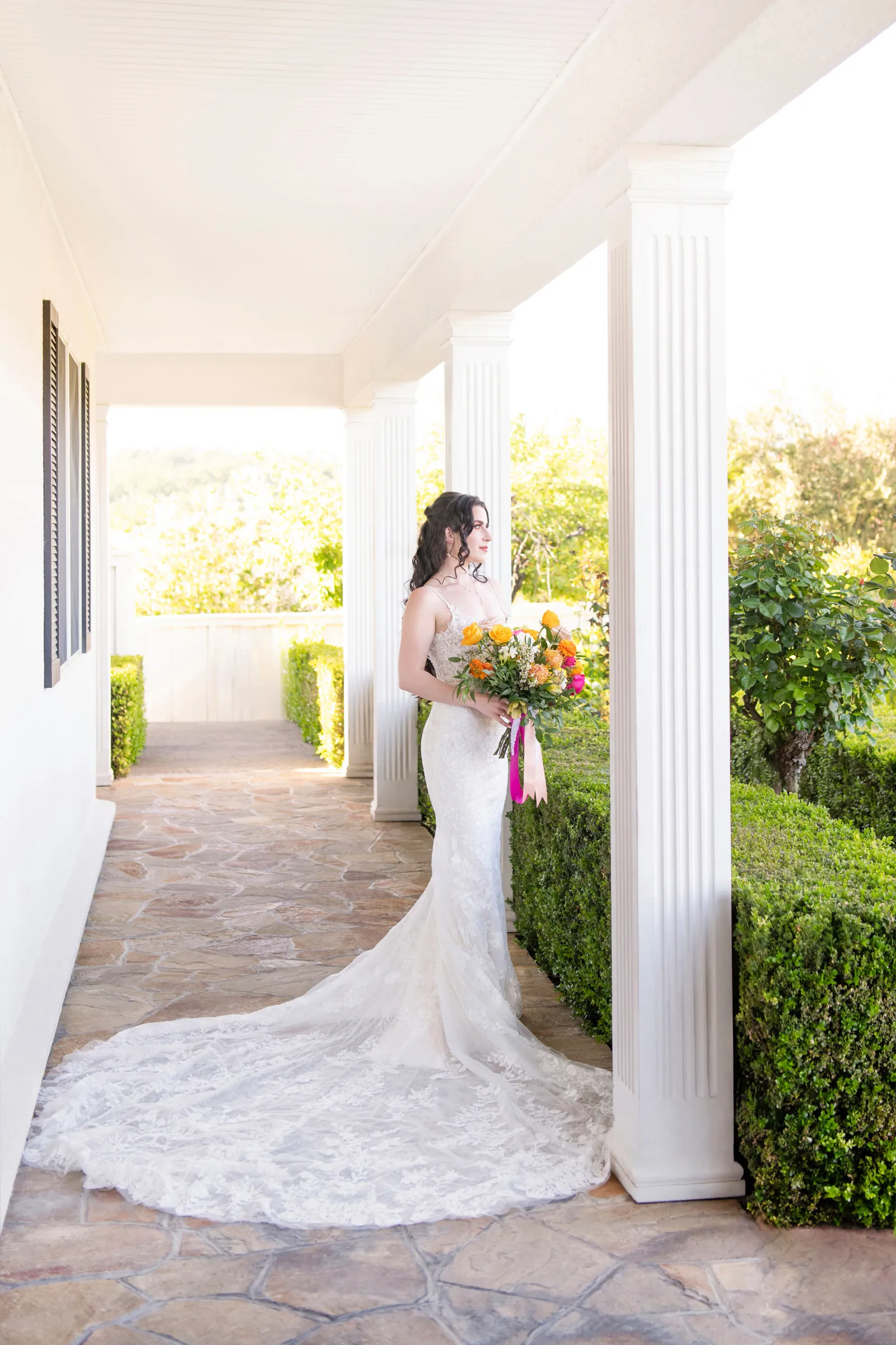 "Glam by Noelia and Hair Styling Studio based out of Santa Rosa, California created the most classy and timeless look for our models. The model bride wore a Justin Alexander Signature – Edna Gown. This beautiful gown has a scoop neck glitter tulle fit and flare with a low back – full of lace. The model groom wore a gray Awearness Collection Kenneth Cole suit." -Aisha, Sheree Amour Weddings & Event Planning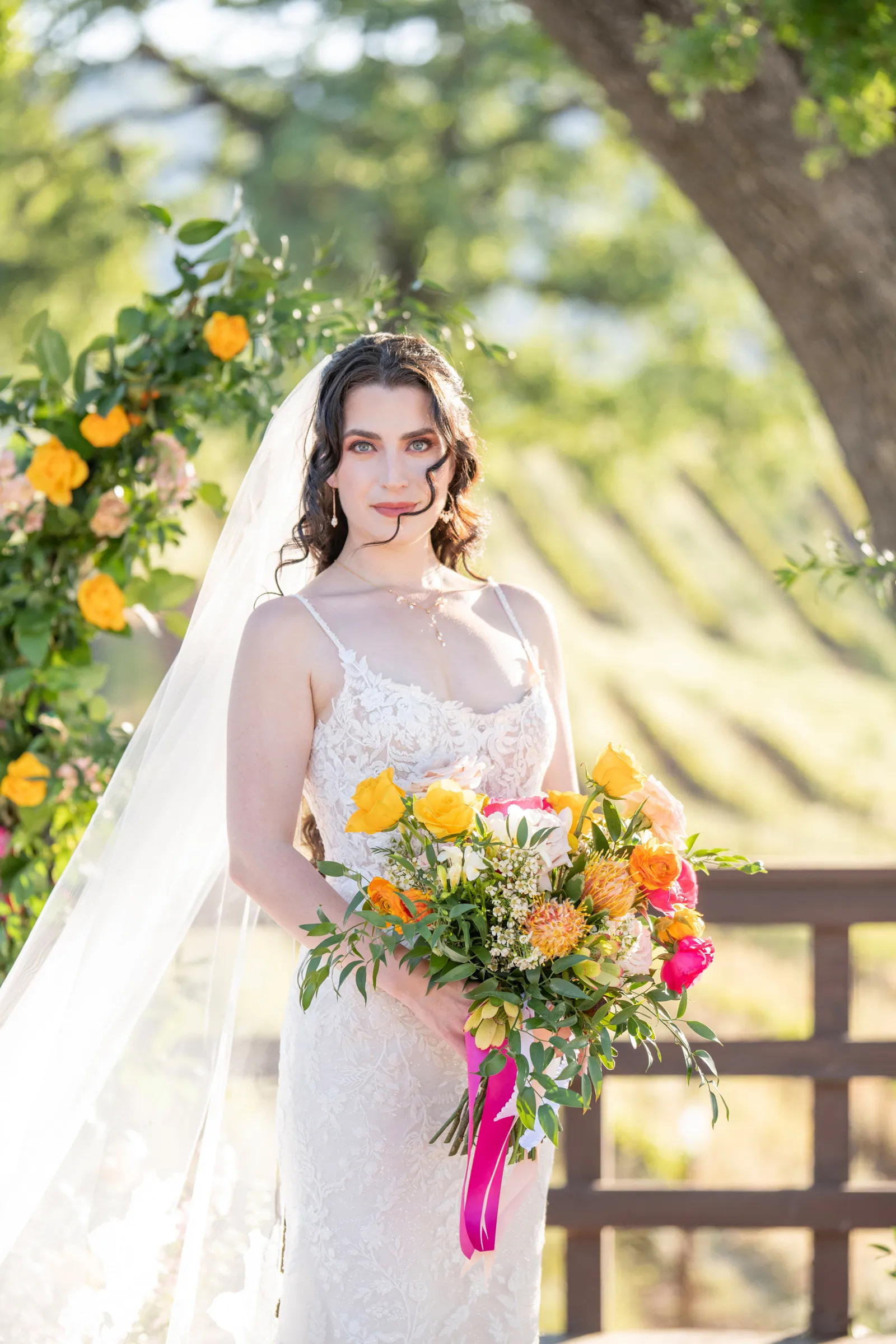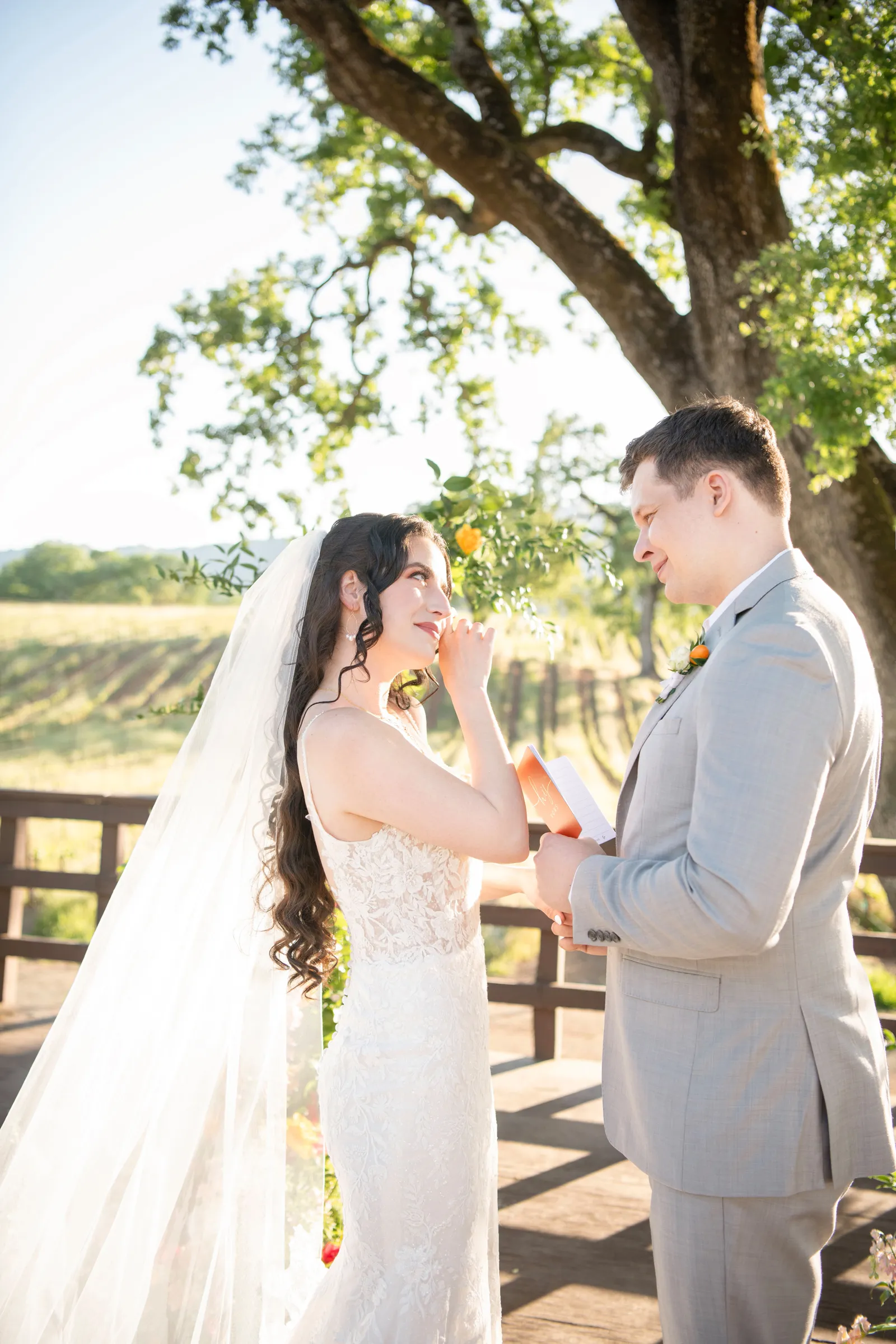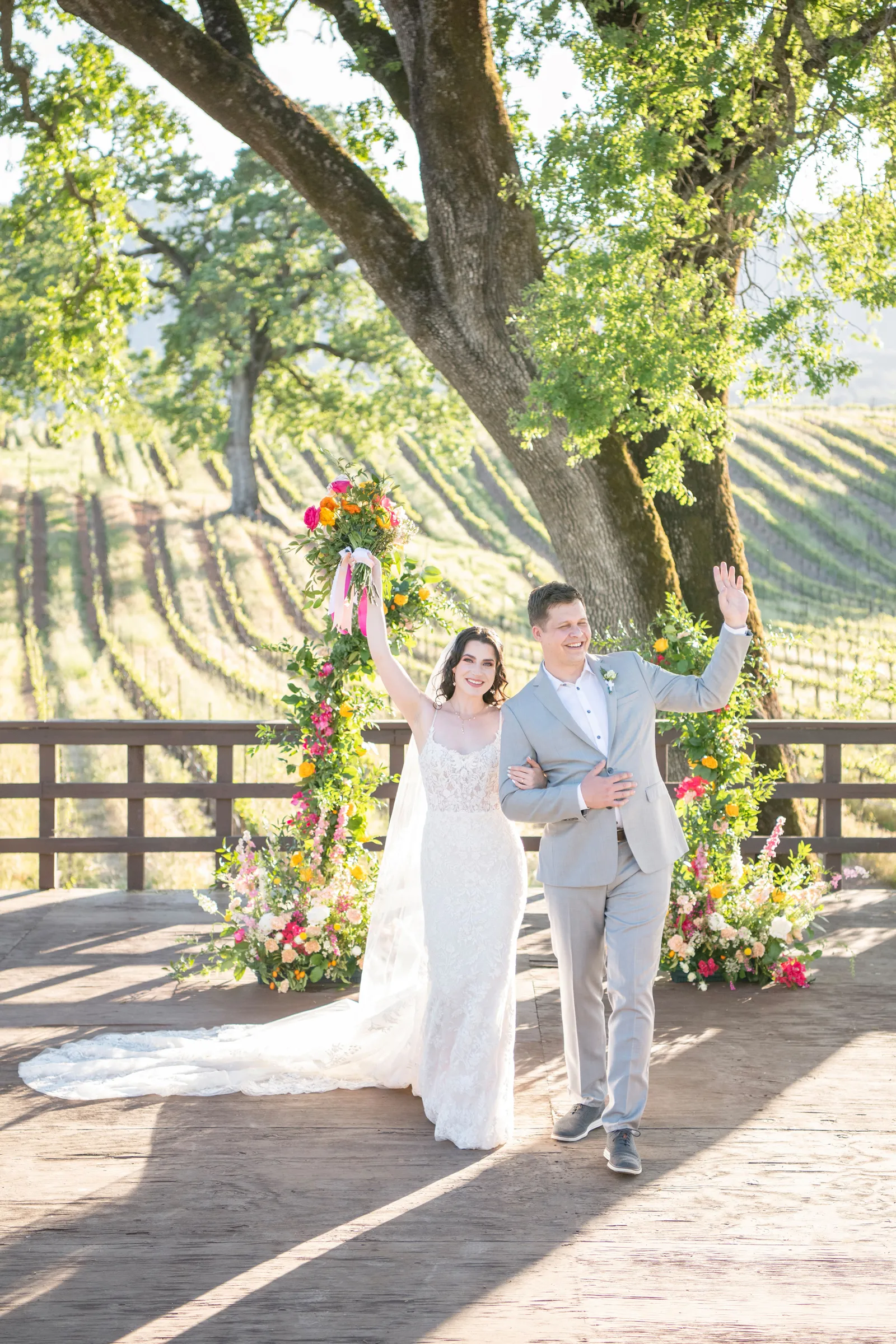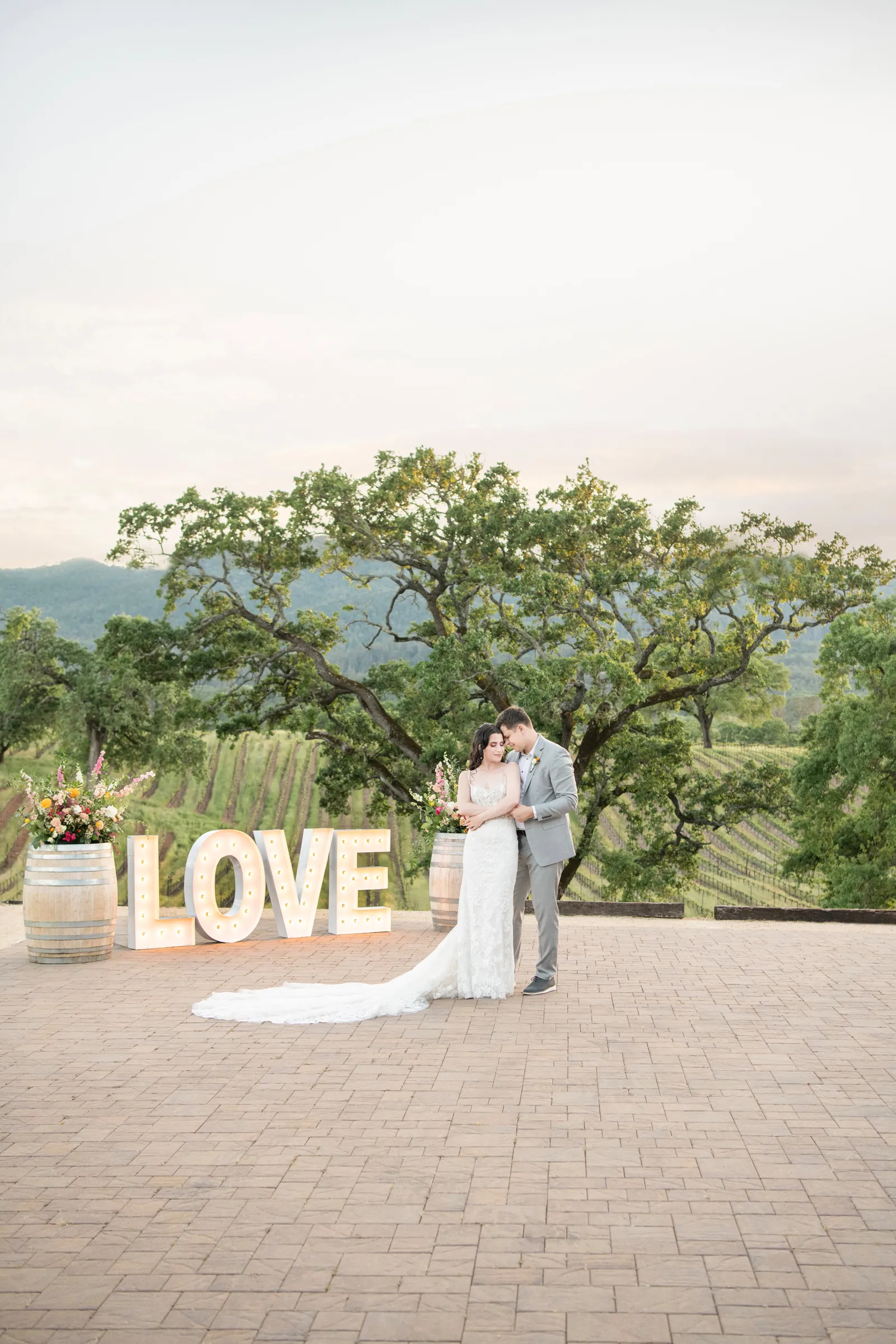 "We even incorporated a cute picnic design by She Bougie Picnics based out of Stockton, California to add another elegant, romantic atmosphere for the couple. To showcase all things stationery, we worked with Minted to incorporate the most vibrant colors for our menu cards, escort cards and table numbers with their beautiful Foil-Pressed Fleur Stationery Suite." -Aisha, Sheree Amour Weddings & Event Planning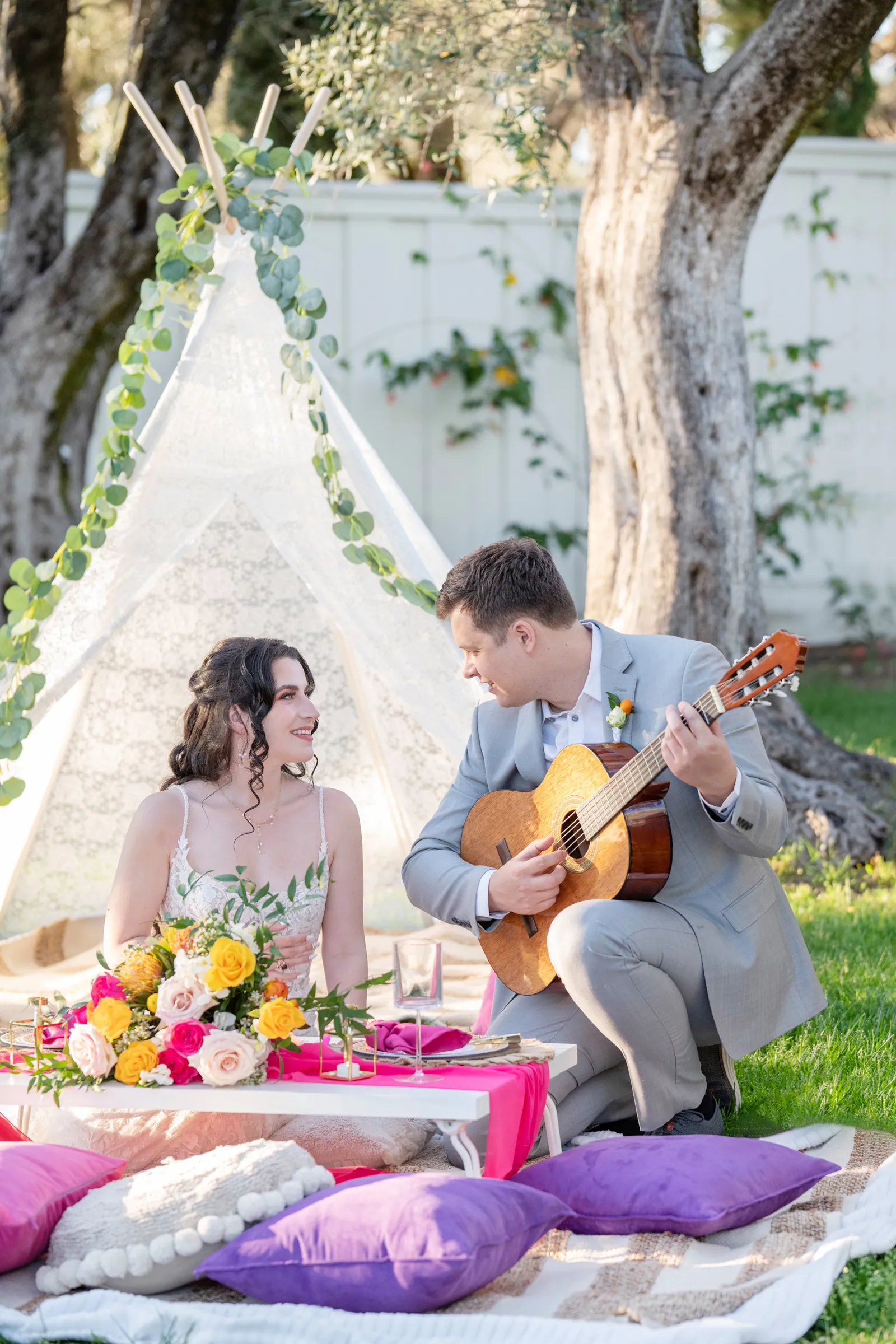 "A few other elements included the rose gold antique votive candles and the entire tablescape design was complete with the center of the table's focal point being the beautiful vibrant floral creations all created by Inspirations by Gina Floral and Event Design based out of Northern, California." -Aisha, Sheree Amour Weddings & Event Planning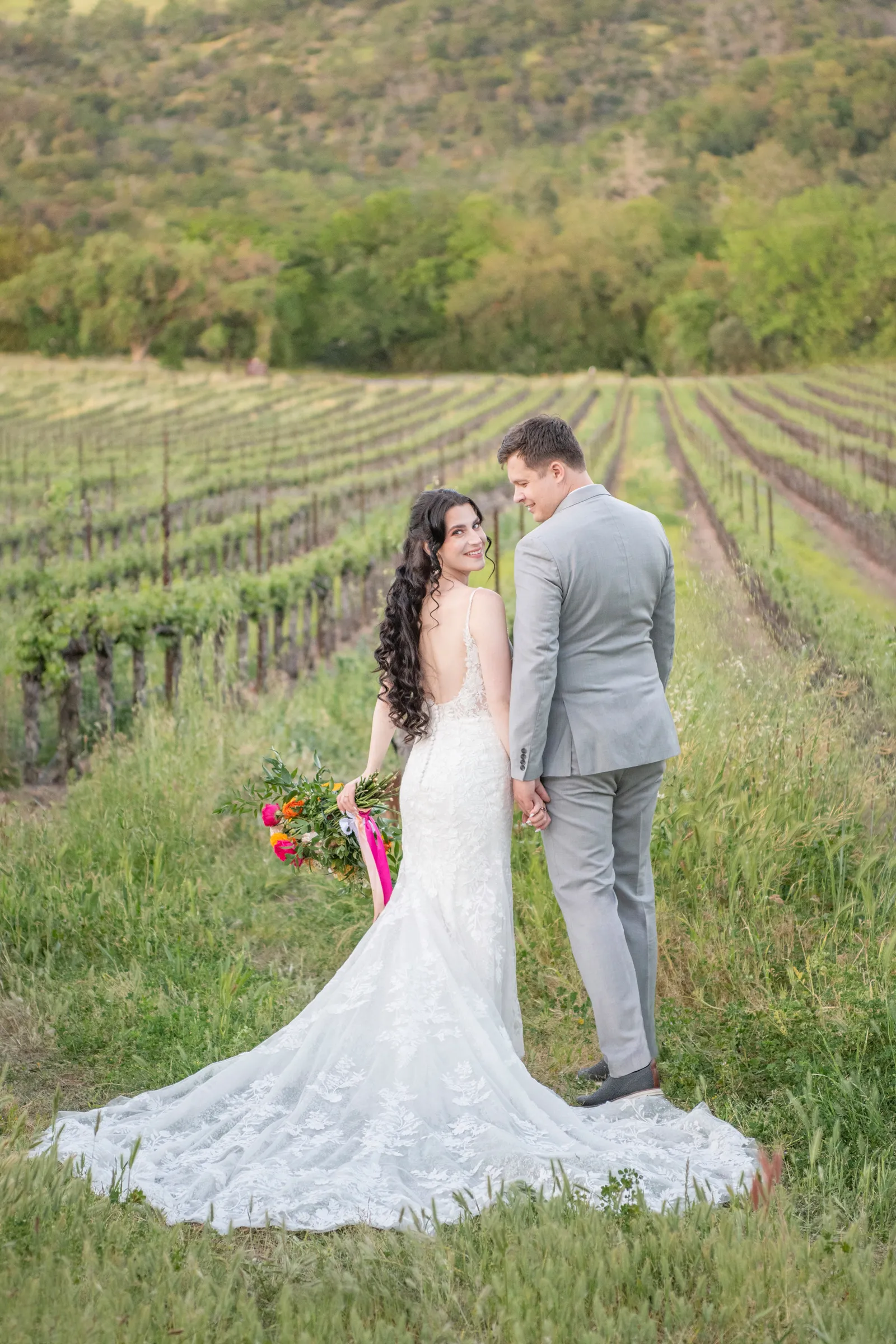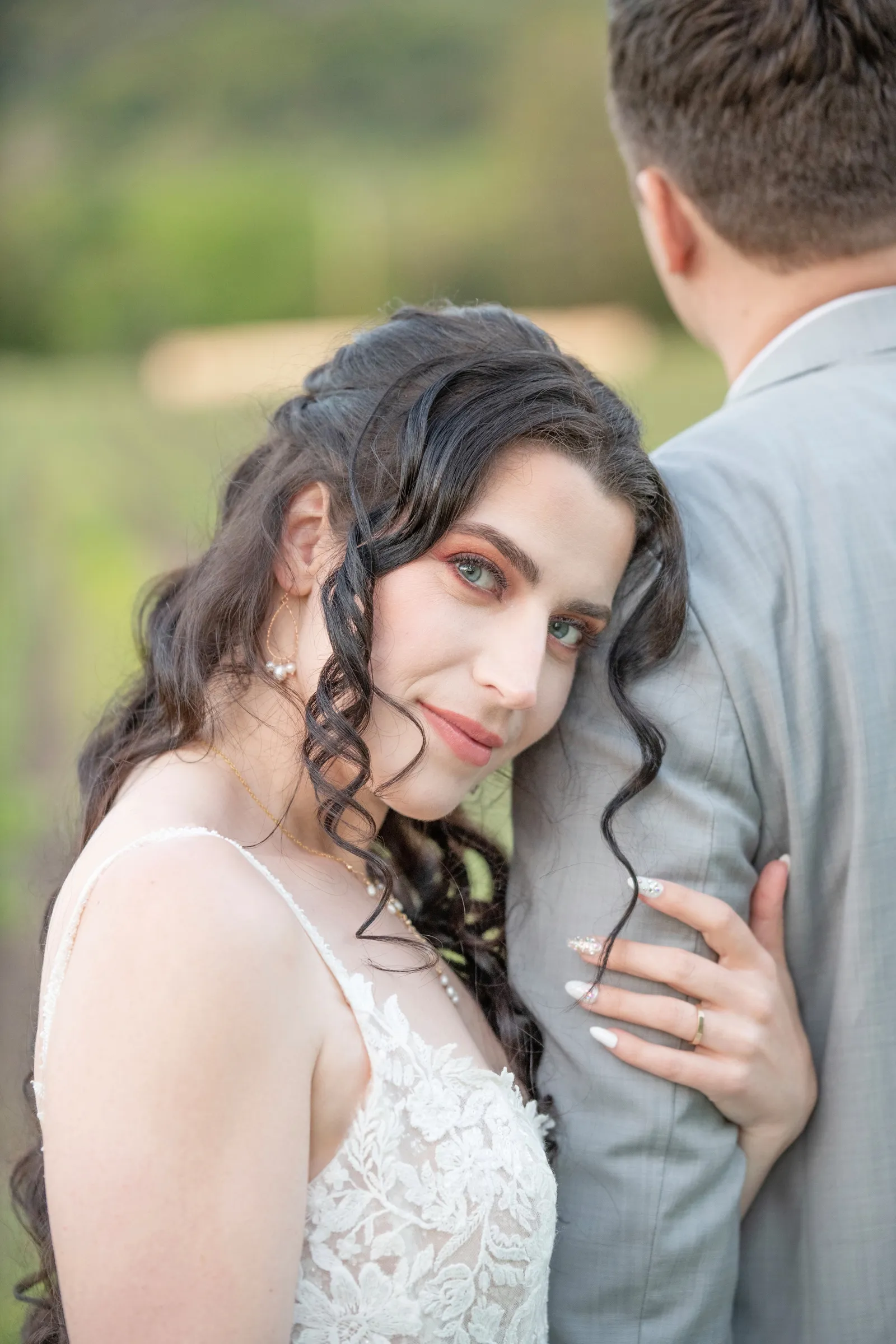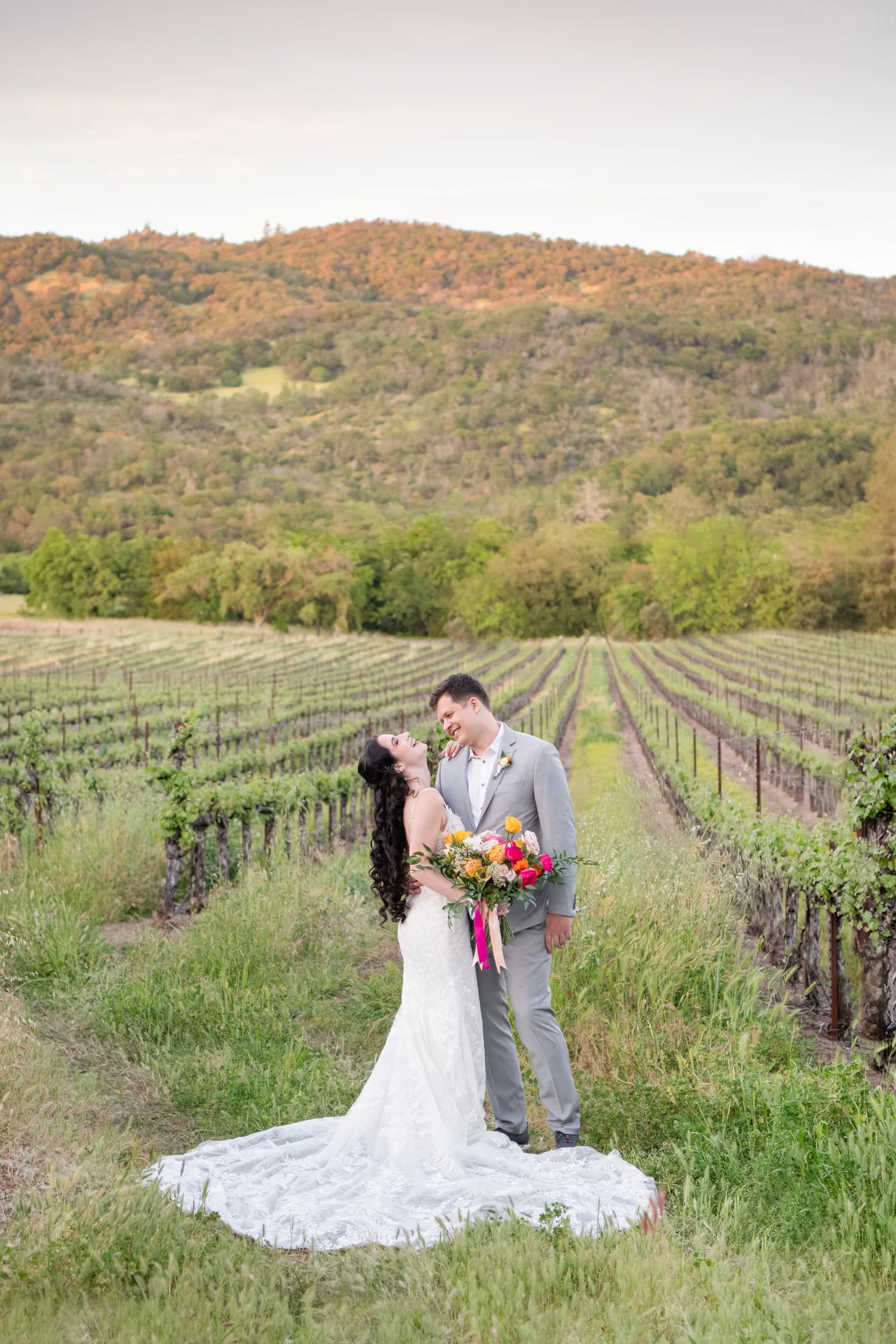 Photos above courtesy of Christine Glebov Photography.

Need more inspiration? We got you. CLICK HERE!