Most couples say their wedding day goes by in the blink of an eye, so we highly recommend coordinating an event that further celebrates your love where you can freely mingle with guests. Perhaps an engagement party, rehearsal dinner or even after-party; the possibilities for an intimate and stylish event are endless! We love this idea that sprouted from the brains behind Tan Weddings & Events. Be sure to read all about their inspiration for this shoot and a few tips regarding rehearsal dinners!
*Editor's Note: This photo shoot was produced prior to COVID-19 restrictions. We recommend following current health and safety protocols when planning an event.
Here's what the team at Tan Weddings & Events said about the inspiration behind this shoot…
"Like the pizza margherita, steaming hot from the wood-fired oven, the editorial coordinated by Tan Weddings & Events is a mouth-watering feast for the senses. The ingredients were a perfect blend of an earthy palette of gray and beige, tactile elements of metal and moss, modern furnishings, exquisite appetizers, delectable cocktails, and that oh-so-oozey wood-fired pizza. The result? A visual gourmet of pure sensual alchemy!
The team envisioned an event experience for an engagement, rehearsal dinner or after-party. They created a fusion of flavors by crafting a modern and industrial chic aesthetic set against the laid-back rustic charm of the Tuscan-inspired estate of Villa De Nardi. Anchored by a fully-stocked mobile bar converted from a horse trailer, the editorial is sure to inspire a complete wedding weekend of fun and excitement."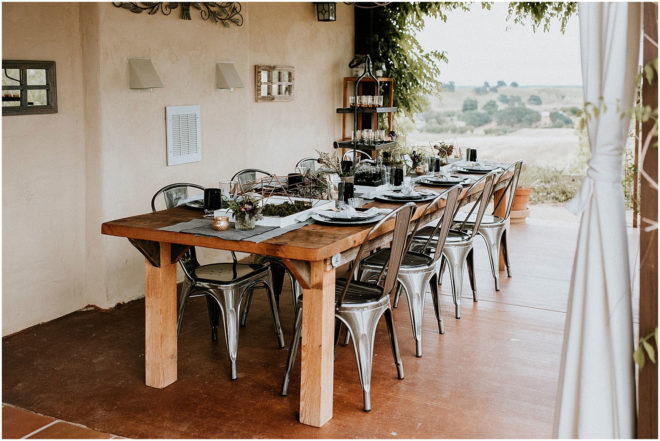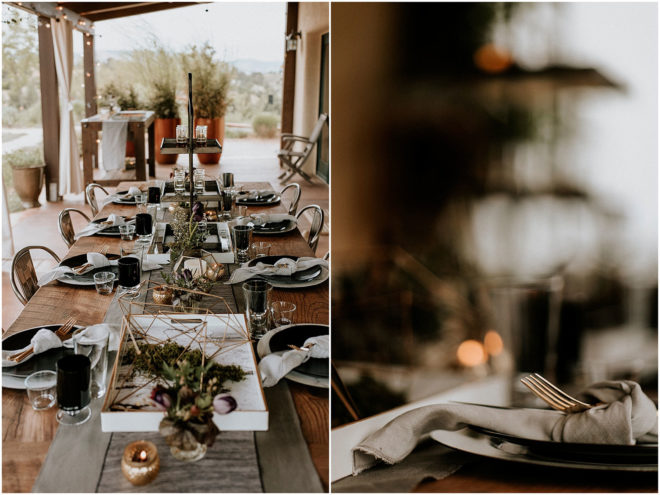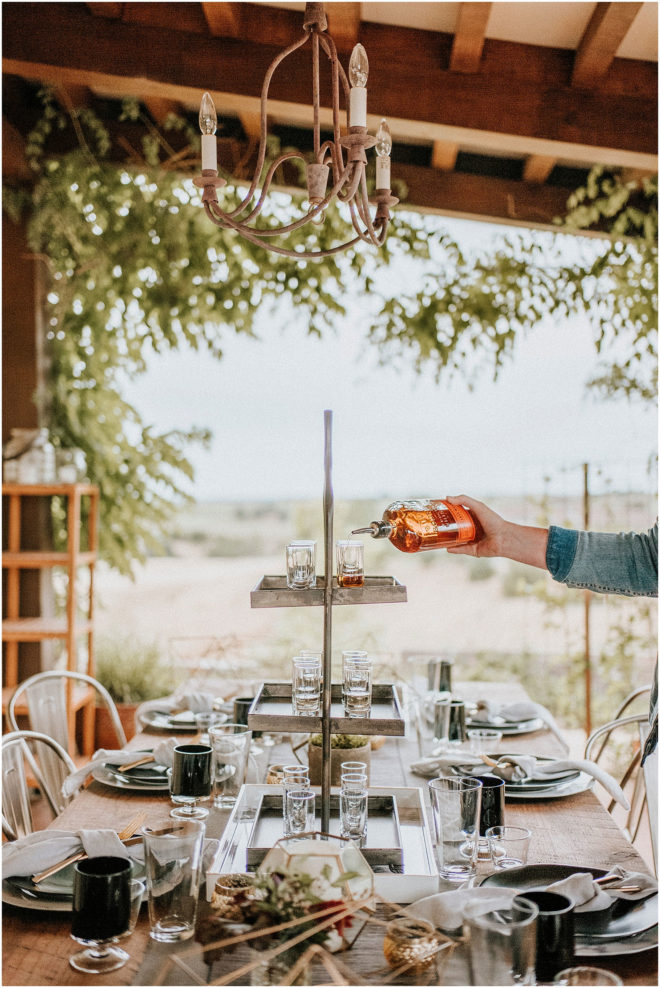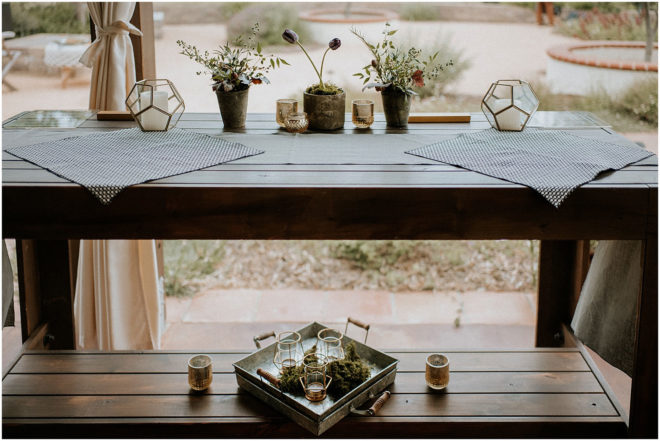 Here are some tips from Rick and Jennifer Tan of Tan Weddings & Events for having a most wonderful rehearsal dinner:
Expand your conception of the rehearsal dinner–traditionally, it was a meal that followed a wedding rehearsal. But, as less importance is placed on the rehearsal itself, consider the dinner as an event in itself where the inner sanctum of the wedding guests are treated to a pre-wedding celebration. It might bring both sides of the families and friends of the couple together for the first time, so it is special in its own way.
Aim for ambience that is welcoming, warm, fun, and low key, not stuffy and formal.
Design it to either offer a morsel, a peek at, an appetizer of the bigger event, a sharing a similar palette through florals or tablescape and continuity of design elements. Or, go for contrast–the dinner in a charming, rustic setting with barbecue, and the wedding day is black tie and a plated four-course meal!
Pre- and amidst COVID-19, the rehearsal dinner should be intimately scaled.
And most importantly, hire a PLANNER! Not only will the planner facilitate the rehearsal itself, but will have a wealth of knowledge, experience, and connections to guide, plan, and coordinate a pre-wedding event such as the rehearsal dinner.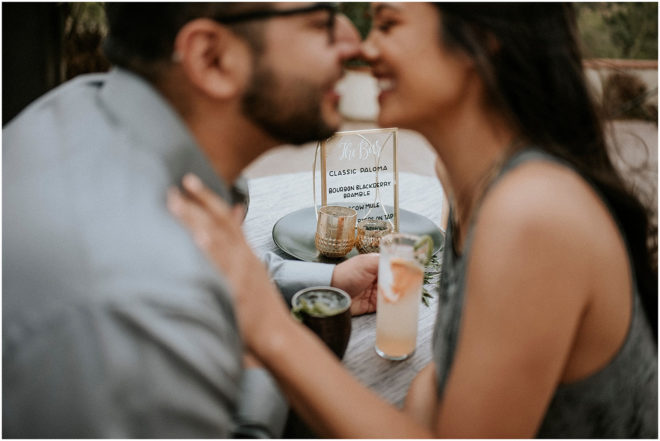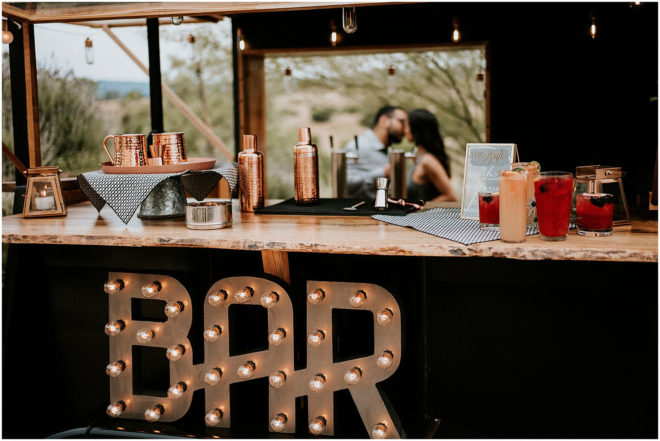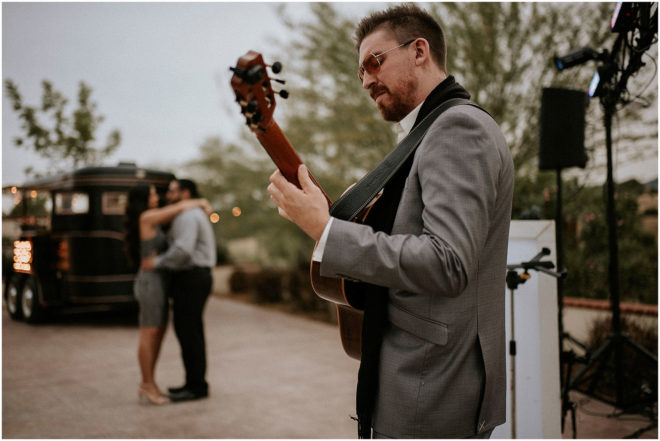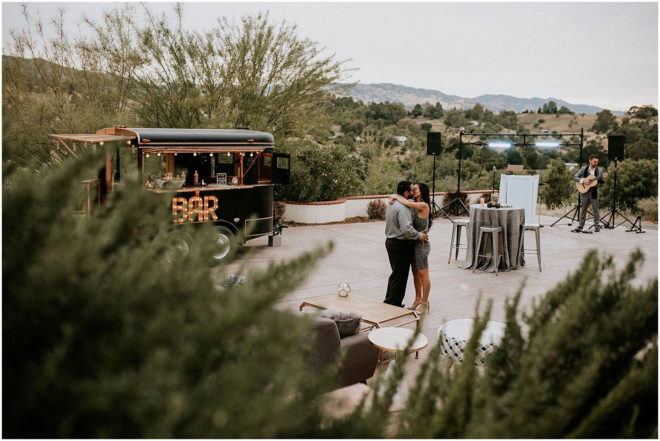 THE DETAILS
PLANNER, DESIGNER AND FLORAL DESIGNER  // Tan Weddings & Events
VENUE, OLIVE OIL AND PIZZA  //  Villa de Nardi
PHOTOGRAPHER  //  Gagan Dhiman Photography
VIDEOGRAPHER  //  Ashton Imagery
CATERER  //  Gesche's Gourmet
MOBILE BAR  //  Belle Aventure Mobile Bar
RENTALS AND LINENS  //  Celebrations! Party Rentals and Tents
SIGNAGE  //  Maedell Studios
COOKIES  //  Batter Up Cakery
GUITAR AND DJ  //  Micheal Sean Miller
HAIR AND MAKEUP  //  Sabrina Monique Beauty
MODELS  //  Sabrina Esposo and Raymond Tabios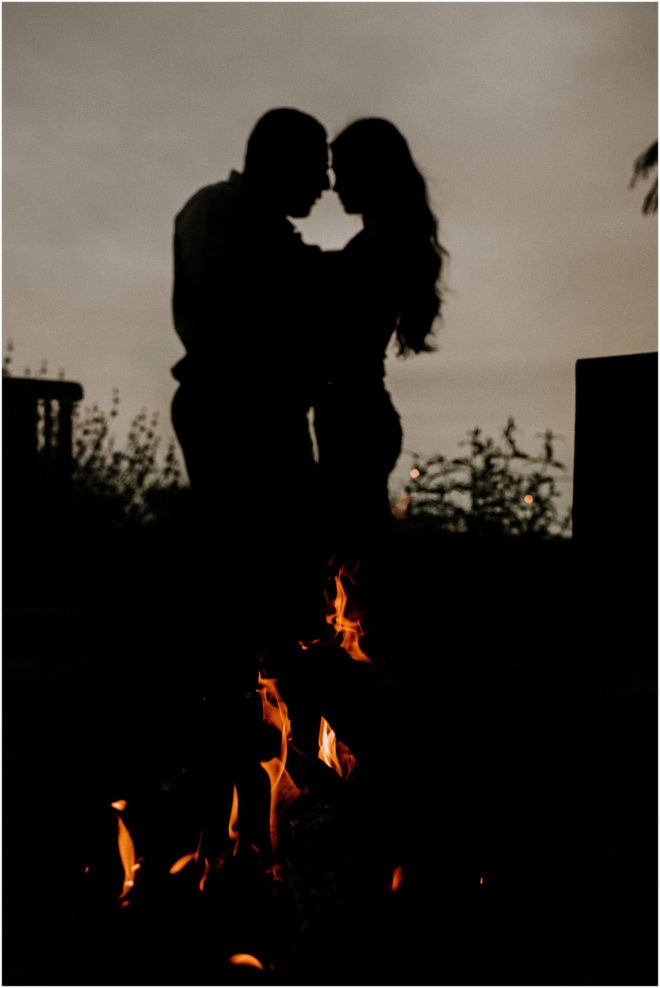 Want to see more from our #StyledShoot posts? CLICK HERE!