Welcome back to our blog series from our cover model finalists photo shoot, "Beautiful Works of Art," from the current Winter/Spring 2014 issue of Real Weddings Magazine.
In this installment, you get to know a little bit more about cover model finalist Karmen Henning — charisma, charm and fun! That's how we'd describe this delightful girl…we absolutely adore her and are so honored that she is one of our cover model finalists for this issue of Real Weddings Magazine.
So without further ado, we present our Real Weddings Magazine Cover Model Finalist, Karmen Henning!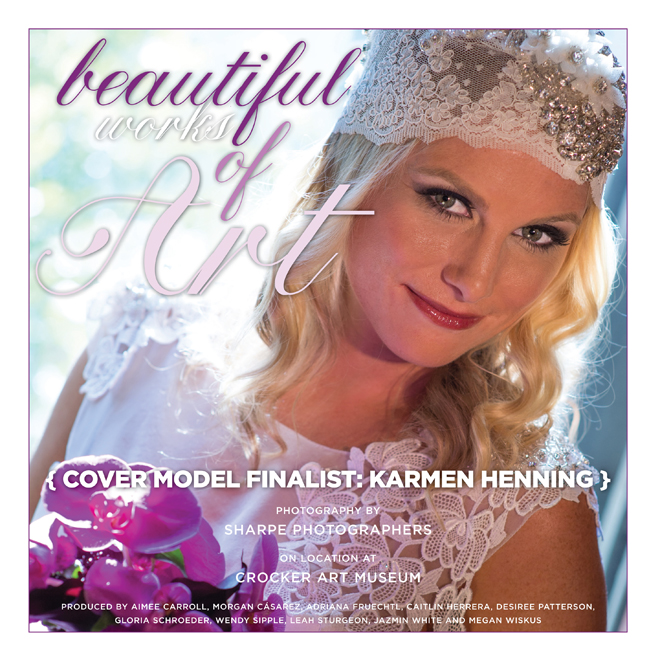 Why she wanted to enter this contest:  Karmen loves that Real Weddings Magazine opens up the opportunity to be on the cover to real brides and not professional models. Her wedding day was the best day of her life, and she thought that participating in the photo shoot would allow her to "re-live" some of those magical moments. A special touch for Karmen was that the location of the shoot was the same venue as her wedding!
Her love story:  Karmen jokes that she could have avoided all of the lame dates she went on in her 20s, because the love of her life ended up being a classmate from high school. They didn't speak much in school, but connected through Facebook years later. Her now husband, Joel, was in town for just three weeks, but that's all it took for them to realize they wanted to pursue a relationship. The fact that he was moving to South Carolina couldn't even deter them. Compared to the amazing love that developed, the 3,000-mile distance was a mere irritant.
Their wedding day:  Karmen and Joel tied the knot at the Crocker Art Museum during an evening ceremony. The décor was classic and soft with whites, grays, and a few hints of light pink. The reception was held in Friedman Court where the main art piece on display was a beach scene—reminiscent of the couple's beach proposal. Karmen recalls smiling the entire time and loved celebrating with 130 close friends and family.
What Joel thought about the cover model contest:  Joel, a naval officer, was deployed for an unknown amount of time just 19 days after their wedding. They keep in touch via email and Facebook, and have only spoken on the phone a handful of times over the past five months. Karmen wrote a letter to Joel telling him that she had entered the contest, and he was thrilled. Even more so after hearing that Karmen was selected as a finalist. He was most excited that Karmen could have a fun day for herself as she has to endure so much as a military wife.
Her "cover model" experience:  Karmen is still in awe over the amount of work that goes into a photo shoot and the coordination that is needed to pull it off. Her favorite part was wearing a gem-encrusted bodice dress with a full tulle skirt photographed in front of beautiful paintings in the museum. She says that, "There is no happier woman than a bride in a wedding gown, and getting an opportunity to channel that excitement, pride, love, and true happiness into a photograph for the potential cover of a magazine is just so darn awesome." We couldn't agree more.
And, just for fun, here are some of the final cover mock-ups that we did of Karmen…it was crazy tough for our team to pick a cover to be the final cover that would go to print ― Karmen's a beautiful Real Weddings Magazine cover model, wouldn't you agree?!
If you'd like to be a Real Weddings Magazine Cover Model Finalist, you have to enter the cover model contest! Here's the link to find out more information ― hurry, though, the deadline is Tuesday, February 11, 2014…and we're sticklers on the deadline! We have a mail slot at our offices, so you can drop it off until the very last minute! Here's the link!
The cover model finalist contest photo shoot Real Weddings Magazine team members who produced this editorial feature include: Aimee Carroll, Morgan Casarez, Adriana Fruechtl, Caitlin Herrera, Desiree Patterson, Gloria Schroeder, Wendy Sipple, Leah Sturgeon, Jazmin White and Megan Wiskus.
And, of course, thank you to all the vendors who contributed to our cover model contest shoot. The vendors who participated in our cover model finalist shoot include:
Photographed on location at:
Crocker Art Museum
916-808-7000 | crockerartmuseum.org
Photographer
Sharpe Photographers
Sam, Harry, Guinevere and John
916-949-4748 | sharpephotographers.com
HAIR AND MAKEUP
FOR SKYE: I Make Beautiful
Jenifer Haupt, Makeup
Nicole Richardson, Hair
916-532-9800 | imakebeautiful.com
FOR ANNE: Beela & Dexe
Beela Shaikh, Makeup
Dexe Thao, Hair
916-505-9729 | 916-692-0397 | beelaanddexe.com
FOR KARMEN: All Dolled Up
Melissa Oretta, Makeup
Ashley Lyons, Hair
530-888-1562 | alldolleduphairandmakeup.com
BRIDAL GOWNS
Always Elegant Bridal & Tuxedo
530-755-4282 | alwayselegantbridal.net
The Bridal Box
916-742-4638 | thebridalbox.net
Bride To Be Couture
916-972-8223 | bridetobecouture.com
The Clothes Mine Bridal & Formalwear
209-267-0417 | 209-890-7532 | theclothesmine.com
De La Rosa's Bridal & Tuxedos
916-983-3400 | delarosasbridal.com
Diamond Bridal Gallery
916-521-9856 | diamondbridalgallery.com
Dreamnette Bridal
916-780-4747 | dreamnette.com
Enchanted Bridal Shoppe
916-965-5683 | enchantedbridalshoppe.com
House of Fashion
916-554-7440 | hofbridal.com
Sior
916-304-5543 | siordesigns.com
ACCESSORIES
Bel Aire Bridal | belairebridal.com
Emily Riggs Bridal | emilyriggsbridal.com
Frou Frou Accessories
Granville Millinery
740-504-6559 | granvillemillinerycompany.com
HSN | hsn.com
Jesse Ciani
916-685-3819 | jesseciani.com
Macy's
Arden Fair Mall | 916-925-2845
Country Club Plaza | 916-485-3885
Downtown Plaza | 916-444-3333
Sunrise Mall | 916-962-3333
Westfield Galleria at Roseville | 916-771-3333
Sparkle Bridal Couture
916-538-6615 | sparklebridalcouture.com
FLOWERS
Accents by Sage
916-799-6242 | accentsbysage.com
Ambience Floral Design
916-786-6851 | ambiencefloral.com
Bella Bloom Flowers
916-498-8588 | bellabloomflowers.com
Bloomers Floral Design
916-284-7955 | sacramentofloraldesign.com
Blooms by Martha Andrews
916-300-5948 | bloomsbymarthaandrews.com
Botanica Floral & Event Design
916-673-8650 | botanicaevents.com
In Full Bloom by MJL
916-717-2745 | infullbloombymjl.com
CATERING
Bocca Catering
916-834-3554 | boccacatering.com
Blog post by Real Weddings Magazine's Editor/Publisher Wendy Sipple.
Photos by Sharpe Photographers, copyright Real Weddings Magazine.
Subscribe to the Real Weddings Magazine Blog! Click here:[subscribe2]