Real Weddings celebrated it's 10th anniversary in 2017 and in honor of this milestone, we are checking back in with our beautiful cover models! We've been so lucky to work with over 60 local brides these past 10 years and we're eager to see where they are now.
Jackie (right) graced our Winter/Spring 2016 cover shot at the Hyatt Regency Lake Tahoe Resort, Spa & Casino shot by Mischa Photography.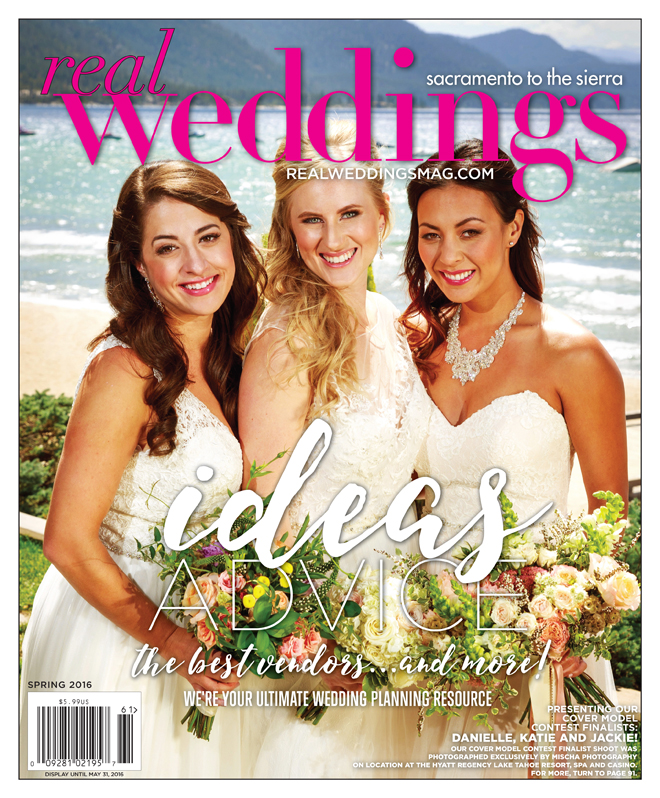 When did you get married?
May 21, 2016. The ceremony was held at St. Joseph's Catholic Church, and the reception was on my family's ranch in Marysville.
What do you do for a living?
I am a Recreation Superintendent with the City of Sacramento's Parks and Recreation Department. I have the pleasure of working all over the Sacramento community bringing recreation programs and services including public swimming pools, before and after school programs, community recreation and leisure enrichment.
Any children (fur or human)?
We have two fur babies, Brody and Bella, who are rescue pups. Our newest addition is our human baby, Josephine Mae (we call her Jojo), who we welcomed on August 15, 2017!
What do you enjoy doing with your family?
Right before Jojo joined us, we bought almost two acres in west Roseville where we love to play with our dogs, barbeque, and just relax on the patio with a glass of wine while watching the sun set! We also love taking family trips with little Jojo. Our favorite places include Tahoe, where we were engaged and also did the Real Weddings Cover Model photo shoot, and recently took Jojo to Stagecoach, the country music festival in the desert where my husband and I met years ago!
Knowing what you know now, what advice would you give yourself on your wedding day?
Always have a backup plan if your wedding is outdoors! We lucked out with beautiful weather just in time, but there was a huge storm the day before the wedding and we had to reimagine the reception set up. It ended up being the most magical day, so I would say to also not sweat the small stuff. At the end of the day, we along with our guests celebrated with the best party, and we were married, that's all that mattered.
What's your favorite part of marriage?
Definitely seeing how our marriage and love gave us the most perfect little girl. She has the best of both of us, and I have loved becoming a mother, and seeing my husband become a father. She fits so perfectly into our lives and we have so much fun as a family!
Lastly, how was your Cover Model experience? 
It was amazing and exhausting all at the same time (kind of like my wedding!). I met some incredible people including the lovely girls I shared the cover with, and my hair and makeup artists who I ended up hiring for my wedding and I still stay in contact with. Loved every minute of it and it really made the whole wedding process so much more fun.
The cover model finalist contest photo shoot Real Weddings Magazine team members who produced this editorial feature include: Susie Baggett, Christina Fawcett, Cait Herrera, Nathalia Kallan, Rachel Meeker, Tara Mendanha, Desiree Patterson, Emily Peter, Aaron Roseli, Gloria Schroeder, Wendy Sipple, Leah Sisto and Megan Wiskus
And, of course, thank you to all of the wedding professionals who contributed to our cover model finalist feature:
VENUE
Hyatt Regency Lake Tahoe Resort, Spa & Casino
775-886-6693  |  laketahoe.hyatt.com
PHOTOGRAPHER 
Mischa Photography
Mischa and Brianne Purcell
916-905-2794  |  photomischa.com
HAIR AND MAKEUP
For Danielle:  
Happi Ybarra, Happily Beautiful (Makeup) 
530-632-0607  |  happilybeautifulmakeup.com
Lea Buehler, Lea Buehler BGorgeous (Hair) 
916-705-5827  |  lbgorgeous.com
For Katie: 
Melissa Oretta, All Dolled Up Makeup & Hair (Makeup)
Lindsay Bradby, All Dolled Up Makeup & Hair (Hair)
530-368-3867  |  alldolleduphairandmakeup.com
For Jackie:
Mandie Fenrich, Makeup by Mandie (Makeup) 
916-505-0487  |  makeupbymandie.com
Cierra Neeley, Cierra Shae Bridal Hair & Makeup Artistry (Hair)
916-436-6002  |  cierrashae.com
GOWNS 
Alma's Bridal Boutique  |  916-434-8084  |  almasbridalboutique.com
Always Elegant Bridal & Tuxedo  |  530-755-4282  |  alwayselegantbridal.net
The Bridal Box  |  916-742-4638  |  thebridalbox.net
The Clothes Mine Bridal and Formalwear  |  209-267-0417  |  theclothesmine.com
De La Rosa's Bridal & Tuxedos  |  916-983-3400  |  delarosasbridal.com
Diamond Bridal Gallery  |  916-521-9856  |  diamondbridalgallery.com
Dreamnette Bridal  |  916-780-4747  |  dreamnette.com
Enchanted Bridal Shoppe  |  916-965-5683  |  enchantedbridalshoppe.com
House of Fashion  |  916-554-7440  |  hofbridal.com
Second Summer Bride  |  916-330-4422  |  secondsummerbridesac.com
ACCESSORIES
Chloe + Isabel  |  Christina Fawcett / Independent Stylist   |   chloeandisabel.com/boutique/itsalwayseveningboutique
Hair Comes the Bride  |  haircomesthebride.com
Happily Ever Borrowed  |  happilyeverborrowed.com
Justine M Couture  |  justinemcouture.com
Macy's  |  macys.com
Arden Fair Mall | 916-925-2845
Country Club Plaza | 916-485-3885
Downtown Plaza  |  916-444-3333
Sunrise Mall  |  916-962-3333
Westfield Galleria at Roseville  |  916-771-3333
Polly Singer Couture Hats and Veils  |  859-533-1426   |   hatsandveils.net
Ruby & Cordelia's Millinery and Fancy Goods  |  rubyandcordelias.etsy.com
Sparkle Bridal Couture  |  916-538-6615  |  sparklebridalcouture.com
Stella & Dot  |  Lea Buehler/Independent Stylist  |  916-705-5827  |  stelladot.com/sites/leambuehler
Style Avenue Studios  |  916-812-1114  |  styleavenuestudios.com
FLOWERS
Accents by Sage Floral Design  |  916-799-6242  |  accentsbysage.com
Ambience Floral Design  |  916-786-6851  |  ambiencefloral.com
Bella Bloom  |  916-498-8588  |  bellabloomflowers.com
Bloem Decor  |  916-447-2001  |  bloemdecor.com
Flourish  |  916-212-5179  |  flourishdesigns.com
Morningside Florist  |  916-635-9891  |  morningsideflorist.com
Placerville Flowers on Main  |  530-622-1121  |  placervilleflowersonmain.com
The Posh Posey  |  916-337-3215  |  theposhposey.com
Relles Florist  |  916-441-1478  |  rellesflorist.com
Visual Impact Design  |  916-489-3746  |  visualimpact-design.com
Whole Foods Market  |  wholefoodsmarket.com/service/weddings-folsom
CATERING
Bocca Catering  |  916-834-3554  |  boccacatering.com
Special thanks to our real bride models, Jackie, Katie and Danielle, and to all of the professionals who contributed to this feature!
Looking for more Cover Models? Check out the ongoing blog series here!