Oh how we love Real Weddings Wednesdays!  Today, we present a sweet and romantic winery wedding in Placerville…Margo & Phil!  Enjoy!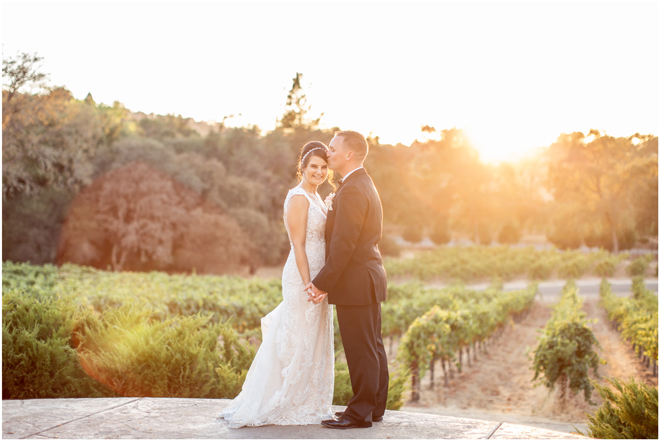 Tell us a little about you and your beloved:  We met over the 4th of July holiday weekend in 2015 in Huntington Beach. I lived in Roseville at the time and went to HB to visit my friend who lived there for the long holiday weekend. Phil lived in San Diego and drove up to HB with two friends to celebrate the holiday weekend as well. My friend and I decided to have lunch in downtown HB at Hurricane's Bar & Grill, and then we were going to head to the beach. The restaurant was packed but Phil and his friends had two extra seats on the patio and waived us over. Needless to say my friend and I did not make it to the beach that day. Phil and I hit it off instantly. He bought me a sangria and we spent the rest of the holiday weekend together. Once the weekend was over, I thought that would be the last I would hear from him. However, we never stopped talking and are now married with a baby living in San Diego.
In regard to the proposal, Phil was planning an extravagant proposal, until we received the news that my grandmother was very sick. We decided to fly to Folsom to see her and say our goodbyes. At this time, Phil called my dad to ask for my hand and let him him know he was moving up the proposal so we could share the good news with my grandmother. She had wanted us to be engaged so badly! She adored Phil. So I came home from work on a Friday before our flight to Sacramento when Phil proposed. It was simple and lovely and so genuine. He gave me the greatest gift by being able to share the news first with my grandmother when we arrived in Sacramento that night. She then helped us share the news with the rest of our family. She was so alert and happy. She passed away the next day. I will forever be thankful for those moments that Friday.
What was the most amazing part of your day? The moment I walked down the aisle and we saw each other for the first time as well as being surrounded by all our favorite people.
Venue: David Girard Vineyards
Officiant:  Bride's Uncle Steven
Photographer:  Factory 404 Company
Caterer:  Wedgewood Weddings
Cake and Desserts:  Frank Vilt's Cakes
Flowers: Camino Flower Shop / Couture Weddings & Events
Bridal Attire:  The White Flower Bridal Boutique
Hair Artist: Fine Arts Salon & Spa
Signage and Decor Rentals: Cocomont Styling
DJ: DJ Steve with Wedgewood Weddings
Honeymoon Location: BELIZE!
First Dance Song: Can't Help Falling in Love – Elvis Presley
Any advice you'd give to our readers who are planning their weddings right now?  Enjoy every moment of it and don't stress—at the end of the day it's just about you two!
Photos courtesy of and copyright Factory 404 Company, used with permission.

Want more Real Weddings Wednesdays Inspiration? Click here!