So excited to be a part of the Bridal + Wedding Open House at Old Sugar Mill this Sunday, May 23, 2021, from 10 a.m. – 2 p.m.
Stop by our booth at this event to get your FREE copy of Real Weddings Magazine and a FREE copy of our wedding planner Real Weddings Magazine's The Planning Guide! Plus, enter to win $100 to Serenity Spa!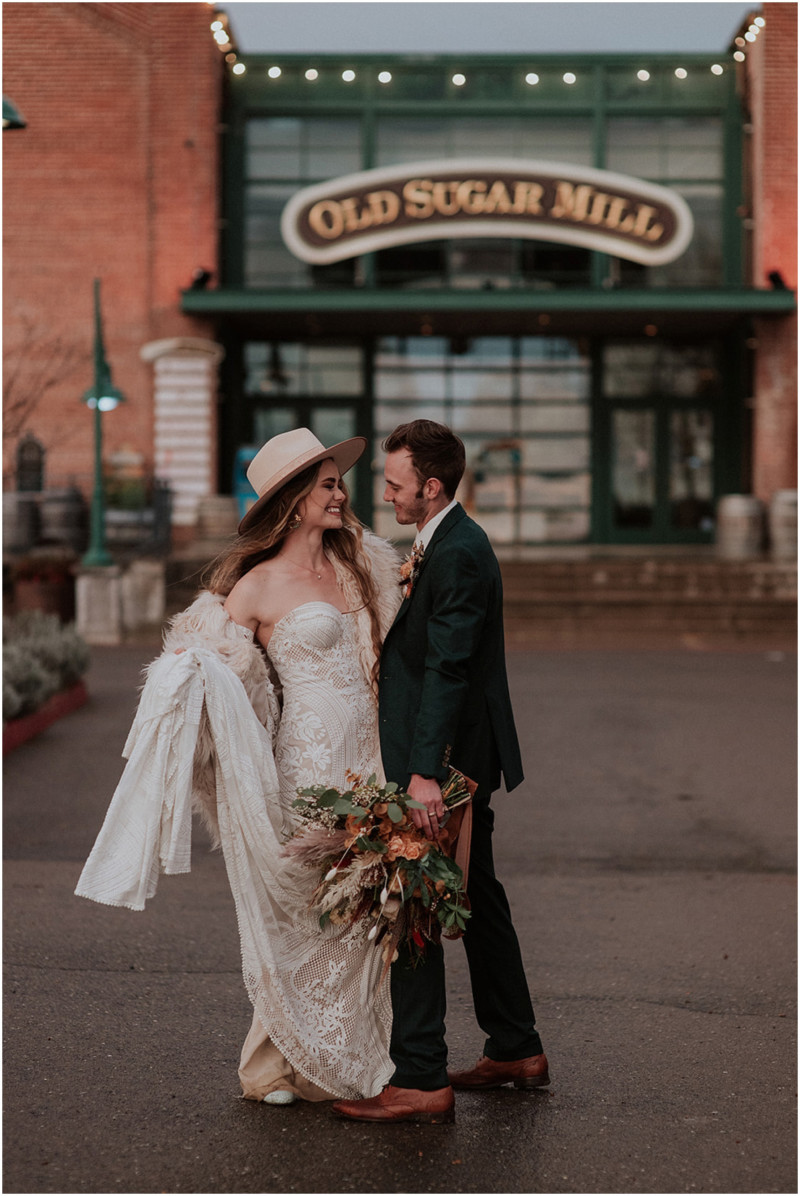 Photo from Annelliese + Christian's Wedding, photographed by Nikki Neumann Photography…click here to see more from their wedding!
Event details:
When:  Sunday, May 23, 2021
Time: 10 a.m. – 2 p.m.
Where: Old Sugar Mill at 36265 Willow Avenue, Clarksburg, CA 95612
Cost: Admission is FREE, but you do need to reserve your tickets and attendance time HERE!
What You'll Experience:
Join us at the Old Sugar Mill Wedding Open House.
Meet our preferred vendors
Complimentary Wine Glass and Champagne Pour
Self Guided Tours of the Venue
Free Admission with advance registration
Complimentary tickets are available for attendance between 10 am-12 pm or 12 pm – 2pm.
See the latest trends in wedding & event design
Food Trucks onsite
(Per Government guidelines face mask are required. Social distancing guidelines will be in place.)
You'll get to meet these amazing wedding pros:
Jackson Catering & Events  /  Acoustic Events  /  Chef Booker T Catering  /  The Hidden Table  /  Macque's BBQ  /  DJ B Carrion  /  Morningstar Entertainment
Carmen Salazar Photography  /  Dave Shilling Photography  /  Elegant Events Media  /  Eye Connoisseur  /  The Freckled Photographer
Jensen Films  /  Wild Flowers Design Group   /  Above and Beyond Cakes   /  Sugar Coated Cupcakes   /  Freeport Wine Country Inn
Celebrations! Party Rentals & Tents  /  CL Decor Weddings & Events Design  /  Lush Balloons  /  Larcom's Lighting
Eclipse Marquee Rentals  /  Dearly Beloved Celebrations  /  Meg's Ceremonies   /  Salud Mobile Bar
Good Jo Coffee  /  Wanderlust Beauty Parlour  /  Rendez-vous Winery
Clarksburg Wine Company  /  Seka Hills /  Kirchhoff Wines  /  Carvalho Family Winery  /  Bonitata Boutique Wine
…and many others!
Be sure to tell them you found out about the event from Real Weddings Magazine!
---
BRIDAL SHOW TIPS!
Before you head out to the area's wedding and bridal show event and venue open houses, check out this handy little list of tips to make the most of the experience:
Create a "wedding" only email— you'll want to have a specific email address just for your wedding business. You'll be getting a lot of information sent to the email that you register with at bridal shows, so it's nice to have it all in one place separate from your work and/or personal email.
Don't go it alone—bring a bridesmaid, your mom or a friend (or dare we suggest, your fiancé?). It will be helpful (and more fun!) to have their input and advice.
Bring labels—many vendors offer prizes and contests, and additionally, you may want to request more information from selected vendors. By bringing pre-printed labels, you will save time and the hassle of having to complete this information booth after booth. Information that you might want to include: your name, address, phone, email, fiancé's name and when you're getting married.
Bring a notebook or make sure you've got enough space on your phone for photos—no matter how good your memory is, you'll want to take some notes (either old school in a dedicated wedding notebook or on your phone) on vendors and ideas that catch your eye.
Bring a sturdy tote bag—you'll be picking up business cards, brochures, etc. Or, come to the shows where Real Weddings Magazine will be and we'll give you one of our groovy reusable bags!